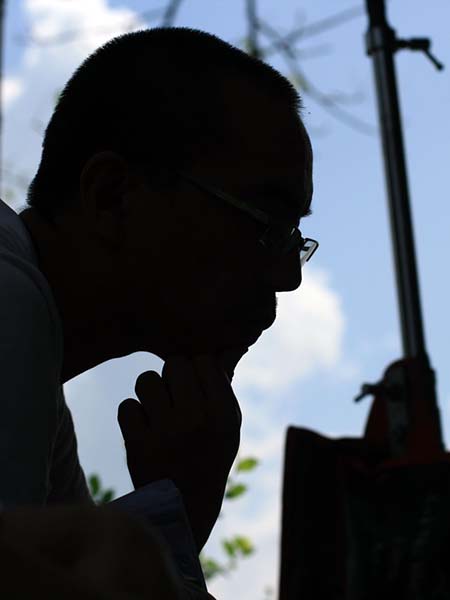 Apichatpong Weerasethakul
Apichatpong grew up in Khon Kaen in north-eastern Thailand. He began making film and video shorts in 1994, and completed his first feature in 2000. He has also mounted exhibitions and installations in many countries since 1998. Often non-linear, with a strong sense of dislocation, his works deal with memory, subtly addressed personal politics and social issues.
His art projects and feature films have won him widespread recognition and numerous festival prizes, including two prizes from the Cannes Film Festival. In 2005 he was presented with one of Thailand's most prestigious awards, Silpatorn, by the Thai Ministry of Culture. In 2008, the French Minister of Culture bestowed on him the medal of Chevalier de l'ordre des arts et des letter (Knight of the Order of Arts and Literature). In 2011, he was given another honor for the same field with an Officer Medal, and later in 2017, Commandeurs medal.
His film, Syndromes and a Century, completed in late 2006, was the first Thai film to be selected for competition at the Venice Film Festival. Apichatpong is also one of 20 international artists and filmmakers commissioned to create a short film for the United Nations High Commissioner for Human Rights to mark the 60th anniversary of the Universal Declaration of Human Rights. In 2009, the Austrian Film Museum published a major English language monograph on his work.
"My Mother's Garden" (2007)

Apichatpong Weerasethakul has been active as a film director in addition to participating in numerous exhibitions. "Uncle Boonmee Who Can Recall His Past Lives" (2010) won the Palme d'Or award at the 63rd Cannes International Film Festival. A tribute to his mother's garden, this film takes us on a journey into the depths of another world, with its lush green jungle, and the insects that inhabit it, created by Victoire de Castellane.

Open 365 days

10:00-16:30

Free

Kozannji Temple was founded by Kobo-Daishi Kukai (the great teacher who spread the dharma), and is lined with many halls, including a multi-storey pagoda that was built during the Edo period. The cemetery at the temple overlooks the sea and is the resting place of Kumagusu Minakata, a giant of knowledge, and Morihei Ueshiba, the founder of Aikido. Many archaeological artifacts have been found in the shell mounds on the temple precincts, including "Kozanji-style earthenware" decorated with oshigata-mon and yoriito-mon.