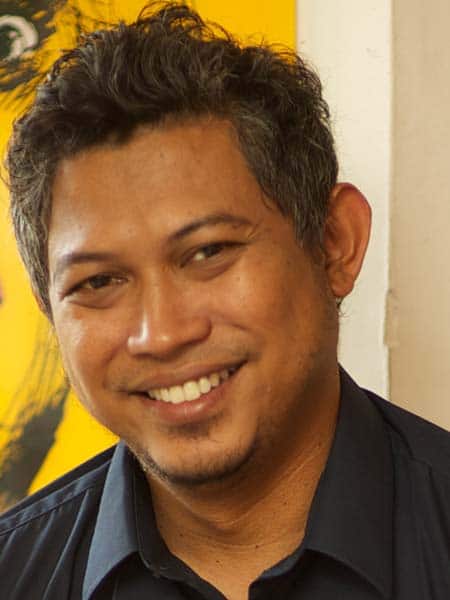 Ade Darmawan
Ade Darmawan lives and works in Jakarta as an artist, curator and director of ruangrupa. He studied at Indonesia Art Institute (ISI), in the Graphic Arts Department. In 1998, a year after his first solo exhibition at the Cemeti Contemporary Art Gallery, Yogyakarta (now Cemeti Art House), he stayed in Amsterdam to attend a two-year residency at the Rijksakademie Van BeeldendeKunsten. His works range from installation, objects, drawing, digital print, and video. Exhibitions include "Magic Centre" (solo show held both in Portikus, Frankfurt, 2015, and Van AbbeMuseum, Eindhoven, 2016), Gwangju Biennial and Singapore Biennale (both 2016) and "Doing Business with the Dutch" (Lumen Travo Gallery, Amsterdam, 2018). As a curator, he has contributed in Riverscape in-flux 2012, Media Art Kitchen 2013, Condition Report 2016, and Negotiating the Future: 6 th Asian Art Biennial in Taiwan. Together with ruangrupa, he co-curated TRANSaction: Sonsbeek 2016.
From 2006-09, he was a member of Jakarta Arts Council, which led him to be appointed to become the artistic director of Jakarta Biennale in 2009. He is the executive director of Jakarta Biennale during its 2013, 2015 and 2017.
"Philosopher Football Match" (2011)

世界最高峰の国際展ドクメンタ15(2022 年) で芸術監督を務める、アート・コレクティブであるルアンルパの中心人物アデ・ダルマワン。本作は( 現在の)哲学だけでなく、自然学や数学をも含む学究的営為の総体たる古代ギリシャ哲学と、ドイツ観念論からマルクス主義や実存主義へと連なる近代ドイツ哲学の関係性を、サッカー・ゲームに準え表現しています。

Open 365 days

10:30-18:00

Present the Kinan Art Week Guidebook and get a discount of 500 yen (normally 1,000 yen)

Hotel Kawakyu, Japan's pride and joy, is a "dream castle", a miraculous piece of architecture filled with the dreams and passion of its founder, owner and the craftsmen who were involved its construction. With a fervor that is truly insane, they have created an extraordinary world in Nanki Shirahama. The gold leaf ceiling appears in the Guinness Book of World Records, and there are luxury wine cellars, pillars, ornate chairs, chandeliers, and other fixtures in the hotel which are all of first-class quality. In 2021, the hotel opened the Kawakyu Museum, where you can admire works by masters from various periods and places such as Dali and Chagall, and Taikan Yokoyama respectively.