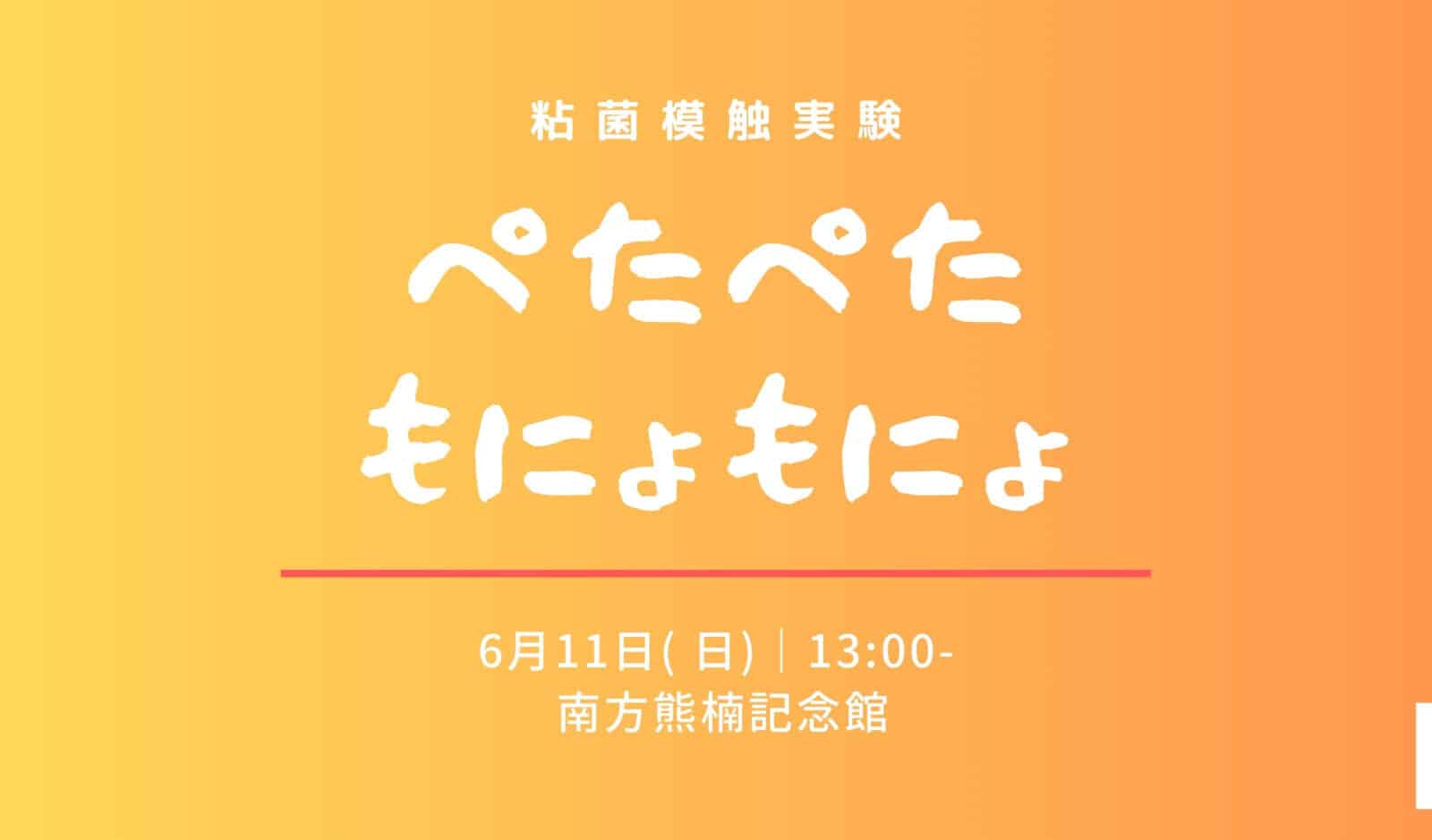 Slime Mold Workshop『Neba-Neba in Kinan』
Sun. June 11th 1:00 PM - 3:00 PM
Minakata Kumagusu Museum
3601-1 Shirahama-cho Nishimuro-gun Wakayama Prefecture, Japan 〒649-2211
Capacity20
Participation fee500 yen / person
*Neba-nebais an onomatopoeia used to describe the slimy texture in Japanese.
Let's be Slime Molds!
Slime molds are curious creatures that spread like amoebas and feed on prey, or take on a mushroom-like shape and release spores.
The amoeba-like stage is called the transformed body and the mushroom-like stage is called the fruiting body.
In this workshop, we will be joined by Akita University of Arts' associate professor Taisuke Karasawa, who is also an expert on slime molds, and together we will paste colourful resin clay on windowpanes while pretending to be a deformable body.

The deformable body moves very slowly.
However, it can reach the food in the most efficient and shortest distance. Their movements and shapes are very fascinating.
When everyone pastes the resin clay imitating the deformable body together and joins them together. ……
What shapes will appear in the glass window?
Why don't you join us and try to make them flap and squish together?

Admission to the museum (600 yen for adults, 300 yen for elementary and junior high school students) is required in addition to the participation fee of 500 yen. Before or after the workshop, please visit the Minakata Kumagusu Memorial Museum, where you can see "living slime molds" under a microscope.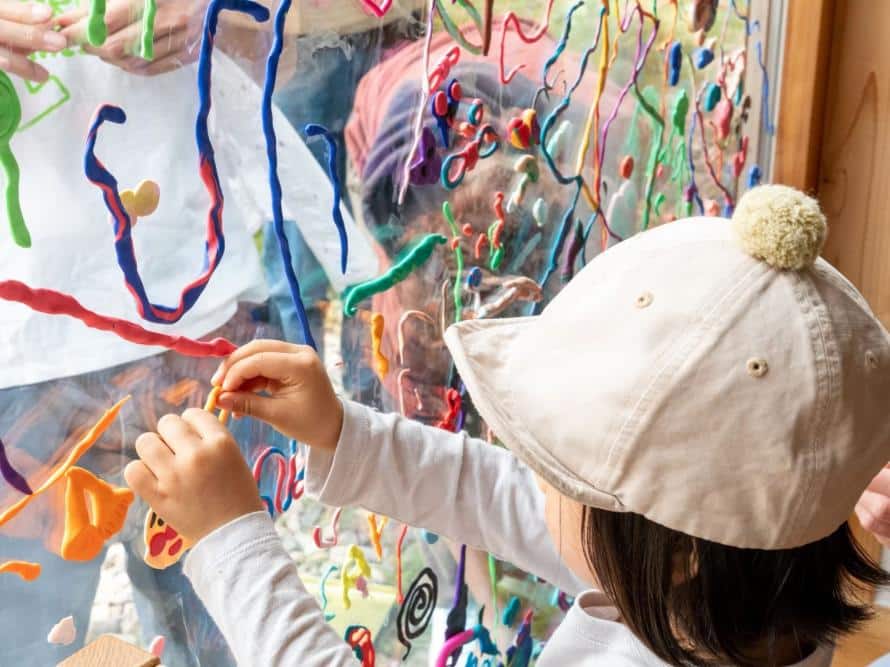 Date: 11 June (Sun), 2023 13:00-15:00
Place: Minakata Kumagusu Memorial Museum (3601-1 Shirahama-cho, Wakayama)
Fee: 500 yen per person (payable in cash on site).
Admission fee (600 yen for adults, 300 yen for elementary and junior high school students, free for pre-school children) is required separately.
Capacity: 20 persons
Application deadline: 6 June 2023 (Tuesday)

Age: Anyone, regardless of age.
(Pre-school children must be accompanied by a parent or guardian.)

*If more than one person is attending, please purchase tickets for the number of people attending.
*Eating and drinking are not permitted inside the building. Please eat and drink outside the building.
*About parking
http://www.minakatakumagusu-kinenkan.jp/how_to_use/access2
[About the Instructor]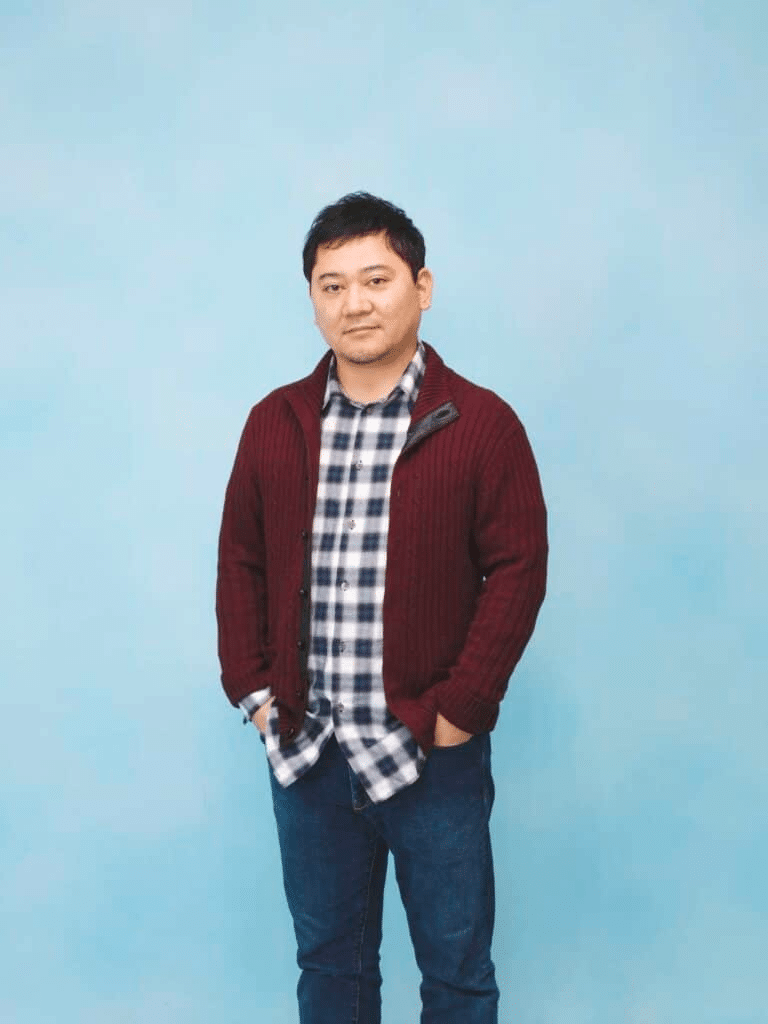 Taisuke Karasawa/Associate Professor at Akita University of Art
Born 1978 in Kobe, Hyogo Prefecture, Japan, Karasawa graduated from the Faculty of Letters, Keio University in March 2002, and completed his PhD (Doctor of Philosophy) at the Graduate School of Social Sciences, Waseda University in July 2012. Grant-in-aid researcher for the 1st Minakata Kumagusu Research Encouragement Project. After working as a JSPS Research Fellow (DC-2 [Philosophy and Ethics]) and as an assistant professor at the School of Social Sciences, Waseda University, she is currently an associate professor at the Department of Arts & Roots, Faculty of Fine Arts, Akita Public Art University and the Graduate School of Complex Arts.
He specialises in philosophy and cultural anthropology. In particular, he explores the fundamental 'way of being' of folklore, religion and culture that has been built up by mankind through the thought of the intellectual giant Minakata Kumagusu (1867-1941). In recent years, he has also been conducting comparative research on Kumagusu and artistic thinking, as well as on the contemporary potential of Kegon thought.In 2019, he was awarded the 13th Yasuo Yuasa Writing Prize.
[About the Venue]
Minakata Kumagusu Museum
3601-1, Shirahama-cho, Nishimuro-gun, Wakayama 649-2211, Japan http://www.minakatakumagusu-kinenkan.jp/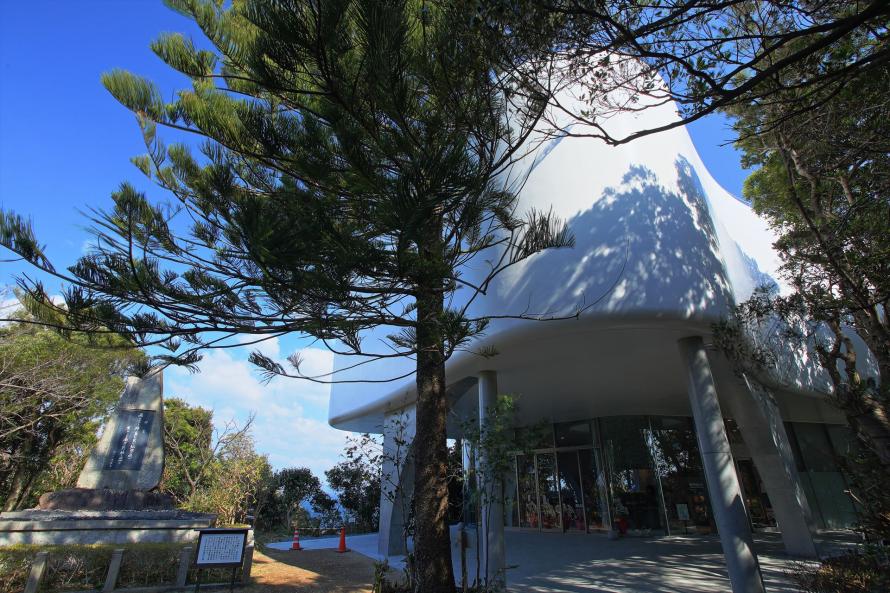 Minakata Kumagusu was a world-class natural history and folklore giant born in Wakayama. As a scholar in the field, he was also involved in nature conservation and is highly regarded as a 'pioneer of ecology'. The museum introduces Kumagusu's achievements with more than 800 articles and manuscripts. Visitors can also see the famous 'slime fungus' (deformable fungus), which Kumagusu presented to the Emperor Showa, under a microscope. This is the only place where live slime molds can be seen at all times. Furthermore, the 360-degree view from the rooftop is amazing and is a hidden spot in Shirahama that you should definitely see.
(Cited at https://www.nankishirahama.jp/spot/578/)