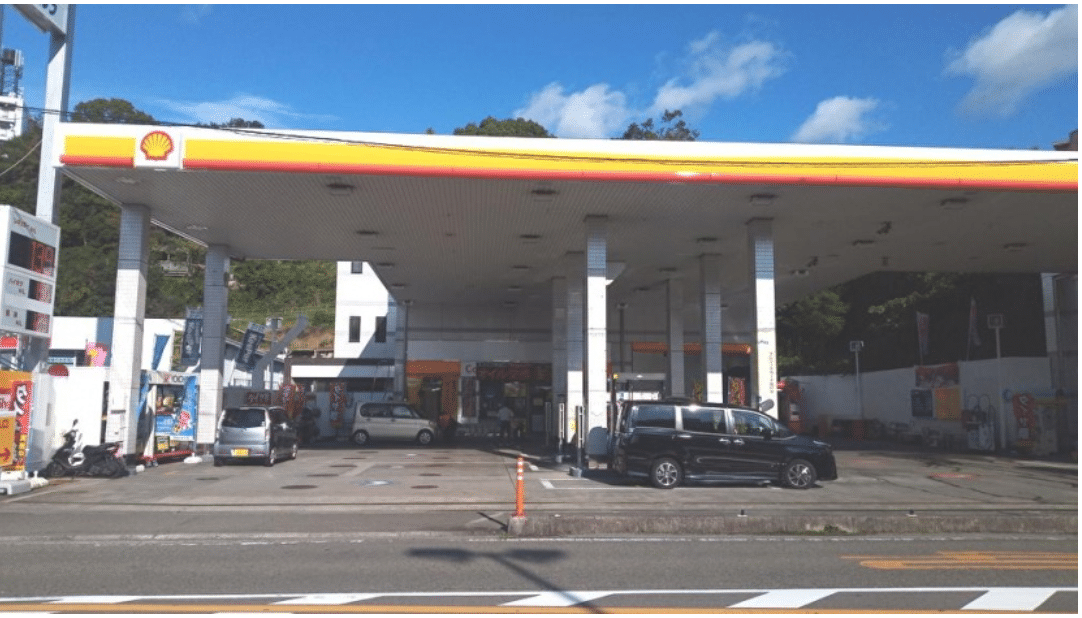 Dialogue Project #29 A Future Back in the Mountains
Kinan Art Week Dialogue Project #26
Our guest this time.
Representative Director of Kiyo Oil Co., Ltd
Yuichiro Funato
The fourth president of Kiyo Oil Co., Ltd, a petrol station established in 1950 in Tanabe City, Wakayama.When he was 34 years old, he succeeded his father, the third president, and now has three shops in Tanabe City and one in Shirahama Town. He focuses on the application of car coating that "Stays clean for a long time!"
At the time, it was the first petrol station to be established in the region, anticipating the demands of an increasingly car-oriented society. Today, more than 70 years after its foundation, it bears the Idemitsu brand mark.
Listener
Yuto Yabumoto
Kinan Art Week Executive Committee Chair
Participants
Manabu Shimoda
Executive Director of Kinan Art Week

Editing by TETAU
https://good.tetau.jp/
A future back in the mountains
Table of Contents
1. History of Kiyo Oil
2. The state of the petrol industry
3. What is the effective use of mountain forests?
4. What do you need for Kinan?


1. History of Kiyo Oil
Yabumoto:
Thank you for your time today.
We have been asking people who are active in the Kinan region to tell us their stories. This time we thought it would be interesting to talk to you about the history of Kiyo Oil.
Please introduce yourself and tell us about Kiyo Oil.
Mr Funato:
Of course . The company was founded in 1950. We have always used the Maruzen Oil* mark. Around 2003, when petrol stations with low prices were opened in Tanabe city, we stopped the strict purchase of petroleum products and started to operate under our own private brand. However, when I came here, I thought it would be better to have a mark, so I became a member of Showa Shell about three years ago. In 2019, Idemitsu Kosan and Showa Shell Oil merged their management, so they became the Idemitsu mark (laughs).
*Maruzen Sekiyu: Cosmo Oil Co., Ltd. was established in 1986 through the merger of three companies: Daikyo Oil Co., Ltd., Maruzen OilCo., Ltd., and former Cosmo Oil Co., Ltd. A chemical manufacturer that develops, manufactures, and sells petrochemical products. In March 2016, the company became a consolidated subsidiary of Cosmo Energy Holdings Co.,Ltd.
Reference: Cosmo Energy Holdings Co.,Ltd, HP
https://ceh.cosmo-oil.co.jp/company/history.html
※Private brand: There are two main channels of trade for private label gasoline: keiretsu (affiliated) trade, which involves service stations that carry the brand mark (trademark) of the original seller, and non-affiliated trade, which involves service stations that do not carry the original seller's mark. The number of non-affiliated SS and the percentage of sales volume at non-affiliated SS are on the rise.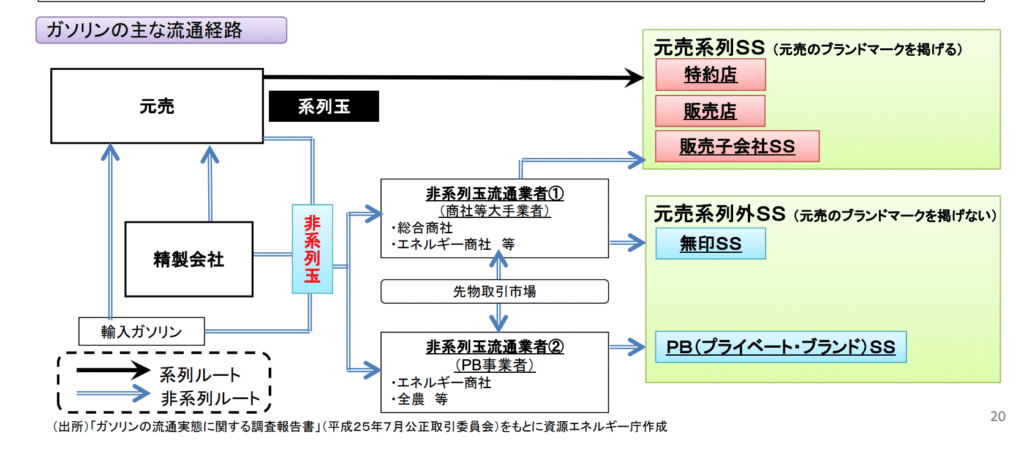 Yabumoto:
Are you the fourth generation of Kiyo Oil?
Mr Funato:
That's right. We have been in business for more than 70 years. There are about 10 shareholders of Kiyo Oil, and they are all famous local people.
The reason was that the number of cars would increase in the future, so the local people made Magojiro Nasu, a retired mayor of Tanabe, the president of the company, and together they funded the establishment of Kiyo Oil.
Yabumoto:
They were looking a long way ahead.
Mr Funato:
That's right. But the number of cars didn't increase easily and the business became difficult. So my grandmother's brother, who had been the managing director under the first president, Mr. Nasu, succeeded him and became the second president.
After the war, the president, who graduated from the Faculty of Law at the University of Tokyo and was a director of a securities company, went back to Wakayama, but it seems that Kiyo Oil pulled him in. Things unfortunately didn't go well and the president changed again. That was my father, who was just hanging around (laughs). It was around 1958.
Yabumoto:
You used to live in Hiki*. I visited there once when I was a child.
*Hiki was a town in Nishimuro-gun, Wakayama Prefecture. It is located at the southern end of present-day Shirahama Town, at the mouth of the Hiki River, and around Kii Hiki Station on the Kiseisen Line.
Reference: Wikipedia
Mr Funato:
My father was an adopted son. At the time he and his family were partners in the sawmill business, but that went bust and my father played around for about 10 years doing nothing (laughs).
Yabumoto:
What⁉ How could he do that?
Mr Funato:
In those days, lumber sold for a good price.
Yabumoto:
I see . Because there is the port of Hiki(*).
※Hiki port: The port is located at the mouth of the Hiki River, which is blessed with an abundance of water, and is a good harbour with a sandbar forming a natural breakwater. It has developed as a site for lumber collection since ancient times.
Mr Funato:
We have always had a lot of forests, so we sold them to make a living. My father was the chairman of the sports promotion and sports association of Hiki. He and the mayor of the town at the time built tennis courts and organised the National Athletic Meet.
When my father became president, the number of cars started to increase and sales started to grow. That's how we've managed to stay afloat until now (laughs).
Yabumoto:
It was the first petrol station in the area at the time.
Mr Funato:
We were the first in the area. The first shop was in Sakae town, Tanabe.
Yabumoto:
Mr Funato, did you go to university and then immediately join KiyoOil?
Mr Funato:
At that time, Kiyo Oil was an agent of Maruzen Oil, so after I left school, I went to Tokyo to train at Maruzen Oil for two years. I came back to Wakayama when I was 25 years old, I think. After working there for 10 years, my father died of illness, so I became the president when I was 34 years old.
Yabumoto:
Was it also the time of the bubble economy?
Mr Funato:
I think my father was still alive and well at the time of the bubble. But a little while after my father passed away, more and more cheap shops started to open in the prefecture, including in Tanabe. That's when it all came crashing down and it was very difficult.
Yabumoto:
And from there, did the price competition become fierce?
Mr Funato:
That's right. At first we tried to do a lot of things to compete with the low prices, but it was difficult to sell at the same price because the shops were built differently.
2. The State of the Petrol Industry
Mr Funato:
Wakayama Prefecture is very far behind in this industry. There is still a lot of weeding out to be done.
Yabumoto:
Do you feel that the competition to reduce prices has come at once? In this industry, is it possible to sell at a lower price if you have a large purchase?
Mr Funato:
No, it's not. In this industry, it's not so much that prices are lower because we buy more. It's more the difference in price between affiliated petrol and non-affiliated private label petrol.
There are two types of petrol, one for affiliated petrol stations and the other for trading companies. The price of non-affiliated products is about 5 to 6 yen cheaper.
There is a large percentage of petrol stations in Wakayama Prefecture that don't give a mark and buy cheap petrol from outside their network and sell it cheaply. The momentum is very strong. That's why the original petrol stations in the area are being eroded. Wakayama Prefecture is especially close to oil refineries, so it is easy for gasoline from outside the network to flow through.
I mentioned earlier that we once had a private label shop, but we decided to raise the mark of the main seller again, because we thought that the amount of petrol from outside our network would decrease in the future.
Right now, there are fewer main sellers and fewer petrol stations. When the main sellers are consolidated, there are fewer refineries, aren't there? I think that's how they reduce costs.
That's why we gave Showa Shell's mark in a rush, because we thought that gasoline outside the group would decrease and become harder to procure in the future.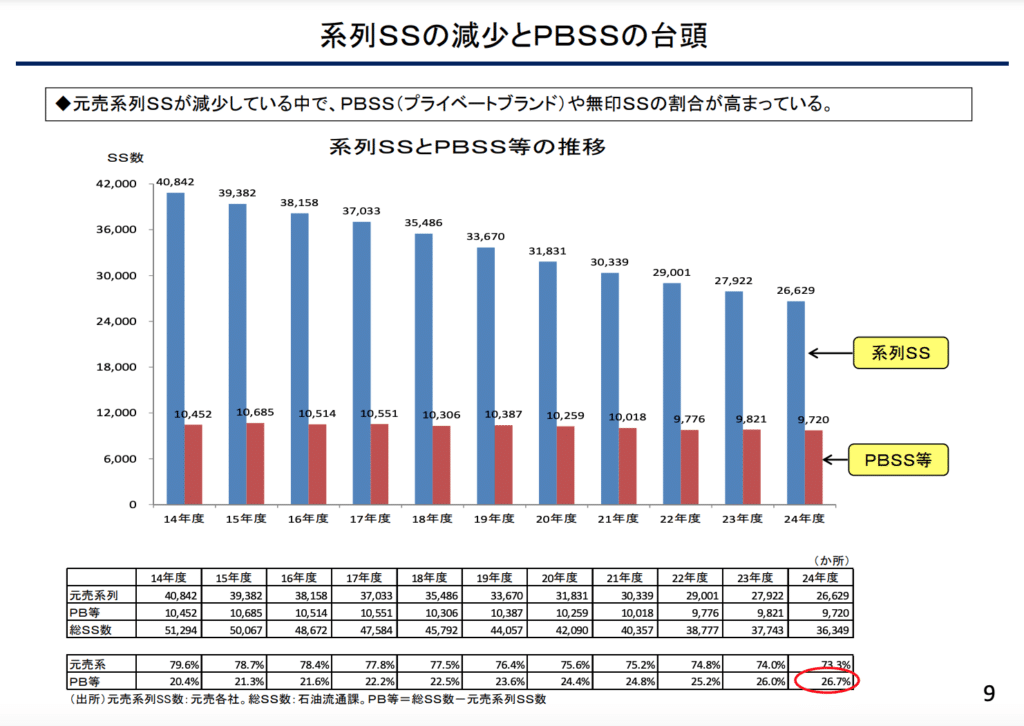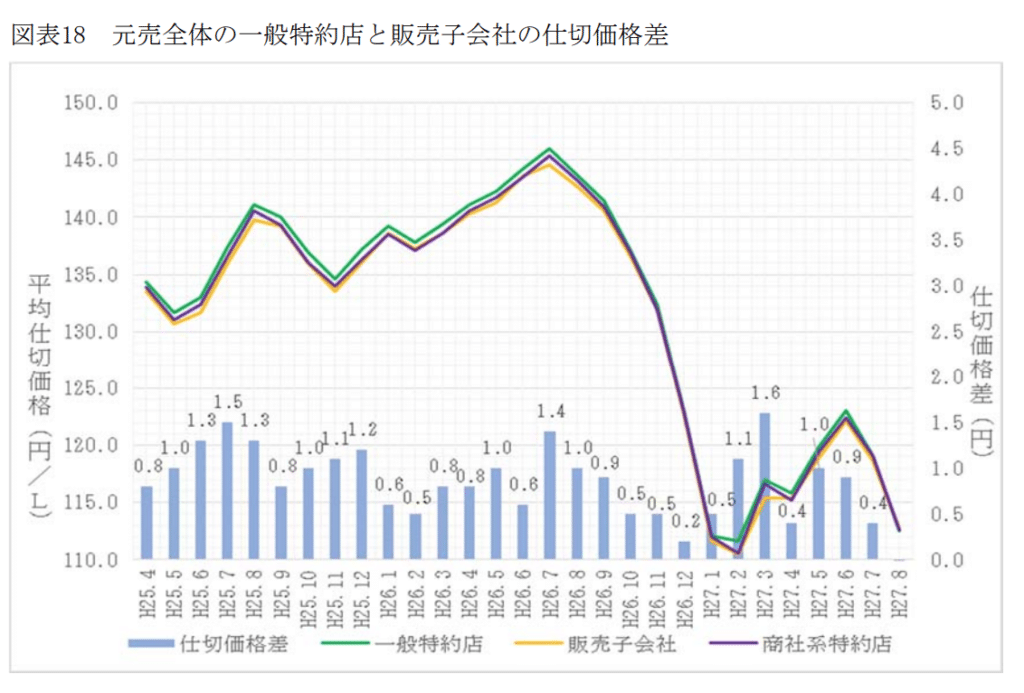 Mr Funato:
But it seems that Wakayama is more rural than we expected (laughs). (laughs) There are no petrols stations that are 100% owned by major companies south of the Izumi mountain range.
Yabumoto:
Is it because the market is too small?
Mr Funato:
I guess that's the way it is. From the point of view of the big companies, Wakayama is probably a disinvestment area (laughs).
Because there are no big petrol stations, cheap shops can fight. But I don't think the cheap shops that are doing well in Wakayama can compete with those in the city.
In the city, you rarely see a petrol station that doesn't have its mark up. Even if you look for one, you will hardly find one. But in Wakayama Prefecture, there are many of them.
That's why the small petrol stations have been culled and the big companies have made tremendous profits in the last few years.
Yabumoto:
It's an oligopoly.
Mr Funato:
I don't know what the future holds for petrol stations.
There are more and more electric cars, and beyond that, hydrogen cars are being developed. I think that in the future hydrogen cars will become the mainstream.
It is said that it costs about 500 million yen to build one hydrogen station. There are subsidies from the government, but if we don't get them, we can't build them. So in that sense, we can't afford to sell cheaply. We have to be prepared to invest.
Yabumoto:
You're absolutely right.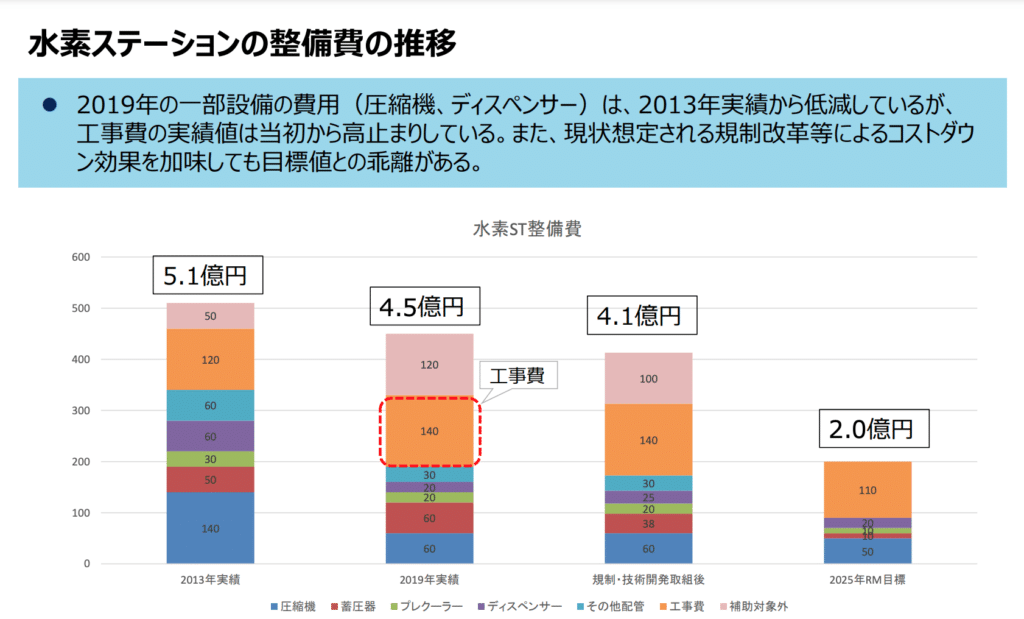 Source: Current status of FCV and hydrogen station business
Office of Hydrogen and Fuel Cell Strategy, New Energy System Division, Agency for Natural Resources and Energy, Ministry of Economy, Trade and Industry
https://www.meti.go.jp/shingikai/energy_environment/suiso_nenryo/pdf/024_01_00.pdf
Mr Funato:
The cheap shops in Wakayama are unmanned and from the outside you can see that no one is there. It is just a cheap place to fill up with petrol.
As you know when you go to the city, there are people there even at night. The mainstream petrol stations are large and well built, and even self-service stations accept car inspections and offer a total service.
Yabumoto:
I wonder if it is thanks to the local people that Kiyo Oil has survived in such a situation.
Mr Funato:
That's right. But the number of petrol stations has also decreased. In the Tanabe-Shirahama area, the shops run by the father and mother as a family business have decreased dramatically because there are no successors.
There was also a national policy * that any underground tank that was more than 30 years old had to be dug up and renovated, which required a lot of capital investment. So many of the small petrol stations in the mountains had to close down.
Yabumoto:
So they could not make such an investment.
※As a result of the revision of the Fire Service Act, measures to prevent leaks from underground storage tanks are now mandatory. In 2008, the number of leaks from underground storage tanks accounted for about 40% of all leaks, and about 50% of these leaks were from underground storage tanks. This means that in 2008, approximately 20% of all spills from dangerous goods facilities were caused by corrosion or other deterioration of underground storage tanks. In addition, there is a high possibility of delay in the detection of spills of dangerous goods from underground storage tanks due to their structure, and there has been concern about the spread of damage.
Reference: Revision of the Fire Service Law and the decrease in the number of petrol stations Kansai Sogo Appraisal Co.,Ltd.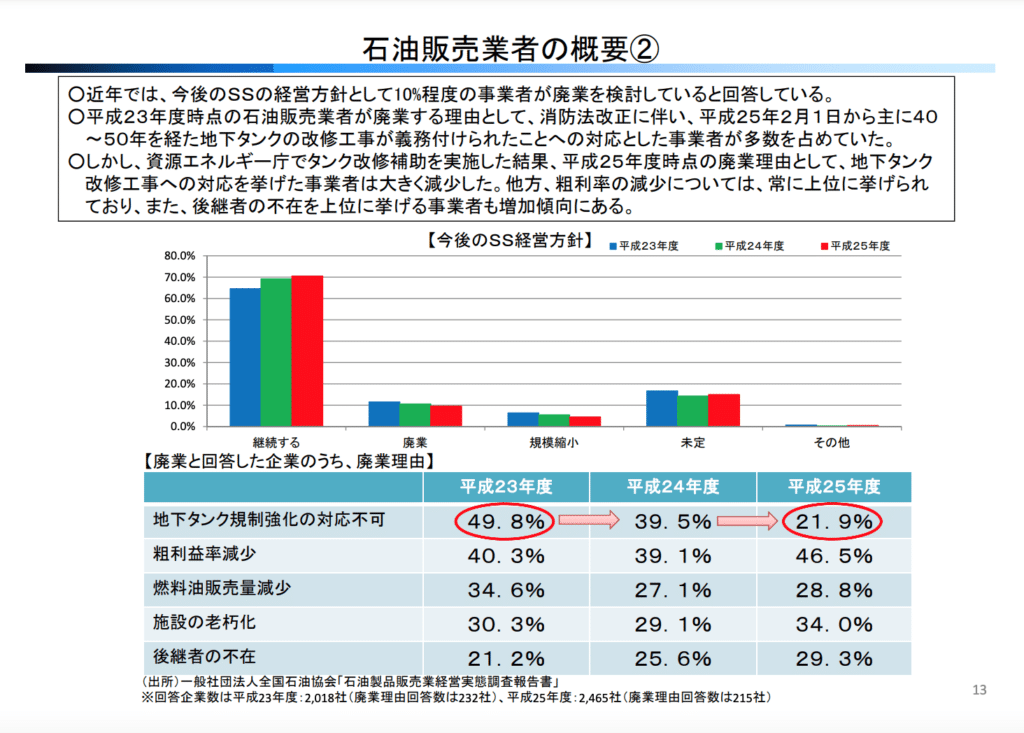 Mr Funato:
That is one of the reasons for the decrease. In addition to that, the shops in Tanabe and Shirahama, which are based in Wakayama City, pulled out of the area as soon as a cheap shop came to the area.
Yabumoto:
I think Kiyo Oil is doing its best as the largest company in the area.
Mr Funato:
Not at all (laughs). It's tough. We can't compete on price alone, we can't win. In this area, people just fill up with petrol, no service. Just keep the shop open and the customers will come.
We try to differentiate ourselves by fixing punctures and coating. If we were completely unmanned, we'd just be a cheap shop.
Yabumoto:
In terms of service, on the other hand, there is no competition.
Mr Funato:
Yes, but I think everyone is in a bad economy because of the Corona pandemic. I think people are a bit reluctant to pay for anything other than fuel for their cars at the moment. It's tough for us because our main product is car coatings. Petrol consumption is always going to go down, so I think we need to focus on coatings instead.
Having said that, the countryside is still better. You can't live without a car. Even though the number of people going out of the prefecture has decreased due to self-restraint, gasoline is still necessary for a minimum lifestyle. I think that is the strength of petrol stations. We deal with the necessities of life. There are as many cars as there are families.
But you don't need a car in the city anymore, do you? If it costs too much to maintain, more and more people rent cars and share them.
Yabumoto:
But the population of the countryside itself is decreasing rapidly.
Mr Funato:
Yes, it is. So we think that we have to do business that is not related to that.
3. What is the effective use of mountain forests?
Yabumoto:
What kind of business do you think you can do even if the population decreases?
Mr Funato:
That's what I'd like to hear (laughs). Do you have any good ideas?
Yabumoto:
Our concept for this Kinan Art Week is to export. We believe that we have no choice but to give up if domestic demand is dwindling. So what do we do? We are convinced that we need to export. Right now, those who can earn foreign demand are winning hands down. We are working on this project in the hope that it will be an opportunity for us to do that locally in Kinan. I want to hear from farmers and various manufacturers and find out what they are thinking.
Mr Funato:
What about the effective use of mountain forests?
Yabumoto:
That's a possibility, isn't it? Just the other day I heard a story about charcoal making and it was very interesting. I don't think it's going to lead directly to a business, but I think it could be interesting if you take the time to do it in a 10-year plan. The forestry industry itself takes too long, doesn't it?
Mr Funato:
I'd like to use the mountain for something.
Yabumoto:
Do you have a mountain in Hiki?
Mr Funato:
There are mountains that have been left untouched.
One of my acquaintances pays a mountain owner to let him go into the mountain to collect wild vegetables, which he sells to various restaurants in Kyoto and Osaka. He picks bracken, royal fern, leaves for Kashiwa-mochi (rice cake) and other vegetables that grow naturally in the mountains. The owner of the mountain gets some money, and since it grows naturally, he is free to do with it as he likes. I thought that there would be such a way to use the mountain.
Yabumoto:
There are some good ones in Kinan. The Hiki River is also interesting. I think we should re-organise those attractions. Isn't there a possibility of a return to the mountains?
Mr Funato:
My father used to say that forestry is a long story, that it takes decades to plant a tree and you don't really know the cost. A petrol station is easy to understand (laughs). Lumbering is hard work.
Yabumoto:
Lumber is cheap nowadays. I had a talk with Yamacho* the other day. I was shown their factory, and it was clear that a company that survives is strong. They are doing forestry and manufacturing.
※Yamacho Shoten owns approximately 5000 hectares of its own forests in the southern part of the Kii Peninsula. Yamacho Shoten has a group-wide integrated system that covers everything from planting, forest cultivation, felling, lumbering, drying, finishing, quality inspection, sorting, and pre-cutting to produce 50-100 year old Kishu cedar and cypress. Established in 1952, theye are a timber sawing, pre-cutting and sales company.
Reference: Yamacho Shoten website
Mr Funato:
Yamacho is a shareholder in our company (laughs). It's amazing that they are still going strong while other lumbermakers are closing down. Everyone has stopped working, but there were so many lumbermakers in Tanabe in the past. I think the only one left is Yamacho.
There used to be three banks in a small town like Hiki. When I was a child I used to play in the sawmill mountains. The lumber was carried in rafts from upstream and lined up in the Hiki River.
Yabumoto:
That's port culture, isn't it. Perhaps we could reorganize Hiki's value.
Mr Funato:
How can I help?
Shimoda:
Is the mountain you have in Hiki near the back of the town?
Mr Funato:
It is
Shimoda:
The Mukaidaira campsite * is also doing very well.
Shirahama as well as Wakayama is putting a lot of effort into providing various experiences for city dwellers who want to go on a workcation *.
※Mukaidaira Campsite – This is a popular camping site blessed with nature. The campsite is located in the middle of the Hiki River and spreads out in a fan shape towards the river. The campsite is ideal for playing in the river, and there is a hot spring facility (Ebine Onsen) nearby, so you can enjoy nature to the full.
Reference: Nanki-Shirahama Tourist Association Homepage
※Workcation: The term "work vacation" was coined from the combination of the words "work" and "holiday. By using telework, people can experience the charms of the local area while working at a place different from their usual workplace, such as a resort or hot spring resort.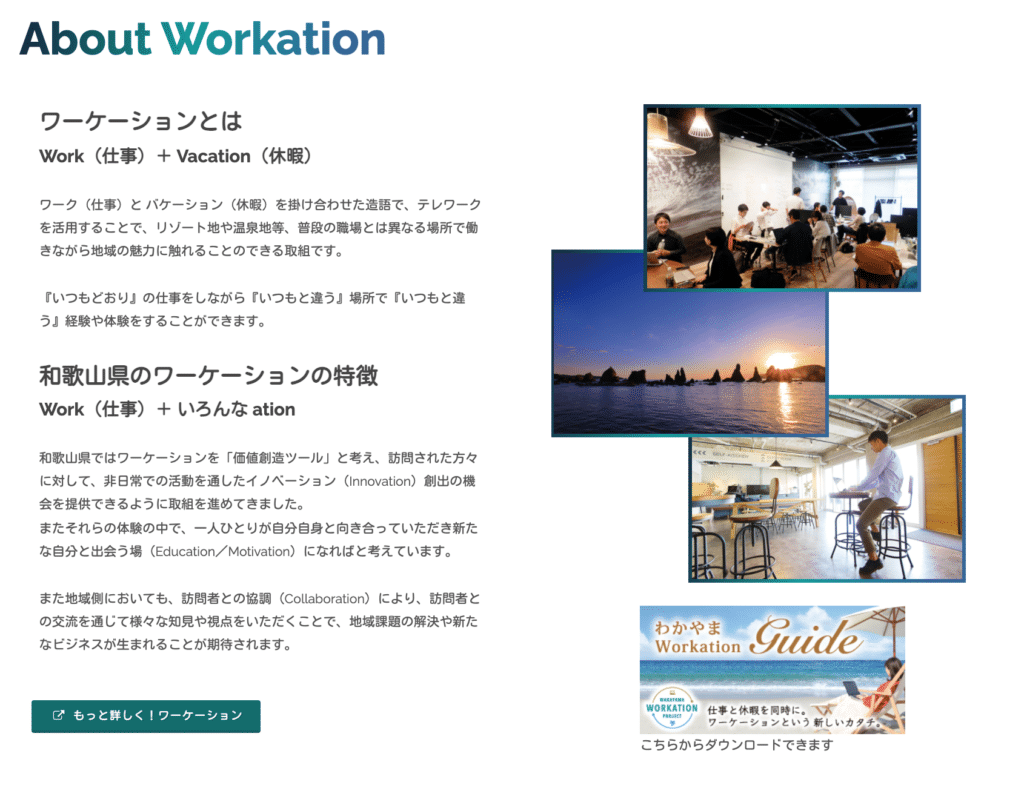 Shimoda:
The story of the wild vegetables is very attractive for a city person.
How about organising a tour for people to go and pick their wild vegetables? In Tohoku, there are mushroom picking tours with expert mushroom pickers.
The best thing about the mountains is that you can combine it with a campsite, and you can eat what you have picked in the mountains right there. People who go to the mountains love wild vegetables.
Mr Funato:
When I was a child, there were people called Yamaban*. I used to go into the mountains with my mother and the Yamaban to collect bracken and royal fern. We don't employ them any more, but at that time they managed our mountain.
※Yamaban: A watchman who protects the forest from fire and theft. Yamamori.
Reference: Digital Daijisen
Yabumoto:
How big is the mountain?
Funato-san:
I don't know (laughs). But there are about 20 places. I used to go around the mountains with the Yamaban, but I haven't been there for decades. Maybe I can find out by going to the forest union.
Yabumoto:
A return to the mountains might be a good idea. This is the time to do it.
Mr Funato:
When I was a child, my grandmother told me that our mountains had been cut in half since my father came to adopt us. She said it was because my father had been playing around and selling the mountains. .
In those days they sold at a good price, because the mountains were full of 100 and 200 year old cypresses. Now it's all cedar, which are a dime a dozen.
4. What do you need for Kinan?
Yabumoto:
What does Kinan need?
Mr Funato:
It is a place where people gather. It seems that the private sector is cooperating in various events, such as the one you mentioned earlier, where people can experience camping.
Shimoda:
In the town of Shirahama, in the town of Ago, there is a company called Minami Kishu Koryu* They accept students who want to learn through experience. They put a lot of effort into workcation, and people from companies in the city sometimes come there for 2 nights and 3 days of training. I think it would be a good idea to organise a sansai (wild vegetable) tour with them.
※Minami Kishu Koryu Kousha.: In the southern part of the Kii Peninsula, mainly in the Hiki River area of Shirahama town, Wakayama Prefecture, they offers "real experiences" that make the most of the natural environment and agriculture, forestry and fishing industries of Minami Kishu.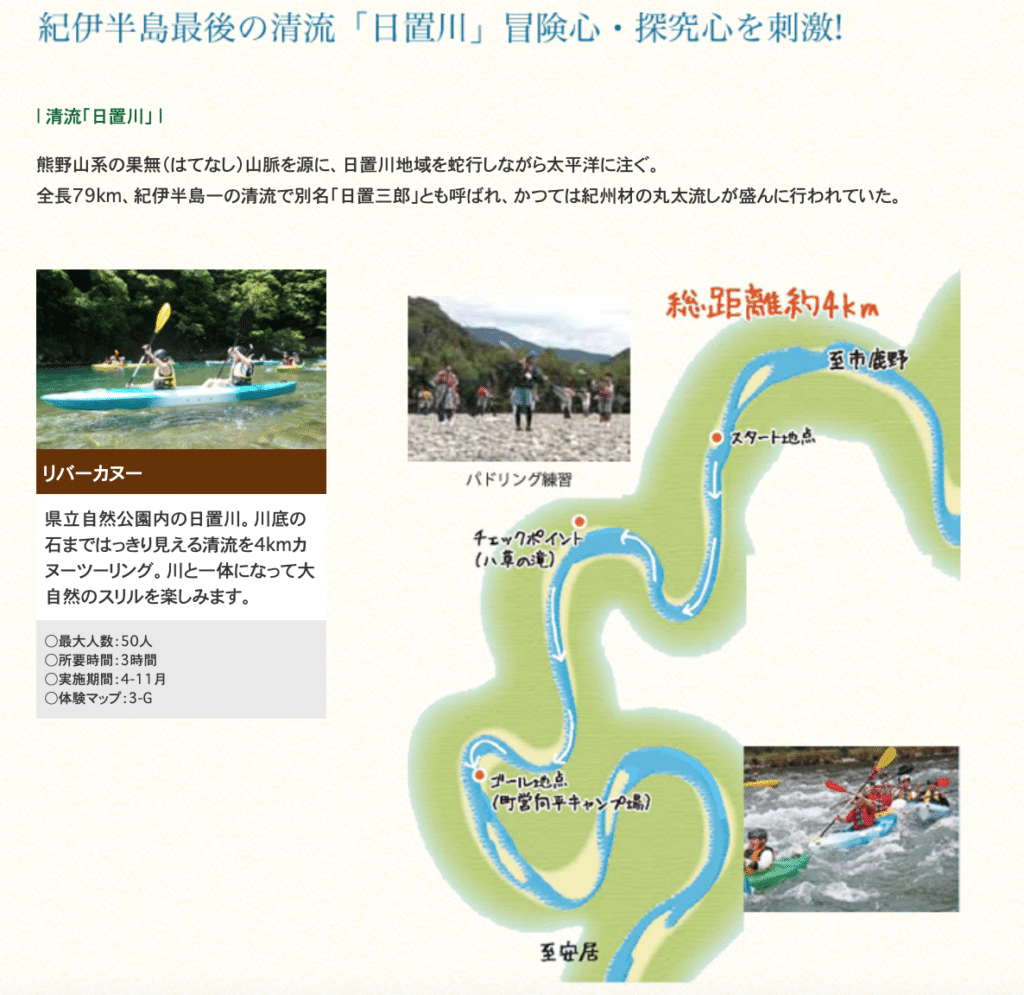 Yabumoto:
How about doing a project like that on your mountain?
Mr Funato:
Our mountain is quite deep in the mountain range, I wonder if it will be alright.
Shimoda:
It's the mountain where the Kumano Kodo goes. Why don't you have a look around? I think it would be interesting.
Mr Funato:
I have to keep track of the mountains sometimes, so I have to go and see them. It's hard to know what the boundaries are. You can tell if the trees are different, but you can't tell if they are the same (laughs). There is usually a boundary at the ridge, but that ridge is not a straight line either.
There are poles for Kansai Electric Power and NTT on the mountain, so they pay me once a year (laughs). They ask me if they can cut down the trees that cover the power lines, but I don't even go to see them, I just tell them to go ahead and cut them down (laughs).
Yabumoto:
Mr Funato, why don't you return to being one of the forest people??
Mr Funato:
I could. In the meantime, I think I can have a look around with my son once. While I'm still alive (laughs).
I'm doing the land registry survey *, but I just go to the forest union or the town hall to get a seal, I don't go to the site (laughs).
※A land registry survey is a survey conducted mainly by the municipality to determine the owner, lot number, and lot name of each parcel of land, and to survey the location and area of the boundary.
Reference: Ministry of Land, Infrastructure, Transport and Tourism
Yabumoto:
Let's go to the mountains. I want to go and see them.
Mr Funato:
I haven't been to the mountains in a long time now, so I'll have to go to the forest cooperative and check the register to see if I can get into the mountains.
Shimoda:
I'm sure that if you dig around in Hiki, you'll find all sorts of things. Isn't there a story about a fallen warrior of the Heike clan?
Mr Funato:
My father, who is adopted, is from Hirase, a village of fallen warriors of the Heike clan. The ancestral graves in Hirase are very old. You can feel the history.
Yabumoto:
So that's where your roots are. That's interesting. If we ignore the current administrative map and look at it, I think you'll find different attractions. If we can find new content from those things, we can create something that we can sell for a long time. I want to re-organise our real valuable strengths. I feel like this project is also a journey to find hints for that (laughs).
Mr Funato:
If I die, there will always be an inheritance tax for the mountain. I still have to go to the mountains at least once. Before my father died, I asked the tax accountant to check our assets and was surprised to find that the price of the mountain was very high. I was prepared for the high price of the shares. Please let me know more about this.
Yabumoto:
Petrol stations are a public infrastructure, so they won't disappear, but they do seem to have a life span.
Mr Funato:
How long can we hold out for electricity and hydrogen to replace them?
Yabumoto:
Maybe Kiyo Oil needs to take a point of view like what Kumagusu Minakata said: "In order to evolve, you have to devolve once". Thank you very much. I have learnt a lot.