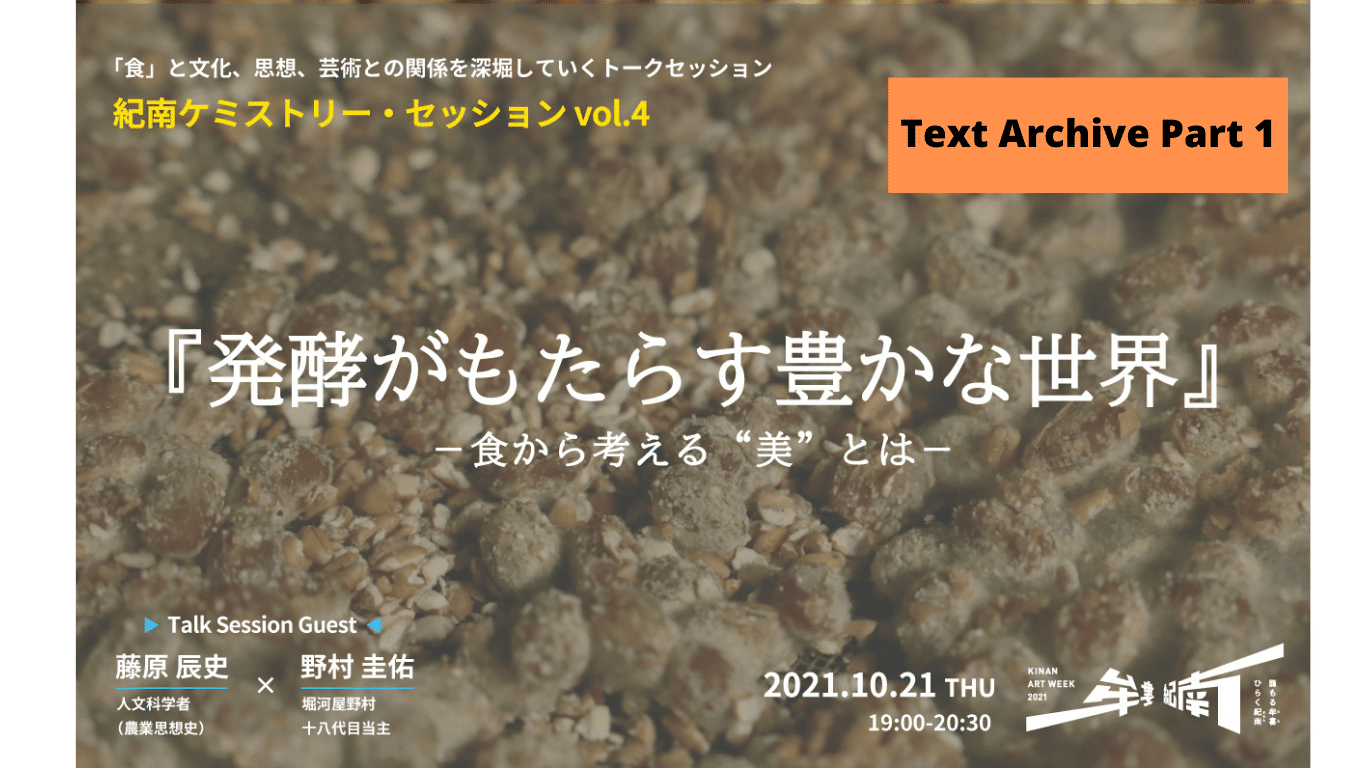 Text Archive:Kinan Chemistry vol.4: The Rich World of Fermentation – Thinking About Beauty Through Food (Part 1)
This is part 1 of the text archive for the online talk session "Kinan Chemistry vol.4" held on Oct. 21, 2021.
This time, which is the forth time, we delivered a talk session on the idea of Artistry through Fermented Food with Japanese fermentation experts
As a part of the Kinan Art Week event, we welcomed two experts: Prof. Tatsushi Fujihara (Mr.), scholar of Agricultural Intellectual History and Associate Professor at the Institute for Research in Humanities, Kyoto University, as well as Keisuke Nomura (Mr.), the 18th generation Soy sauce and Miso brewery owner of Horikawaya Nomura, which has been passed down through generations since the Edo period (1603 – 1868).
From the perspective of experts who have been deeply involved in fermentation from different perspectives, this is a remarkable session that captures the essence of what fermentation really is and the relationship between food and beauty!
Title: "The Rich World of Fermentation – Thinking about Beauty through Food "
Date and time: Thursday, 21 October 2021, 19:00 – 20:30
Venue: Online (ZOOM webinar)
Participation: free of charge
Speaker: Tatsushi Fujihara (Associate Professor, Institute for Research in Humanities, Kyoto University)
Keisuke Nomura (18th generation head of the three-star soy sauce brewer Horikawaya Nomura)
Moderator: Daisuke Miyatsu (Artistic Director, Kinan Art Week)
Moderator: Ryota Morishige (Regional Revitalisation Producer)
The Rich World of Fermentation – Thinking About Beauty Through Food – (Part 1)
Morishige:
Good evening, everyone.
I would like to begin the 4th Kinan Chemistry Session. My name is Morishige, Nanki Shirahama Airport, and I am the moderator of today's session. I look forward to working with you today.
The Kinan Chemistry Session is an online talk session that invites various guests to discuss Kinan's culture, history and climate in an inexhaustible way in preparation for Kinan Art Week 2021.
The fourth session of the series, entitled "The Rich World of Fermentation – Thinking about Beauty through Food", will explore the relationship between food and culture, thought and art.
Today we welcome two guests.
The first is Dr. Tatsushi Fujihara*, a historian who has written books such as "Philosophy of Decomposition: Thoughts on Decomposition and Fermentation" and "Nazi's Kitchen: An Environmental History of 'Eating'", and who talks about the everyday life of "food" in an innovative way. The second is Mr. Keisuke Nomura, the 18th generation head of the Horikawaya Nomura, which has been in business since the Edo period*. Today's moderator is Mr. Daisuke Miyatsu, Artistic Director of Kinan Art Week.
*Reference: Tatsushi Fujihara's Laboratory
How does soy sauce, nurtured by fermentation in the warehouse, influence Japanese culture? And what does it mean to taste good? And how has food changed thought, culture and art? Two guests who have been deeply involved with fermentation in their respective fields will talk about the significance of fermentation and rethink the relationship between food and beauty in this remarkable session.
I would now like to introduce you again to the profiles of our two guests for today.
The first is Dr. Tatsushi Fujihara*, born in 1976 in Hokkaido, Japan. As of April 2021, he is an Associate Professor at Institute for Research in the Humanities, Kyoto University, where he is active in a wide range of fields.
Other books include A History of School Lunches, A World History of Tractors: The Iron Horses that Changed the Course of Human History, War and Farming, A Theory of Food Relationships: Between Solitary and Communal Eating, and A Historical Study of the Principles of Agriculture: Reconsidering the Fatalism of Agriculture.
And the second person is Mr. Mr. Keisuke Nomura. He is the 18th generation head of the three-star soy sauce brewer, Horikawaya Nomura*. Originall from Gobo, Wakayama, after graduating from university, he spent eight years working for a trading company importing soybeans.. At the age of 30, he decided to move into his family's business of making soy sauce and miso, and as the head of the oldest brewery in Wakayama, the birthplace of soy sauce, he burns his own wood, grows his own poultry, and communicates with the bacteria.
Together with the makers of sake, rice vinegar, mirin, kamaboko and tea, they have formed HANDRED, a food evangelism unit with a vision of what food should be like in 100 years' time, to promote the excellence of Japanese craftsmanship both at home and abroad.
*Reference Horikawaya Nomura
*Reference Horikawaya Nomura online shop
*Reference Horikawaya Nomura Facebook
*Reference Horikawaya Nomura Instagram
Horikawaya Nomura was founded in 1688 in Gobo City, Wakayama Prefecture as a kaisen wholesaler*1, transporting goods for the Kishu Tokugawa family to Edo. In 1756, they drifted to Etorofu Island and crossed the sea to start working on land. During this time, the family produced soy sauce and kinzanji miso as their main business, which they gave as souvenirs to customers in Edo and has continued up until today. Horikawaya Nomura's storehouse dates back to the Edo period and is designated as a national tangible cultural property. They are dedicated to making soy sauce and miso using the most ancient method in Japan, "Te-koji (hand-rice malt)".
*1 In the Edo period (1603-1867), a company that worked between shippers and shipowners to handle their cargo.
What is a Kaisen Wholesaler (Kotobank)?
Today we are going to have a very interesting talk on the topic of "Fermentation". I'm really looking forward to it. I would like to hand over the baton to our moderator, Miyatsu, to start the session. Thank you very much, Mr. Miyatsu.
[1] Introduction of two people
Miyatsu:
Good evening everyone. I am Daisuke Miyatsu, Artistic Director of Kinan Art Week. I look forward to working with you today. Tonight we have two guests, Dr. Fujihara and Mr. Nomura. We look forward to working with them.
Dr. Fujihara:
We look forward to working with you.
Mr. omura:
We look forward to working with you.
Meet Dr Fujihara
Miyatsu:
Earlier, Mr. Morishige introduced you, but I would like to ask you both to introduce yourselves again.
First of all, Professor Fujihara. There are so many of your books, such as "The Nazi's Kitchen", which examine the relationship between war, food and agriculture. In the field of history, you are particularly specialized in agricultural history. What's more, you focus on one of the great events of the 20th century, the Nazis*, who were, in a word, an abomination. May I ask you to introduce yourself and why you are focusing on the Nazis and their relationship with food and agriculture?
*Reference: What is a Nazi (Kotobank)?
Dr. Fujihara:.
I was born the eldest son of a rice farmer, but at the age of 18 I left the farming community and moved to Kyoto. I went to Kyoto University, where I took various classes and became interested in history. One day, in class, I watched a programme on NHK called "The Century of Images". I saw the speeches of Adolf Hitler and the killings in Auschwitz concentration camp and I was very interested in why these things happened.
Later, while attending lectures on Nazism, I learned that the Nazis apparently cared about agriculture. "Without the peasants, this nation cannot exist, and without the peasant empire, the Nazis will perish." Hitler had said in a speech. Furthermore, Nazi Germany aimed to be self-sufficient in food, and had an agricultural policy that would be enviable in today's Japan. How could the Nazis, who were considered "abominable" on the one hand, be linked to the Nazis, who valued agriculture on the other? This was the beginning of my historical research.
Meet Mr Nomura
Miyatsu:.
Now we would like to talk to Mr. Nomura. Earlier, Mr. Morishige introduced you to us and told us that you were engaged in soybean-related import business at a trading company. Why did you decide to work for a trading company after graduating from university? I would also like to know why you left the trading company and took over the 18th generation of the family business.
Mr. Nomura:
As you have mentioned, Horikawaya has been connecting small storehouses with jobs and residences since the Edo period. Today, 10 people keep the brewery going. I was born the eldest of three siblings, so I was inevitably seen as the heir apparent. However, my parents believed that life is an adventure that you only live once, so I was brought up in a way that encouraged me to live freely and do what I wanted to do.
Ever since I was young, I have had a longing to go to Tokyo and try my hand at something there! So when I went to university in Tokyo, I found that the people I met there were all very attractive trading company employees . Influenced by my seniors, I went to work for a trading company, without being aware of the family business at all.
When I joined the trading company, I had a job interview and I kind of wanted to be in the food department. As a result, I was assigned to the "Feed Department". This department deals with the raw materials for feed and feed for the cultivation of "industrial animals (economic animals)*2" such as chickens, pigs and cows. When I heard the word "feed", I only had an image of zoo food, but I learned that soybeans are actually used in this process. In the process of cultivating industrial animals, soybean pomace is mixed with corn and other plants to compensate for the protein source, and the animals eat it and grow up. When I heard that story, I was amazed: "God really exists!. I worked in the Feed Department for eight years, mainly importing soybean pomace from India, South America, China and the USA, and exporting it to Japan and Vietnam.
*2 Animals reared for the use of their products, such as meat, milk, eggs, hides and labour.
What is an economic animal (Kotobank)?
When I was working in the feed department, a question came to my mind. Overseas, soya belongs to the category of "essential oils*3" and is not something that is eaten directly. But in Japan, soybeans are something that we eat directly, like tofu, miso, natto and soy sauce. Perhaps the Japanese don't know this? I began to think. When it comes to rice, people try to protect their own production by adopting an active agricultural policy, while many people think that soybeans should just be imported. In my opinion, this is not the way to protect soya.
*3 A volatile oil with a characteristic aroma obtained from the branches, leaves, rhizomes, barks, trunks, flowers, buds and fruits of plants.
What are essential oils (Kotobank)?
I enjoyed working as a trading company employee, but I began to think that it was enriching to be able to work in a job where people could say that the products I made were delicious. When I combined the keywords "soy" and "manufacturing", I realised that my own family was the perfect example of this. When I told my parents that I wanted to take over the family business at the age of 30, they were both very surprised.
Miyatsu:
If you had written to request a different department, you might not have taken over the family business, or might have done so much later.
Mr. Nomura:
Probably not inherited (laughs).
Miyatsu:
When I heard your story, I thought that working for a trading company would be very interesting. In that sense, it was fate that brought you to soybeans in the feed department, and I feel that you were destined to succeed the 18th generation.
Mr. Nomura:
To make things the old-fashioned way, you have to love soy sauce and miso more than anyone else. I knew from the start that I couldn't continue if I thought of it as 'hard work'. (laughs) But I think the most important thing is to have a strong will.
Meet the two of you
Miyatsu:
Actually, this is not the first time that Dr. Fujihara and Mr. Nomura have met, but they have known each other for a long time. Can you tell us more about how the two of you met in the first place?
Dr. Fujihara:
We once held a symposium in Kyoto on the theme of "fermentation". The speakers were myself, Mr. Nomura, former Kyoto University President Juichi Yamagiwa*, and Mr. Itaru Watanabe, proprietor of Talmary*, which produces and sells homemade yeast bread and craft beer. It was there that I had my first fateful encounter with Mr. Nomura. At first glance, I thought "What a cool guy! I was in love with him". I was inspired by the way the craftsmen who make soy sauce and miso choose their words to express themselves.
Later in the day, at the Research Institute for Humanity and Nature* in Kyoto, Mr. Nomura, myself and Mr. Iio from Iio-jozo co.,Ltd.*, the brewer of Fuji Vinegar, held a session on fermentation. It was a very exciting event, with many wonderful stories about Mr. Nomura's experience as a trading company.
*Reference: Biography of President Juichi Yamagiwa (Kyoto University
*Reference Talmary
*Reference Research Institute for Humanity and Nature
*Reference Iio-jozo co.,Ltd.
[2] Food security and health
Miyatsu:
From here, I would like to go a little deeper into the story.
First of all, I would like to ask you, Professor Fujihara. With the recent inauguration of the Kishida cabinet, the words "food security*" and "food self-sufficiency*" have come under greater scrutiny. As you said earlier, "The Nazis valued agriculture", and I think that food and agriculture were very important elements for the Nazis as well. Please tell us what the Nazis thought about food security at that time.
*Reference: What is Food Security (Ministry of Agriculture, Forestry and Fisheries)
*Reference: What is food self-sufficiency (Ministry of Agriculture, Forestry and Fisheries)?
There is also the industrialisation* of agriculture in the US, such as IT-based farming on a large scale. On the other hand, there are some that are the complete opposite, such as Mr. Nomura's style of "carefully handcrafting each product". May I ask you to share your thoughts on this area as well, Mr Fujihara?
*Reference Rationalization and quality of agriculture in the United States (Aguri Navi)
Nazis and food
Dr. Fujihara:
As Mr Miyatsu said, the Nazis saw "food" as an important issue of security. Hitler was appointed Chancellor and the Nazis came to power on 30 January 1933. The First World War had ended in 1918, so it took 15 years to establish itself.
Germany was defeated in the First World War and, in fact, it is believed that the reason for the defeat was the problem of food. Germany was the second largest economy at the time, after the USA, and had a large supply of cannons and gunpowder, and was technologically in a much superior position to Britain. In fact, many people in Germany believed that they had an advantage over other countries in war.
However, Germany had a weakness in that it had only a small number of colonies. Moreover, most of its colonies were in Africa, and it was dependent on imports from abroad for 20-30% of its food. Today, Japan's food self-sufficiency rate is about 37%*, which is a very enviable figure. Furthermore, at that time, Germany imported wheat from the United States, which was a neutral country, and animal feed from Argentina and other countries for the production of milk, so that Germany's agricultural structure was quite dependent on other countries.
*Reference: FY2020 Food Self-Sufficiency Rate and Food Self-Sufficiency Index (Ministry of Agriculture, Forestry and Fisheries)
This situation led to the outbreak of war, which turned their importing partners, Russia and France, against them, so that Germany could no longer import food. Moreover, the British took notice of the relationship between the United States and Argentina, captured the ships carrying food and imposed an economic blockade. The combination of these misfortunes led to the starvation of the German people. At that time, 760,000 people died of starvation in Germany, half of them children.
Furthermore, in the final year of the First World War, a pandemic called the "Spanish flu"* broke out, killing many people, including children. Learning from this shock, the Nazis were determined to build a nation that would never starve again, and they aimed to increase food self-sufficiency.
At the end of the war, the Nazis practised propaganda against the peasants in order to win their votes. Joseph Goebbels*, then Minister for National Enlightenment and Propaganda, devised a strategy to increase the vote, which led to Hitler's appointment as Chancellor.
*Reference Spanish Influenza (National Institute of Infectious Diseases, Infectious Disease Information Center)
*Reference: About Joseph Goebbels (Kotobank)
Moreover, at that time, the United States was already an "agricultural technology superpower". It had chemical fertilisers, of course, and in 1892 it produced the world's first tractor, a truly remarkable piece of technology. In that sense, too, Germany was completely outmatched by the USA. Even in the Second World War, when it joined forces with Japan and Italy to challenge the USA, it was still no match in terms of food production. So I think it is very important to look at the history of the 20th century from the point of view of food.
How to deal with food
Miyatsu:
Mr. Nomura,you now make your own soy sauce and miso from scratch, all within your own reach. I think the world today is too much focused on efficiency and productivity, on mass production and making a lot of money. Can you tell us about your approach to making soy sauce and miso, and what you think is at the heart of your business?
Mr. Nomura:
At the heart of our business is the idea that food is what builds our bodies. We always want to produce products that are safe and secure, or that we feel we can feed to our families. We process raw materials to make our products, and I can see everything that goes into the processing. But when it comes to raw materials such as soya and wheat, I don't have the same level of knowledge of how they grow. That's why it's important to communicate actively with the producers.
I use soybeans and wheat from Hokkaido, and I once heard a very instructive story from a farmer. They don't just grow soya beans, they also grow red beans and potatoes every year. The farmer told us that even if the crops don't generate much income, the soil becomes more fertile when they are grown continuously. In other words, they feel that they are "growing the soil" rather than simply growing soybeans alone. This may be similar to what Dr Fujihara said earlier, but perhaps it is similar to the Nazi efforts to strengthen the land. If you suddenly try to grow food in the field, it doesn't work very well. I think it is very important for farmers to nurture the soil, or for a nation to strengthen its land.
Nazi 'healthism'.
Miyatsu:
In regards to what Mr. Nomura just said, there was the phrase "making the soil stronger". I think it was in one of your books that Karel Čapek*, the creator of robots, talked about the joy of playing with the soil in his garden.
*Reference: About Karel Čapek (Kotobank)
Also, the Nazis did not come to power by force, they were democratically elected and created, weren't they? They emphasised labour and agriculture, and at first glance it looks very impressive, but we cannot help wondering why it behaved as a dictatorship. I would like to ask you, Professor Fujihara, about your thoughts on the Nazi situation and its relevance to the issue of food and democracy.
Dr. Fujihara:
The key words then are "health and happiness for whom?" The Nazis came to power with the slogan "No one will starve", which is often said to be a promise, but there was a trick to it: they did not starve their people until the end of the Second World War.
The Nazis were racists, and they used the term "Aryan*", and they believed that only a race with a certain bloodline could reign over the world. They kept only what they considered to be "pure Germans" from starving, and ranked the Poles, Russians, or Jews in the occupied territories as the only ones who had to live. In other words, they wanted to ensure the health of their own people in exchange for the ill-health or death of other peoples.
*Reference: What is Aryan (Kotobank)?
As the book "The Nazi War on Cancer is currently being published, the Nazis had a strong healthist element. They modeled themselves on the model of the healthy soldier and the healthy mother. For example, they were aware that they should eat German apples instead of buying bananas from Africa, eat vegetables to avoid stomach cancer, and drink herbal tea instead of tea. In a sense, the Nazis were a movement obsessed with health, although food self-sufficiency was probably also a goal. However, they aimed at the health of their own people only, and the application of the word "health" was limited. I think this was a very big problem.
The relationship between man and agriculture
Miyatsu:
What you have just said is interesting, but I would like to make another point, and that is to look at the peoples who were persecuted by the Nazis. For example, the Czech Čapek, whom I mentioned a little earlier. He wrote a novel called Válka s mloky ( War with the Newts), in which a salamander, a slave of man, becomes intelligent and hunts down man. Čapek also had a great love of gardens and soil. Is there a close connection between people's lives and agriculture, food and soil in Europe, as he had ?
Dr. Fujihara:
I think that Čapek was a very special person. He was a science fiction writer who coined the word robot, but he was also a horticulturist. He was the kind of person who couldn't go on holiday without worrying about his garden. There were many intellectuals in Europe at the time who, like Čapek, enjoyed gardening and tinkering in the soil. However, Europe was one of the first countries in the world to use chemical fertilisers, and this led to problems with soil run-off. The problem was particularly prevalent in Germany, because Germany was a chemical country and used a lot of chemical fertilisers.
At the same time, too much modernisation in the USA led to soil run-off and a dust storm called the Dust Bowl*. In Chicago, it was dark even in the daytime. These problems forced the soil scientists of this period to confront the horrors of soil pollution.
*Reference Drought and soybean production hitting the American Midwest: 1. American agriculture is a battle against nature (Japan Vegetable Oil Association)
In fact, despite the problems with soil run-off, there is a widespread myth that Europeans used to work hard to build up their soil, collecting compost and waiting for it to recover. This is exactly the kind of 'utopia' that Europeans have come to know and love.
[3] The pursuit of "deliciousness"
Miyatsu:
Now I would like to ask you about "deliciousness". Earlier, Mr. Nomura said that it is important to make food that is safe and secure, because it is what we put inside our bodies. Actually, I myself am interested in the relationship between "quality" and "taste" of food. In this day and age, there is a widespread gourmet boom, with restaurants being rated with stars like Michelin, and I think we are somewhat bored with food. With this in mind, what are your thoughts on what "deliciousness" is, or what you consider to be the criteria for "deliciousness"?
How Mr. Nomura sees 'goodness'
Mr. Nomura:
I always ask myself, "What do I think?". Even if other people don't like the taste of something, it's okay if I think it's delicious, and I feel that thinking like that leads to a richer life. This idea may be close to the theme of this talk session, "Thinking about beauty through food". We all have different aesthetic senses, so of course our sense of taste is also different. The sense of taste is a fusion of what we have been given inborn and what we have eaten acquired. That is why it is natural that each person has a different sense of "good taste".
However, in a world that is becoming more and more efficient, there is a demand for food that tastes the same no matter when or where you eat it. For example, Oden from a convenience store tastes the same whether you eat it in Sapporo or Fukuoka. I think it's a shame that more and more Japanese people are looking for the same quality of food. Japan is an island nation with four seasons and has developed an internationally distinctive food culture, so we should make use of these advantages. If people can think that Japan has such richness, or that inconvenience is the reason for convenience, the current situation may change. We are working hard to make soy sauce and miso, hoping that our production will be a catalyst for this.
Tradition and innovation
Miyatsu:
Horikawaya Nomura still uses the same equipment as when it was founded, and now employs 10 people to produce its soy sauce and miso. This is where the tradition that has been handed down from generation to generation since the company's inception really shines through. You also offer a system called "cloud-ship", which uses VR technology to show the inside of the brewery. The actual method of production is very old-fashioned, but the system uses very advanced technology. Can you tell us about your thoughts on this aspect of tradition and innovation?
Mr. Nomura:
When I found out that the theme of Kinan Art Week was 'Seclusion' and 'Openness', I was moved to think that this is exactly what I want to embody in my life. My motto is "Communicating while making". Coincidentally, the koji we use to make soy sauce and miso is grown in a koji-muro*, which is exactly what I think making soy sauce and miso is all about. We believe that making soy sauce and miso is a process of "Komoru" (secluding ), and that delivering the brewed product to the customer is a process of "Hiraku" (opening). In other words, tradition is about "Komoru" and innovation is about "Hiraku". This is exactly what we do at Horikawaya Nomura, where we combine old-fashioned analogue elements with cutting-edge technology and digital elements.
*Reference [Production process of the three-stari soy sauce④] Care in the koji room-1 (Horikawaya Nomura, YouTube)
Miyatsu:
Thank you very much. I'm sure Yabumoto, the chairman of the Kinan Art Week committee, will be delighted to hear what you have to say. The theme of Kinan Art Week is "Seclusion" and "Openness", and I would like to ask Dr. Fujihara and Mr. Nomura to talk about this part again at the end of the talk session.