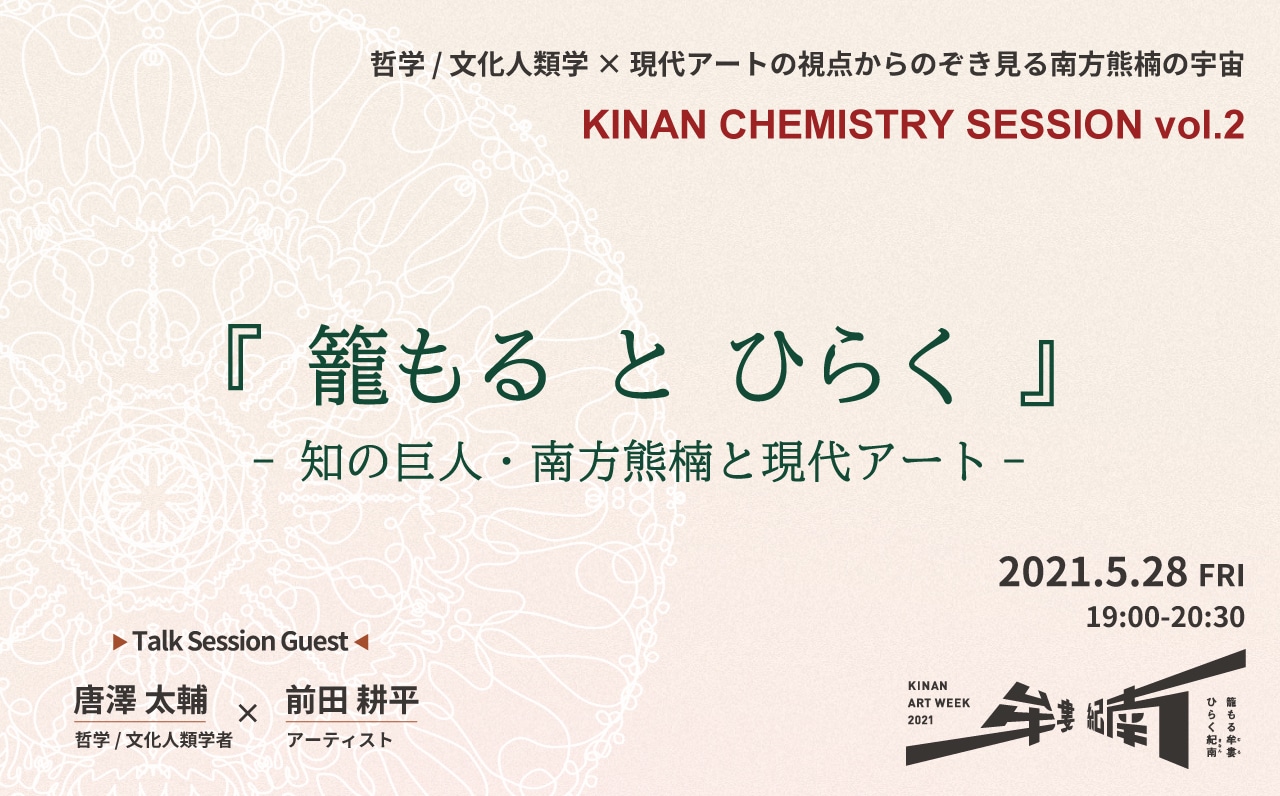 Notice of "Kinan Chemistry Session Vol.2"
An online talk session series "Kinan Chemistry Session" that invites various guests to talk about the culture, history, and climate of Kinan in all directions for the Kinan Art Week 2021.
The second talk will be entitled "Seclusion and Openness -Kumagusu Minakata, the Giant of Knowledge and Contemporary Art-", and will talk about Kinan with the theme of Kumagusu Minakata, a giant of knowledge, a naturalist / folklore scholar who represents Japan. The session will be held online (free of charge).
Guests include many books and papers on Minakata Kumagusu, and Taisuke Karasawa, a philosophical / cultural anthropologist with a deep knowledge of slime molds, and Kohei Maeda, a contemporary art writer who is from Kinan and also works on works related to Minakata Kumagusu. We will welcome you.
Through the dialogue between the two people who have been friends with each other for a long time and have collaborated on the "Mandalabo" project that pursued the philosophical thought of Minakata Kumagusu, the point of contact between Minakata Kumagusu and contemporary art can be seen from there. Get closer to things.


< Outline of the Kinan Chemistry Session vol.2 >
Title: Seclusion and Openness -Kumagusu Minakata, the Giant of Knowledge and Contemporary Art-
Date and time: Friday 28 May 2021, 19:00 – 20:30
Venue: Online (ZOOM webinar planned)
Participation: free of charge
Speaker: Taisuke Karasawa (Associate Professor, Akita University of Art, Philosophy / Cultural Anthropology)
Kohei Maeda (contemporary artist)
Facilitator: Daisuke Miyatsu (Artistic Director, Kinan Art Week)
Moderator: Ryota Morishige (Regional Revitalization Producer)

Registration: via the event page on the ticket booking website Peatix, or via the email address below
Peatix Page: https://kinan-chemistry-session-2.peatix.com
Email address: info@kinan-art.jp
 If you apply by email, please include your name and city in the body of the email.


Introduction of the Speakers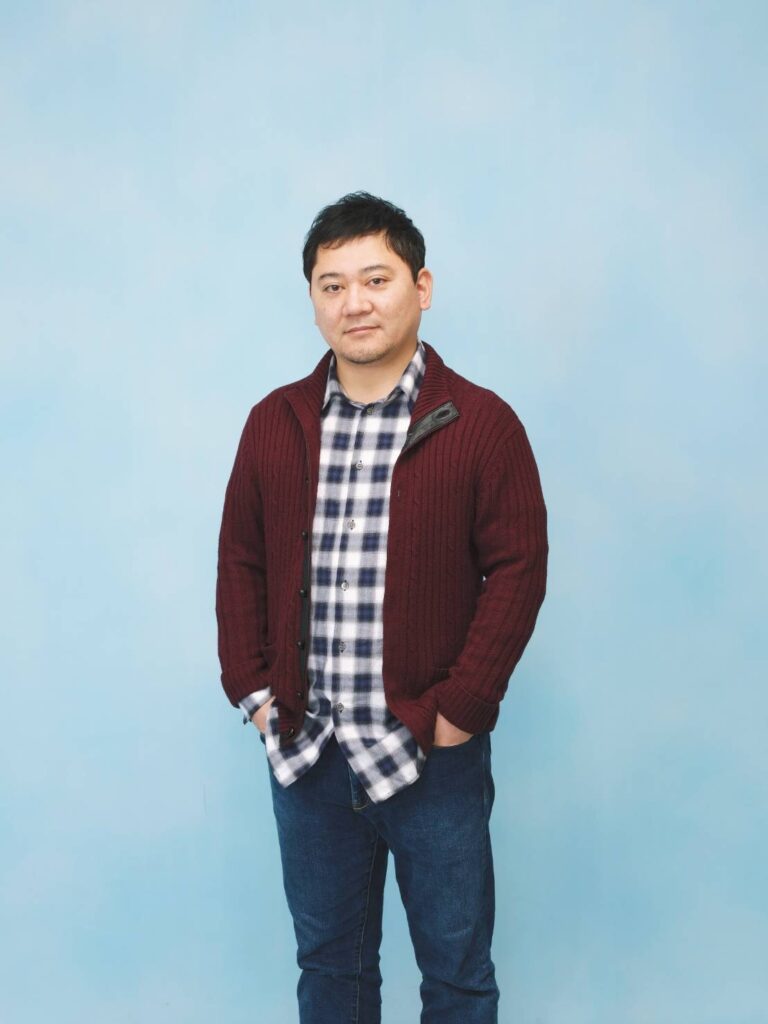 Taisuke Karasawa
(Associate Professor, Akita University of Art, Philosophy / Cultural Anthropology)

Born in Kobe City, Hyogo Prefecture in 1978. Karasawa graduated from the Faculty of Letters, Keio University in March 2002, and completed the doctoral course at the Graduate School of Social Sciences, Waseda University (Ph.D) in July 2012. He was a researcher of the 1st Minakata Kumagusu Research Promotion Project Grant. After working as a Research Fellow of the Japan Society for the Promotion of Science (DC-2 [Philosophy and Ethics]) and as a Research Associate and Assistant Professor at the School of Social Sciences, Waseda University, he is currently an Associate Professor at Akita University of Art, Department of Arts and Roots, and the Graduate School of Transdisciplinary Arts. He specializes in philosophy and cultural anthropology. In particular, he explores the fundamental 'ways of being', in which mankind constructs folk customs, religious beliefs and cultures, through the thought of Kumagusu Minakata (1867-1941), an intellectual giant. In recent years, he has been engaged with his research in comparative studies of Kumagusu and artistic thought, as well as the modernistic possibilities of Kegon Buddhist thought. He received the 13th 'Yasuo Yuasa Book Prize' in 2019.


.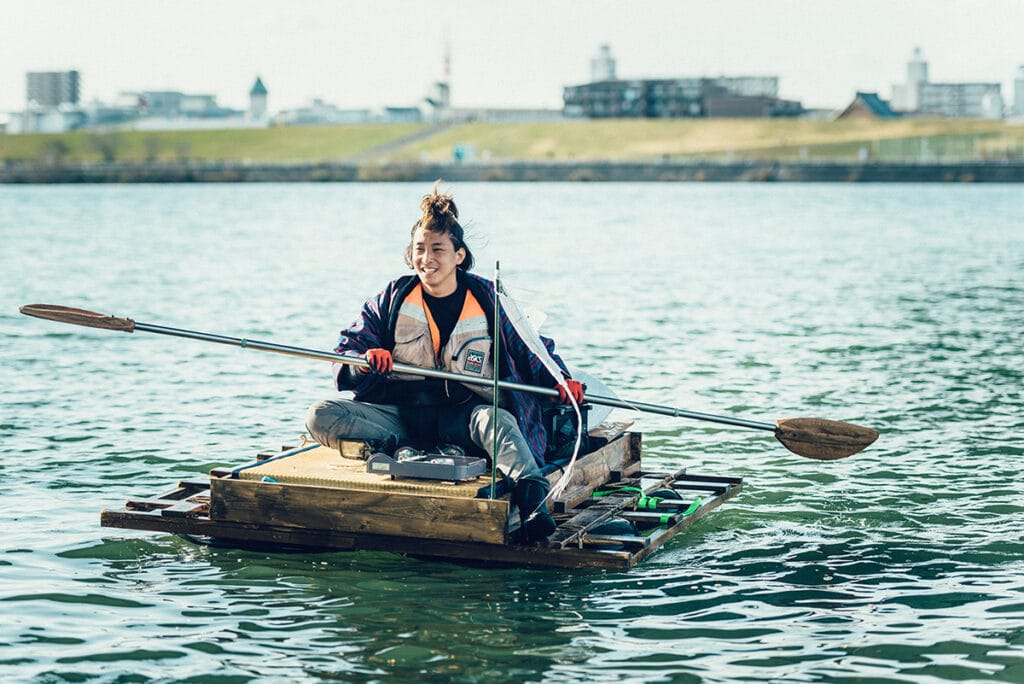 Kohei Maeda (contemporary artist)

He is interested in relationships and distances with people, nature, and things, and continues his exploratory journey with various approaches. Based on his own actions and experiences, he has made presentations in Japan and overseas, including videos and performances. Recent activities include "Pangasianodon Gigas" to search for catfish in Thailand and "Love Noise" to search for the shape of love.
Currently, he is based in the share studio "SSK (super studio kitakagaya)" of the former shipyard facility in Osaka.
https://koheimaeda.com/


.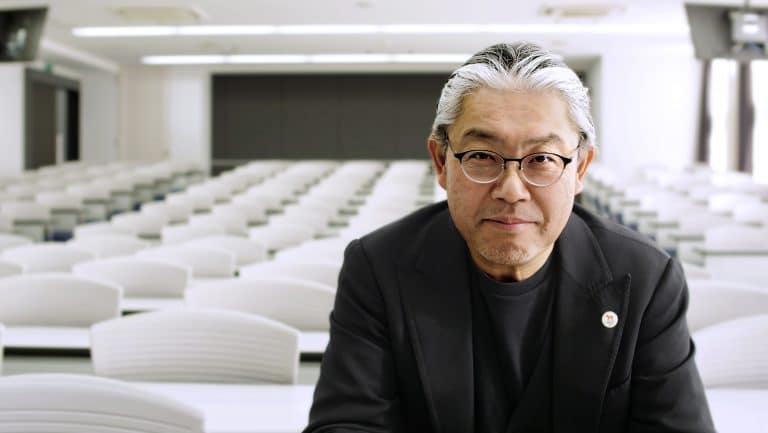 Facilitator: Daisuke Miyazu (Artistic Director, Kinan Art Week)

Born in Tokyo in 1963. Graduated from the Graduate School of Art and Design, Kyoto University of Art and Design with a master's degree. Researches the relationship between art, the economy, and society. Known as a world-renowned collector of contemporary art. While working for a private company, he collected more than 400 pieces of art works, and his home, which he built in collaboration with an artist, is world-renowned. He is also a professional art custodian and conservator.

He has served as a member of the 'Council for the Study of Overseas Dissemination of Contemporary Art' of the Agency for Cultural Affairs and the 'Haneda Olympic and Paralympic Legacy Promotion Task Force', acted as a juror for the 'Asian Art Award 2017' and the 'ART FUTURE PRIZE. He has been active in the media, appearing on general TV's 'Close-Up Gendai+' and 'NHK News Good Morning Japan' and has also giving many lectures in Taiwan, Korea, China and other countries.


.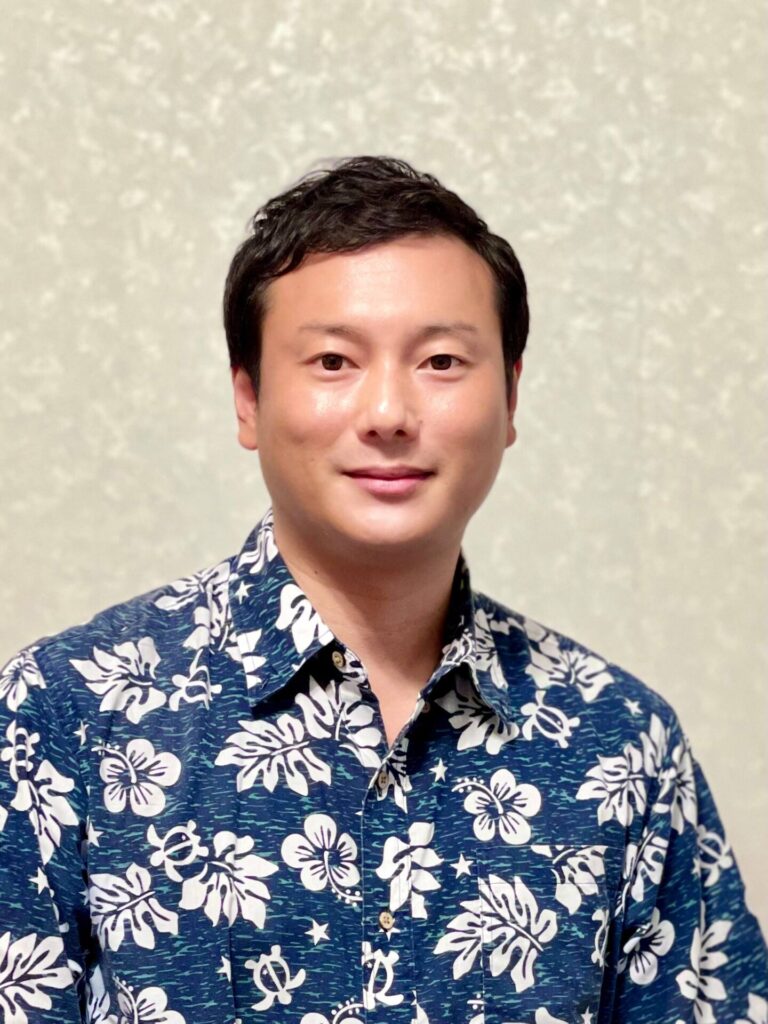 Moderator: Ryota Morishige (Regional Revitalization Producer)

Nanki-Shirahama Airport, Director of Visitors and Regional Revitalization Office / Deputy Chairman of Kinan Art Week
After working for a major electronics manufacturer, he has been involved in many airport revitalization and regional revitalization projects nationwide from both public and public standpoints at the Industrial Growth Platform, Inc. (IGPI). Currently, as the head of the tourist attraction and regional revitalization office of Nanki-Shirahama Airport, he oversees the airline attraction, regional cooperation, and landing-type travel business for airport-type regional revitalization. From both tourism and business perspectives, we will work to attract inbound tourists, promote worcation, attract IoT companies, and revitalize local acceptance systems, promote advanced demonstration experiments, and develop human resources.
Kii Peninsula Regional Cooperation DMO Secretariat and Chief Marketing and Finance Officer.