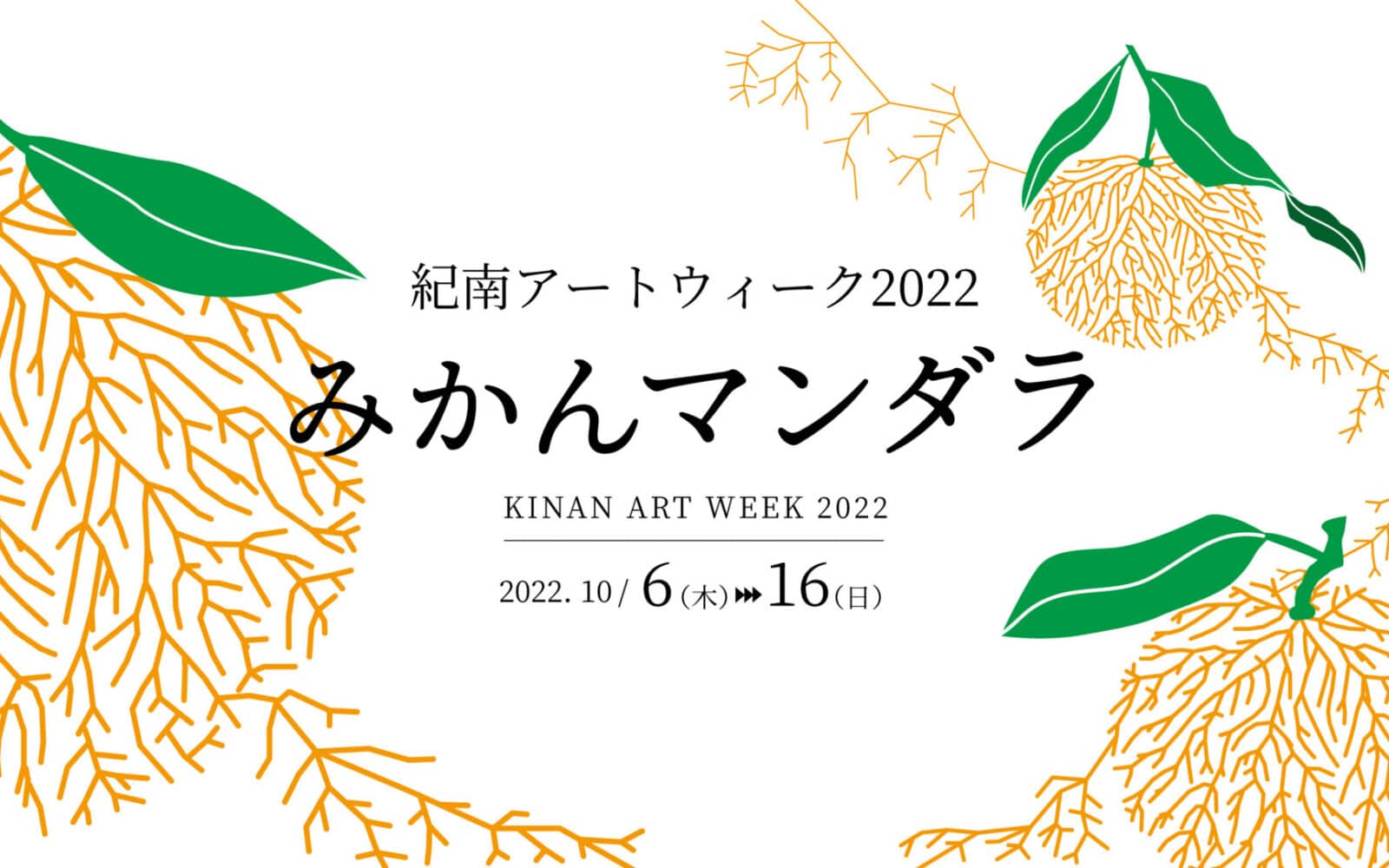 The Orange Mandala Exhibition, featuring 'Orange' from the Kinan region, will be held from 10/6-10/16 in Tanabe, Wakayama!
This is the first exhibition of Orange Collective, a project to rethink oranges from various fields such as art, mythology, philosophy, anthropology, botany and design, in order to explore the value of the citrus fruit not only in terms of taste and rarity, but also value of land and root of the Kinan region.
The Kinan Art Week Executive Committee is implementing this year's art project "Orange Collective" on the theme of orange, a local resource in the Kinan region of Wakayama Prefecture, and will hold the "Mikan Mandala Exhibition" from Thursday, October 6th to Sunday, October 16 (Sun) October 2022 for 11 days at several locations in Tanabe City, Wakayama Prefecture.
Event Summary
Dates : Thursday 6 October – Sunday 16 October 2022 (11 days)
Time: Depends on the exhibition venue.
Venue: Various locations in Tanabe City, Wakayama
Admission : Free *Some workshops and experiences are chargeable.
Organised by: Kinan Art Week Executive Committee
Conceived by: Orange Collective.
Curated by Production Zomia
Support: Fukutake Foundation
Co-organisers: QualitySoft, Sato Seiku Law Office, Takagaki Corporation, Yamacho Shoten.
Supported by: Wakayama Prefecture, Tanabe City, Tanabe City Board of Education, Tanabe Tourism Association, Kii Minpo, FM TANABE, TV Wakayama *partially planned
Cooperation: Ishiyama Kieko, Ishiyama Nobuhiro, Gallery Ver (Thailand), Koyama Tomio Gallery, Sa Sa Art Project (Cambodia), NPO ZESDA, Nha San Collective (Vietnam), Minakata Kumagusu Archives, Yeo Workshop ( Singapore)
Exhibition
The overall theme of the exhibition is 'Orange Mandala'. Together with contemporary artists, the exhibition explores the junction between oranges, which have not been talked about much, and other fields such as art, mythology, philosophy, anthropology, botany and design, to create a new collective knowledge (mandala) with a cosmic scope, such as that found in Kumano by the leading philosopher, Minakata Kumagusu.Each exhibition venue will have an exhibition theme and curated artworks. In addition to new works by various artists, works by leading Asian artists from the collection of the AURA Contemporary Art Foundation will also be invited.
■ Exhibition theme 'Fruitfulness / A journey through fruits'
Artist : Hirose Satoshi
Location: Akizuno Yui Warehouse
The warehouse of Akizuno Yui Corporation, an agricultural corporation jointly funded by local farmers, will be used as the exhibition venue.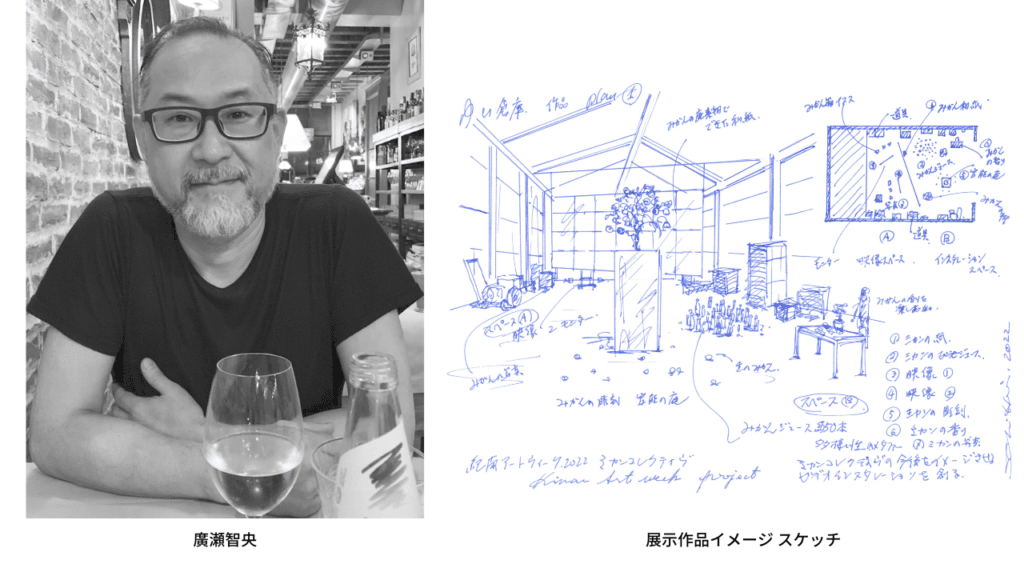 ■ 'Symbiosis with Fungi / Mycorrhizal Network'  
Artists: Be Takerng Pattanopas, Piyarat Piyapongwiwat, Tuan Mami, Quynh Dong, Kano Tetsuro, Hirose Satoshi, AWAYA
Location: SOUZOU (former Iwahashi residence).
The exhibition features works from the collection ofAURA Contemporary Art Foundation, focusing on the ecology of fungi and plants to which Minakata Kumagusu turned his attention, as well as on the symbiosis between nature and people.


■ 'Soil and roots / Exploring the invisible roots'
Artists: bacilli, Hirose Satoshi, Khvay Samnang
Location: Guesthouse Aiwaso
In order to induce a new cultural exchange at the ryokan, which was loved by cultural figures such as living national treasure Serizawa Keisuke, Hirose's work, which arouses the imagination of Kumano's nature, and workshops by the art collective basirai, whose activities take a multifaceted view of soil, will be conducted and exhibited.

■ 'Orange Myth'
* Special live performance in the space on 9 Oct (Sun) 12:00-14:00
VR Artist: VR Sobaya Tanabe
VR Live Artists:Ambientflow ku, Yamamie, "Kasou" Butoh-dan, Jibieze (Dokokano Usagi & Shagage), Okyutan bot/Sumire Takarai
Exhibition location: online (on VRchat) *VR experience available at tanabe en+ during the exhibition period. 
 A new VR space experience based on the beta version of the exhibition held at the Kawakyu Museum in June 2022, as well as a VR music live performance in the space on 9 October (Sun) during the exhibition period. Scheduled to be held.


*Location, artists, etc. are subject to change.
■Sunday, Sep. 18th Special Art Film Screening
Location: SHIOGORI CAMP
"MADE BY EVERYONE An outdoor event in Tanabe City that has been held since 2019 under the concept of "an at-home camping festival made by everyone.Prior to the Kinan Art Week 2022 'Orange Mandala' exhibition, a special screening of video works will be held in the SHIOGORI CAMP venue! We will curate and screen works from leading contemporary Asian artists that resonate with the concept of SHIOGORI CAMP, the culture of the sea, the history of tidal waves and more.
■Thursday, Oct. 6th 19:00 – 'Orange Mandala exhibition briefing'
Speaker: Yuto Yabumoto (Chairperson, Kinan Art Week Executive Committee)
Location: tanabe en+.

■Friday, Oct. 7th 18:00 – Special Talk Session "Soil and Roots – from Cambodia and Kinan/Kumano" (tentative)
Speakers: Khvay Samnang (contemporary artist), Ishikura Toshiaki (Associate Professor, Akita University of Art, Art Anthropologist)
Venue: Aiwaso
■Saturday, Oct. 8th 10:00 – Opening ceremony 'Seedling Journey' (seedling donation ceremony) & talk session
Speakers: Hirose Satoshi (artist), Hara Takuo (Gardener, Kishu Hara Farm)
Location: Akizuno Yui Warehouse.
As an opening ceremony for the Orange Collective exhibition, a transfer of mandarin seedlings will be held. The mandarin seedlings will be nurtured together with the participants (i.e. foster parents) to create a new way of farming land as a 'commons farm' (a farm for everyone that everyone can use) in the future.

■ Sunday, Oct. 9th 10:00-11:30 Painting workshop 'Minakataru'
Artist: Kineimura Naoko
Location: SOUZOU (former Iwahashi residence).
A painting experience in which sketches of natural objects and (sometimes fictitious) explanatory text and annotations are included, using the detailed specimen drawings left by Minakata Kumagusu as a model. By using paper that has been wetted and seared with orange juice, the artist creates a unique world that seems to transcend the passage of time.

■Sunday, Oct. 9th 15:00-17:00 Talk show "Mikan Mythology – Let's get to know the Sprits of Kinan".
Speakers: Yamamoto Tetsuji (General Director, Institute for E.H.E.S.C), Sakamoto Konomi (Manager, Kumano Log), Hara Takuo (Owner, Kishu Hara Farm)
Location: tanabe en+.
The Kinan region is an extremely important place in the Kojiki and Nihonshoki (hereafter 'Chronicles of Japan') myths, such as the Jinmu expedition. Amaterasu, Susanoo and other fascinating characters appear, as well as plants such as peaches and camellias. Tachibana, the original species of mandarin oranges, also makes many appearances, and we would like to provide an opportunity to deepen our understanding of the indigenous deities of the Kinan region, starting with tachibana. The lecture will be followed by a panel discussion with guests from the region.

■Friday, Oct. 14-Saturday, 15 17:00 – 18:30 Touji Tour & Talk 'Talk with Art People'
Speakers: Kumano Sachiko (Ryokan Shirasagi) on both 14th and 15th; Ishiyama Nobuhiro (Takagaki Corporation) ; Ozaki Toshiki (Salon Shinju)
Location: Nanki Shirahama Onsen Inn Ryokan Shirasagi & online
A conversation with Kumano Sachiyo, the famous landlady of the local Tsubaki onsen, Ozaki Toshiki of Salon Shinju and Ishiyama Nobuhiro, President of Takagaki Corporation. A way of life is art itself! The three speakers will warm your heart and body, and you will surely discover something new about yourself. For more information, see Kinan Art Week Peatix (http://ptix.at/QxqisO).

■Saturday, Oct. 15th 17:00-18:30 bacilli x Caravansarai ~Smelling Soil~
Location: Aiwaso
An event to feel and experience the stories and memories of places associated with soil using the 'five senses'. The soil art unit 'basilai' and Tanabe's French restaurant 'caravansarai' cooperate to bring soil from citrus farmers' farms in various areas of Tanabe City, as well as fruits and roots, to enjoy the differences between them.

■Saturday, Oct. 15th 19:00〜Sound Unit AWAYA Music Live
A special live performance by AWAYA, a sound art unit living in Nakahechi, will be held to express the mythical world.

■Sunday, Oct. 16th 13:00 – 17:00 Parent-child workshop "Orange Classroom" Wakayama Scolab.
Location: Akizuno Garten.
A joint project with Wakayama Scolab, which is working to establish a new learning centre in Kinan. Workshops are held for parents and children to learn together and deepen their exploration. After conducting fieldwork in a mandarin orchard rooted in the local area, the children and adults are divided into teams and each team conducts a workshop using mind maps. They present the results of their research to each other and share deeper learning.
Venues
■ Akizuno Yui Warehouse
4558-8 Kami-Akitsu, Tanabe, Wakayama
Open 8:30 – 16:30
https://akizuno.jp/
 
■SOUZOU (Former Iwahashi Residence)
 Nakayashiki-cho, Tanabe City, Wakayama
Open 10:00 – 17:00

■ Guesthouse Aiwasou
Address:28-24, Furuo, Tanabe City, Wakayama Prefecture
Opening hours: 10:00 – 17:00
 https://www.aiwaso.jp/
■tanabe en+
41-1 Minato, Tanabe, Wakayama
Open 10:00-19:00
 https://tanabe-enplus.jp/
 
■Shiogori Camp
 Ougigahama, Tanabe City, Wakayama Prefecture Ougigahama Beach
 https://shiogoricamp.jp/
■Nanki Shirahama Onsen Inn Ryokan Shirasagi
1056-22 Tsubaki, Shirahama-cho, Nishimuro-gun, Wakayama
 https://www.tsubaki-shirasagi.jp/
■Akizuno Garten
4558-8, Kami-Akitsu, Tanabe, Wakayama
 Mikan Museum Akizuno Mikan Classroom 'Kar