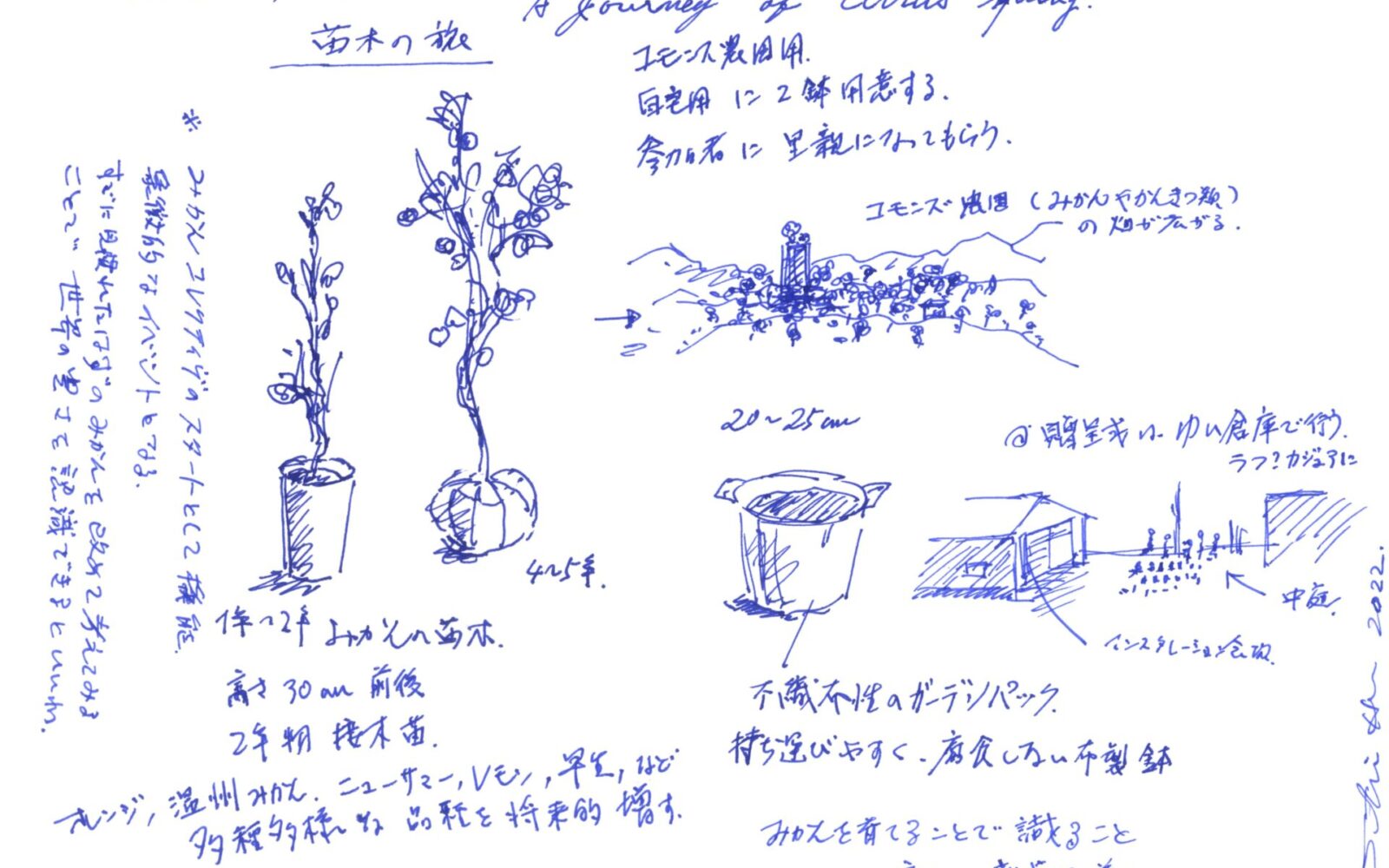 Opening Ceremony "Journey of Seedlings" (Seedling Donation Ceremony) & Talk Session
Saturday, October 8, 2022, 10:00-
In front of Akitsuno YUI Warehouse
CapacityUnlimited
Participation feeFree
As an opening ceremony for the Mikan Collective Exhibition, we will hold a transfer of citrus seedlings. Mikan seedlings will be nurtured together with participants (i.e., foster parents) to create a new type of farmland as a "commons farm (a farm for everyone that can be used by everyone)" in the future. The ceremony will feature a dialogue between Tomoo Hirose, who has continued to express himself about citrus, and Takuo Hara of Kishu Hara Farm, a representative of citrus farms in Kinan.
Date: Saturday, October 8, 2022, 10:00-
Venue: In front of Akitsuno YUI Warehouse
Capacity: unlimited
Entrance Fee: Free
<Satoshi Hirose>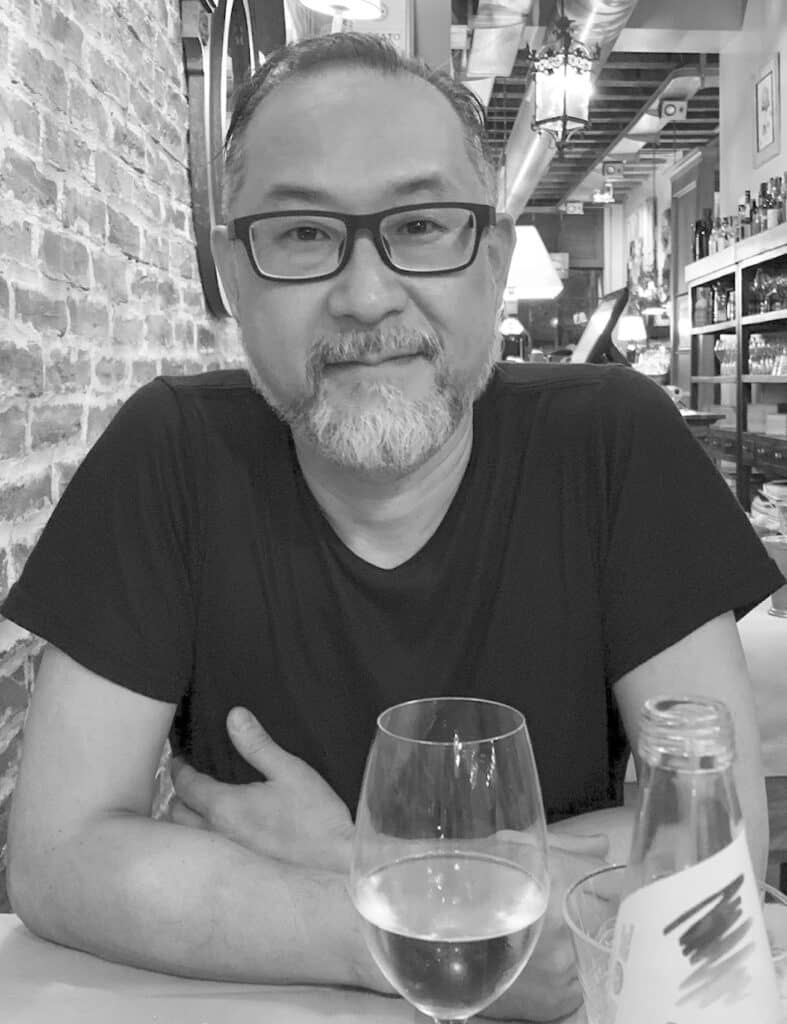 Satoshi Hirose (1963-) is based in Milan, Italy, and has been working energetically since his early activities in the 1990s. He has participated in numerous exhibitions in museums and galleries around the world, including Japan, Asia, and Italy. Recently, Hirose has also been involved in long-term projects that go beyond existing art activities with an awareness of social contact, such as the "Sky Project" (Maebashi, 2016, ongoing through 2035), in which he exchanges photos of the sky with mothers and children at a mother-child living support facility. The breadth of Hirose's concept extends to the entire globe from a macro perspective, transcending countries and seasons, and even the universe. At the same time, Hirose discovers richness and diversity in the daily Italian diet, and a common sense of small happiness and meaning to life through encounters and dialogues on cross-cultural trips. The main characteristic of Hirose's work is that he transfers such everyday life to an artistic level and strongly engages the viewer's five senses. In the "Blue Drawing" series, he creates installations that stimulate the senses of sight, smell, and taste by spreading lemon and spices all over the floor, photographs of the sky, and the seemingly endless increase of cells, while in the "Beans Cosmos" series, foodstuffs such as beans and pasta are placed in acrylic resin, along with rolled maps, marbles, gold, etc. In "Beans" series, he creates a series of works that are filled with foodstuffs such as beans, pasta, etc. Hirose's work is a combination of the artificial and the natural. Hirose has discovered that there is a rich world that is often overlooked in the areas and small things between things, such as artificiality and nature, day and night, and on the periphery, and has captured the contradictions and uncertainties that lie deep within, but do not appear on the surface. Visitors can experience the world of Hirose's works from various perspectives and angles as they walk around the exhibition space. The coexistence of these heterogeneous things, which can be seen in very different ways by changing viewpoints, is like our society itself.
<Takuo Hara>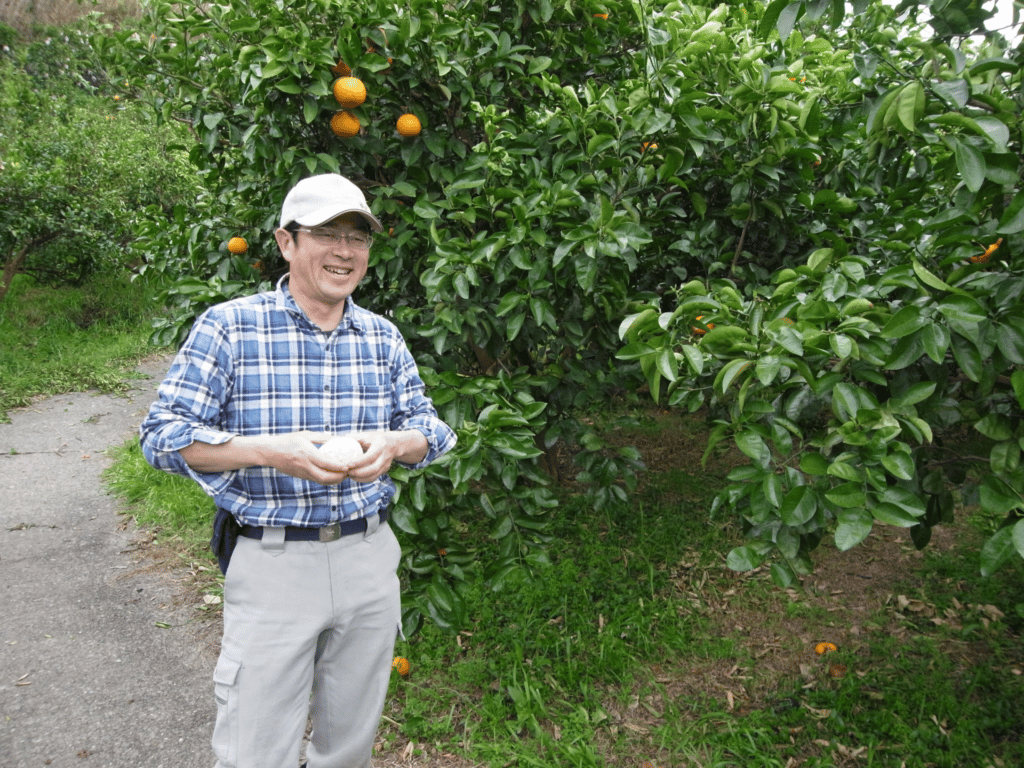 Takuo Hara is the seventh generation owner of a farm that has been in existence since the late Edo period. After graduating from university, he joined his family's farm, Kishu Hara Farm, where he grows citrus and plums with his family and several staff members. He is especially fascinated by the diversity and deep history of citrus, and grows about 60 varieties of citrus. We actively cultivate not only the newest varieties, but also rare varieties called "original varieties" and old varieties rooted in the region. We deliver these citrus varieties to citrus fans and restaurants throughout Japan to expand the "Happiness with Citrus". Together with local friends, we are also involved in the establishment and operation of direct sales of agricultural products and farmer-owned restaurants. https://www.hara-farm.jp/