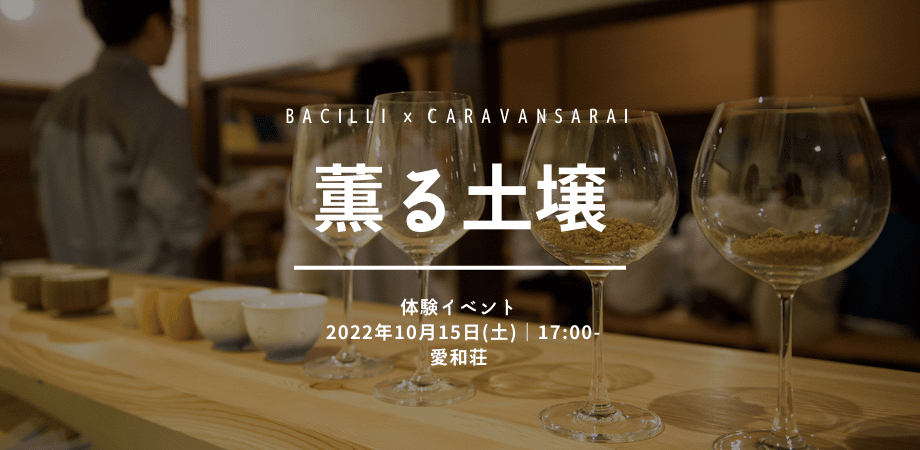 bacilli × Caravansarai
bacilli × Caravansarai -Fragrant Soil-
Saturday, October 15, 2022, 17:00-18:30
Aiwaso
Capacity12
Participation fee3,000 yen
An event to feel and experience the stories and memories of places associated with soil using the "five senses". The event is a collaboration between "bacilli," a soil art unit led by Kinan resident Nanjo, and Tanabe's French restaurant "caravansarai." They will bring soil from citrus farms in various areas of Tanabe City, as well as fruits and roots, to enjoy the differences between them.
Date:Saturday, October 15, 2022, 17:00-18:30
Artist:bacilli、Caravansarai 
Capacity:12
Fee:3,000 yen
Venue:Aiwaso

Artists
bacilli
Focusing on soil, people, and food, and creating spaces and environments that connect us to them, the artist collective "World Soil Association" formed by Yoshitaka Nanjo, James Jack, and Shotaro Yoshino in 2014 will be renamed "bacilli" in 2022. The term "bacilli" is a classification of organisms that grow in soil. It refers to common germs and bacteria such as fungi and cyanobacteria.
Main Exhibitions Water and Soil Art Festival 2015″ (Niigata) S.Y.P. Art Space" 2016 (Tokyo) ICHIHARA ART x MIX 2017″ (Chiba) Yame Remix" 2018 (Fukuoka) Dirt (irl x url)= ?" ART FOR THOUGHT 2020 (Tokyo) Okunoto International Art Festival 2020+" (Ishikawa) Setouchi International Art Festival 2022″ (Kagawa)
Ryosuke Sarai
Born in 1989 Born in Kamiyoshiyou, Tanabe City, Wakayama Prefecture Graduated from a culinary school and started his culinary career. After working at a hotel in Osaka and a French restaurant in Nagano Prefecture, he made a U-turn to Tanabe City. In March 2020, he opened Restaurant Caravansarai in a renovated ume storehouse built by his grandfather himself. He is presenting dishes unique to Kishu, using local seafood, vegetables, and gibier with a story behind them. He was listed as a Bib Gourmand and Green Star in the Michelin Guide Kyoto-Osaka + Wakayama Edition 2022.
Previous Workshop Images
Photo: Akiko Tominaga
Venue
Aiwaso
https://www.aiwaso.jp/