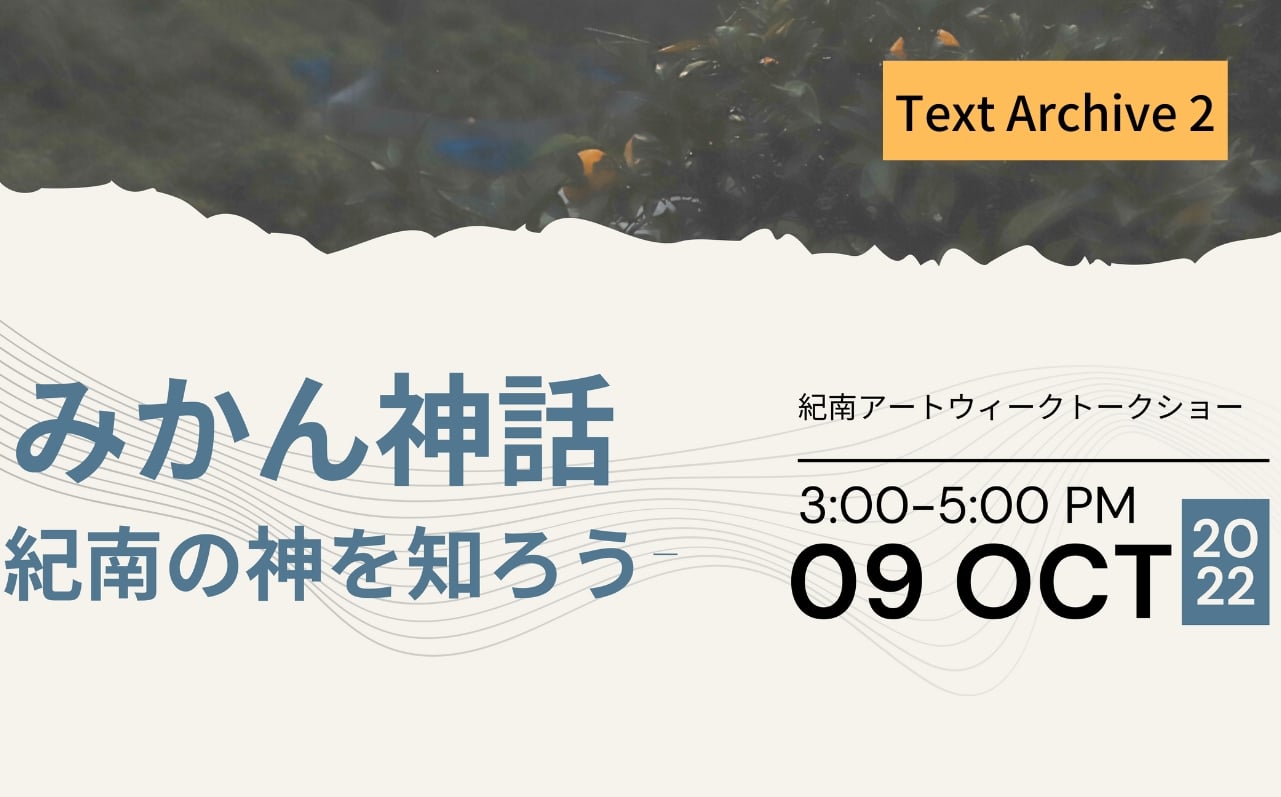 Mikan Dialogue Vol.5 『Orange Mythology: Let's Know the Gods of Kinan"』Text Archive (Part 2)
This is the part 2 of the text archive for the talk session "Mikan Dialogue vol.5 " held on Oct. 22, 2022.
Table of Contents
2.[Panel Discussion] Discovering the Gods of Kinan
 (1) Introduction of Mr Hara and Ms Sakamoto
 (2) Mikan and God
 (3) The Gods of Kumano and Takachiho.
 (4) Invisible 'Roots' Are Important.
 (5) Beliefs In Kumano.
3.[Question and Answer Session]
4.[Closing]
2.[Panel Discussion] Discovering the Gods of Kinan
Yabumoto:
Thank you very much for your valuable talk. Dr Yamamoto gave us various keywords. 'The coexistence of the Emperors and Nigihayahi', 'Finding your own God', etc. I learnt a lot.
I was also told by Dr Yamamoto that my references were no good when he looked at the text of my research paper. The first word he said to me was 'upside down'. He said, "You have to read the Kojiki upside down."
At the same time, he said, "I feel sorry for Amaterasu. Amaterasu has been dedicated for too long, and on the contrary, I feel sorry for her. And he told me that it is important to find a god for our country, and I am very happy to be able to create a place like this.
We now move on to the second part of the panel, with panellists Ms Sakamoto and Mr Hara.
Now, Mr Hara, please give us a brief self-introduction.
1) Introduction of Mr Hara and Ms Sakamoto
Hara:
My name is Hara and I produce mikan at a place called Kishu Hara Farm in Tanabe City.
I am not familiar with the Kojiki and Nihonshoki, but I am researching the origins of citrus, including how it developed from Japan. When I heard today's teacher say that we discover ourselves by digging deeper, I felt that that is what I am doing while making citrus fruits.
Tachibana was mentioned when talking about citrus in Japan, and tachibana is a mysterious citrus. There are many things we don't know about it. Most of the citrus fruits are originated from tachibana.
The 'Unshu Mikan' * is said to be the result of a combination of an old citrus with many seeds, known as the 'Kishu Mikan' (*), and the Kunenbo (*), which is said to have probably drifted from South-East Asia.
*Kishu mikan – citrus produced in Wakayama and Kagoshima. Slightly smaller than Unshu mikan. It has a strong sweet flavour and a distinctive aroma. Originally from China, cultivation in Japan is said to have started in the Kyushu region in the 1500s. Also called 'small mikan'. The most widespread variety before the spread of the Unshu mikann. Reference: Kotobank.
* Kunenbo (nine-year mother) – small evergreen tree of the mandarin family. Native of Indochina, introduced to and cultivated in China in ancient times. Reference: Kotobank.
* Unshu mikan: The Unshu mikan, commonly known as the tangerine, is the most widely grown fruit tree in Japan in terms of cultivated area and production value, ahead of other fruit trees. (In Higashinagashima Village, Izumi County, Kagoshima, there is an old mikan tree called Kunenbo, estimated to be more than 300 years old, which is used as the original Unshu mikan tree. Reference: Kotobank.
The name Unshu refers to a mandarin that developed in Kagoshima in the late Edo period. This is the so-called 'mikan' of today.
Yabumoto:
I see. Thank you very much. Please continue, Ms Sakamoto, if you would like to briefly introduce yourself or ask any questions.
Sakamoto:
My name is Konomi Sakamoto. I am from Tanabe. I just wander around the Kumano Kodo and am not an expert on anything. I am thinking that I need to relearn the mythology of the Chronicles of Kiki and so on.
Even Dr Yamamoto gets his head mixed up, but I am deepening my knowledge of the Kumano Gods from my own perspective, focusing on the Kumano Kodo and other fieldwork.
I am now also in charge of the secretariat of the storyteller's association, and I am also in charge of guiding visitors on their trips. Today, the stories about Nigihayahi and other things are very interesting, and the more I listen to them, the more I don't understand them, but the fact that Susanoo is a mysterious god comes up in the stories in the storytelling group.
Yamamoto:
I think Susanoo has absorbed all the claims of gods from different places. That's why he seems to be everywhere. My understanding is that Okuninushi and Susanoo represent the gods of each place.
That god hands over the country to Amaterasu, or the emperor. Or he is forced to hand over the country. And Susanoo is driven off the earth by Amaterasu. Is that the fate of the nation-building gods? This is mentioned in the Kojiki and Nihonshoki. This means that this is not simply a book about the Hail to the Emperor.
Amaterasu drove out Susanoo, but Amaterasu herself was driven out of Yamato when she was Emperor Suinin. As the Nihonshoki describe in detail, Amaterasu could not live in Nara. She fled to Kii and finally found a place in Ise. That's why the Ise shrine is located so far away from the city. That's because she was driven out of Nara.
No one says that She was driven out, because that would be a disrespectful thing to say, but it is properly written in the Kojiki. I was surprised when I read it. There are no shrines dedicated to Amaterasu in Yamato. There are shrines where Amaterasu is said to have passed through, though. So she is a very pitiful deity. She is the ancestral deity of the Emperors, but I think of her as a god of tragedy.
(2) Mikan and God
Yabumoto:
During our fieldwork this time, we visited various farmlands of farmers growing mikan and saw them picking and pruning the fruit. Their techniques looked somewhat divine, looking at the whole mikan tree.
So, I would like to ask Mr Hara, do you have any deities that you believe in or any connections with deities while you are a citrus farmer?
Hara:
The Unshu mikan industry started as a business after the war, but there seems to be a connection with the gods in kumquats, small mikan and daidai mikan, which have been around in Wakayama for a long time. Since the fashion has changed to Unshu mikan, cultivation has also become more business-like.
There is a place where tachibana grows wild on the coast of Shirahama. It is rare in Japan. Also, there is a deity that is enshrined behind our warehouse.
Yabumoto:
What kind of god is enshrined behind the warehouse? Does it have a name?
Hara:
God without a name.
Yabumoto:
I see. When I was touring Kumano, I asked at one shrine, "Why is Susanoo enshrined here?" and was told, "Maybe it was the fashion for hot-spring cures?"
Yamamoto:
No, this all disappeared in the Meiji era, when the enshrinement was combined. Kumagusu Minakata resisted this badly. He said that if these were thrown away, the place would be destroyed, the country would be destroyed, and it was Minakata Kumagusu who opposed this head-on. It is interesting that he was a Kishu man.
Hara:
Kumagusu used to come and go in our district, and the village chief was very good friends with Kumagusu. That is why all the shrines are still there in our district, and it is very difficult because there are so many of them (laughs). The fact that there are so many gods in each district gives a sense of security to those who live there.
Yabumoto:
Another thing I would like to ask you is that there are so many varieties on your farm. I think it is a place where many different gods and many different citrus fruits coexist, and I wonder if there is any connection there with animism.
Hara:
From a business point of view, there is Nanki-Shirahama, the biggest tourist attraction in western Japan, which is a place where citrus fruits are used all year round. Another reason is that it was close to the south, so it was easier to accept different varieties.
The 'Kunenbo' introduced earlier uses the kanji for 'nine-year mother'. This was the main variety in Japan until the middle of the Edo period. It has a smelly skin but is very sweet. It was later replaced by the small mikan, but the struggle between the two is also interesting, and I would like to explore it further.
Yabumoto:
Kagamimochi were introduced first, but I would like to ask Dr Yamamoto and Mr Hara why 'mikan' is attached to 'kagamimochi' or 'shimenawa'.
Yamamoto:
The word 'Daidai' probably comes from the fact that it is passed down from generation to generation, but I don't know why.
Hara:
Kishu mikan have a lot of seeds, so they are probably blessed with a lot of children. In the Edo period (1603-1867), the society was based on the samurai class, so citrus fruits without seeds could not be sold at all. In the Edo culture, there were many such cases, and it was Kishu mikan that Kinokuniya Bunzaemon carried to Edo during a storm. I think it is intertwined with Edo culture.
Yamamoto:
It's not just a word. There must be some basis for it.
Yabumoto:
Rice cakes are associated with 'rice cultivation'. Rice cultivation and Amaterasu have a very close relationship, and I sometimes wonder if tachibana is responsible for this auxiliary function.
The word 'tachibana' is also included in the purification speech when Izanagi returned from the Land of Hades. It is thought that 'tachibana' may have been used to refer to something that 'breaks the pause' or 'stands upright'.
Hara:
In the West, it emerges that the orange is a symbol of the 'sun god'. The Etrog*, from which the lemon is derived, is highly valued in Judaism.
*Etrog – Etrog is a yellow citron or citrus mikan used by Jews as one of the four species during the week-long holiday of the Masoretic Festival. Reference: Wikipedia.
Today I have Busshu-kan (*). It is written 'Buddha's hand'. This is a member of the lemon family, but it is a citrus that is quite close to Etrog.
Yabumoto:
Are these also grown at Mr Hara's place?
Hara:
Yes, they are. This is a citrus fruit that came to Japan from the West. It is known in English as 'buddha's hand lemon' and is produced in large quantities in India.
Lemons are prone to malformed fruit. It took hundreds of years of human intervention to produce them. In Japan today, it is an essential part of the decoration for Hatsugama (*) and is almost always shipped to Kyoto.
* Hatsugama – the first tea party held after the New Year. Reference: Kotobank.
Yamamoto:
How does it taste?
Hara:
Busshu-kan has no fruit. There is only the skin.
Sakamoto:
Do you eat it like a peel?
Hara:
Yes, the peel is scraped off and used to flavour food. In Koyasan, it is boiled in nectar as it is and sold as a souvenir.
3) The Gods of Kumano and Takachiho
Yabumoto:
Very interesting.
Next, I would like to talk to Ms Sakamoto about the Kumano Kodo, and how she walked it and asked herself , "Is this Susanoo? Is this Nigihayahi?" Ms Sakamoto, do you feel something similar to that? Also, do you sometimes feel another nameless deity as you walk?
Sakamoto:
The Toukeishrine is said to 'retain the shrine buildings from before the main Kumano shrine was swept away', but the main deity is not Susanoo, but Izanami of Nachi.
* Toukei Shrine – according to shrine legend, built in 419 (the 8th year of the Emperor Ingyou). The shrine buildings have the same layout as the Kumano Hongu Taisha before it was washed away by the rising river, making it a valuable place that conveys the history of Kumano worship to the present day. Reference: from the Tanabe Tourist Association website.
My storytelling teacher told me that when she guided guests who knew a lot about gods, she was very annoyed when they asked her why the Toukei Shrine was not Susanoo.
As per the textbook answer, she explains that the shrine buildings were demolished during the Tanabe War and rebuilt thanks to the efforts of the Nachi bishops, so it was changed at that time, but she says that she is not convinced herself.
I also believe that something like indigenous peoples would have existed in ancient times. It is an undeniable fact that battles were fought, as it is written in the Kiki mythology that they "invaded". Then I wonder where the indigenous people who were there went to. I feel that the myths suggest that these people have remained in the myths, changing names and forms.
There is a story that when Susanoo attacked Kumano, he was struck by a poisonous air (ashi kiki) and all fell unconscious. Then Takakuraji, the chief deity of Kamikura Shrine, appears, gives them a treasured sword and revives them. I wondered what this represented, and I thought it might be "mineral poison".
There are many traces of mines in the Myohozan and Irokawa areas of Nachi. It is thought that the 'treasured sword', was a mineral from the mines, which was used to make swords.
The Tanabe family, whose name is the same as the place name 'Tanabe', crossed over to Izumo around the Kamakura period (1185-1333). This is how they started tatara iron manufacturing*.
* Tatara iron manufacturing: iron making method developed in Japan from ancient times to early modern times, the name given to the bellows used to feed air into the furnace, which were called 'tatara'. Reference: Wikipedia.
It is a fact that the Tanabe family is from Kumano. Besides, the Japanese folk monster in the mountains of Kumano called Ippon Datara* has only one eyeball. It also has one leg.
* Ippon Datara: In the Hatenashi Mountains on the border between Wakayama and Nara Prefectures, this one-legged Japanese folk monster with eyes like plates is said to appear only on 20 December, which was called "20 days of the end" and considered a bad day. The Ippon Datara, as it is called in the Kumano Mountains of Wakayama Prefecture, has never been seen by anyone, and is said to be seen only in footprints about a foot wide and a foot long, left on snowy ground. Reference: Wikipedia.
In Hayao Miyazaki's Princess Mononoke, there is also a story about a Japanese folk monster who hammers on a blowtorch and gets hit in one leg, and also gets hit in the eye because she handles fire. I also feel that there must be some connection between tatara iron-making technology and Izumo.
To further complicate matters, there is a steel-making 'tatara no kami' (god of tatara fields) called Kanayagokami, who is said to be fond of the tachibana tree. There is a story that when he was chased by dogs, he escaped by trailing vines from a tachibana tree, so he always makes offerings of mikan at festivals and shrines. I was happy to learn that this is still connected to Tanabe.
Yamamoto:
There was a daughter of Omononushi called Hime Tatara Isuzu Hime (媛蹈鞴五鈴媛), who married Emperor Jinmu and became his queen, and the word 'tatara' is included in the name. So I think the 'tatara' blacksmithing technique was already there.
Sakamoto:
Yes, because the presence of swords means that there was iron-making technology.
Yamamoto:
Kumano, I am sure, is where everything was. That's why Jinmu fled here. And then he looked for someone to be his ally and learnt how to rule, so he was allowed into Yamato, that's what I mean.
Conversely, without the resources of Kumano, the Emperor's rule would have been impossible.
The important basic concept is that there is a kunitsukami, or a god for each place. That god is a different god for each place. So, Amatsukami is a god that the Emperors created in heaven to legitimise their own vein currents.
But the deity Amatsukami was actually a place-specific kunitsukami, who in some way placed their own Raiho deity* as Amatsukami. When the Emperors skillfully integrated them, placed them in Takamagahara and created a lineage to Amaterasu, they created Izanami and Izanaki as the gods of national birth.
*Raiho deities: deities who come to people's world once a year at the turn of the seasons and are believed to bring fertility and happiness. Reference: Kotobank.
In Takachiho, there is a night kagura* that is performed for tourists at Takakura Shrine. It's done 24 hours a day in each village, but there is also one for tourists. Izanami and Izanaki, who appear there, are sake-making gods. I was surprised by this.
The god of the country's birth is a 'sake-making god'. And Izanaki gets drunk and messes with a tourist woman (laughs). Then Izanami gets jealous and says, 'Sorry, sorry', and comes back, and they start brewing sake seriously again. This is what Takachiho Shrine is doing.
In the village dance called Yamanaka, when a god like Amatsukami appears, he is driven out by the gods of Yamanaka. So the people there continue to do that in the old tradition. They keep it alive with the night kagura of the people in what they think is Takamagahara. This was a major catalyst for my discovery of nation-building. I thought, what on earth is this? That's how I started reading the Kojiki.
*Night kagura: Night kagura is a traditional ritual in which the deity of each village is invited to a private house or community centre called a kagura yado, where 33 kagura plays are dedicated over the night. Reference: Takachiho Tourist Association.
Yabumoto:
To summarise, even though the deity Amaterasu (Amatsukami) is naturally important, it is important to discover what is common to the deity Kunitsukami, the deity of the place, region by region and place by place.
Yamamoto:
That's what makes you who you are. The important things are not brought from outside, they are in the place there. We built this place with the idea that we are going to do this. If that is not a good idea, it will fail. You have to understand the history, understand the ecological environment and do a proper scientific analysis. It is not just a matter of faith.
4) Invisible 'Roots' Are Important
Yabumoto:
We recently invited Khvay Samnang, a Cambodian contemporary artist, to talk to us, and he said, "Our god is nature". We, too, are trying to shake up Kumano from the perspective of whether 'roots bear fruit' or 'fruit takes root', while reassessing it. Do you feel God in trees and roots, Mr Hara?
Hara:
What you see is the 'above ground portion'. The truth is that the 'underground part' is very important, and you have to use a lot of imagination there. You can only imagine how the roots are growing and how they are moving. We can only see the above-ground part, so we have to dig deep into the underground part. This may be connected to what Mr Yamamoto said earlier about looking at the land. How do you feel about what you can't see? I think it's important to think about how you feel about what you can't see.
Yabumoto:
How do the roots grow?
Hara:
There is a lot of science behind it, but we cultivate it by looking at what is appearing on the surface and imagining what the underground part might look like. Then we repeat the care, consistent with what the science says.
Facing the trees, taking into account the land, climate and the skills and knowledge you have, will always show in the results. Imagining the roots is very important in cultivation.
Yabumoto:
We were told that there is a connection between how branches are cut and the underground world.
Hara:
Of course it is connected. I can only imagine what will happen because of the cut, but I am aware of that. I do it while building on my experience, being particularly conscious of what I want as a result.
Yabumoto:
Thank you. I learned a lot.
How about you, Ms Sakamoto? What do you feel while walking along the Kumano Kodo, with its forests, trees, trees everywhere and, if anything, even roots surfacing?
(5) Beliefs In Kumano
Sakamoto:
Basically, the country started out with a belief in nature. Big rocks and Nachi Falls are also objects of faith. However, the concept of nature changed a little in the Yayoi period, when agriculture began.
On 2 October recently, there was a festival at Hana no Iwaya (*), the Cave of Flowers. Izanami is enshrined in a huge rock called Hana no Iwaya. The name is derived from the legend that when she gave birth to Kagutsuchi no Mikoto, the fire goddess, she died after her pubic region was burnt.
I believe that the myth of Izanami in the Kiki came later. I was watching the festival, imagining that Izanami must have been added later to a place where people had originally worshipped people who had died in childbirth, or where there were requests for safe childbirth.
This festival involves the passing of a large rope of about 170 metres. As for why mikan is decorated on the sacred rope, it is said that the sacred rope represents 'clouds'. And the jagged paper represents 'thunder'. In other words, it is an expression of the agricultural culture of "praying for rain".
I find it a bit different to say whether the festival's great rope is a remnant of an agrarian culture. This tethered rope is made up of seven ropes. It is said to represent the seven natures created by God. But in my mind it looks like an umbilical cord.
It's a very small precinct and a lot of people there take that rope and go out through the mountains to the sea at Shichiri-Mihama. When you went out of the dense trees to the sea, there was a feeling of the outside world opening up, like a childbirth ceremony. I thought this kind of thing was the beginning of faith.
Agricultural cultures also pray to nature, of course, but the place of worship of Amaterasu is not Kumano. Although Amaterasu is enshrined in the shrine buildings, I feel that it is a bit different when it is said that the Amaterasu faith is the deity of Kumano.
I think that 'birth' was added to the ultimate extremes of 'life' and 'death' and became one of the beliefs of Iwakura.
Yabumoto:
Thank you.
I think that there are many clues to finding their own God in the very site, the 'place' itself.
Sakamoto:
I was told that Dr Yamamoto also encountered some surprises at the Takachiho festival, you know. I felt I had to go to more local festivals.
Yamamoto:
We're not aware of it, but we're actually keeping it alive in the local area, which is actually surprising.
3.[Q & A Session]
Yabumoto:
We would like to invite all participants to tell us if they have any ideas about "this is our God".
Participant 1:
I'm a bartender, so I deal with Western liquor a lot, but in Japan, it's the shrines that govern the making of alcohol, isn't it? I felt that I needed to look into my identity there.
Yamamoto:
Why don't you make a cocktail of Japanese gods? Wouldn't that make them feel more appreciated? (laughs)
Participant 1:
'Maiden's Mouth Bite*' would be the best seller (laughs).
* Mouth-bite: Widely distributed in the Pacific Rim, mouth-bite is made by fermenting starch from cereals and potatoes, which is saccharified by enzymes in the saliva. Reference: Kotobank.
Participant 2 :
I am a full-time forestry worker. As for the god of wood, there is a shrine in Wakayama City called Itakiso Shrine*, which is dedicated to Itakeru no mikoto. It is said that he is the child of Susanoo. It is said that the chairman or president of a timber company always pays a visit there.
* The Itakiso Shrine is dedicated to Itakeru no mikoto, who is mentioned in the Nihonsyokin as having planted trees in Japan. It is said that Itakeru no mikoto, the god of tree planting, is generally worshipped as the 'God of Trees'. In the Kojiki (Records of Ancient Matters), he is described as 'Ohoyabiko no kami', and the story is told of his saving the life of the god Ohokuninushi no Kami, who suffered a calamity. Reference: Itakiso Shrine website.
There is a story that the Hongu Taisha shrine is also dedicated to the god of trees, as Ketsumimiko is Susanoo. We also hear that 'hinoki' (Japanese cypress) was created from the hair on Susanoo's chest. I would like to hear about the relationship between trees and gods in this area.
Yamamoto:
By the way, the god of Takagi* is a tree. He is the wise man of Amaterasu. It is said that Fujiwara no Fuhito equated himself with the god Takagi.
* Takagi no kami – Takamimusuhi no kami is the second god born in Japanese mythology. In the Kojiki (Records of Ancient Matters), he is referred to as 高御産巣日神, and in the Nihonshoki (Chronicles of Japan) as 高皇産霊尊. He appears under the name Takagi no Kami in the descent to earth of the grandson of the sun goddess and Ashihara no Nakatsu no Kuni Heitei (The Land of the Reed Plains is Healed). The word 'Musuhi' means 'production' or 'generation', and together with the third deity, Kamimusubi no kami, he is considered to be the deity of 'creation'.Reference: Takagi Shrine website.
'Wood' is something that doesn't really come to the surface in the Kojiki. I get the feeling that it is woven into the story in a hidden state. Basically, the myth of the emperors is about building up the myth of 'rice'.
For example, in agriculture, trees get in the way of cultivating a field. I feel that when I respect trees, in what way have I alienated them, and that's how I'm becoming aware of my problem.
What I want to tell you is that this tree in front of you now was planted 100 years ago, and your ancestors created it. It is right in front of you now, and we are going to leave this tree in front of you further into the future.
So forestry is making capital out of what we have now, in the past and in the future. It is refined in sawmills and sold as a commodity. In order for a product to be made, the capital of the tree has to be made over 100 or 200 years to make it viable.
Compared to the process of building a car, it is clear that we are completely oblivious, which is a clear sign that we are not in the right place. The fundamentals of economic activity are off. Industrial society is about making products as fast as possible, and they are most beautiful when you buy them, and then they are just rubbish. That is the way it is. I feel that this has reached its limits.
Thinking of trees as capital leads to the idea that God is capital. God's economy, like the capital of trees, is on a scale of hundreds or thousands of years. That is the capital of Japan. The fact that this is something else is the cause of the unhealthy situation, and that is what the politicians are saying and doing now.
Yabumoto:
The theme of this year's Mikan Mandala Exhibition is 'capitalism', which is also intended as a proposal against 'capitalism'. More specifically, the word 'capitalism' comes from the Greek word 'caput'. 'Caput' means 'fruit'.
The design for the 'Mikan Mandala Exhibition' was created with the idea of making it ambiguous whether it is a fruit or a root. The design was based on the idea that not only 'fruit' but also roots are capital, land and soil are capital, so the gods there must be capital too.
Now it is almost time to leave. If you have any questions, please ask.
Participant 3:
I understand that Mr Hara's farm grows many different varieties of mikan, but I would like to ask you what a "Kishu mikan" is.
The 'tachibana' mentioned in the Kojiki is a good example of a species endemic to Japan, isn't it? And the 'small mikan' is the 'Kishu mikan', right? What would be the source of these? Is it a wild species?
Hara:
If you do a genome analysis, you can see what the parents are. But there are a lot of speculations in addition to the facts. Whether the results can be used by humans or not is a big part of it, so it's difficult to untangle that.
It is best to wait for genome analysis, but before the big boom in Unshu mikan, the kunenbo became popular in Japan. The tachibana native to Shirahama and all over Japan are undoubtedly a species that drifted in from South East Asia, and I think they became endemic to Japan as they have continued in Japan from generation to generation.
I think it has been selected amongst the various strains, depending on how people use the land. I think that may be regarded as a myth.
Yamamoto:
We're just using modern science to do what is measurable. What you can't measure doesn't make it a fact. For example, suppose I feel something right now, This is something that cannot be measured. It is the same with nature and the environment. The environment is going wrong because we are leaving things unmeasurable as they are.
Hara:
It is definitely a variety that has been selected and created as a cultivar.
Yabumoto:
We have also received some questions online.
'I hold Lady Ame-no-Uzume-no-mikoto* dear to my heart. I work in the entertainment industry and I want to become an entertainer like her. What should I do?'
*Ame-no-Uzume-no-mikoto:When Amaterasu Omikami hid in Iwato , she is said to have danced with the gods by prostrating herself in an empty tank, brushing her breasts and pushing the strings of her garments into the shadows. They are said to have had a miko-like character in the Shinto ritual dances of primitive times, and are said to be the ancestors of the Sarumenokimi, who participated in Shinto rituals from ancient times and later served at the Ise Shrine. Reference: Kotobank.
Yamamoto:
In mythology, she is a goddess who performs an outrageous nude dance, exposing her breasts and pubic area. Umashimazu, introduced earlier, is the ancestor of Mononobe, Hozumi and Owari, and Uzume is also in the line of Nigihayahi.
And yet, that Uzume also appears in the opening of Amaterasu's Ame-no-Iwayato. They even go together in the descent to earth of the grandson of the sun goddess. So this god of entertainment, Uzume, is a very strange god. She appears on both sides. She becomes the wife of Sarutahiko and goes to Ise with Sarutahiko. It is true that there is a lineage of Uzume.
Yabumoto:
So that's another way of saying God. I think this is one example of how we can find our own God in a wide range of areas.
Yamamoto:
Tajikarao* and Uzume are the main characters in the Takachiho dance. Many souvenirs are also made by these two.
*Tajikarao – in Japanese mythology, the deity of great power who opened the door of the heavenly rock house where Amaterasu Omikami hid with his hand. He followed the descent of Amateru. Reference: Kotobank.
Yabumoto:
Now that our time is almost up, we would like to take one final question.
Participant 4 :
Earlier, Dr Yamamoto mentioned that he is also doing research on Mexico, and I have been making tacos for about a year now. So, there is a programme on Netflix called 'All About Tacos', where a recipe is introduced for using Daidai Mikan juice in Mayan tacos.
I wondered if that Daidai orange was introduced from Europe when the Spanish conquered the region, or if it was originally from the Americas and has some kind of factual basis in Mexican mythology.
Yamamoto:
In Aztec mythology, 'Quetzalcoatl' is a god like Amaterasu in Japan. And there is a mythological story that was written by a Spaniard, whose writings are written in Spanish and Nahuatl (*). In Japan, the Spanish version of the text is considered Aztec mythology. In Japan, it is like the Kojiki.
*Nahuatl – also called Azteca and Mexicano. Largest language of the Yute-Aztecan language family. Reference: Kotobank.
So I have a friend of mine, an anthropologist called L´opez-Austin, Alfredo,* and when he read the original Nahuatl text, he said that God was totally different.
Simply put, he is half-god, half-human. So Quetzalcoatl is integrated with the gods of all places, or kunitsukami, at the crown there. This is the same myth as the Japanese emperors.
I don't know all the details, like what happened to the ' Daidai mikan', but that's how I understand Mexican mythology.
* Calpulli, mito, Mesoamerica, nahua, by L´opez-Austin, Alfredo, published by the Press of the Higher Institute of Cultural Sciences, February 2013 (Amazon).
4.[Closing]
Yabumoto:
We will now hear the last words from the two panellists and Dr Yamamoto. Ms Sakamoto, please.
Sakamoto:
Today, the knowledge I didn't understand turned out to be even more confusing (laughs). I will study again. I don't think there is an answer, but that is the interesting thing about Kumano, so I will further deepen my knowledge.
Yabumoto:
That's exactly what you mean by "it's OK to be yourself". You're showing that "what you think is fine, just as you are."
Sakamoto:
Right. Kumano is a world like Christianity, where God is not alone, so I think of it as a container that allows many different things. I think it's a world where 'anything goes' and I want to find my own answers.
Yabumoto:
Thank you very much. Now, Mr Hara, please.
Hara:
As a citrus grower, I produce a wide variety of citrus, and when people say that it is not economically rational, they are exactly right (laughs). But after listening to what you said today, I think it is a journey of self-discovery. In that sense, I really thought after listening to you that encountering various citrus fruits and knowing the history and connection of each citrus fruit is connected to knowing myself.
It was a time when Dr Yamamoto pushed me to know the God of where I live and that I can continue to do this. Thank you very much.
Yabumoto:
Economic rationality was mentioned, but there are fans of Mr Hara's citrus all over the world, so I feel that his very existence is capital for the region.
Finally, we would be grateful if Dr Yamamoto could give us some comments on today's very valuable talk.
Yamamoto:
If I were a little younger, I would ask them to take me to the Kumano Kodo, but I will ask them to do that again next time. I was surprised to see so many young people here today.
What I do while wearing a kimono myself, I have to find something to wear and feel with a real feeling. Clothes are convenient. Shoes are also convenient. It's hard to walk in the mountains in sandals.
But you have to work with those inconveniences in your own body, in a co-existing way, to get yourself back. What I was taught at university was of little use. It's not about that, it's about honestly reading the Kojiki, or the classics, or grasping what is happening in front of you in itself, in the place of life where you are living in reality.
It is simple: the truth is invisible to the eye. You have to think for yourself. This is what 'The little prince' says. But you can feel it in your heart.
If you honestly ask yourself, "Why do I get this feeling here?", you will always find the basis for what you feel in your heart. When we look at the Kojiki, Nihonshoki and the Sendai Kuji Honki, the axis of the Kojiki is based on the axes of Jinmu and Nigihayahi, and when we look at these axes together, we can see many things.
When it comes to the indicators, the only thing I have come to understand is that this is Nigihayahi and the Emperor Jinmu. I feel that the actual reality there is in this Kumano. This is where it starts, so today it is the descent to earth of the grandson of the sun goddess.
Yabumoto:
Because our project has just begun, too. Thank you very much for the large number of people who have gathered here today. Thank you also to Dr Yamamoto and panellists Ms Sakamoto and Mr Hara for their exciting talks.