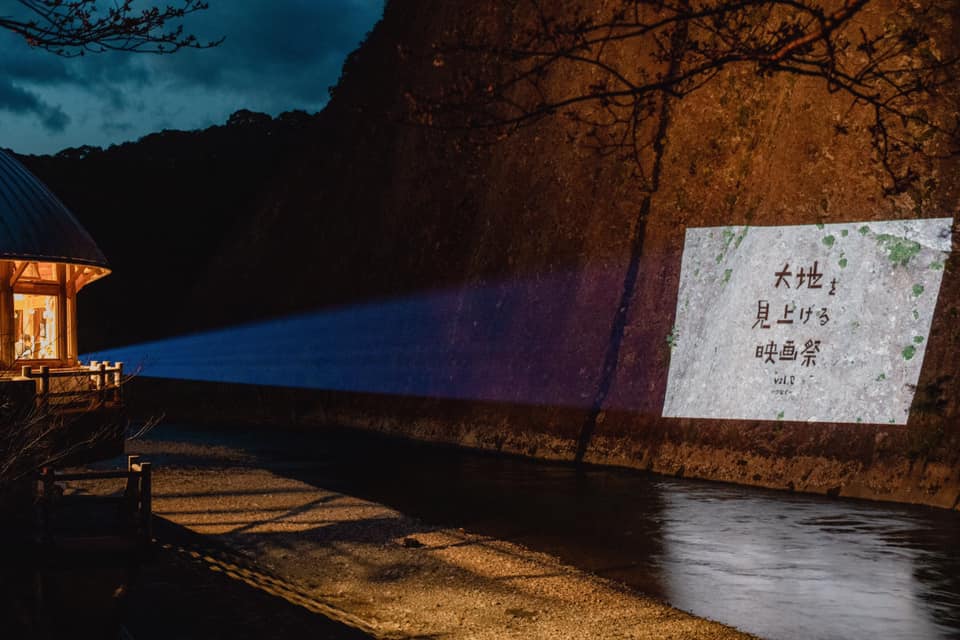 Dialogue Project#16 The Future Reflected in Monolith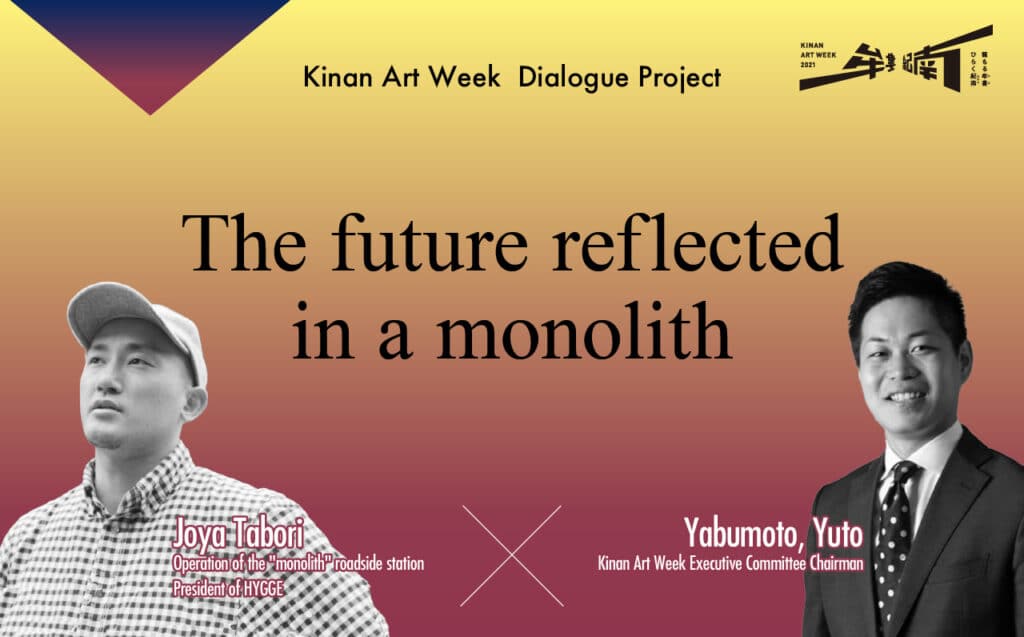 Art Week Dialogue Project#16
Guest :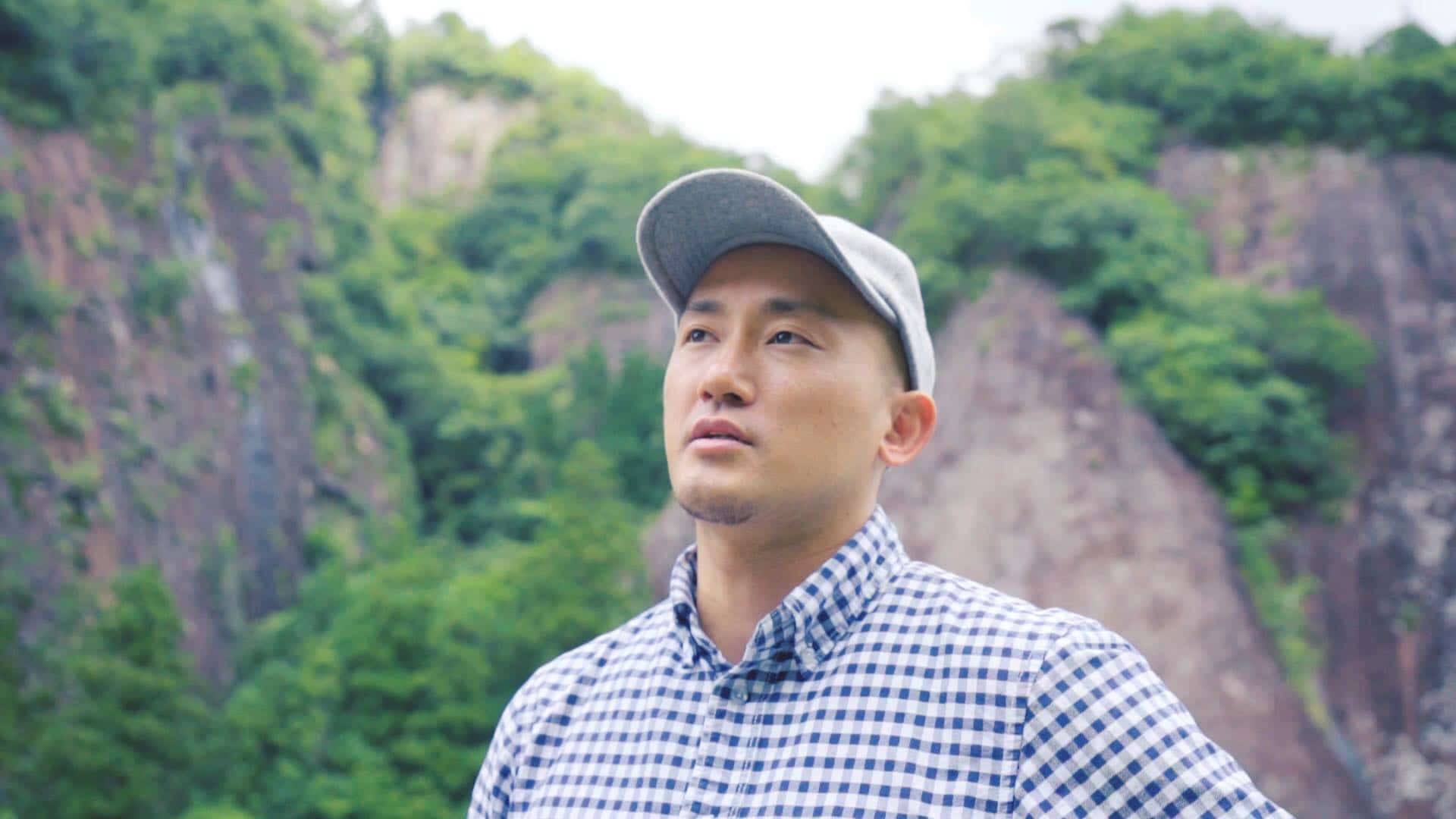 Operation of the "Ichimai-iwa monolith" roadside station
President of HYGGE
Joya Tabori
He runs "Ichimai-iwa monolith", a roadside station in Kozagawa-cho, Higashimuro-gun, Wakayama Prefecture. He is currently working to spread the charms of Kozagawa Town to the world by organizing a geo-screen event called "Daichi o Miageru Eiga Sai (film festival looking up at the earth)" in which images are projected onto monolithic rocks.
https://www.monolith-web.com/


Interviewer :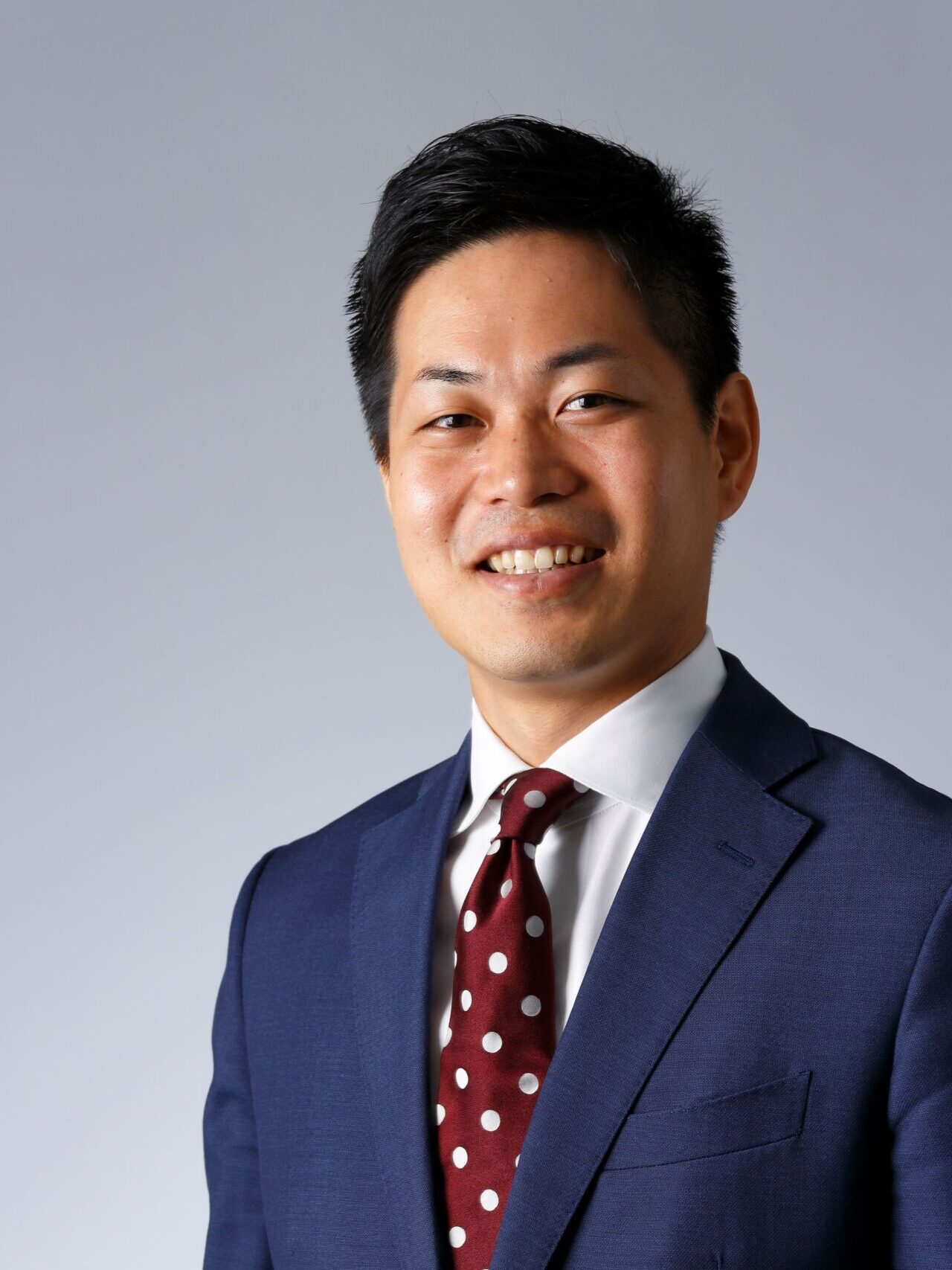 Yuto Yabumoto
Kinan Art Week Executive Committee Chair


Editing :
Kinan Editorial Department by TETAU
https://good.tetau.jp/



The Future Reflected in Monolith
Table of Contents
1. Introduction of Mr. Tabori
2. The future of the "Ichimai-iwa monolith" roadside station
3. Monolithic presence in Kozagawa
4. Monoliths and art
1. Introduction of Mr. Tabori
Yabumoto:
Thank you very much for your valuable time today.
May I ask you to introduce yourself, Mr. Tabori?
Mr Tabori:
I grew up in the town of Kozagawa in Wakayama Prefecture. I guess I liked this town so much that I went to university in Osaka on the assumption that I would come back. I thought I would change my mind when I went to Osaka, but then I thought, "Why not stay in Kozagawa? I have a strong feeling that I have been given many things to live by. It's also a good environment for raising children.
I chose the teaching profession as a way of working locally. As a result, I did it for five years, but it was harder than I imagined and I felt that I wasn't becoming the adult I wanted to be.
Yabumoto:
What does it mean?
Mr Tabori:
My picture of a school teacher was someone who could do everything and knew everything. I thought I could be that kind of teacher, but I was totally different. I didn't know anything about the society and I felt I was very small.
Yabumoto:
You can still be called a "teacher" though.
Mr Tabori:
I didn't like that very much and I wanted to see more of the world. I don't have a father, so I think I was also fascinated by men talking to each other and the society of men. It was in my third year of teaching that I started to have the desire to become a firefighter. In the countryside, people say it's a waste of time when you quit your job as a school teacher, but it wasn't like that at all. Two years later, I became a firefighter.
Yabumoto:
What was it like to be a firefighter?
Mr Tabori:
I learned a lot. I learned how not to panic in a hurry, how to work in a group, how to work as a team, how to organise things, and other things I hadn't experienced before. I used to do karate, but it was physically demanding at times.
Yabumoto:
How many years did you work as a firefighter?
Mr Tabori:
Six years. I enjoyed my job as a firefighter, but I felt like a river fish swimming in the sea. Somewhere in my mind I was thinking, "I don't belong here", but then I thought, "This is really interesting". Laughs
Firefighters have to go around the area on their holidays and learn what tactics to use to put out fires and where the fire hydrants are. Every holiday we go around the town, so we get to know it better and better. I'm getting to know more and more people. The more I helped with events that made the town more exciting, the more I felt that if we didn't do more serious events, this town would never change.
At that time, I had the opportunity to listen to the people of "Agarato *1". I had a hunch that I could do something interesting! and I started to take an interest in management.
At a time when I was receiving all sorts of inspiration, I was offered a position as a commissioned operator of a roadside station. I made a presentation and was hired. The people in the town were like, "Oh, you're going to do that? Why don't you just run the fire department?" So I was like, "I'll do it.
*1 Agarato Corporation https://agarato.jp/
Yabumoto:
It's amazing. A teacher, a fireman and now a businessman. You're an all-rounder.
Mr Tabori:
Not at all! It's because I couldn't do anything that things ended up like this (laughs) I think primary school is a female society where motherhood is expected, and firefighters are a completely male society, so it was good that I could experience both. Furthermore, leaving the civil service gave me a chance to see how money goes around and how ordinary people live. Now, I feel comfortable with what I want to do and what I am doing.


2. The future of the "一枚岩 monolith" roadside station
Yabumoto:
I think it's already taking shape, but is your next mission to make it a success story?
Mr Tabori:
That's right. I think if we can be a model case of success, then people will want to try it in other areas.
Yabumoto:
"Ichimai-iwa monolith" is a roadside station commissioned by the government. Is there any kind of restriction?
Mr Tabori:
I think a roadside station is a "roadside station" if people think of it as such. As long as the station deals with tourism and local products, there is no other classification than that. On the other hand, however, there is no financial support from the government.
Yabumoto:
What do you think are the main challenges for the future?
Mr Tabori:
The challenge, or rather the goal, is to make the town of Kozagawa more exciting and to create jobs. Ever since I was a child, I was aware that there were only a handful of jobs available in my hometown. I want to give the children more options.
"Ichimai-iwa monolith" is a campsite as well as a restaurant. We offer fishing workshops, handmade workshops, etc. The campsite has a lot of diversity and the possibility to do anything. We would like to promote all those things as well as this site as a monolith.
Yabumoto:
You could say that this monolith is one of the largest in Japan.
Mr Tabori:
Only in Kozagawa can you find a rock so straight and right-angled, even if it is a big one.
We thought that if we could project the images on this monolith, it would be an event that could only be held here. So we raised money through crowdfunding to buy a high quality projector. As a result, we were able to buy a projector and the event was a success. We hope to hold this event every year.
Reference: "Monolith", a roadside station in Kozagawa Town, takes up the challenge! Geo-screen film festival on the biggest rock in Japan!
https://motion-gallery.net/projects/hygge-monolith
Yabumoto:
How do you plan to use monoliths in the future and how do you plan to make them work for your business?
Mr Tabori:
We don't know yet whether this video event will lead to a business or not, but we hope to turn the monolith into a "place where we can express ourselves". In fact, the white cloth screen is easy to see. Projecting onto natural objects is something that can only be done here, so we want to use that as our strength and make it a place where we can share our thoughts. Eventually, we would like to connect this to the creation of employment and create the future.
Yabumoto:
It's also related to education, which you were originally involved in.
Mr Tabori:
Eventually, I would like it to have an educational function. I want to teach them about the global scale and show them how to create their own workplaces.
Yabumoto:
Do you get involved in disaster prevention in some ways from your perspective as a former firefighter?
Mr Tabori:
Camping is disaster prevention, isn't it? In general, I think it is said that camping is fun and disaster prevention is not.
Yabumoto:
Indeed. It's interesting.
Mr Tabori:
The very first project I wrote was "Disaster Prevention x Camping". I would like to start with a casual camping trip, but I hope to expand it with my knowledge as a firefighter, such as how to use AED, CPR, river rescue and how to make emergency food.
Yabumoto:
It's a business that combines the functions of education and disaster prevention, and the question is how to monetise it.
The theme of this year's Kinan Art Week is exactly what we see as exporting. If you are working in the local community, the local people will probably support you. However, if you don't have a surplus, you can't do what you want to do, so the question is how to make that surplus.
Art is something that can be communicated to the whole world without language, so it is easy to use it as a tool for exporting. We believe that it is the right thing to do in the long term, even if it takes time, to create something that can be exported from Kozagawa to the world.


3. Monolithic presence in Kozagawa
Yabumoto:
A monolith that is 800 metres across. This is something you can't find anywhere else. How do the local people perceive the monolith? If we delve into that, I think it could be a source of value that can be exported to the world.
Mr Tabori:
It's possible that, people in the ancient times valued monoliths, but as time went by, they were so common that we were not aware of them anymore. It's an area with various strange rocks, and the monolith was just one of them. In fact, I was also like that, but when I visited many places, I realized that it is one of the most important places in Wakayama as a landmark and that it should be promoted more. I would like to find out more about the monolith and tell people about it.
Yabumoto:
There is a belief in stones all over the world, but Kozagawa is said to be particularly beautiful and developed.
Mr Tabori:
There are so many rocks in the area that the legend of the monoliths *2 told of.
*2 The legend of the monolithic rock (Source: Kozagawa Tourist Association https://kozagawakanko.jp/tourism/114/ )
Once upon a time, there lived in Taiji a demon who loved rocks. The demon came to the river Kozagawa, which is lined with rocks, and ate them one after another. When it was about to bite into a huge monolith, the village hound attacked it. The demon, who hated dogs, ran away at once and the monolith was saved. It is said that the dent running vertically through the centre of the monolith is the shape of the demon's teeth. On the 19th of April and on the 25th of August, at around 5pm, a shadow in the shape of a dog appears on the monolith, recreating the legend. The people of the town still call the dog "the guardian dog of the monolith".
Yabumoto:
As the word 'Iwakura'*3 suggests, when you dig deep into a monolithic rock, you can find something very beautiful and wonderful. The Kouchi Festival*4, held downstream from the Kozagawa River, is a form of misogi culture from the river.
*3 The Rock
The belief in stones and rocks in Shintoism. Or, the stone or rock itself as the object of worship.
*4 Kouchi Festival
https://www.town.kushimoto.wakayama.jp/kanko/event/koutimaturi.html
Mr Tabori:
Kozagawa is an area with very few festivals. The only festival that seems to be held here is the Kouchi Festival. The more you go upstream, the more quietly the festival is held, because the ancestors are fallen warriors, so there is not a culture of public festivals. There is also a local dish called "Uzumi-zen". You might think it's a plain porridge, but there are lots of side dishes in the bottom of the bowl. In other words, it's called "uzumi-zen". It's like a hidden village, isn't it?
The area downstream is a fishing town, so it's a big event with a dedication.
Yabumoto:
So, in that sense, the areas of Kushimoto and Kozagawa have both a quiet side and a glamorous side. Do you mean that a monolith lies in the middle?
Mr Tabori:
In the old days, there was a road on top of the monolith, and people used to go back and forth to live there. If you look down from the top, it's a cliff. Laughs: We look up at the monolith from below, but originally we were looking down at it from above. There was even a village on top.
Yabumoto:
It means that they were protecting us. Monoliths are natural walls, but unlike a guardian deity or object of worship, you don't put a rope around it.
Mr Tabori:
I guess I didn't see it as God. It was more like a part of life.
Yabumoto:
Well, maybe that's also a good thing. How can children be taught about monoliths?
Mr Tabori:
When we were small, there was not so much attention. It was still a tourist destination, but it wasn't the time to add value to a monolith as a landmark.
Yabumoto:
So there was no one to dig deeper into that.
Mr Tabori:
The children know more about it now, because they can do geo and the guides can teach them.


4. Monoliths and art
Yabumoto:
Monoliths are a universal concept, so in fact, all contemporary artists make monoliths. What do you think a monolith is?
Mr Tabori:
The town of Kozagawa is dotted with fascinating people, technology and nature, but it is not yet united. I think we need an essence that will unite them. My aim is to unite the strengths of the town and create a monolith in the true sense of the word. I'd like to collaborate with the people of the town, and I'd also like to work with other businesses. We want to convey the message of "Let's all be one" at the "Film Festival Looking Up at the Earth".
Yabumoto:
It's a local hub that unites the forces of Kozagawa town. Probably, it was originally a place of worship, so from the local people's point of view, it might be a return to the original culture. We're going to re-organise that and make it a hub and a business as well.
Mr Tabori:
Some people say it's interesting to watch a monolith as a screen, and there are many people who love monoliths. It would be nice if we could bring those feelings together. Kozagawa has a lot of hidden culture, so I want to express it.
Yabumoto:
Mr. Tabori's strength is that he can move freely. It's no use thinking about things. You never know until you try.
Mr Tabori:
We are also trying to develop and promote activities that people can enjoy and do in Kozagawa. There are so many things that can be done, but there is no one to do them, so I will! That's how I feel. I have a lot of ideas. If we can turn that into a business, we can create new jobs.
Yabumoto:
Then we can become a "single rock". It will become a base for people to gather and communicate. It's not only an economic centre, but also an educational and disaster prevention centre, so in that sense it's a good match for art.
Mr Tabori:
I don't know anything about art, though. There are a lot of people who have moved here from the city, and it will be fun to be able to talk about that in Kozagawa.
Yabumoto:
The monolith is also totally art.
The definition of art is very broad, so there is an educational element, and if someone is moved by it, it is art, and I think it can be seen as something very simple.
Last but not least, what would you like to say to everyone?
Mr Tabori:
We want to spread the charm of Kozagawa town to the world and make it the number one place to work.
Yabumoto:
Thank you very much for your long hours today.


.
<Related article>