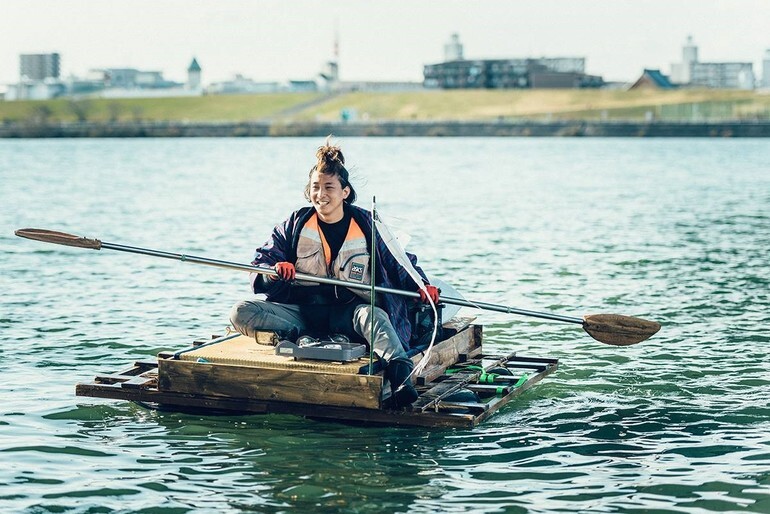 【Artist Interview vol.1】 Kohei Maeda
Kinan Art Week Artist Interview
We are pleased to present the series "Artist Interview Vol. 1" that introduces the exhibiting artists of Kinan Art Week. The first is a dialogue with a local artist, Kohei Maeda.
Interview with Mr. Maeda
Our guest this time.
Contemporary artist
Kohei Maeda
Born in 1991 in Tanabe city, Wakayama prefecture. Turning his interest to the relationship and distance between people, nature and things, he continues his journey of exploration through various approaches such as video and performance, using his own experiences as a clue. Recent activities include the "Mandarabo" project, which explores the philosophical thought of Kumagusu Minakata, and the "Pangasianodon Gigas", which goes to Thailand in search of catfish. He is currently based at SSK (Super Studio Kitakagaya), a shared studio in a former shipyard facility in Osaka.
Interviewer
Yuto Yabumoto
Kinan Art Week Executive Committee Chair
Table of Contents
1. Image of the Kinan region
2. Concept of the exhibition
3. The challenges of production
4. Expectations for the Kinan region


1. Image of the Kinan region
Yabumoto:
Thank you for taking the time to visit us today.
For this Kinan Art Week, we have asked Mr.Maeda to create a work of art to be exhibited at Kozanji Temple in Tanabe City. Today we would like to talk to you in detail about the concept of the exhibition and the future of the Kinan region.
First of all, may I ask you to tell us about your image of the Kinan region?
Mr Maeda:
I lived in Tanabe until I was 18 years old, so I will talk about my school days in retrospect.
In high school I was a member of the canoe club and practiced in the Tanabe sea. Canoeing often takes place in seas and lakes so I have encountered a wide variety of "waterside" scenery . As I continued canoeing, I gradually began to want to thrust myself into places where nature was abundant. .
I stepped into the world of art at university, and after entering graduate school, I began to create while I studied the ideas of Kumagusu Minakata, a great local figure*. In Nachi, where Kumagusu once studied, there are still many virgin forests, and in this sense, the Kinan region has a strong image of being "surrounded by rich nature".
*Reference Mandarabo-Mono (2016.02.21,Kohei MAEDA portfolio site)
*Reference Mandarabo-Kokoro (2016.06.16,Kohei MAEDA portfolio site)
*Reference Mandarabo-Koto (11.11.2016,Kohei MAEDA portfolio site)
I also think the topography along the coast, from Kushimoto to Tanabe, is really interesting. I often make films through my mountain climbing and diving experiences. The cliffs are particularly fascinating to me. At the moment I'm researching the Hikiiwagun in Tanabe City, and I think that cliffs are the link between the sea and the mountains.
Mr Maeda:
I think that the sea and the mountains are actually connected, but yet there is a sense that they are somehow disconnected. I would like to think about the boundary between the sea and the mountains through my work.
2. Concept of the exhibition
Yabumoto:
Please introduce us to the concept of this exhibition.
Mr Maeda:
I plan to visit the seas and mountains of the Kinan region and create a video work of my actual experience, which will be developed as an installation*1.
*1 A work of art in which the entirety, including the exhibition space, is a work of art that the viewer can experience by being there.
Work Encyclopaedia: What is an installation?
The background to my work is the existence of the Jomon pottery called 'Kozanji shell mounds' and the 'Kozanji style pottery'*. The Jomon period is about 10,000 years old now, but there is something very interesting about going back in time in this way. The exhibition space is located in the basement of the hall of Kozanji temple, so I would like to create a space where people can go underground and feel as if they are going back in history.
*Reference: Kozanji Temple Tanabe City, Wakayama Prefecture 20 February 2016, Japan Geographic General Incorporated Association)
Mr Maeda:
For the exhibition, we are planning to prepare a screen with the motif of Kozanji style pottery. . The Kozanji style pottery is called "Sentei" pottery, which has a pointed bottom. Originally, I was interested in the pointed shape of pottery, and when I was a graduate student, I held an experimental exhibition called "Tip of Nose*" on the theme of Kumagusu Minakata. This was an exhibition in which I hypothesised Kumagusu as a "Tengu" and wondered where Kumagusu was situated at the moment when he encountered plants and animals in the forest.
As the title of my solo exhibition "Tip of the Nose" suggests, I expressed a pointed nose sticking out from various places such as a wall or in moss. From these protrusions, I found a "figure that transcends boundaries". In this exhibition, using the pointed Kozanji style pottery as a starting point, we will consider the "connection between inside and outside" in the Kinan region. I'd like to express the concept of "inside and outside" in the video work I'm going to make, while relating it to the "borderline between the sea and the mountains" that I mentioned earlier. I would like people who are viewing the work at Kozanji Temple to be able to ask themselves "Where am I now?" I want to create a space where people can feel like they are floating between the "inside and outside".
3. The challenges of production
Yabumoto:
What are some of the challenges you are currently facing in creating your work?
Mr Maeda:
The problem is that I am dealing with nature, so we are always subject to the weather when we shoot. When I'm shooting in the sea, I'm diving naked, so I can get stung by jellyfish. On top of that, there is the problem that it is difficult to adjust your buoyancy. I dive with a cylinder until I reach the bottom and then I let go of the cylinder, but eventually I can't hold my breath and I surface too soon. I'm slowly getting used to it, thanks to the advice of divers, but it's still very physically demanding to film in the sea.
4. Expectations for the Kinan region
Yabumoto:
Finally, if you have any expectations for the Kinan region, please tell us .
Mr Maeda:
I feel that there are many people in the Kinan area who like festivals.. I feel that if the passion of the locals are conveyed to the outside world, the number of people visiting Kinan will increase, and I would like to see more people from inside and outside the Kinan region coming together and mixing. I hope that young people can take the lead in creating gatherings of people where culture can grow like the Kinan Art Week.
Yabumoto:
Do you have a message for young people, for example primary or secondary school students?
Mr Maeda:
It might be a bit difficult now, but please just meet with people anyways (laughs). A wide variety of artists will be exhibiting at Kinan Art Week, so I hope that not only local people but also people from other parts of the country will come and see their work. When an event or festival like this is held, people come from all over the region and beyond, so you're sure to meet a wide variety of people.
On the other hand, even if you don't have a chance to attend an event, I would like you to actively go out and interact with people yourself. I hope that in the future there will be more people like Mr. Yabumoto who are active globally.
Yabumoto:
Thank you very much for taking the time to visit us today.
Mr Maeda:
Thank you very much.