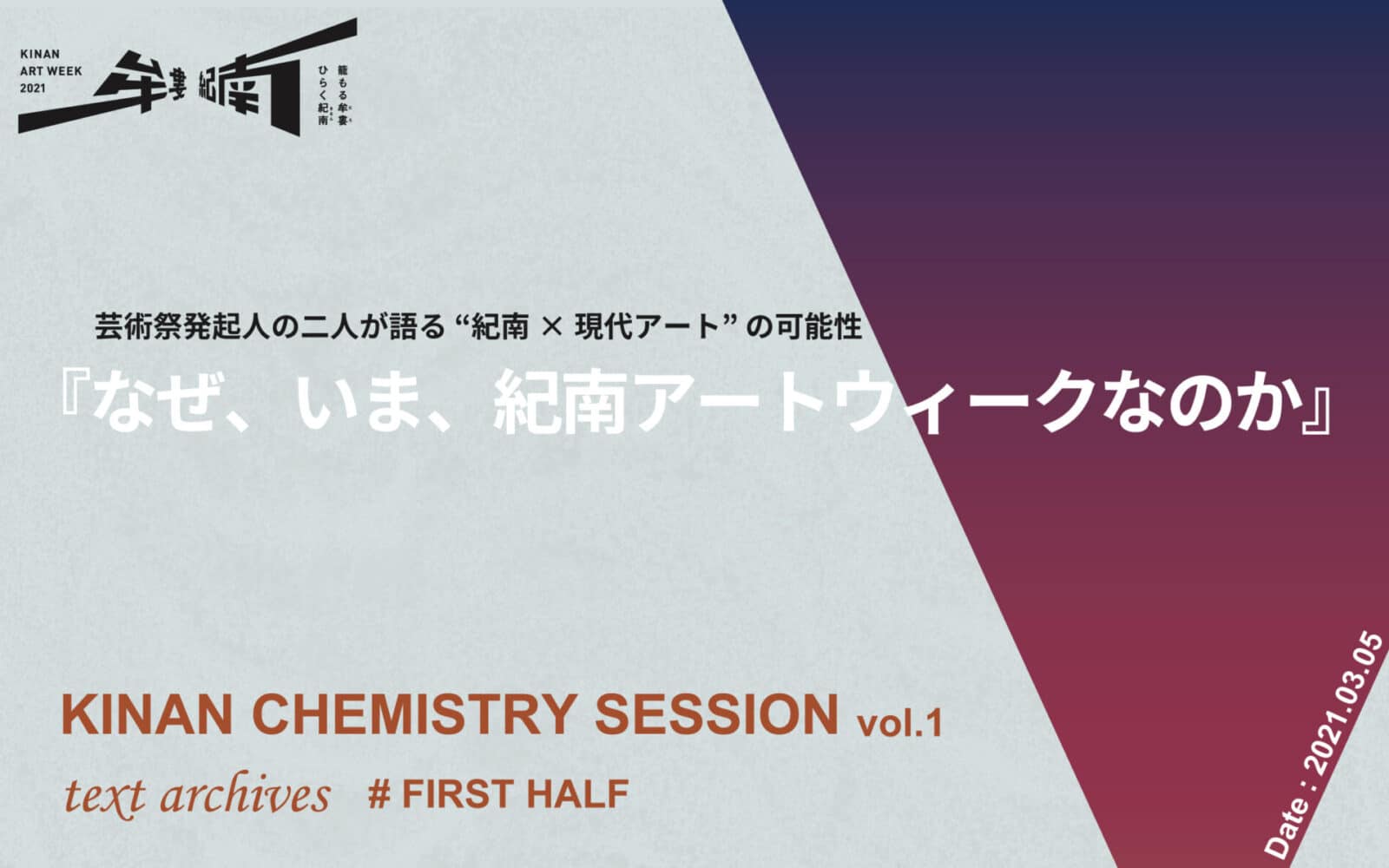 Archived Text (First Half) of Kinan Chemistry Session vol.1 "Why Kinan Art Week?"
Online talk session "Kinan Chemistry Session vol.1" held on March 5, 2021
This is the first half of a text archive that transcribes an incandescent session.
*Click here for the video archive
https://kinan-art.jp/en/info/440/


.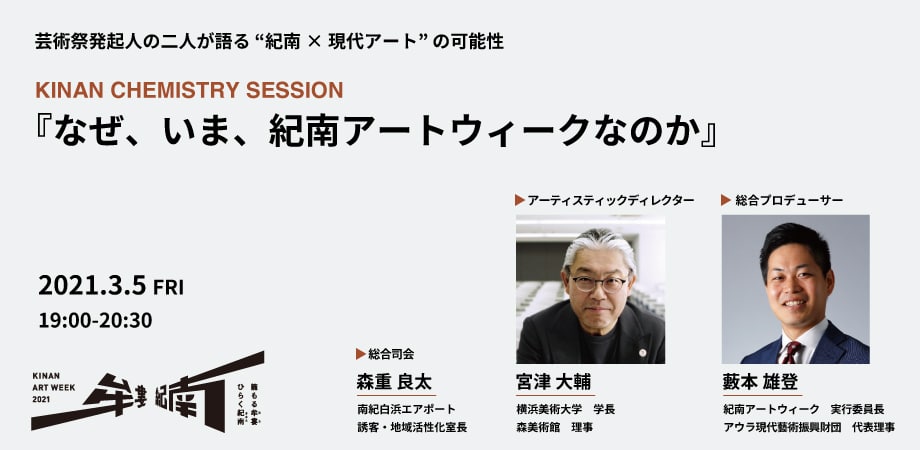 Title: "Why Kinan Art Week Now?"
Date and Time: Friday, March 5, 2021, 19:00 – 20:30
Venue: Online (ZOOM webinar)
Participation Fee: Free
Speakers: Miyatsu Daisuke (Artistic Director)
Yabumoto Yuto(General Producer)
Moderator: Morishige Ryota (Regional Activation Producer)


"Why Kinan Art Week Now?" (First Half)
Morishige:
Good evening, everyone.
I would like to start the Kinan Chemistry Session now. This session is part of Kinan Art Week 2021.

The theme for the first session is: "Why Kinan Art Week now?" The session will be conducted by Daisuke Miytsu, the Artistic Director of Kinan Art Week, and Yuto Yabumoto, the General Producer of Kinan Art Week 2021. I (Morishige) am from Nanki Shirahama Airport, and I will be the moderator. Today, we are broadcasting from Shirahama Airport in Nanki Shirahama.

I would like to begin by briefly introducing both of your profiles.

Firstly, Daisuke Miyatsu is the President of Yokohama College of Art and Design, as well as being the Director of the Mori Art Museum. Although he is the President of the College, he is also in charge as a professor of lectures for students. His main area of research is the relationship between art and society, particularly the economy. He has been a member of the 'Council for the Study of Overseas Dissemination of Contemporary Art' of the Agency for Cultural Affairs and was a member of the Haneda Olympic and Paralympic Legacy Promotion Task Force. He has been a member of the judging panel for the Asian Art Awards since 2017. He is also a world-renowned collector of contemporary art.
Miyatsu:
Thank you very much.
Morishige:
Next is the General Producer of this project, Yabumoto Yuto.
Yabumoto:
Thank you very much.
Morishige:
Mr. Yabumoto is from Nanki-Shirahama in Wakayama Prefecture, and after graduating from university, he suddenly started his own business in Cambodia, which is a very unique career. He is currently living in Thailand as the founder of a law firm with 19 offices around the world. As the representative of the AURA Contemporary Art Foundation, he is working to maintain and develop the unique history and culture of the region.
As a native of Nanki-Shirahama, he is the young general producer who has extraordinary passion for this Kinan area of Wakayama Prefecture.
Miyatsu:
Thank you very much for introducing me, Mr Morishige.
My name is Daisuke Miyatsu, and I am the Artistic Director of the Kinan Art Week 2021. Today I will be leading this chemistry session, together with the General Producer, Mr. Yuto Yabumoto.

First of all, I would like to thank Nanki Shirahama Airport, Adventure World and Kiyo Bank for their generous support. Thank you very much indeed.


[ 1 ] Introduce yourself and how we met

Miyatsu:
Now, I would like to move on to the chemistry session.
Today's session is the first in a series, and we're planning on inviting a variety of guests every couple of months.
The session is titled the "Chemistry Session" because we hope that a wonderful 'chemical reaction' will take place when Mr. Yabumoto, myself, various Kinan residents, and of course Japan, as well as various people and things from overseas, come together and interact.

I would be grateful if Mr. Yabumoto could first introduce himself, focusing on what kind of childhood he had in Kinan, and why he ventured to other parts of Asia.
Yabumoto:
Yes, thank you very much.
My name is Yabumoto and I will be the General Producer of Kinan Art Week. I'm from Nanki Shirahama-town and graduated from Nishitonda Elementary School, Tonda Junior High School and then Tanabe High School, and after graduating from university I went abroad.


University graduate to Cambodia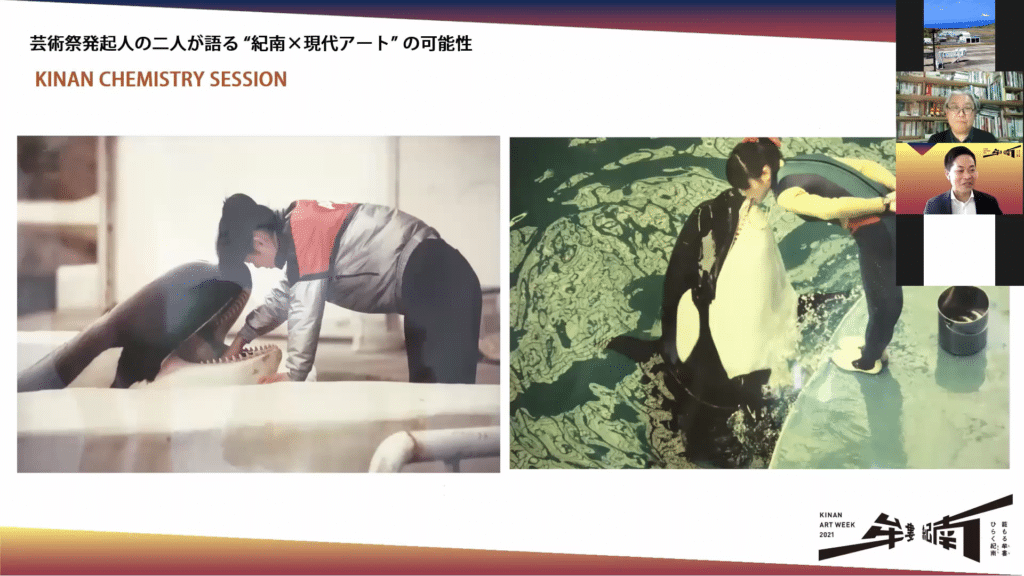 Yabumoto:
My mother was an orca trainer at Adventure World, which is the pride of Wakayama Prefecture and a theme park.
The President of Adventure World at the time thought it would be fun to have a girl ride on top of the orcas, so she became the first orca show lady. She was the first woman to do so in Japan.


I pushed ahead with playing baseball all through primary, junior high and high school, and even at Tanabe High School, I was in the baseball club and I just played baseball all the time.
After that, I went to university to study law, and for some reason, when I graduated from university, I started my own law firm in Cambodia, which has since expanded to 18 locations around the world.
The reason why I decided to start a law firm is because I thought that law is an important factor for peace and balance in the world and for the betterment of society.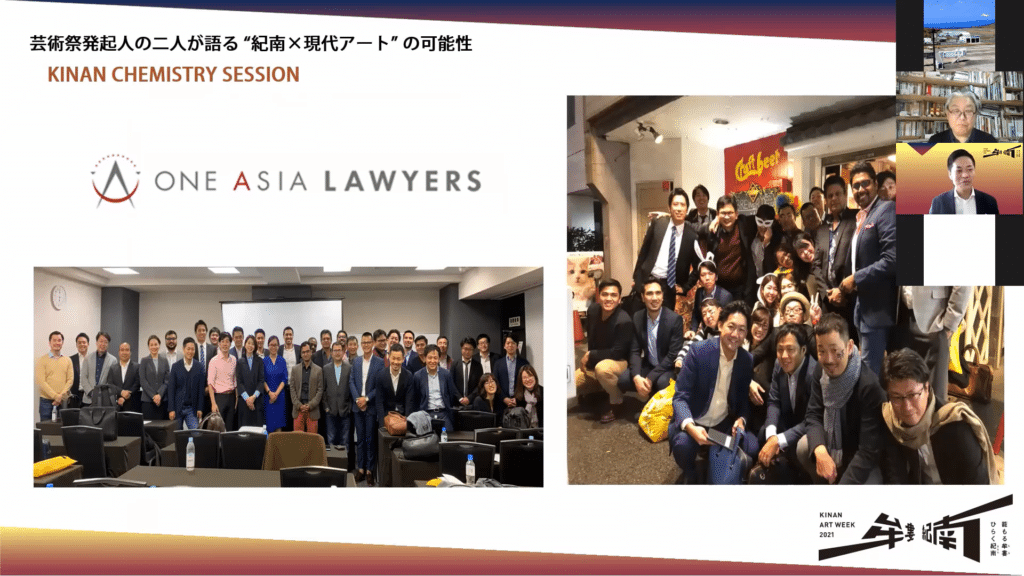 So, I started to work in law, but the more I got into law, the more I felt that law was not necessarily linked to world peace and the betterment of society, so I jumped into the world of art.
On top of that, into the world of contemporary art in Cambodia (laughs)!

I was so fascinated by this world that I established a foundation. I have been working for the foundation in Bangladesh, Sri Lanka, Africa and so on, in what are specifically called, rural areas. Then I started wondering why I don't work in my local area of Wakayama and thought that I would like to do something special in the Kinan region including my own hometown, Nankishirahama, so we have been working on this project since last year.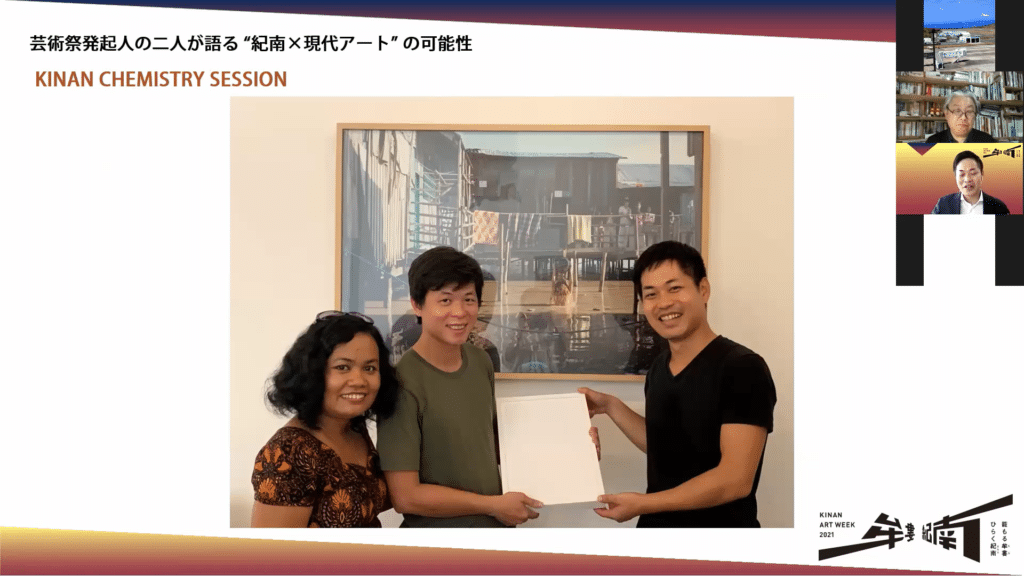 Miyatsu:
Many thanks for your introduction. In the slide you can see a man in a khaki T-shirt and a woman in a dress. They are a couple. The man is Khvay Samnang, the Cambodian artist who created the work you can see in the background. His wife works as a gallerist selling his work. They are the ones who brought Mr. Yabumoto and I together, so actually we first met because of the connection with the Cambodian people.


Art is not just for special people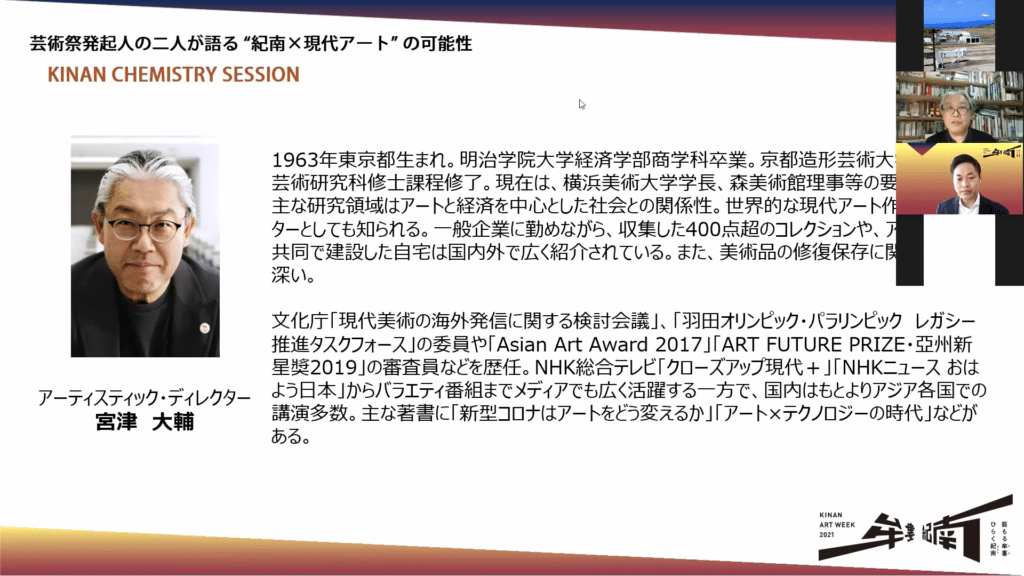 Miyatsu:
Next, I would like to introduce myself.

I am the President of the Yokohama College of Art and Design and a member of the Board of Directors of the Mori Art Museum. I have been collecting artworks since I was 30 years old. As an individual, I am 58 years old this year, and I am much older than Mr. Yabumoto who is in his 30's.

You might have the impression that people who collect art are very 'special' or rich. But I grew up in an ordinary family of businessmen, and I worked as a university lecturer for around 10 years, including time as a part-time lecturer. As a result, I worked as a salaried employee for 30 years and I started collecting contemporary art whilst working as an office worker.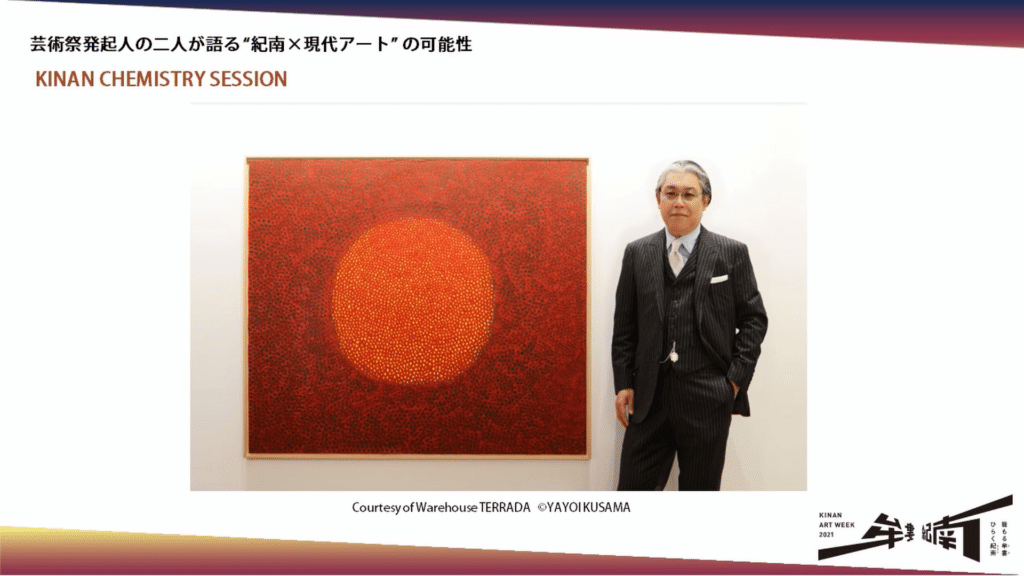 This is a work by Yayoi Kusama, which was recently exhibited at Stars Exhibition 2021, at the Mori Art Museum. Yayoi Kusama is now a huge star, but at the time, her value had not yet risen that much.


The relationship between art and economy
Miyatsu:
What I am focusing on is the relationship between art and the economy. I believe that art is an extremely wonderful wisdom of mankind and a cultural crystallization. On the other hand, it is difficult to move Buddhist statues in temples and shrines. Religious paintings in churches are also difficult to move. However, when they become movable, works of art, including paintings, become strongly linked to the economy as there are people who want to monetize them, and people who want them even if they have to pay for them.

Earlier, Mr. Yabumoto said that when you work in law, it is difficult to talk about things in terms of aesthetics, such as world peace and balance in the world. On the contrary, I realized that if art is that considered to be 'beautiful' then it comes with money, but if you think of it as 'dirty', art itself can't coexist. There weren't many people studying art from this perspective. So I started to study art and economics and became a teacher.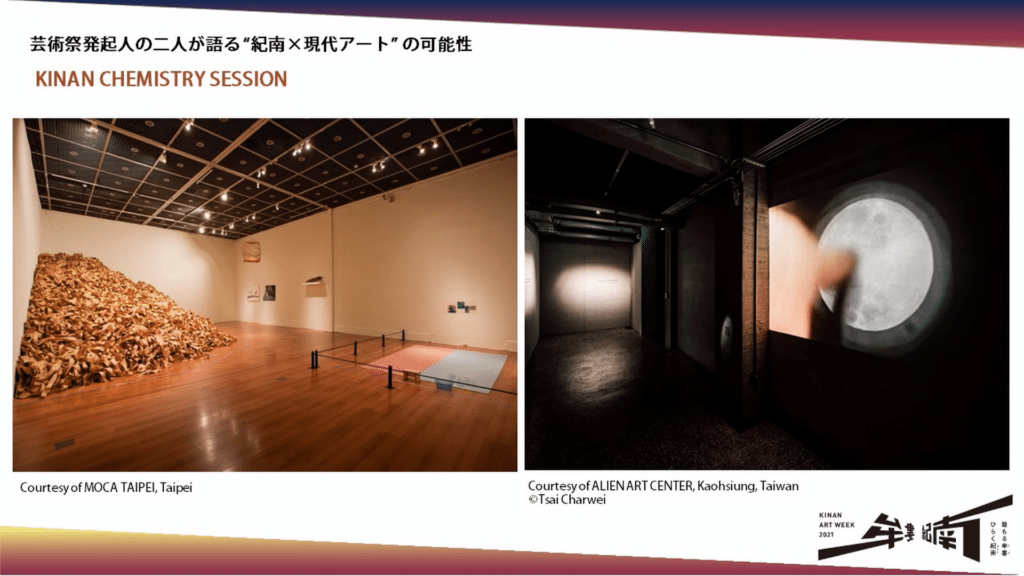 I have lived in Japan all my life and have never studied abroad, but as my collection and my existence became more and more well known, my external opportunities grew. (The left side of the slide shows an exhibition of my collection at the Museum of Contemporary Art, Taipei, Taiwan in 2010. On the right is the exhibition of my collection at the Museum of Fine Arts in Gao, Tainan, Taiwan last year). I have been asked to give lectures and hold exhibitions of my collection in Asian countries more often than in Japan, so for the past ten years I have actually had more and more opportunities to see Japan from outside in broader Asia.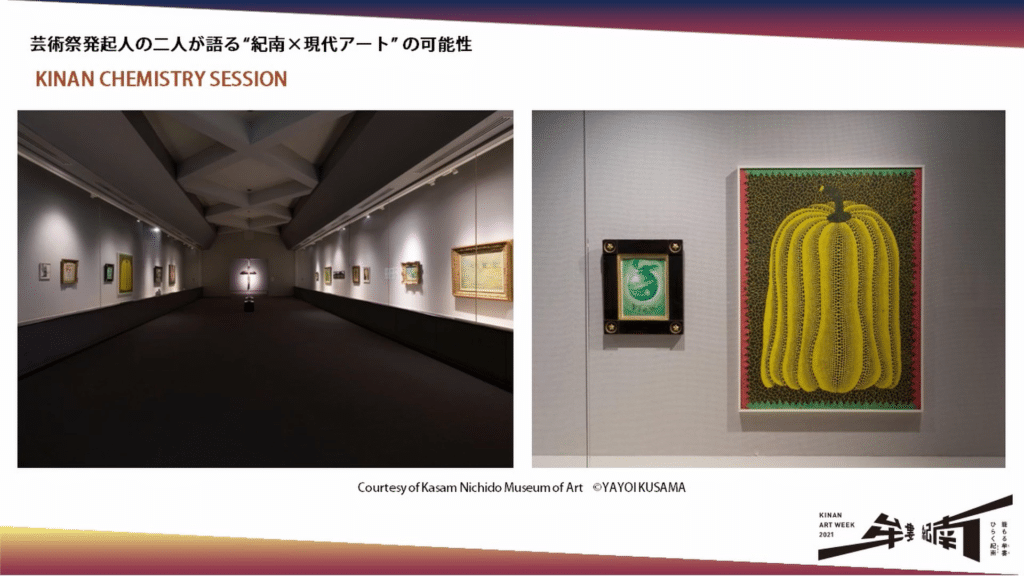 This next slide shows the only exhibition of my collection in a Japanese museum.

Recently there have been a lot of exhibitions of private collectors' collections, but I thought that just showing my own collection was not interesting enough. Therefore, at this time, we had a collaborative exhibition where we combined the works of modern masters, such as Renoir and Matisse from the collection of the Kasama Nichido Art Museum, with my own contemporary pieces of art work to show them under a certain theme. In the slide on the right, the small painting on the left is a green apple as his self-portrait by the surrealist René Magritte. On the right is Kusama's painting of a pumpkin. This is demonstrative of the kind of exhibition of the collection that I had.


[ 2 ] The fascination of Kinan: the mystery of "Komoru(seclusion):Muro" = "Hiraku(openness):Kinan"

Miyatsu:
When I met Yabumoto-san, we decided to hold Kinan Art Week, but what exactly is Kinan Art Week? I'd like to start by asking what Kinan Art Week is and why it's necessary.

Let's see what Kinan Art Week, which will be held this autumn is all about.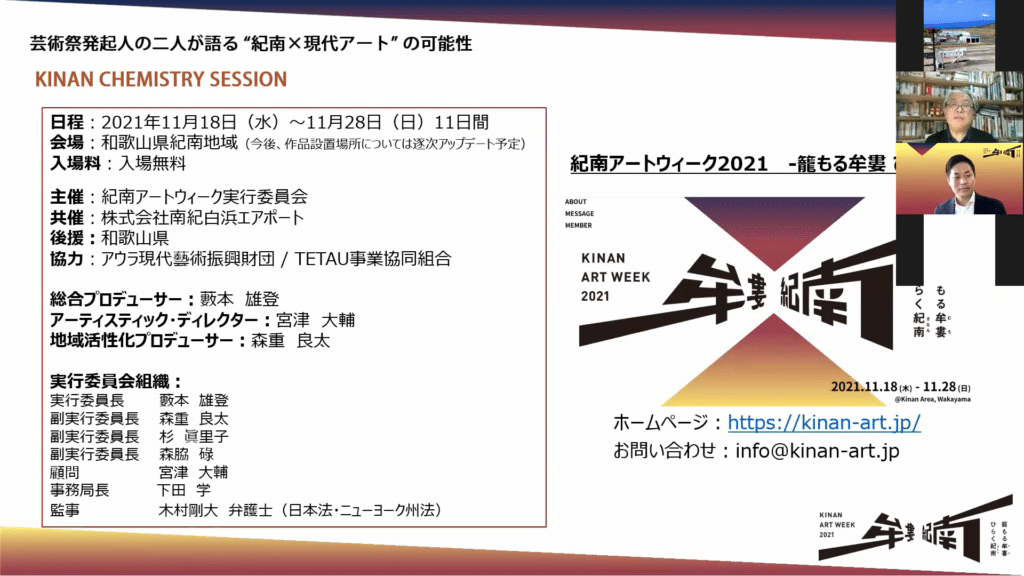 I would like to ask Mr. Yabumoto to tell us about "the culture of seclusion" and "the culture of ports" including the history and local culture of the region.


What is "Komoru(Seclusion): Muro"= "Hiraku(Openness):Kinan"?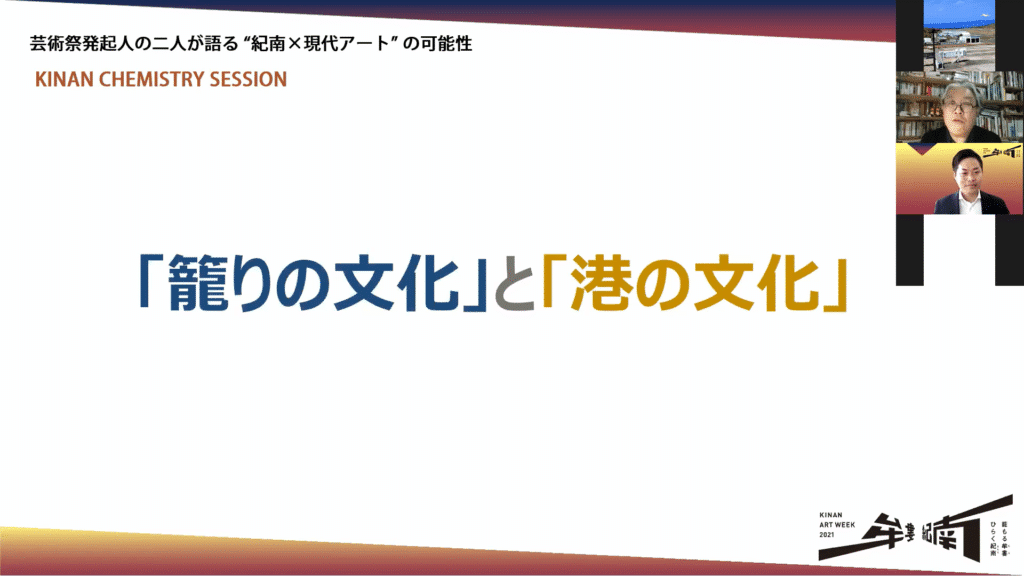 Yabumoto:
As the subtitle of this Kinan Art Week "seclusion: Muro" and "openness: Kinan" , we would like to focus on exhibiting what is " the culture of seclusion" and " the culture of ports (openness)" .

First of all, many of you may be thinking: "Where is Kinan?"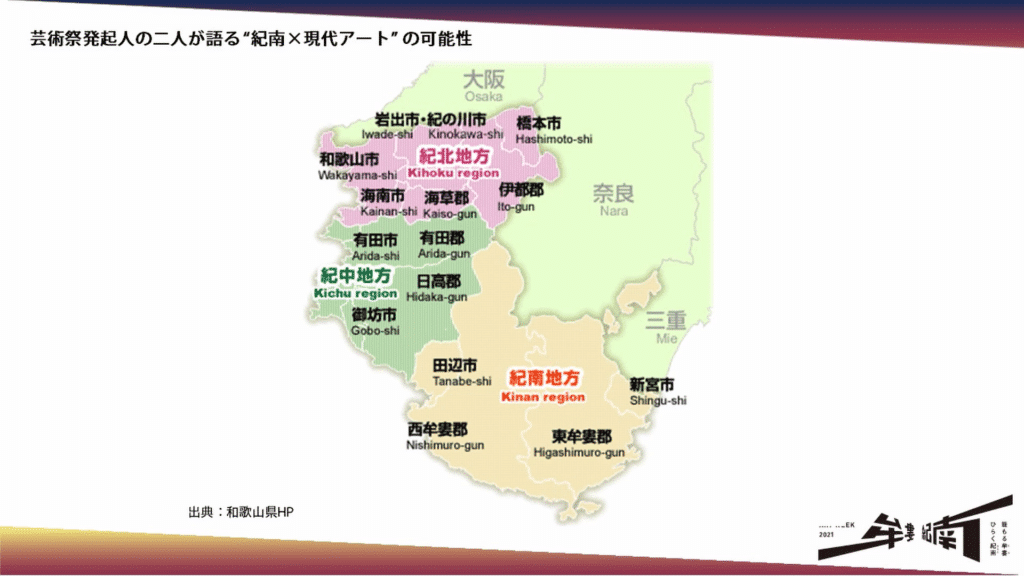 As you can see on this map, it is located in the southernmost peninsula of Honshu, the Kii Peninsula. The area is divided into Kihoku, Kichu and Kinan. It is mostly mountainous. It seems that more than 82% of the area is forested, so it is mostly mountains and forests. One of the themes of this year's festival is "seclusion: 牟婁(Muro)". Many people can't read the word, 牟婁( Muro), but it's a very old name, and it is OK in this regard as Kinan and Muro have almost the same geography.


"Kinan" and "Muro"
Yabumoto:
Kinan is located in the southern part of the Kii Peninsula, so it is called Kinan, but do you know why it is called Muro (牟婁)? Many people don't know why it is called Muro, even the locals.
In fact, the word "Muro" means "chamber" or "muro"(室) in the Muromachi (室町) period (1336-1573), and it also means "the chamber of the gods" or "the house of the gods".

Another word that often comes up is Kumano (熊野) area. The word "Kumano" also means "hiding" or "secluding", and I think that one of the core cultures of the Kinan Peninsula is "the culture of seclusion".

On the other hand, with regard to "the culture of the peninsula, the sea and the port" of the Kii Peninsula, many immigrants have moved from Kinan to Chiba (where Mr Miyatsu is now) from Tondaura, which I will explain later. Perhaps we share the same blood or historical roots, but soy sauce and miso, which were conceived in Kinan and Kicyu, have actually developed in places such as Choshi in Chiba. I believe that the culture of ports and the immigration exists in the Kinan region.

I'm currently researching various historical festivals in the Kinan area and the more I look into them, the more I realize that they are part of an overwhelming cultural treasure trove, and each festival has its own story to tell.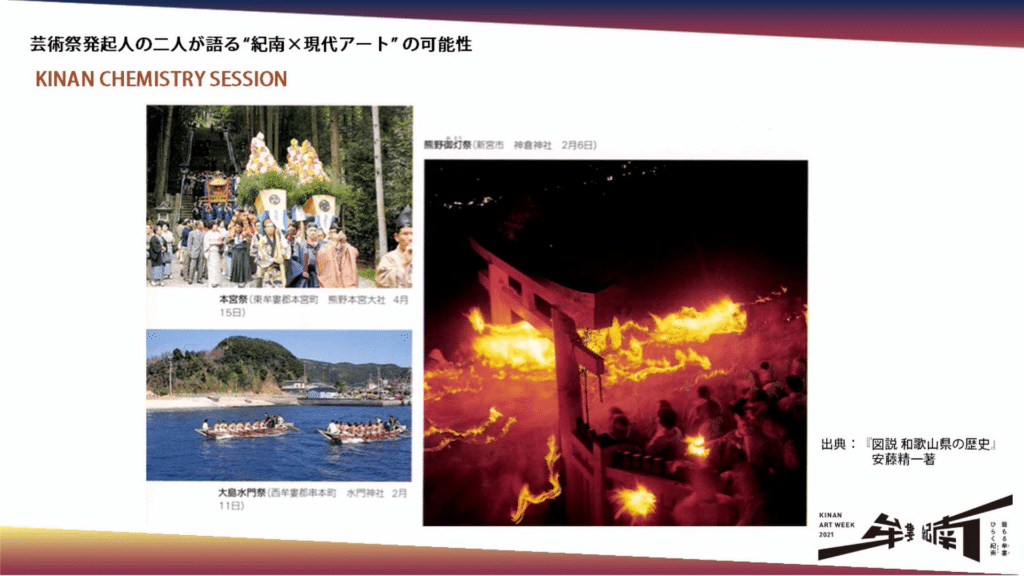 This slide shows some pictures of festivals, which are very interesting. The picture on the right is the Otou Festival. During this festival, people wear white costumes and eat only white food, and it is a unique festival. I heard that this festival was held to welcome Emperor Jimmu when he came down to Kumano Kodo, and I think it would be very interesting to delve deeper into this festival during this Art Week.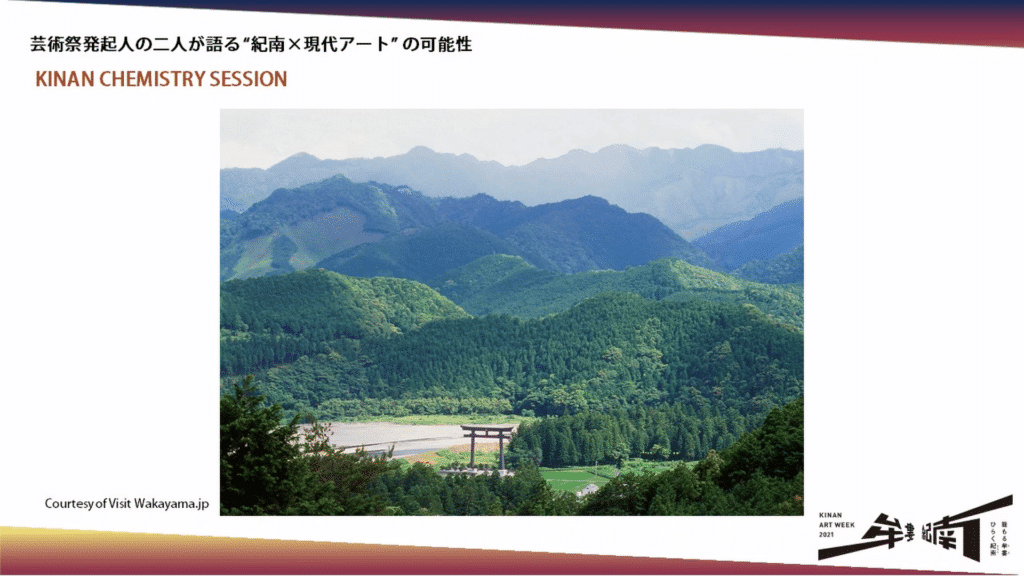 As for the culture of seclusion in the mountains, there is no need to explain the Kumano Kodo (熊野古道). The Kumano Kodo is a place where people from all walks of life used to stay and seclude themselves in the mountains to reflect on themselves.


SANAA museum on Kumano Kodo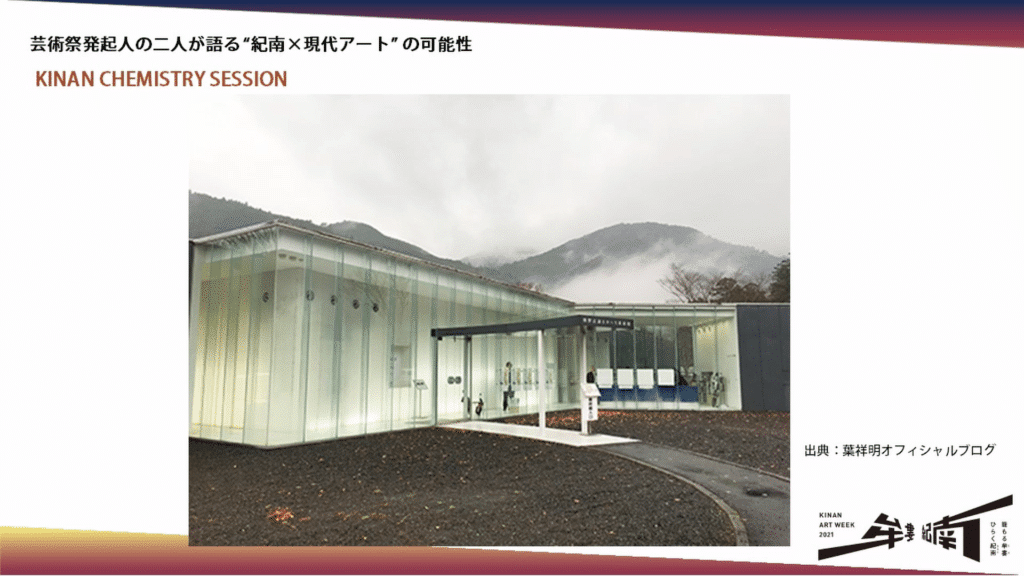 Yabumoto:
I didn't know that there was a SANAA museum in the middle of Kumano Kodo, and I was surprised. Miyatsu-san, you know SANAA, don't you?
Miyatsu:
Yes, SANAA is the name of a unit of two architects, Kazuyo Sejima and Ryue Nishizawa, who are both famous for their solo work, but when they work together, it becomes SANAA. They have both won the Pritzker Prize, the Nobel Prize for architecture.
The most famous museum of the unit of Mr. Sejima and Mr. Nishizawa is the 21st Century Museum of Contemporary Art, Kanazawa. Before the 21st Century Museum of Contemporary Art Kanazawa, they designed the Nakahechi Museum, which was actually built here before the 21st Century Museum of Contemporary Art Kanazawa. When I heard about this project, I was surprised to know that SANAA's first museum project is located deep in the mountains of Kumano Kodo.
Yabumoto:
It may be a little difficult this time, but contemporary art and SANAA are a perfect match, even in the 21st Century Museum of Contemporary Art, Kanazawa, so I think it would be fun and interesting to do it in Kinan.


Minakata Kumagusu, the pride of Wakayama, a representative of "the culture of seclusion"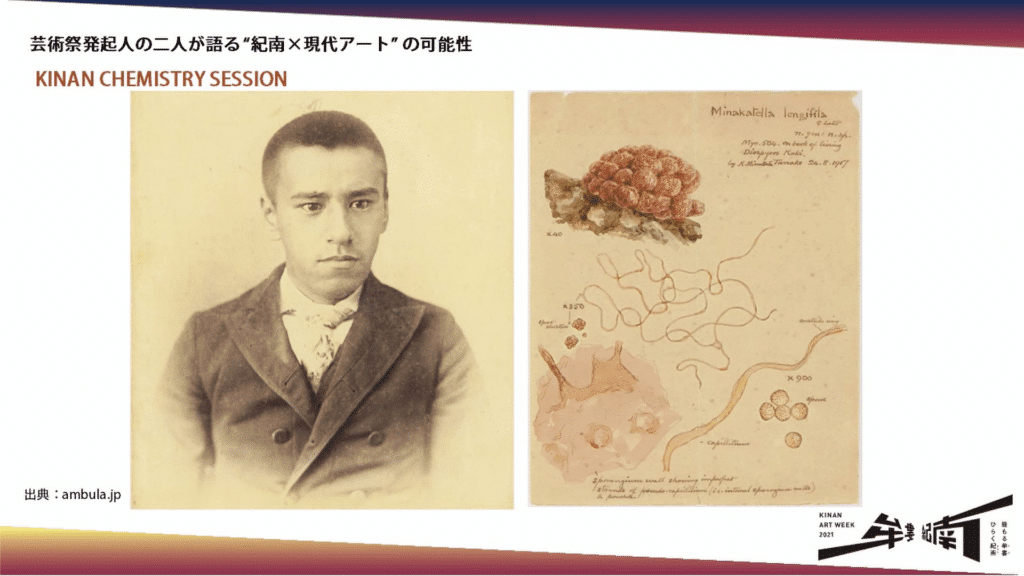 Yabumoto:
In terms of seclusion, I would have to say Kumagusu Minakata. I myself have been most influenced by him, and I am very much interested in Eastern thought in particular. The name of my office is taken from Okakura Tenshin's "Oriental Ideals". Minakata Kumagusu was a master of biology, natural history and philosophy through his activities in the deep mountains of Nachi and on the island of Kamijima in Tanabe. While secluding himself in the mountains, he exchanged letters with London, disseminating information and research results to the world.

I want to be just like him. In this Art Week, we would like to explore, in depth, this great man who is the pride of Wakayama Prefecture, and who connects the culture of seclusion and the culture of ports.


Art made by nature and the culture of ports of "Opening Kinan"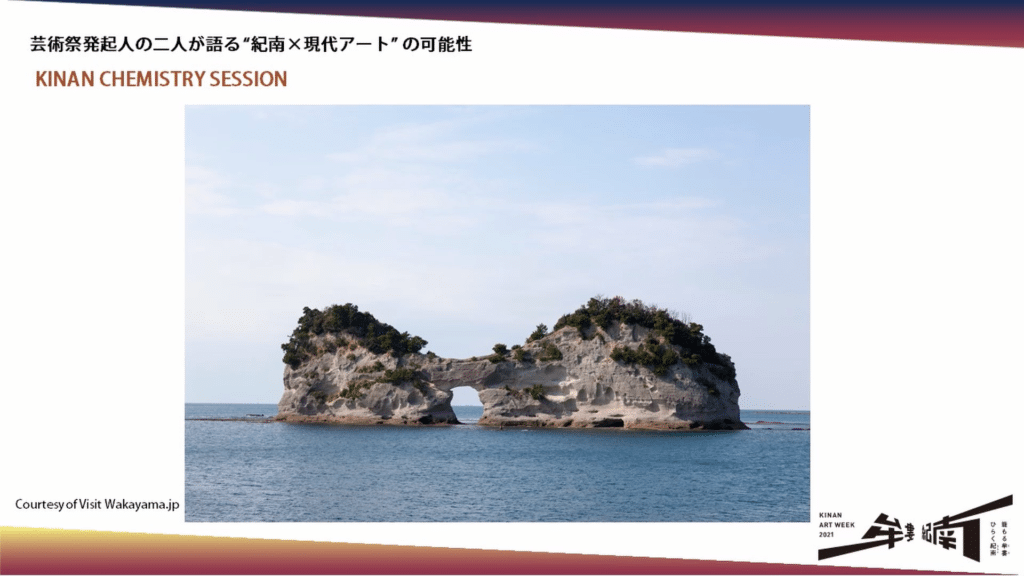 Yabumoto:
On the other hand, there is the culture of ports.
This photo shows the famous tourist spot of Engetsujima(円月島), which is 'art' in itself. I think that nature is also an art form, so I would like to combine these kinds of things.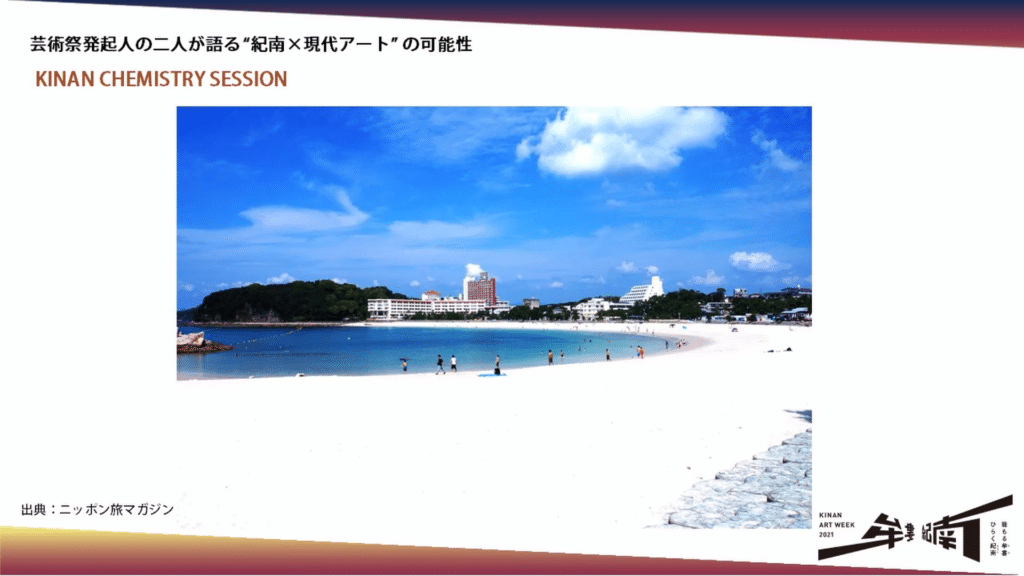 Speaking of Nanki Shirahama, it is the sea after all -Shirarahama beach. With its open atmosphere, Nanki Shirahama Airport and Shirahama-town are now promoting it as a mecca for 'workcationers', and I think it is a place that has an open culture as its original background.


Rosetsu Nagasawa explodes with talent in Kinan
Yabumoto:
If you go to the sea, you will find the coastal town of Kushimoto.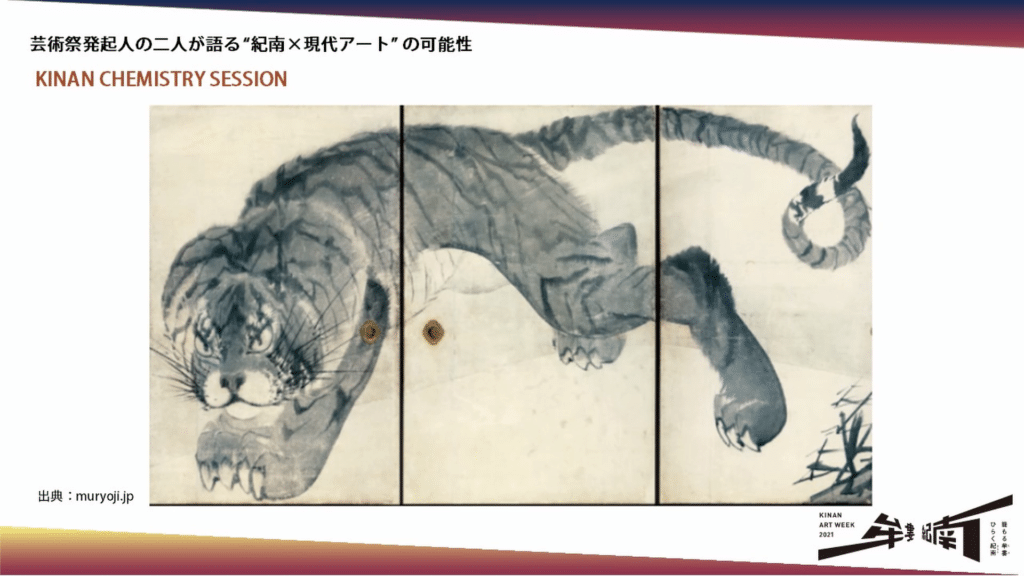 Do you know whose work this is? For some reason, Nagasawa Rosetsu, a pupil of Maruyama Okyo in Kyoto, who was one of the top elite of the elite, was told to go to Kinan, and when he left Kyoto and breathed the air of Kinan in Wakayama Prefecture, he somehow exploded with talent, and it is said that Rosetsu's peak period was when he stayed in Kinan. This is a painting of a dragon and a tiger at Muryouji Temple in Kushimoto (also known as Rosetsu Temple), but there are also other paintings at Seijoji Temple and Sodoji Temple in Tonda. In fact, there are many such treasures left in Kinan.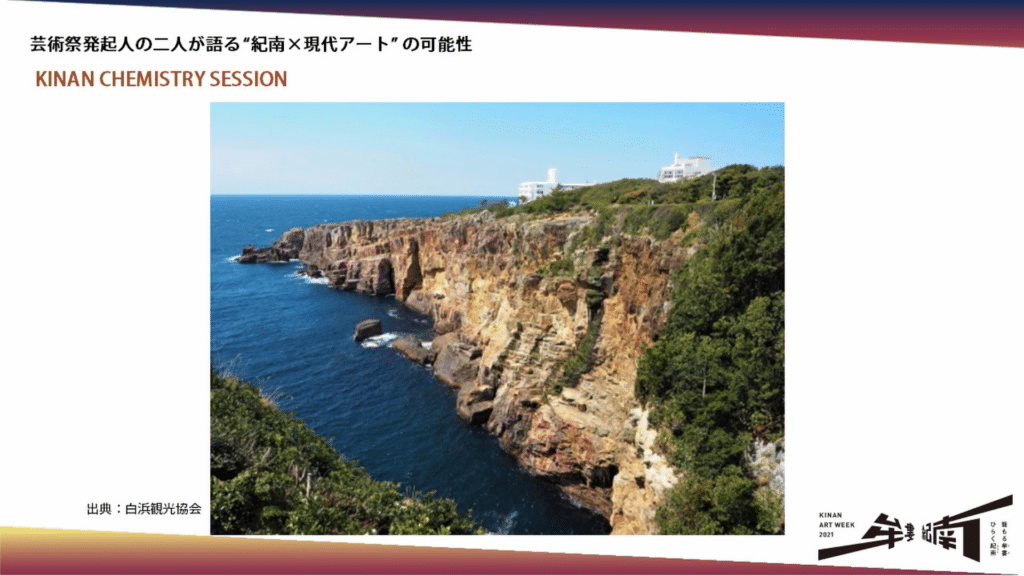 Also, in terms of the culture of ports, here it is. You may not know where it is, but it is a tourist attraction called Sandanbeki (三段壁). In the Heian period (794-1185), with the geographical advantage of the peninsula and the development of shipbuilding technology, they took the control of the Seto Inland Sea. Especially in the battle of Genpei, there were people called Kumano Ancient Navy or Kumano Pirates, and this Sandanbeki was their secret base. It has a very strong function and history of having a 'port culture'.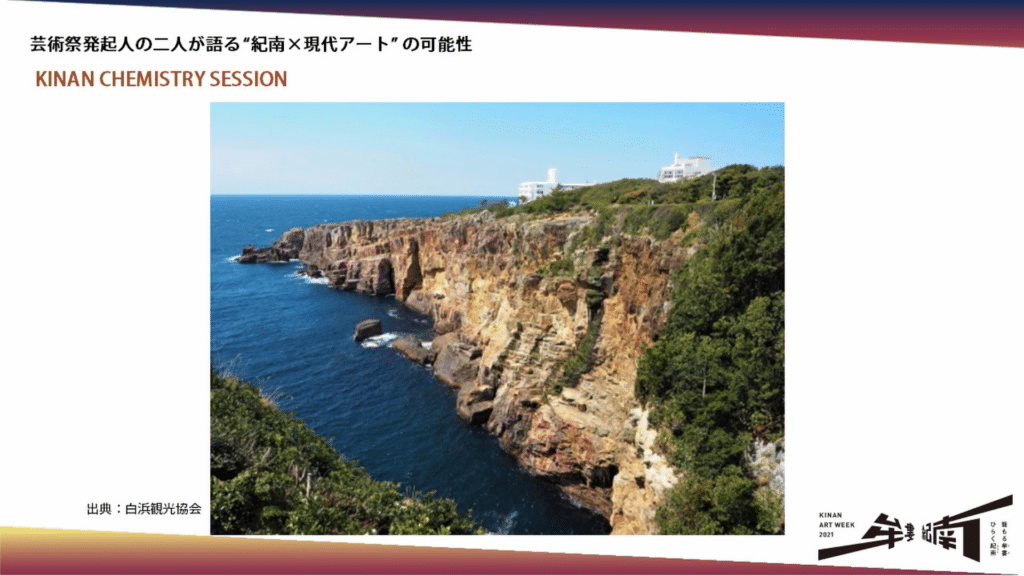 Later, in the Edo period (1603-1868), the ship is called Higakikaisen. The first one made in Kyoto or Osaka in Japan actually left from Tonda port, Tondaura for Edo (Tokyo), and the ship laden with loads from Edo returned to Osaka.

In fact, the products made in Kyoto or Osaka were sent to Edo or Tokyo from the port of Tondaura, and the cargo from Edo (Tokyo) was sent back to Osaka for the first time. This is the root of logistics and the history of the port, which is perhaps a forgotten part of the history and culture of the Kinan region.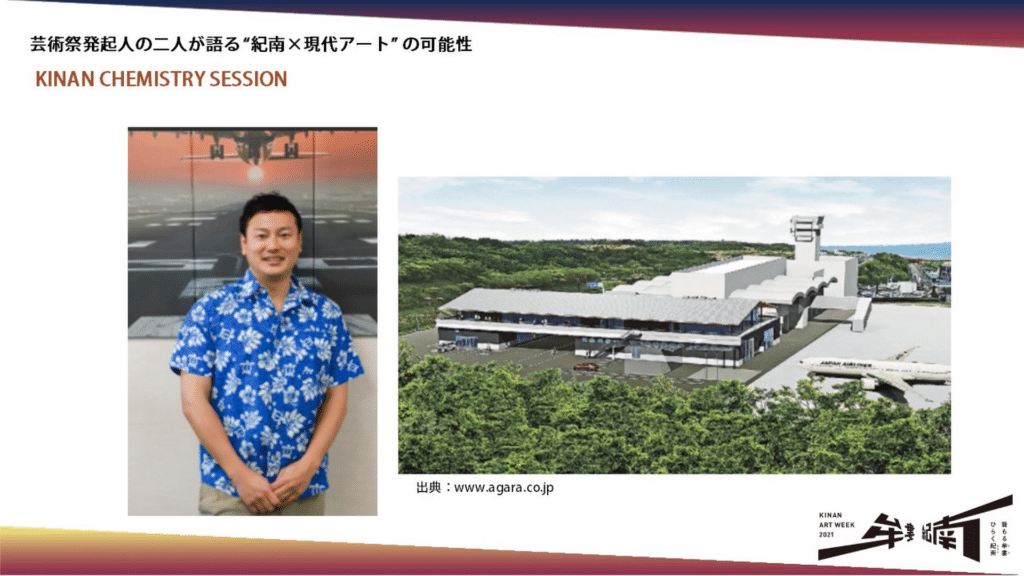 The picture on the left side of this slide is Mr. Morishige from Nanki Shirahama Airport, who is the Vice Chairman of the committee. Nanki Shirahama Airport is now leading the way in the region based on its history and culture, so we would like to implement the current culture of the port or the cutting edge of the function of the port with the cooperation of Nanki Shirahama Airport.


The idea behind the logo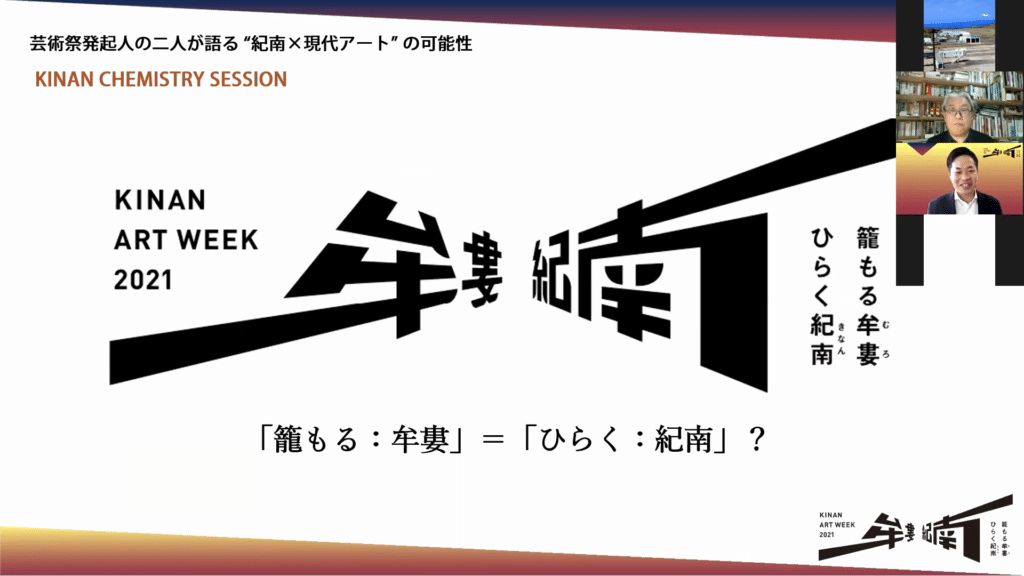 Yabumoto:
The official logo is based on "the culture of ports" and "the culture of seclusion" that we have mentioned so far. So we made the formula in order to contrast 'Muro(牟婁)'and 'Kinan(紀南)'.

"Seclusion: Muro = openness: Kinan"

Do you think this is correct?

Geographically, 'Muro' and 'Kinan' can be thought of as having almost the same meaning, but I think that these two words, which at first glance seem to be in opposition to each other, cannot actually be linked in the same way.


Is 'local' equal to 'global'?
Yabumoto:
The issue of localisation and globalisation seems to be a hot topic around the world at the moment, and I'd like to propose a new solution to this problem.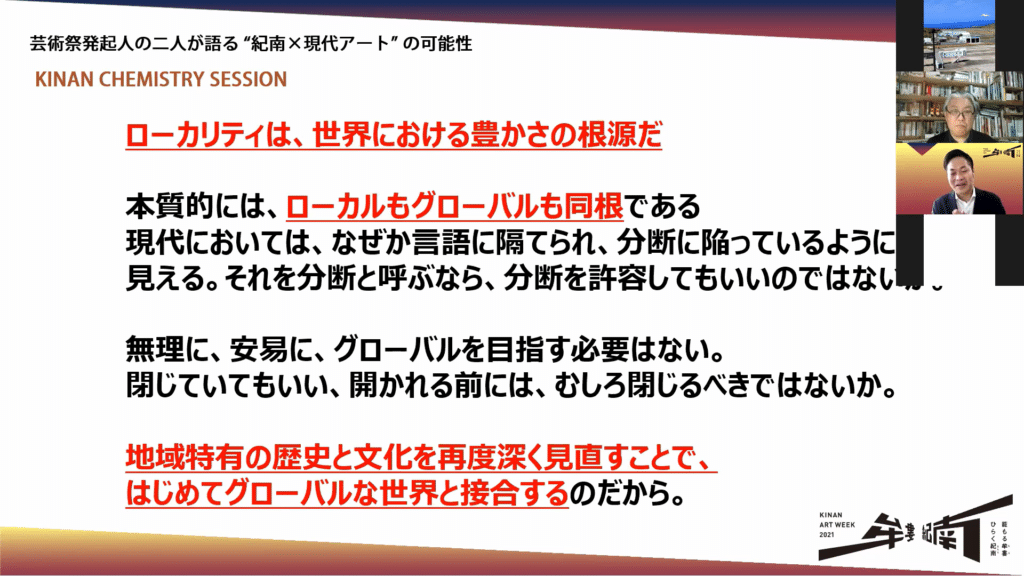 I think that localness is very important, and I feel that if we can find out what is happening locally, we can directly connect it to the global world. So I suppose that, just as we can connect "seclusion" and "openness", we can also connect "local" and "global".

This idea is actually influenced by Kumagusu Minakata. Kumagusu said that the microcosm, the world of the microcosm seen through a microscope, and the macrocosm, the world of the macrocosm, are actually the same, and they can all be returned to Dainichi Nyorai (Mahavairocana). Even in modern times, I would like to convey at this Kinan Art Week that big things and small things are actually linked and organically connected.


Why we love Cambodian artist Samnang's work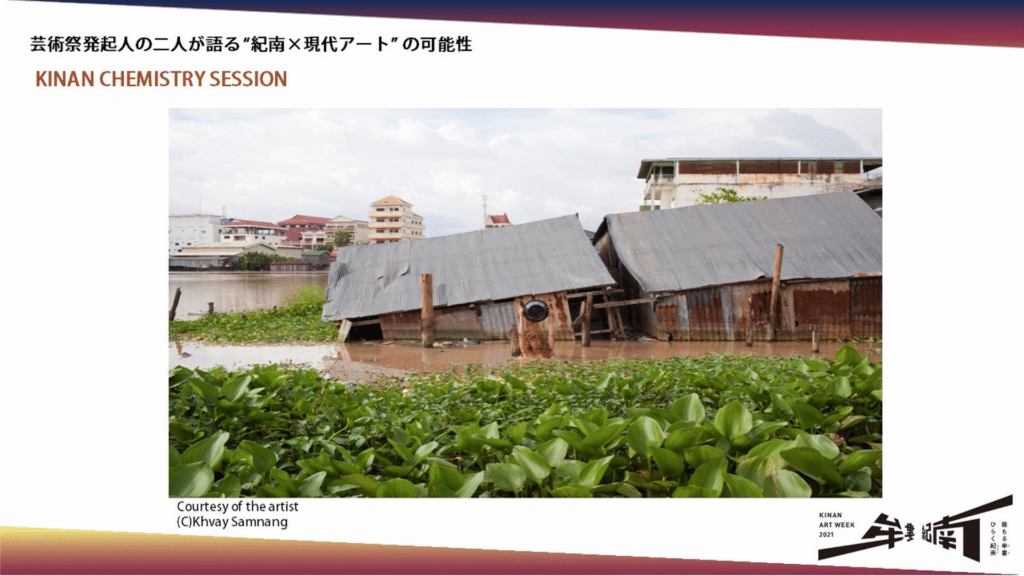 Yabumoto:
This is the work called "Untitled 2011" by Samnang, the Cambodian contemporary artist that Mr. Miyatsu told us about earlier. This video, we have the same one, right? Miyatsu-san?
Miytsu:
Yes.
Yabumoto:
You have 'edition 1' and I have 'edition 3'. Why did you buy this, Miyatsu-san?
Miyatsu:
I saw this work at the Singapore Biennale, which is a national art festival held in Singapore. In the middle of the work, there is a man with a soft smile on his face, who is soaking in muddy water and pouring it over his head with a pot or something like that. I think this is fresh water. He's not one of the boat people, but there are people who live on the water's edge in poor conditions, like they are half submerged in the water because of rising water. You can also see aquatic plants are growing, as if we might get sick going into this kind of place… But if you look into the distance, you can see a city like a regional core city in Japan, although I still can't say it's like Tokyo…. This is actually a video.

What you can see is that in the foreground is the Cambodia that we all think of as being less developed than other advanced countries. What you see on the other side is actually a surprisingly very modern city like Phnom Penh. I don't know if you have ever been to Cambodia but I think you can see the reality of the country today.

As I mentioned earlier when talking about "seclusion" and "openness", the old-fashioned aspects that we misunderstand and the other aspect that the economic growth speed of Asian countries, not only Cambodia but also other Asian countries, are far ahead of Japan. Both these aspects are all there in this one photo, in this one video, and he connects them all together with simple movements. I will talk about that later, but this is the work that gives us a hint as to why it is art. It is a very simple trick that makes us think of various things, and that is the charm of this work. When I saw it in the preview of the Singapore Biennale, before it was displayed to the public, I immediately called the gallery that was handling it and bought it as a 'must-have' piece of work.
Yabumoto:
I also thought this was "the one", at first sight. I was really impressed. To be honest, there is almost no market for art in Cambodia. But his work is very local and very localistic. When we consider thoroughly, right down to the nitty-gritty of reality, we start to see things that are very universal. And he takes that essence, and he turns it into art which is simple and easy to understand around the world, and they export it all over the world, to 8 billion people. As a businessman, I was impressed by that.

There is a structure like this. If you condense and export the values and ideas of the culture of the place, people who sympathize with them will buy them even at a ridiculous price. Then Samnang and his wife are giving the money back to the local community and nurturing the next generation of artists and curators through their profits from the global economic market.
I think we have to do the same thing in Kinan.


.
Continue to the Second Half >>


.
<Related article>