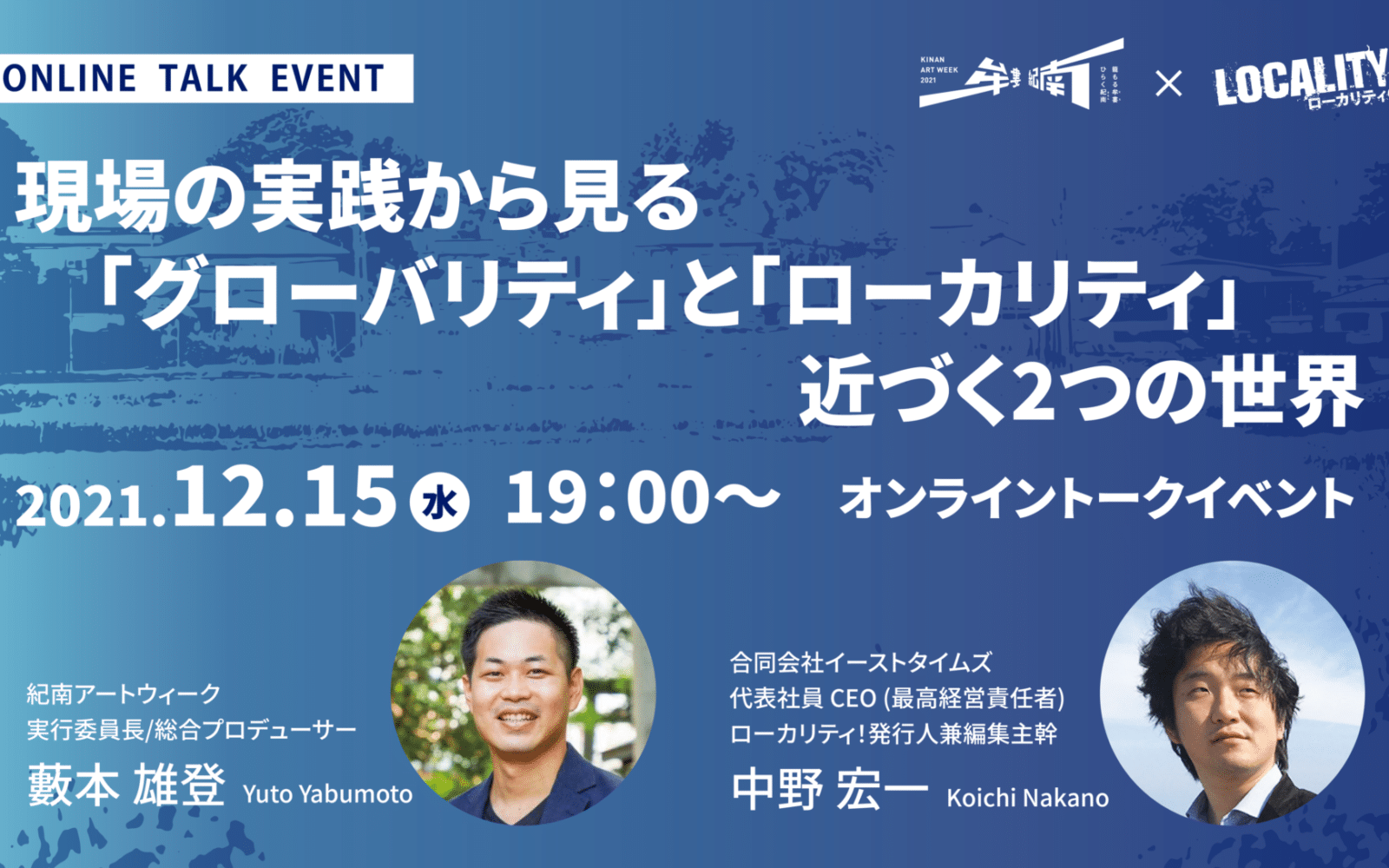 Kinan Art Week x Locality! A joint project "Globality and Locality: Two Approaching Worlds from the Perspective of On-Site Practice
Wednesday, December 15, 2021, 7:00 p.m.
オンライン
Participation feeFree
Application
Reservations required
Please register at the following link (Peatix)
"Kinan Art Week" x "Locality!"
Online Talk Event
Locality!, a news site for local residents to report special news! a news site where local residents report special news! We will be holding an online talk event!
–
With the development of the Internet and social media, the world has become more closely related.
Does "globalization" mean that the world will be united under a single set of values?
Will the value of the local disappear in the name of "global standards"?
In this talk event, two people who have been practicing in the field of localization will discuss the value of "globalization" and "localization" in the 21st century from their respective experiences and standpoints, and how "localization" has become valuable in the global context.
<Comments from the speakers>

What are "locality" and "globality"? In order to think one step deeper, I would like to include my experience of discovering world class art in Cambodia. I am wondering if contemporary art is important in thinking about locality and globalization. I will give several examples and show how the local connects with the global in the world of contemporary art.
I would also like to question the value of tourism in the local. Is tourism an "export" industry? Is it a good thing to attract a large number of tourists from a particular city or a particular nation? What kind of local and global perspectives are needed for tourism to be an export industry?
(Yabumoto)

Fifteen years ago, when I was studying "globalization" in graduate school, it was common to think that the world would become McDonald's if globalization advanced. In other words, globalization was the enemy of the local. At that time, however, there was an academic theory that said, "As globalization advances, the local will be freed from geographical constraints, and local values will emerge. My subsequent practice has been based on the idea that globality and locality go hand in hand, and I have taken on various challenges to prove it. Through my interviews around the country, I have seen many examples of how local attractions have power on a global scale. Through these examples, I would like to talk about locality and globalization.
(Nakano)
< Speaker Profile >

Yuto Yabumoto (Kinan Art Week General Producer)

Born in Shirahama-cho, Wakayama, Japan; Nishitomida Elementary School, Tomita Junior High School, Tanabe High School; Co-founder, One Asia Lawyers; President, AURA Contemporary Arts Foundation; President, Artport Co.
Yabumoto's ancestors lie in the area of Nakaheji, Kumano Kodo, and her mother has roots as the first female orca trainer at Adventure World. in 2011, she founded JBL Mekong Group, the predecessor of One Asia Lawyers. In 2011, she founded JBL Mekong Group, the predecessor of One Asia Lawyers, and has lived and worked in Cambodia, Laos, Myanmar, and Thailand for over a decade, providing grants and exhibitions to artists, curators, and art collectives around the region. She is currently conducting research on anthropology and art, with an interest in the myths, legends, fables, and folklore of the Asia-Pacific region. She is currently conducting research on anthropology and art in the Asia-Pacific region, with a particular focus on the Kumano region, where her ancestors are buried, and on matters such as Zomia, highland civilization, and animism.
His major exhibitions include "Zomia of Water: Contemporary Art from the Mekong Region" (Osaka, Japan), "Silence is Golden" (Myanmar), and "Abstraction of Breathing" (Myanmar).
https://kinan-art.jp/event2021/


Koichi Nakano (CEO, East Times, LLC; Publisher and Editorial Director, Locality! Publisher and Chief Editor)

Born in Yuzawa City, Akita Prefecture in 1984 and raised in Saitama Prefecture.
Graduated from the University of Tokyo Faculty of Law and the University of Tokyo Graduate School of Public Policy. Worked as a review reporter at the Tokyo Head Office of the Asahi Shimbun for three years. Realized the potential of local news. Fascinated by the potential of social media, he joined a venture company, Plus Alpha Consulting, which develops Twitter analysis tools. In 2015, he moved to Sendai and started his own company, THE EAST TIMES, where he covered and published local news as a reporter for Yahoo! Using his experience, he plans and implements local and regional branding and promotions.
https://www.the-east.jp/
https://thelocality.net/