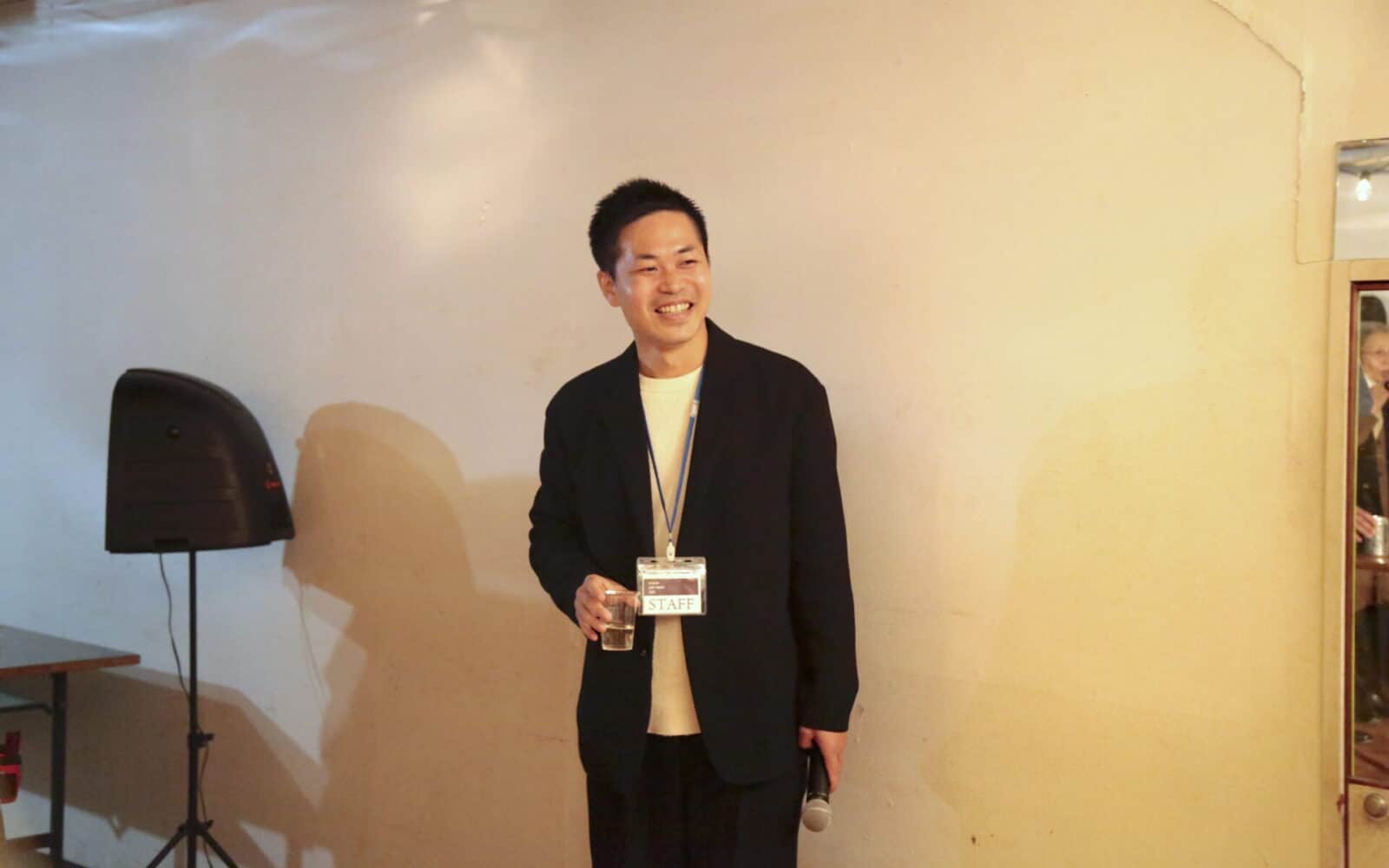 Kinan Art Week 2021 Closing Party Greeting
Yuto Yabumoto
Kinan Art Week Executive Committee Chairman / General Producer

First of all, I'm very happy that Kinan Art Week 2021 was successfully held, and I feel that it was a really intense two weeks. I returned to my hometown Kinan in November to prepare for the event. In November we returned to our hometown in Kinan to prepare for the event, but the month leading up to the event was so busy that we could not stop eating and losing weight.
1. Gratitude / For World Peace
The first thing we would like to say is a big thank you to everyone. First of all, I would like to thank all the sponsors, donors, set-up people, volunteers and everyone who helped to make the event possible. I would also like to thank my classmate, Mr Ozaki, for his great support in setting up the headquarters and the venue in the Pearl Building. I am also very grateful to my classmate Mr Ozaki for his great support in setting up the headquarters and venue in the Pearl Building.
We are very touched by the warmth of the local people, and we are particularly grateful to Mr Miyazu, our artistic director, for his support in making it possible for us to exhibit the work of artists active at home and abroad in Kinan. When we first met Mr Miyatsu in Cambodia about two years ago, we never thought that we would have this opportunity. I would like to thank you again.
By nature, I am a person who likes to stay indoors and do research. For the next few years, I would like to work hard on my research on Kumano from the perspective of artistic anthropology, with the aim of obtaining a doctorate while "holed up", and I would like to make the most of this opportunity to exhibit at Kinan Art Week as a place to "open up". The region of Kumano, Kinan and Muro is a truly wonderful place. I have visited many countries and regions, especially in Asia, but the Kinan region is by far the most shining. With this in mind, I would like to research the history and culture of this place so that it can take deep and profound root, and introduce this value to the world, just like raising a flag.
What I want to achieve through Kinan Art Week is "World Peace". For more than 10 years I have been working in the Asian region. In that time, I saw that modern societies have forced nations and regions to open their doors to the outside world and compete with each other for the domestic demand of the region, which is like the epitome of war. Through this experience, we planned "Kinan Art Week" as one approach to this problem. For more details, we hope you will read our column "Why Kinan Art Week*". To put it simply, the characteristics of artists who are exporting their value to the whole world are that they don't compete, they don't compete for the market, they don't alter their work to suit the market, and so on. In other words, they are "together with a part of the world's 8 billion people who share their values". Kinan Art Week is a place for such practice, and also a challenge to break away from the aforementioned "composition of war".
*Reference: Yuto Yabumoto, "Column 'Why we are implementing Kinan Art Week'" (February 20, 2021, Kinan Art Week)
In particular, the base of this idea is influenced by the practice of Cambodian artists, where we were founded. They do not have full freedom of expression within the country, there is no market within Cambodia, and there are limits to their activities outside of Cambodia due to visa issues. In such a situation, the Cambodian artists are digging deep into their roots and exporting their work to the world in the form of "contemporary art", based on local mythology and folklore. The Cambodian artists are practicing the concept of Kinan Art Week, "to stay and to open". I would like to learn from them and implement the same practice in Kinan. And ultimately, I believe that our efforts will lead to "world peace".
2. What is art? With whom do we want to implement Kinan Art Week?
What is art? When I think about it, I believe that art is something that moves you. Generally in Japan, people might think that art is something like a Picasso painting. But I am moved by the fact that human beings are here now, in the midst of the long history of human beings. I am moved by this. I believe that this is art in itself. In this sense, the work of Kohei Maeda, one of the exhibiting artists, is a good example. He has succeeded in digging deep into the history of Kinan and Kozanji from a Jomon perspective and connecting it to the present day, and I think that many of us were moved by his love for the indigenous. In the future, we will work to "raise Kinan's flag to the world in a big way", using artists like Mr Maeda as a medium.
And the next question is: "With whom do we want to put Kinan Art Week into practice?" The next question is "With whom do we want to implement Kinan Art Week?
I don't think art is for rich people. Who does it belong to? My conclusion is that it belongs to the "vital citizens".
As an example, Mr. Miyazu has been collecting contemporary art for more than 30 years as a "salaried collector". I understand that he did not have a lot of money, but if you feel his overflowing "vitality", you will understand why. And I think this is a hint to understand the aforementioned "one of the resonators among the 8 billion people for world peace".
Furthermore, I would like to work together with everyone who is full of vitality and enjoys things in their daily lives, such as wearing good clothes, listening to good music and eating good food, even if they are not so-called "art" things.
3. Last but not Least
One of the questions we often receive is "When is the next one? When will the next one be held? We have received a lot of support from many people this time, but our own funds cover about 70% of the costs. Therefore, it is not possible to hold Kinan Art Week every year on the same scale as this year. However, we will continue to work with the artists and the local community to create a small but carefully planned
However, we would like to carry out a small but carefully developed and sustainable project every year. After implementing the project several times over the next year, we hope to hold the Kinan Art Week 2024 as a kind of "culmination" of the project in 2024. In order to achieve this, we would like to ask for your continued support, "all of you full of vitality".
Lastly, let me express my gratitude to my parents. My mother has been on site almost every day as a volunteer crew member, and my father has supported us with guest drivers and lighting equipment. I am truly grateful for all of this and I would be happy if you could all give my parents a round of applause once again.
So, with today's closing, Kinan Art Week 2021 will come to a close.
We hope to do our best steadily and unhurriedly from next year onwards, and we would like to ask for your guidance and encouragement. Thank you so much for your support.