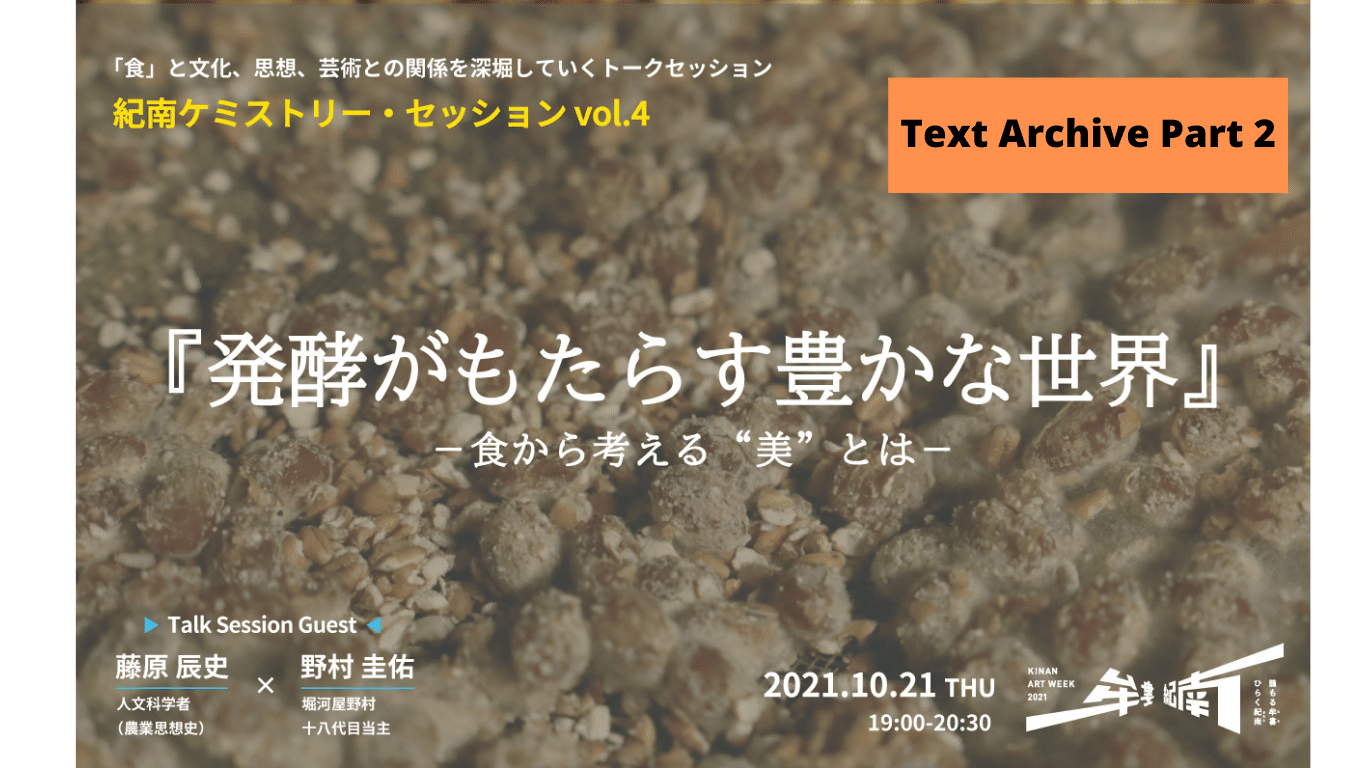 Text Archive:Kinan Chemistry vol.4: The Rich World of Fermentation – Thinking About Beauty Through Food (Part 2)
This is part 2 of the text archive for the online talk session "Kinan Chemistry vol.4" held on Oct. 21, 2021.
[4] The relationship between fermentation and decomposition
Miyatsu:
I would like to change the direction of our conversation a little and talk about the themes of "fermentation" and "decomposition". In your book, "Philosophy of Decomposition: Thoughts on Decomposition and Fermentation", you explain the word "decomposition" by giving various examples. "Fermentation" is one example of "decomposition". May I ask you to talk about "the importance of decomposition" in our life including fermentation?
The importance of decomposition
Source: Tatsushi Fujihara, Philosophy of Decomposition: Thoughts on Decomposition and Fermentation (June 25, 2019, Seidosha)
Dr. Fujihara:.
When I wrote "The Philosophy of Decomposition", I referred to ecology. In ecology, there are three types of people on earth: producers, consumers and decomposers*. The "producers" are the so-called plants, which use sunlight to produce glucose from carbon dioxide and water. It goes on to define 'consumers' as herbivores, who can only survive by eating plants, and carnivores, who eat herbivores.
*Reference On the explanation of "producer", "consumer" and "decomposer" (Educational Publishing)
But there is one other group of organisms that is absolutely essential in ecology. These are the "decomposers". These are micro-organisms that eat and break down animal carcasses, hair, skin, etc. For example, there are earthworms and flying insects. However, these decomposers are becoming increasingly forgotten. Soil scientists lament that the decomposers live in the soil and the sea, where they are less visible to humans.
In "The Philosophy of Decomposition", I wrote that "the decomposition of decomposed things by microorganisms is connected with the circulation of the earth". As organisms finish their lives, decompose and decompose again and again, they are replaced by different biological components. If there were no decomposers, in no time at all the earth would be filled with rubbish, the earth would be hot and we would die in the rubbish.
There are also a huge number of "decomposers" in the human body, and we are always living in symbiosis with microorganisms. For example, we use micro-organisms to break down the food we eat and excrete it. Of course, other animals also live in symbiosis with microorganisms, but the difference between us and other animals is that we have learned to cook. In the past, we discovered the use of fire and fermentation. Fermentation is the art of breaking down food outside the body and allowing microorganisms to produce the sugar, alcohol and other by-products that we love. Thanks to the technology of fermentation, we have been able to create umami and deep flavours that would not have been possible in nature.
In other words, it is the work of the "decomposers" that enriches our diet. For example, if a soya bean is not very healthy, the microorganisms decompose it, so it is often returned to the soil before the fermentation process takes place. On the other hand, if the soybeans are very healthy, the micro-organisms become more active and produce sugars and alcohols to give them their "umami". In short, "putrefaction" and "fermentation" are exactly two sides of the same coin. In this sense, I think that "fermentation" exists as a culture that enriches our life.
Coexistence with the "decomposers"
Miyatsu:
I would like to ask Mr. Nomura the same question that I just asked Dr. Fujihara. Mr. Nomura is working with koji every day in the brewery, and it seems to me that you are the embodiment of "symbiosis between humans and decomposers". We would like to know your thoughts on this point. Also, can you tell us what you do to make koji ferment instead of decompose?
Mr. Nomura:
In the case of soy sauce, the first step is to boil and steam the soybeans and roast the wheat, then sprinkle the koji ingredients called "tane koji "*4 and cultivate the bacteria in the koji-muro. Then, after four days of cultivating the koji for soy sauce, we put it in a wooden vat for shade, add salt water and let it sit and ferment.
*4 Using rice, wheat, soybeans, etc. as cultivation materials, koji mold is developed and propagated as purely and sufficiently as possible, and minute spores of koji mold are landed in large quantities, which are collected and made into products.
It's very simple, but from the stage when the koji is added, the produce becomes completely alive. That's why, especially during the four days when we cultivate the koji, we use all our senses to monitor the growth. However, it is the "climate" that has a big influence here. The koji-muro at Horikawaya Nomura has been in use since the Edo period, so it has a window and is not a completely enclosed space. Naturally, when it rains, the koji-muro becomes more humid, but koji, a living organism, can't adjust the amount of humidity. That's why we think it is necessary for people to act as a "mediator" to grow koji, for example by burning wood in the koji-muro to dry it when it is too humid. By living with the 'decomposers', we can eventually make soy sauce. This is exactly what we do, and through our daily lives we have a very strong awareness of the need to live in harmony with living things.
Miyatsu:.
I think that in today's world, many producers practice a method where they use sensors to measure the temperature and a communication unit to keep the temperature at a certain level. In contrast, do you feel that making soy sauce and miso at Horikawaya Nomura is all about feeling it with your skin, seeing it with your eyes and touching it with your hands to find the right way?
Mr. Nomura:.
That's exactly right. At first glance, all soybeans look the same, but just as every human face is different, every soybean is different. That's why my theory is that it's difficult to judge the quality of soybeans and koji using a "quantitative measure" like a temperature sensor.
For example, if you are a car manufacturer and you want to make a part, you can make it to a certain standard. But in the case of food, we are processing nature's bounty and the environment is different every time. Perhaps humans are the only creatures with the ability to assess our surroundings and respond flexibly. That's why manufacturing is so interesting, and although it can be difficult, it never gets boring. Perhaps it is this fascination with craftsmanship that has kept our family going since the Edo period.
Miyatsu:.
In exchange for convenience, we may be gradually degenerating our natural abilities. In this sense, I think that Mr. Nomura's initiative is really sharpening the "sensor" that is inherent in human beings.
Horikawaya Nomura and the 'cloud-ship'
Miyatsu:.
Would you like to have a look at the actual website of "Horikawaya Nomura" here? We would very much like to see some pictures of the warehouse.
Source: Horikawaya's commitment (Horikawaya Nomura)
Mr. Nomura:.
On our website you can see pictures of our production process. What you are seeing on the screen is our recently launched "cloud-ship", a service that allows you to view our 3D scanned warehouse from anywhere in the world. As Mr Miyatsu mentioned earlier, this system makes use of VR technology. In light of the current situation, we decided to start offering an online virtual tour of our brewery to help people learn more about Horikawaya Nomura.
Source: Virtual tour of the brewery (Horikawaya Nomura online shop)
Miyatsu:.
I see. This YouTube video is the introduction to cloud-ship*. It's about 2 minutes long, so please have a look.
*Reference Video of cloud-ship (Horikawaya Nomura YouTube)
It's really amazing – it's such a progressive approach that it's hard to believe it's just 10 people working on it.
Mr. Nomura:.
As the name "cloud-ship" suggests, this service is based on the motif of a "warehouseman's boat". Our roots are kaisen wholesaler in Kishu, so we ourselves used to travel between Edo and Kishu. In other words, it's like a modern version of a kaisen wholesaler, where the warehouse itself moves.
Horikawaya Nomura, wooden tub for shade Source: Cloud-ship video (Horikawaya Nomura YouTube)
This is the "koji-muro" that I mentioned earlier, where the fungus is cultivated. The soybeans are placed in a container called a koji lid*, and the order of the soybeans is occasionally rearranged, as if we were bringing up a child.
Once the koji mold has grown, it is moved into wooden vats for shade. We have 30 wooden vats in all. It takes about two years and two summers to make soy sauce the old-fashioned way. We make ten vats in a season, but before that we have ten vats that have been left for a year, and then we have ten vats that are ready for the product. That's the way we've been doing it since the Edo period.
We offer tours of the brewery on selected dates and times. If you are interested in visiting the brewery, please register your interest. You can use the Horikawaya Nomura online shop as you would a normal shopping experience.
*Reference What dwells in Kenbishi: Koji lid (Kenbishi Shuzo Co., Ltd.)
Miyatsu:
I see. It seems to be sold out at the moment, but the virtual brewery tour is very popular.
Mr. Nomura:
Recently, many food culture approaches are being used in university seminars. Due to the spread of the Corona virus, it is not possible to carry out on-the-job training, so seminars using cloud-ships are also being carried out.
Miyatsu:
Thank you very much. If you are interested in their services, we would be delighted to welcome you to their website.
[5] The relationship between food and beauty
Miyatsu:
Finally, we take up the last theme. Kinan Art Week is an art festival and an attempt to use art to enrich the town. From here, we would like to ask you both about "food and beauty".
First of all, I have a question for Professor Fujihara. The Nazis created things like the "Great German Exhibition", which glorified the Aryan race, while branding very innovative art as "degenerate art" and excluding it. In this sense, the "Nazi aesthetic" was very political and assertive. May I ask you to elaborate on this point?
The Nazi aesthetic
Dr. Fujihara:.
"Nazism and beauty" is a very important topic. Some researchers say that the Nazis had no understanding of art and were very barbaric, but this is not true. I think that the Nazis were a group of people who were sensitive to beauty.
For example, the Nazis encouraged the depiction of very ideological and idyllic landscapes, such as muscular, blond-haired, blue-eyed Germans, beautiful German rural landscapes, and women living in rural areas. On the other hand, they treated things like Picasso's paintings and abstract art as "decadent art" and excluded them.
Moreover, the key word involved in identifying this "decadent art" is "health". About 30 years before the Nazi regime came to power, a movement for the protection of the homeland* arose in Germany: "Love and understand your homeland". The leader of this movement asked himself "What is German beauty?" and went on to say that "thatched roofs in rural areas are beautiful".
While trying to find the "inherent beauty of Germany", this leader decided on a very ruthless "beauty scale", comparing the faces of able-bodied and disabled people in Germany. He even went so far as to compare faces painted in abstract art. He went on to say, "The faces depicted in abstract art resemble the faces of the disabled, which the Nazis were so keen to criticise. I find it completely unacceptable that they used "health" in such a way to turn it into a "standard of beauty".
*Reference: Makoto Akasaka, "The transition of the local protection movement from the establishment of the German Federation for Local Protection to the 1920s" (Zouen Zasshi, Vol. 55, No. 3, February 28, 1991, p. 232-247, J-STAGE)
Earlier, Mr. Nomura said that "every single soybean has a different face". I was strongly moved by those words. The Nazis said that "all Jews have the same face", and they measured the height of the nose and the size of the head and put them all in the same category. As a result, the Nazis came to worship "beauty under control".
Furthermore, the Nazis felt that "huge things" were beautiful. Rather than the "beauty" that lurks in a small storehouse like Horikawaya's, they had a young architect, Albert Speer, build a grand structure, aiming for something like a "German version of the Colosseum in Rome". Perhaps the Nazis favoured the single rather than the diverse, the huge rather than the small, and the clean rather than the misshapen or distorted. This sense of beauty, I think, was at the heart of the Nazis.
What does it mean to "taste good"?
Miyatsu:
We also ask Mr. Nomura about "beauty". In Japanese, the character for 'delicious' is written as 'beautiful taste', and I feel that this is also connected to your desire to produce food that is safe, healthy and safe, and that he thinks is good. Can you talk again about the relationship between food and beauty, and about your soy sauce and miso and their 'deliciousness' in terms of taste?
Mr. Nomura:
When we think about what it means to "taste good", we generally tend to think of the instantaneous "taste". However, I feel that in the future, there will be a kind of "deliciousness" in memory, in a realm that we have not yet experienced. In other words, I think that "when you get sick, you can't eat what you want to eat" or, in extreme cases, remembering "I ate that and it tasted good" before you die is the concentrated "deliciousness" that comes at the end of life.
The last time I had a conversation with Dr. Fujihara, he told me that cooking and gathering together is a characteristic of human beings. For example, if you usually eat meals with several people, or if you eat food prepared by your own family every day, you may rarely feel that these moments are beautiful. Although these meal scenes are "unremarkable" things that occur on a daily basis, when you are no longer able to do so, you will think, "That food was delicious then. This is what we mean by "delicious" in the truest sense of the word.
If our soy sauce is part of the memory of what people think is good, then I'm happy that I've dedicated my life to it. I don't want to be the star of the show at all, but if I can be part of the end result, the deliciousness, then I'll be very happy.
Miyatsu:
It varies from household to household, but generally in Japanese homes you'll find soy sauce in a container on the table. In Japan there's even a device called a shoyu-sashi, which is used to transfer the soy sauce and keep it on the table, so I think soy sauce is very familiar to Japanese people.
Mr. Nomura:
Leaving soy sauce on the table is probably the only custom of its kind in Japan. As Mr. Miyatsu says, the soy sauce holder is left on the table as it is, and this is something that rarely happens with other condiments. I feel that the shoyu-sashi beautifully decorates the table and acts as one of the "components of the table". I myself think that soy sauce is something that connects people, and that's exactly what we hand out at the table.
I once heard a very happy story from a customer who uses Horikawaya. There was a customer who came to the shop with his father and son, and the child called the soy sauce "Nomura-san". I felt that our soy sauce was connecting them together. In light of this incident, I think that soy sauce also plays a role as a kind of 'medium'.
Miyatsu:
When I think about it again, I think it's really great that soy sauce is on most Japanese tables. It's also wonderful to know that for the children who come to your shop, the proper name 'Nomura-san' has become synonymous with soy sauce. I think that's why your soy sauce has such a life-changing impact on the children.
Image of "Komoru" (Seclusion) and "Hiraku" (Openness)
Miyatsu:
Lastly, I'd like to ask you both again about your thoughts on the theme of "Komoru" (Seclusion) and "Hiraku" (Openness). Earlier, Mr. Nomura told us that making soy sauce is about "Komoru" and spreading the word to customers is about "Hiraku". I'd like to end the talk session with a few words from both Professor Fujihara and Mr. Nomura. First of all, Professor Fujihara, could you say something about "Komoru" and "Hiraku" in relation to fermentation and decomposition?
Dr. Fujihara:
I think the words "Komoru" and "Hiraku" are very interesting Japanese words. Fermentation and decomposition take place quietly, in dark places, in places that are difficult to see. The word "Komoru" is a perfect way to describe the decomposers. Fermenting and decomposing food and exposing it to the sun is what we call "Hiraku". The two are complete opposites.
Furthermore, and this is just my opinion, I think there is a connection between what we have just said and "thinking". When we read books, we tend to misunderstand that we have acquired knowledge and become wise. I think it is important for us not to be satisfied at that stage, but to be able to think like Mr. Nomura, "how will the climate behave when fermenting?" and to be able to respond flexibly. Perhaps, as in Mr Nomura's example, the element of "thoughts fermenting" is also included in the meaning of the words fermentation and decomposition. On one hand, we have "Komoru" in the fermentation of soybeans. On the other, In the "Hiraku " part of his work, where he is trying to convey the charm of Horikawaya to his customers, he breaks down the words one by one in order to make them easier to understand. In this sense, there is a lot of connection between the way he thinks, expresses and creates beauty, and the way he makes soy sauce and miso.
Miyatsu:
Thank you very much. Now, Mr. Nomura, would you like to say a few words?
Mr. Nomura:
I usually burn soybeans in a wood fire from 10pm to 2am. I do this 70 times a year and there is no one around and my mobile phone doesn't ring at this time. It's like living in a modern-day hermit's cave, I think to myself (laughs).
When I am in a hiding place, I am in a state of "nothingness". But in zazen, it's like "you can't stop breathing and thinking", so I end up thinking a lot. However, when I am in the storehouse, I get a lot of insights. The time I spend burning soybeans in the brewery at night is very important, and I think it is because of this time that I am able to materialise my thoughts and 'open' them to the world. I feel that if we can find the right balance between "komoru" and "hiraku", we may be able to keep our mental health healthy.
Miyatsu:
Thank you very much.
We talked about everything from the Nazis, food and agriculture to the soy sauce and miso that Mr. Nomura makes every day, with great variety and depth.
As time is limited, we would like to end the talk session at this point. We will now move on to a question and answer session from the audience.
I would now like to hand the baton back to the moderator, Mr Morishige. Thank you very much, Mr Morishige.
[6] Question and answer session
Morishige:
Thank you all very much. It was a great session, and the word "inexhaustible" really does describe it. It was hard for me to keep up with them, but I had a great time talking about history, culture, food, art and much more. Thank you very much for such a wonderful talk, from your views on fermentation and decomposition to the lives of Dr. Fujihara and Mr. Nomura.
We are currently accepting questions from participants. It can be about today's session, or about the personalities of Dr, Fujihara and Mr. Nomura. We would be delighted to hear any questions you may have.
Question 1: What is your vision for the future?
Morishige:
Let me start by asking you one question.
I think it is really wonderful that you are both deeply educated, and that you are both working hard on your research and projects with your own passions. I would like to hear from both of you about what the future holds for you.
First of all, Professor Fujihara. Can you tell us what your vision is for fermentation and Japanese food culture in 5 to 10 years time?
Dr. Fujihara:
Actually, I'm quite a pessimist, so when I talk about the future, I immediately get gloomy (laughs). Probably, food itself will become more industrialised and simplified in the future, and more and more people will think that the process of fermentation is troublesome. On the other hand, there may be people who see the process of fermentation in a positive light and come to new realisations. For example, that the longer we wait, the more we love, that fermentation has magical effects, that it makes our food smell better. I believe that this kind of "fermentation culture" will continue to be important in the future.
It is also important to ask, "What are our choices?" in an ever-changing world. is also important. I don't think the future is going to be like the Olympics, where we have to go higher, faster and further. "Shorter, slower, and closer" will be the key words to make the future more interesting. In this sense, what Mr. Nomura is doing seems to be "super science fiction", and I feel that this is the real future.
Perhaps we have given too much credit to things like skyscrapers and flying cars for the word "future". If these attitudes change in the decades to come, perhaps a "slow food culture" will once again make our lives more enjoyable.
Morishige:
Thank you very much. The concept of "time" that you have just mentioned, it used to be called "consumption of goods", but recently it is said to have changed to "consumption of things". From now on, it will be "consumption of time," an era in which we can savor and enjoy time itself. I feel that Dr. Fujihara will continue to find "things that will open up a new era" in the future. Thank you very much, Professor Fujihara.
We will continue by asking the same question to Mr. Nomura. You are implementing a progressive approach to the brewery, and at the beginning of the session you mentioned that "life is an adventure that you only have once". Please tell us what kind of challenges you would like to take on in the next five to ten years.
Mr. Nomura:
I am sure that five or ten years from now, I will be doing the same things that I am doing now. But even if at first glance it seems to be the same thing, in my mind it's different every time I do it. For example, I make koji 70 times a year for soy sauce and 30 times for miso, a total of 100 times a year. I am both excited and anxious to see where I will be in 10 years time, after having done a total of 1000 koji mills. Facing koji is confronting nature, and changes in the natural environment and the political situation at home and abroad have a lot to do with it. But I'm sure that in a few years' time, I will still be enjoying my work.
Morishige:
Thank you very much. I am sure that you are anxious, but also looking forward to it more. The expression on Nomura's face tells us how elated he is.
In between the current questions, we received some messages from you about your impressions of the talk session. First of all, "I love the combination of you two! You guys are such a great combination". And also, "You two are such a great combination, and you've given me a lot to think about. I would like to develop my own ideas". Thank you all very much.
Question 2: In the Edo period, what kind of food was Horikawaya Nomura's soy sauce used for?
Morishige:
Here are some more questions for Mr. Nomura. What kind of food was Nomura's soy sauce used for in the Edo period? We have a question for you. Thank you very much for your answer.
Mr. Nomura:
There is actually no record of how our soy sauce was used. We were the family that transported the Kishu Tokugawa family's goods, especially lumber, from Kishu to Edo. The Kaisen carried soy sauce and Kinzanji-miso (fermented soybean paste) and passed the goods to a Kishu clan man called "Hidakaya Chubei". Gobo city in Wakayama prefecture is called "Hidaka area", and Hidakoya was named after this area.
From here on it's just a matter of imagination, but I suspect that the soy sauce that took two years to make and risked its life to transport was served as a 'pastime' to people of high rank. I'd like to learn more about how Kishu soy sauce was used, as I find it very interesting.
Question 3: When do you identify "fermentation"?
Morishige:
We have one more question for you. This question is for both of you, so we would appreciate it if you could answer it one by one.
You were talking about the actual fermentation as well as the verbalisation of the fermentation. How do you know if the fermentation is sufficient? Can you start by answering this question、Professor.Fujihara?
Dr. Dr. Fujihara:
As a writer, I am particularly conscious of the fact that what I write at night should not be sent directly by email. It tends to be rough and exaggerated, so you have to let it rest overnight, check it the next morning and correct it. For example, there are a lot of ulterior motives mixed in with the text, such as "I want to make people happy" or "I want to shock them". That's why I think you need to let it rest for a night or two, or even a week, to let it settle.
But the kind of words that are used as slogans are quite barbaric. I think that's because we want to move people's hearts in one shot, so we use words like weapons. On the other hand, words that have been left to ferment overnight or more are exactly the same as when you find out "this is what it means", similar Mr. Nomura's "awareness" in the warehouse.. I think this kind of "delayed effect" is important. I try to judge the quality of my writing by whether it has been sufficiently fermented or whether it was created just to shock.
Morishige:
Thank you very much. How about you, Mr. Nomura?
Mr. Nomura:
At the beginning of the session, I told you that at Horikawaya we have 10 people to look after our small brewery. Recently my father has not been in the brewery, so I am the only man in the house. Today, I will be burning soybeans from 10:00 p.m. and watching the koji grow in the koji-muro.. When I work alone, it's easy to become complacent and lose objectivity. For example, I may judge whether the koji is good or bad based on my memory of the last time I saw it. I feel that this is an extremely dangerous situation for a small group of people.
The next day, at about 8.30 am, the employees come to the brewery to work together on the maintenance. I watch their faces and their complexions. When the koji is good, there is a lot of dust, so their masks and hair caps turn yellow. I see whether they think that they have made a good koji or not. I think it's a way of checking whether I'm right or not.
Morishige:
Thank you very much. The Kinan Art Week Organising Committee is currently running a crowdfunding campaign (which ended on 16 November 2021. The target amount of 1.5 million yen was achieved). As a return gift, we are offering a "virtual warehouse tour" of Horikawaya Nomura. Not only do you get to see the brewery, but you also get to taste the special soy sauce that Mr. Nomura produces with such care. If you would like to join us, please support our crowdfunding campaign.
It was an hour and a half that flew by. We would have liked to hear more, but the time has come, and with that we will close the 4th Kinan Chemistry Session for today. Thank you very much for your participation. Thank you very much, Mr. Miyatsu, Dr. Fujihara and Mr. Nomura.
Miyatsu:
Thank you very much.
Dr. Fujihara:
Thank you very much.
Mr. Nomura:
Thank you very much.