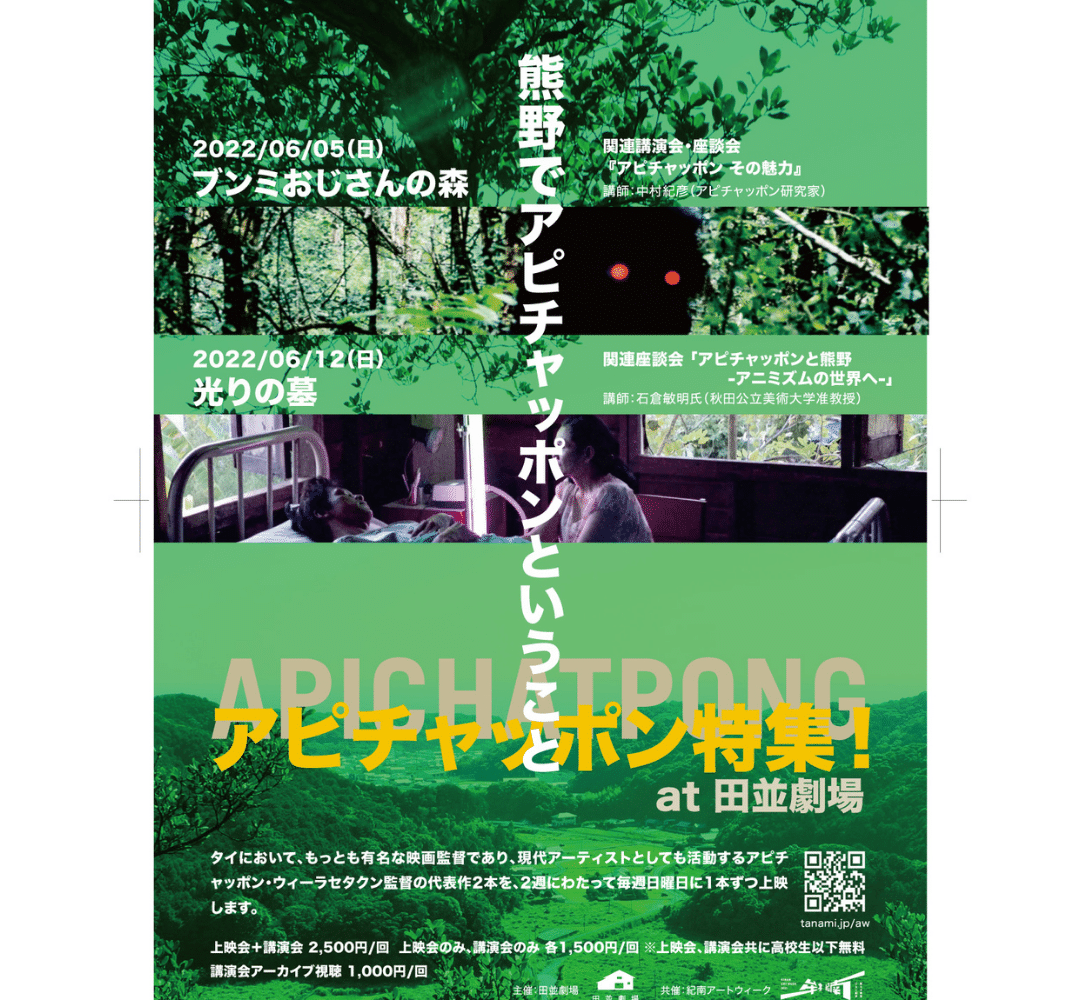 Apichatpong and Kumano at Tanami Theatre
Sun. June 5th : Screening of "Uncle Boonmee Who Can Recall His Past Lives"13:00 -
Post-screening lecture and round-table discussion session (1) 16:00 -

Sun. June 12th : Screening of "Cemetery of Splendour" 13:00 -
Post-screening lecture and round table discussion (2) 16:00 -
Tanami Theater (Kushimoto, Wakayama)
1547, Tanami, Kushimoto-cho, Higashimuro-gun, Wakayama 649-3515, Japan
Participation feeScreening + Lecture 2,500 yen for both screening and lecture Screening only,or lecture only ¥1,500 *Free for under high school studentsfor both screenings and lectures Lecture archive viewing ¥1,000 per session
Organised by Tanami Theatre, co-organised by Kinan Art Week Executive Committee
Period: Sunday 5th – Sunday 12th June 2022
Two of the best-known films by Thailand's most celebrated film director and contemporary artist Apichatpong Weerasethakul will be screened,each one every Sunday for two weeks.
Apichatpong Weerasethakul exhibited 'My Mother's Garden'at the Tanabe City Kozanji venue during Kinan Art Week 2021 in Tanabe and Shirahama,Wakayama Prefecture in November 2021, and a number of people may have been seen his work.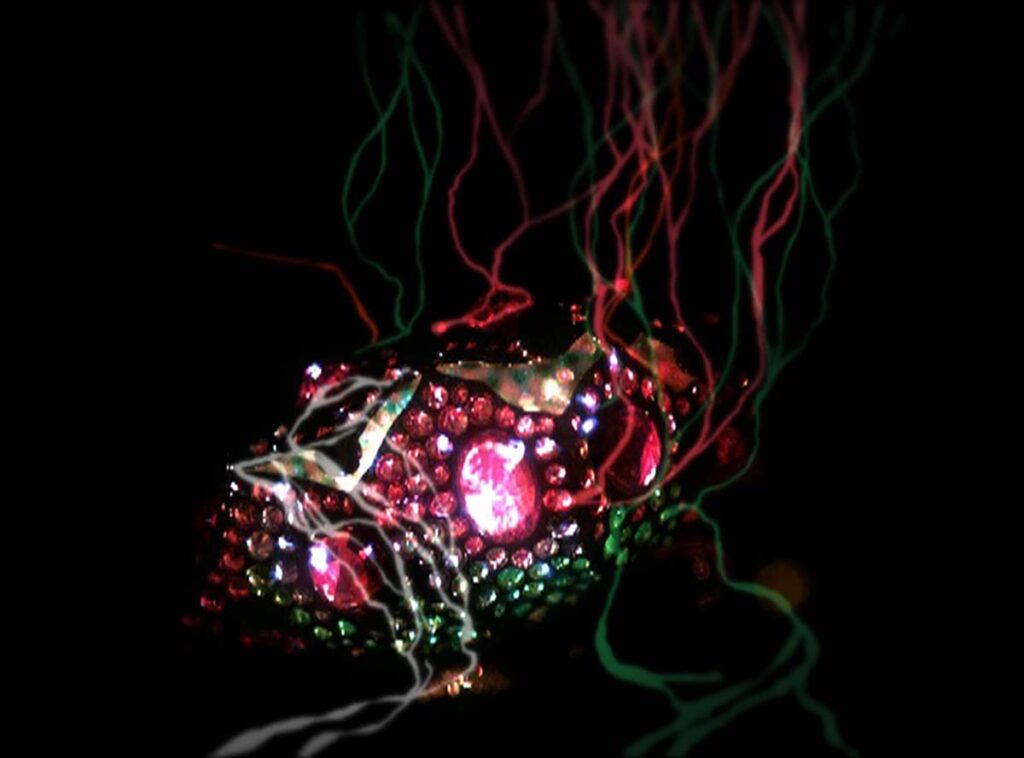 Apichatpong Weerasethakul's new film 'Memoria', which won the Jury Prize at the Cannes Film Festival last year and was awarded four Cannes titles, has been on show in Japan since this March. Apichatpong Weerasethakul is attracting international attention as a filmmaker and contemporary artist, but there is almost no opportunity to experience his work in rural Japan. However, Apichatpong Weerasethakul's interest is focused on the so-called 'periphery','other worlds' and 'spirits'. Why not have a formative experience to discover the charm and individuality of Kinan and Kumano and to transmit their value to the world through the internationally recognised works of Apichatpong, who has presented his works from the provinces of Thailand?
[Film screenings at the Tanami Theatre]
"Uncle Boonmee Who Can Recall His Past Lives"
(2010)(UK, Thailand, Germany, France, Spain | Colour | DCP | 114 mins)
"Cemetery of Splendour" (2015) (Thailand, UK, France, Germany, Malaysia | Colour | DCP |122 mins)
Distributor: Moviola
[Schedule]
Sunday 5th June 2022
Screening of "Uncle Boonmee Who Can Recall His Past Lives"13:00 –
Post-screening lecture and round-table discussion session (1) 16:00 –
Sunday 12th June 2022
Screening of "Cemetery of Splendour" 13:00 –
Post-screening lecture and round table discussion (2) 16:00 –
[Fees]
Screening + Lecture 2,500 yen for both screening and lecture
Screening only,or lecture only ¥1,500
*Free for under high school studentsfor both screenings and lectures
Lecture archive viewing ¥1,000 per session
[Apichatpong-related lectures and round-table discussions] * Consider holding a hybrid of on-site participation and online

'Apichatpong, his charms', Sunday 5th June 2022
Instructor: Norihiko Nakamura
Round table discussion: Norihiko Nakamura (Apichatpong researcher), Miyuki Takei (representative of distribution company Moviola),Noriaki Hayashi (Tanami Theatre), Yuto Yabumoto (Kinan Art Week)
Content: the lecture will also serve as an introduction to 'the Apichatpong month'. The main aim of the round-table discussion is to introduce people who are not familiar with Apichatpong Weerasethakul to his past works and the appeal of his new films and other works. Norihiko Nakamura, Japan's only researcher on Apichatpong, and Miyuki Takei, representative of the distribution company Moviola, will be invited as guests to discuss their appeal. Nakamura will also be asked to give a lecture entitled 'The Apichatpong Weerasethakul Chronicle' as an introduction to his talk.

'Apichatpong and Kumano – into the world of animism' Sunday 12th June 2022
Round table discussion: Toshiaki Ishikura (Associate Professor, Akita  University of Art), Yuto Yabumoto (Kinan Art Week).
Content: One cannot help but feel some affinity between the history and culture of the Kinan/Kumano region and Apichatpong's works,as evidenced in the March 2022 issue of Eureka: featuring Apichatpong Weerasethakul's 'The Story of a Different Zomia – Apichatpong Weerasethakul's Mysterious Object in Midsummer'. Prof.Toshiaki Ishikura (mythologist and artistic anthropologist) from the Akita University of Art, who contributed the article on the Kumano and Apichatpong, will be invited to discuss the differences and similarities between Kumano and Apichatpong thought and their appeal.
[Apichatpong Weerasethakul]
Raised in Khon Kaen in north-eastern Thailand, he began making short film and video works in 1994 and completed his first full-length film in 2000. He has also exhibited and made installations in many countries since 1998, and Weerasethakul's works are often non-linear, generate strong value inversions, deal with memory, and deal with personal politics and social issues.
Weerasethakul's art projects and full-length films have been widely and internationally recognised and have won awards at many festivals,including the top prize at the Cannes Film Festival. 'Blissfully Yours' (2002) won the Un Certain Regard award at the Cannes Film Festival, and 'Tropical Malady' (2004) won the Jury Prize. Furthermore, 'Uncle Boonmee Who Can Recall His Past Lives'(2010), was the first Thai-directed film to win the Cannes Film Festival's  highest award, and his latest film, 'Memoria' (2021), won the Jury Prize, totaling four Cannes titles.
[Venue: Tanami Theatre].
Tanami Theatre is constructed out of wood and was built around 1950 in Tanami, Kushimoto, Wakayama Prefecture. It functioned as a local theatre until around 1965 when it fell into disuse and disrepair. The theatre was abandoned,but it was later restored as a local cultural facility over a period of four years through the 'Tanami Theatre Restoration Project', which was initiated in 2014.
It is now used as a multi-purpose cultural facility, with film screenings once or twice a month, live events and performances, a Tanami Theatre café, arts and crafts and hula classes, and as a place for cultural exchange where people can come together once again.
1547, Tanami, Kushimoto-cho, Higashimuro-gun, Wakayama 649-3515, Japan
TEL 0735-70-1046 or 0735-66-0557 (Hayashi's home number)
E-mail enquiries: tacota@tanami.jp