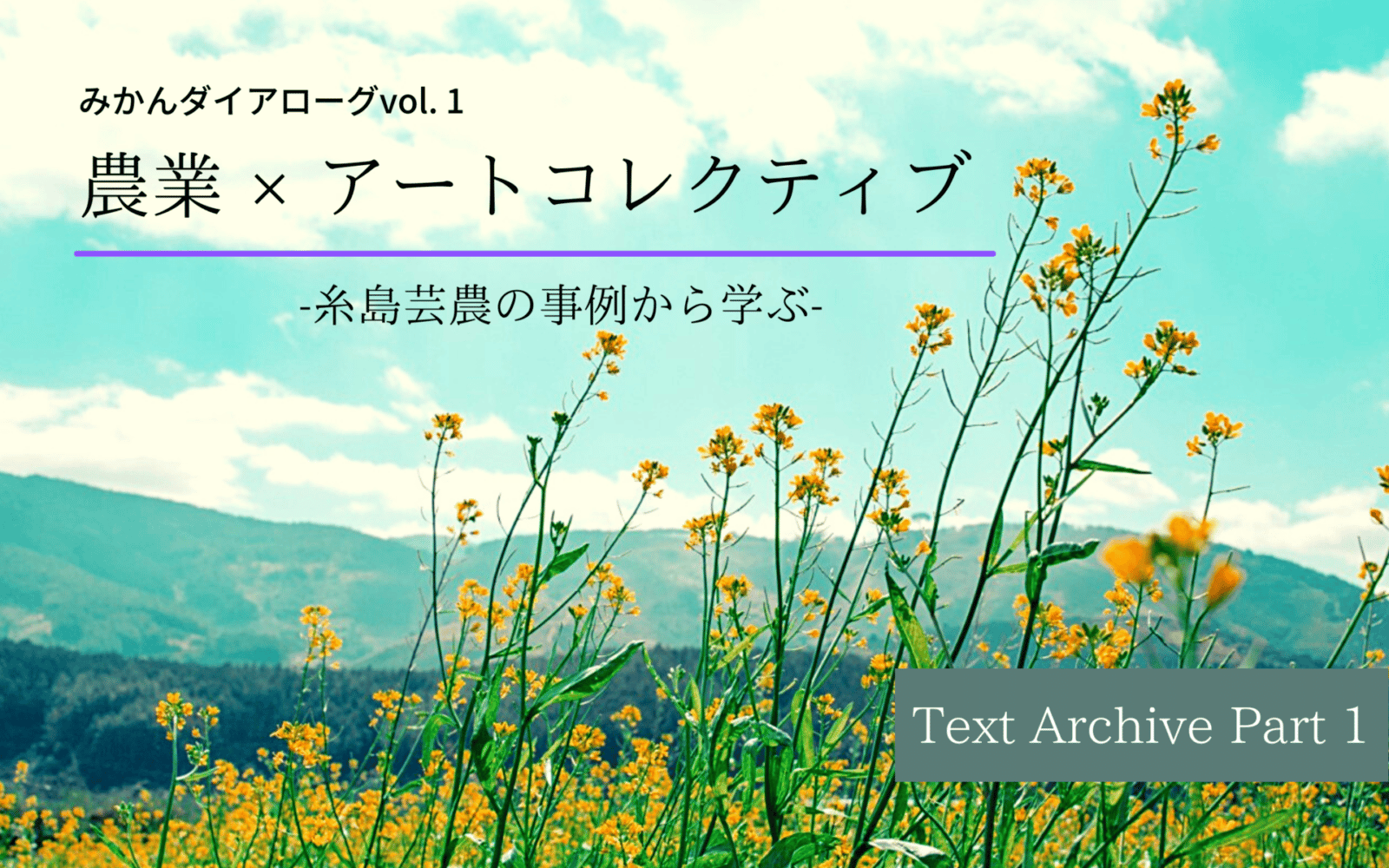 Mikan Dialogue vol.1 Text Archive (Part 1)
This is part 1 of the text archive for the online talk session "Mikan Dialogue vol.1 " held on April 8, 2022.
Title: 'Agriculture x Art Collective: Learning from the Case of Itoshima Arts Farm'
Date : 8 April 2022 (Friday), 19:00-20:30.
Venue: Online (ZOOM)
Fee: Free of charge
Guest Speakers: Hirofumi Matsuzaki (Chairman of the Itoshima Arts Farm Executive Committee),Kenichiro Egami, researcher in arts activism
Interviewers: Yuto Yabumoto   (Kinan Art Week Executive Committee member)
Manabu Shimoda (Executive Director, 'Kinan Art Week')

Guest Speaker: Hirofumi Matsuzaki
Born in 1979, Itoshima, Fukuoka. Graduated from Hiroshima City University, Faculty of Art, Oil Painting Department.
He went on an exchange programme at the Hannover University in Germany, and participated and exhibited in art-in-editions in Berlin and other European cities as well as in other parts of the world. In 2009, he established Studio Kura with the business objective of "transmitting culture from Itoshima to the world".  He is the chairperson of the organising committee of the biennial international art festival 'Itoshima Arts Farm' in Itoshima, Fukuoka Prefecture. He also runs painting classes, modelling classes and electronic workshops. There are also programmes for early childhood education, including kindergarten and nursery school, and he hopes to turn the whole of Itoshima into an art village. When artists were no longer able to come due to the Corona Pandemic, He also started a fab lab (a workshop equipped with 3D printers, 3D scanners and various machine tools such as cutting and lathes, which can be used by anyone. Reference: Digital Daizensen).
Guest Speaker: Kenichiro Egami
Born 1980, Fukuoka, Japan. Master of Arts in Cultural Anthropology, Goldsmiths, University of London. His research focuses on Asian art activism and self-managed spaces in the 2010s. In addition to writing, drawing and photography,  he is involved in various cultural projects as a managing member of the art space 'art space tetra' in Fukuoka City. He is currently a specially-appointed assistant professor at the Global Support Centre, Tokyo University of the Arts.
[Mikan Dialogue Vol. 1]
Agriculture x Art Collective Learning from the Case of Itoshima Arts Farm
Source: Itoshima Arts Farm 'homepage'.
Shimoda:
Good evening, ladies and gentlemen. It is now time for us to start the Mikan Dialogue.
My name is Shimoda and I am a member of the Kinan Art Week. I work behind the scenes as secretary-general. The Kinan Art Week is an art project event held in the Kinan region of Wakayama Prefecture.
Last year, in 2021, we held our first international art festival called Kinan Art Week 2021. We are planning to promote art projects focusing on one theme in 2022 and 2023, with the aim of holding the next one in 2024. This year, we are in the process of moving forward with the implementation of the 'Mikan Collective' with the theme of 'Mikan'.
We are trying to re-evaluate mikan from a different perspective, not from the point of view that they taste good, but by talking with farmers and other people about topics such as "Why do people eat Mikan? We are trying to look at Mikan from a different perspective. We are working on presenting this project in the autumn of this year, and would like to present it to you in various ways, such as in a VR metaverse* space.
Today, we are holding the first edition of the Mikan Dialogue as a talk session to deepen the Mikan Collective, which is being promoted in this way, together with you.
The Mikan Dialogue, which will be promoted by inviting various experts and practitioners, today's theme is 'Agriculture and Art Collectives'.
We have two guests here to learn from the case study of an arts festival called Itoshima Arts Farm, which is held in Fukuoka Prefecture. Now, I would like to invite the two guests. First of all, I would like to introduce Hirofumi Matsuzaki, the chairperson of Itoshima Arts Farm.
Matsuzaki:
It's very nice to meet you.
Shimoda:
Next is Kenichiro Egami, an art activism researcher.
Egami:
Good evening, nice to meet you.
Shimoda:
Could you start with a brief self-introduction? Please start with Mr. Matsuzaki.
Matsuzaki:
Yes. My name is Matsuzaki and I am the chairperson of Itoshima Arts Farm. I am from Itoshima, Fukuoka Prefecture, Japan, and I have been running the arts festival every two years since 2012. I look forward to working with you.
Shimoda:
Thank you very much. I look forward to working with you. Now, Mr Egami, please.
Egami:
Yes. My name is Kenichiro Egami. I am also from Fukuoka and still live there. I am interested in art and social movements, and I co-manage 'art space tetra' in Fukuoka City. I look forward to working with you.
Shimoda:
I understand that you two are already acquainted with each other and are very good friends (laughs). How did you come to know each other?
Egami:
It all started when I went to visit Mr Matsuzaki's 'Studio Kura'. I also introduce 'Studio Kura' to artists when they come from abroad. I have also been invited several times to Itoshima Arts Farm, which Mr Matsuzaki continues to organise, and we have continued our relationship.
Shimoda:
Mr Egami, you also participate in Itoshima Arts Farm as an artist. We would like to talk to Mr. Matsuzaki about Itoshima Arts Farm, including the story about that.
1. Introduction of Mr. Matsuzaki
Matsuzaki:
Yes.Let me first introduce my own artist activities, as they overlap with those of Itoshima Arts Farm.
I was born in Itoshima City, Fukuoka Prefecture, Japan, and graduated in oil painting from Hiroshima City University. Hiroshima City and Hannover, Germany were sister cities, so I studied at the University of Hannover for a year as an exchange student. I then went to Berlin to work in the Kunst haus Tacheles, an art village created by squatting artists from all over the world.
Kunst haus Tacheles is a building in the middle of Berlin that is an art complex with studios and galleries for artists, and I thought, "Someday I would like to do something like this in my own city".
In 2009, I returned to Itoshima and started a company called Studio Kura.Our main business is the "Artist in Residence"* program and holding art classes. Since 2012, we have been organising an international art festival called 'Itoshima Arts Farm' once every two years. It has been held five times so far.
*Artist-in-residence: a period of time during which an artist stays in a certain place to create artworks and conduct research in a cultural environment that differs from the one in which he or she normally lives. Or a project that supports the artist's residency.
Reference: Bijutsu Techo.
As an artist, I have participated in artist-in-residence programmes all over the world, and when I meet artists from all over the world, they always ask me, "We want to produce in Japan too" or "Is there an artist-in-residence programme in Japan?"
That was around 2005. I couldn't find anything on the internet in Japan, so I thought, "My parents have a rice warehouse and I should try being an artist-in-residence myself", so I created a website called 'Artist-in-Residence Studio Kura'. I created a website called 'Artist-in-Residence Studio Kura', and people really started applying, so I actually started the artist-in-residence programme in 2007.
When I started, I came back from Berlin about once a year to coincide with when the artists came. But from about the third year onwards, about five or six artists started coming, and I thought it was no longer possible to go back and forth every time, so I came back to Japan.
The business objective of Studio Kura is "to transmit culture from Itoshima to the world". It sounds like a great aim, but it's not that big a deal (laughs). I thought that if I, as an Itoshima resident, could transmit local culture, people from all over the world would find it interesting.
Itoshima City is a very rural area about 40 minutes away from Fukuoka City by train. Around the station called Ikkiyama Station, there is an office and three residence houses where artists stay. Nearby is Inari shrine, the main venue for Itoshima Arts Farm.
The artist-in-residence programme began in 2007, and more than 300 artists have stayed there. Before Corona started, we used to accept about 10 international artists every month, and they would stay for one to three months to create. I'm always delusional about the idea of making Itoshima City like an art village (laughs).
Each of the artists in residence interacted with each other and taught each other techniques. People in the town were surprised at first just by the presence of foreigners, but after about 10 years of doing this, I noticed that there were signs in English in the town, and things started to change in the community. There are local people who treat us to dinner every time an artist comes, and there are people who study English in order to interact with the artists. The children who studied with us have also become able to speak English and we are looking forward to the future.
Shimoda:
Thank you very much. Now please also give us an explanation about Itoshima Arts Farm.
2. Introduction of Itoshima Arts Farm
Matsuzaki:
As the artist-in-residence programme continued, people who liked art came to see the exhibitions, and people like Egami came to visit us, and the heat built up, or rather, the desire to hold a festival grew. At that time, there was a Dutch artist who wanted to play music to rice in the rice paddies.
I got to know the farmers better and better as I researched where and whose rice paddies would be suitable and went to talk to them about renting rice paddies. It was difficult to rent a place, so I thought, why not just turn it into an art festival? So I went to a famous local artist, Hiroshi Fuji*, who lived in the area.It was around 2010 that I went to him with a proposal and said, "This is what I want to do. That's how Itoshima Arts Farm started in 2012.
* Hiroshi Fuji – President of Fuji Studio Co. Hiroshi Fuji was born in 1960 in Kagoshima, Japan. He has given a series of workshops and demonstrations throughout Japan, encouraging the generation of activities in the community.
Reference: fujistudio co. Art Works & Demonstration.
Since the festival is called 'Arts Farm', we are often asked if we are collaborating with agriculture in any way, but rather than collaborating with agriculture, we started with the idea that 'just as the nature of Itoshima has created rich soil and nurtured agriculture, we want this art festival to be the soil that nurtures culture and art'.
People say things like "the city must have asked you to run it" or "you must have sponsors", but we have built it together with Fukuoka artists, Itoshima citizens and volunteers, without relying on big subsidies. This has never changed. That's why we have a very low budget (laughs).
Themes are discussed and decided by the Executive Committee each time.
I think big art festivals have a producer who decides the direction of the festival, but there is no such 'big person' at Itoshima Arts Farm. The executive committee gets together about a year to a year and a half in advance and discusses things like 'what should be the theme of this year's festival', and then creates the art festival. In a way, this may be a form of art collective.
<The Theme of Itoshima Arts Farm Up to Now.>
2012 Ploughing and art
2014 Learning and making
2016 Fermenting horizons
2018 Malevito's Path
2021 Body scales
Mr. Fuji helped me brush up my project and I think it was because of him that I was able to do this kind of activity. When we started the festival in 2012, Mr Fuji had already moved to Akita, and he taught me a lot of things as I didn't know anything about local art festivals. He told me that I should ask this person to do the posters and that there were other art festivals like this. The foundation of the current Itoshima Arts Farm was largely laid back then.
The main venue is an Inari shrine near Studio Kura. It was in ruins because people stopped coming to visit it, but the artists who participated in the first edition cleaned it up and turned it into a splendid shrine. So the next participants created and presented their works at the shrine, and gradually the mountain of Inari has been revived by art. I hope that one day it will become a shrine of art.
[Arts Farm Auction]
The Itoshima Arts Farm has always been a handmade art festival that emphasises the independence and spontaneity of local artists, and therefore receives no government support. The committee members have also volunteered their time without compensation. We have decided to hold this auction in order to make these activities sustainable in the future and to provide an enjoyable opportunity to support the economic aspects of these activities together with many other people.
The Arts Farm Auction is a valuable source of funding for the Art Festival. Each time, the participating artists sell their works and personal belongings.
We are a really small arts festival with very few sponsors. However, we have decided to invite only one artist each time that we want to invite and one person we want to hear speak at a talk event, even if we have to pay for it. When we held the festival in 2016 under the theme 'Fermenting Horizons', we invited someone called Dominique Chen to speak on the topic 'The Art of Fermentation'. Each time we invite someone to speak on a theme like this.
*Special talk session by Dominique Chen, Itoshima Arts Farm 'website'.
'The commons (common goods) from fermentation: the value of raw materials and art in the future'
We also collaborate with Kyushu Sangyo University, a local university in Fukuoka, and the professor participates in the arts festival and we have him work on projects with the students.
Updatable information boards on which viewers can write their impressions of Itoshima Arts Farm.
Reference: 2021 Participating Artists Staff Blog, Yasuhiko Isami Laboratory, Kyushu Sangyo University.
Shimoda:
Thank you. It looks like you are having a lot of fun. I could really feel the lovely feeling. Itoshima Arts Farm is held every two years, isn't it?
Matsuzaki:
We were off by a year in Corona, so now it will be 2023. Please look forward to it .
Shimoda:
Right. Everyone should go there.
We approached Itoshima Arts Farm this time because we felt that it had something in common with Kinan Art Week. We decided to hold the festival without relying on public subsidies. It is also true that you are organising an art festival in a regional city, isn't it?
It would be nice to 'transmit culture from Itoshima'. If you dig deep into local culture, you can find all sorts of interesting things. I think it's a lot of fun to transmit such things and I think it's valuable, so I'm working on it.
Matsuzaki:
Yes, the more you know, the more you find out, the more interesting history there is and the more interesting people live there.
Shimoda:
Mr. Egami, how do you feel about watching the activities up close?
Egami:
I like the fact that they don't get money from the government or any other big organizations, but they do it themselves. Even if he tried to do it carefully, Mr. Matsuzaki is not very good at it (laugh).). That's what makes me trust him as a person.
I think it is important to continue working together with local people or doing things that we can do without difficulty, in terms of sustainability.
And the festivals are fun. I think it's interesting that we are creating festivals, as the experience of participating in festivals is becoming less and less common in rural areas nowadays.
Shimoda:
Do the locals ask you when the next event is?
Matsuzaki:
They tell me that they're looking forward to it.
Shimoda:
Local changes are also interesting. I heard that there are now signs in English.
Matsuzaki:
Yes, there are. Our goal is to be sustainable and not overworked, and we're trying to do it all the time. We were looking for a way to do it the first time, so it became relatively large, but I think we should do what we can do without strain.
If you keep going, you meet all kinds of people. Some people have moved here because they find the arts festival interesting. That's what makes our activities interesting again.
Shimoda:
It could be because of the openness in communication.
This time, when we were planning a 'collective' too, we looked up what a 'collective' was. I found out that it means 'to work together with various people around you, not just within your own organisation', and I wanted to do something like that. Then I found out that Itoshima Arts Farm was doing something like that, and I thought it was great.
We now turn to Mr. Egami, who has done a lot of research on this 'collective'.
3. The Social Turn of Art and Collectives
Egami:
I would like to briefly explain the terms collective and the social turn of art, and then connect them to the discussion of today's talk. The word collective has been mentioned a lot in the context of art in recent years, but I think we are actually using the word collective to describe a feeling or experience that is created through the experience of making things with someone else. So I will include a discussion about whether it is really appropriate for us to use the word collective.
Apologies for this discussion, which is very crude for art history specialists, but if you look at the major trends in art, you will see that the categories and subjects that make up art have changed over time.

[Classicism]
For example, until 19th-century European Classicism, the media of painting and sculpture were mainly used to develop artistic expressions of mythology, religion and history.
[Modern Art (modernism)]
Modern art refers to artistic expression (especially in the realm of fine art) that reflects the thinking and values of modern society, namely modernism, from the 19th century onwards. With the transformation of the industrial structure, modernity enabled individuals, detached from the traditional and religious values of the past, to perceive the world with reason, to change it and to become subjects of history. The expressions of this period are typified by an eye on the society in which we live today (realism) and a reconstruction of nature from an individual perspective (impressionism), while the 20th century saw experiments in perception (cubism and abstraction), affirmation of the machine (futurism), rejection of modern ideals (Dada), the unconscious that cannot be captured by rationality (surrealism), interest in dreams (surrealism), and a desire for the future (surrealism). The 20th century saw an explosion of various artistic movements, including experiments in perception (cubism and abstraction), an interest in the machine (futurism), the rejection of modern ideas (Dada), the unconscious that cannot be captured by rationality (surrealism) and images of revolutionary social change (Russian constructivism).
[Contemporary Art]
Furthermore, in the second half of the 20th century, art went beyond the jugular of reproducing objects and expanded into broader areas such as an interest in language and thought itself (conceptualism), the deconstruction of art concepts themselves (anti-art), as well as social and historical issues, physical expression and new media.
Regarding this trend from modern to contemporary art, art critic Lucy Lippard presents the idea of the 'dematerialisation of art'. This indicates the emergence within the field of art of an interest in immaterial things such as 'concepts' and 'actions', as well as expressions that 'give 'form' to materials'.
This dematerialisation of art has brought with it the possibility that the objects of production are not only objects, but also thoughts, relationships and even daily social activities. In addition, the presence of various groups of people (women, sexual minorities and people with non-white attributes), previously excluded from the previously mostly male (white) group of talented artists, has (re)come into the limelight.