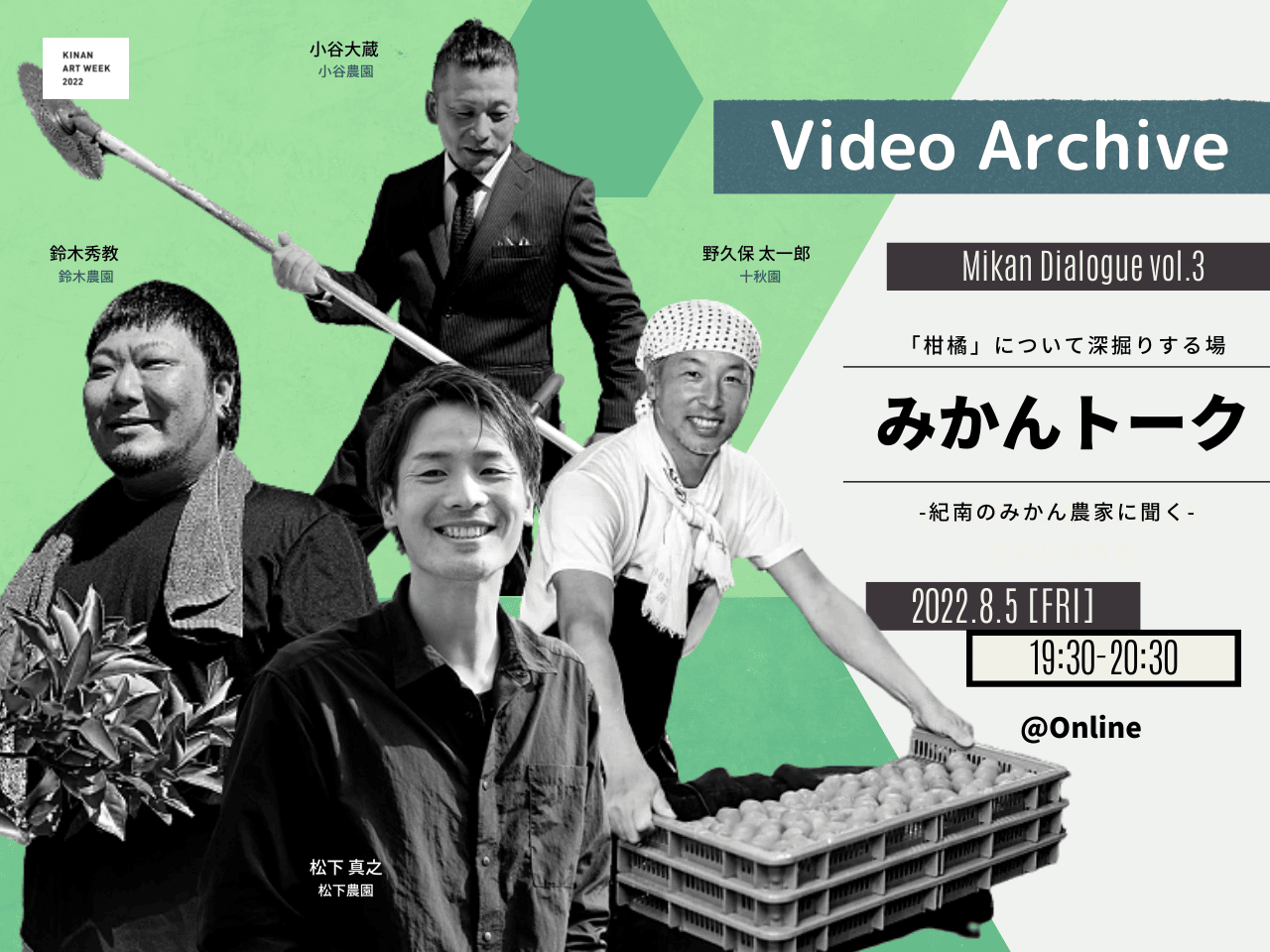 Mikan Dialogue vol.3 『Mikan Talk-Ask Kinan Orange Farmers-』Archived Video
This is the video archive for the online talk session "Mikan Dialogue vol.3 " held on Aug. 5, 2022.
<Date>
Friday, August 5th 7:30〜8:30PM
Participation:Online
Fee: Free
Organizer:Kinan Art Week
Media Support:FM TANABE
Guest Speakers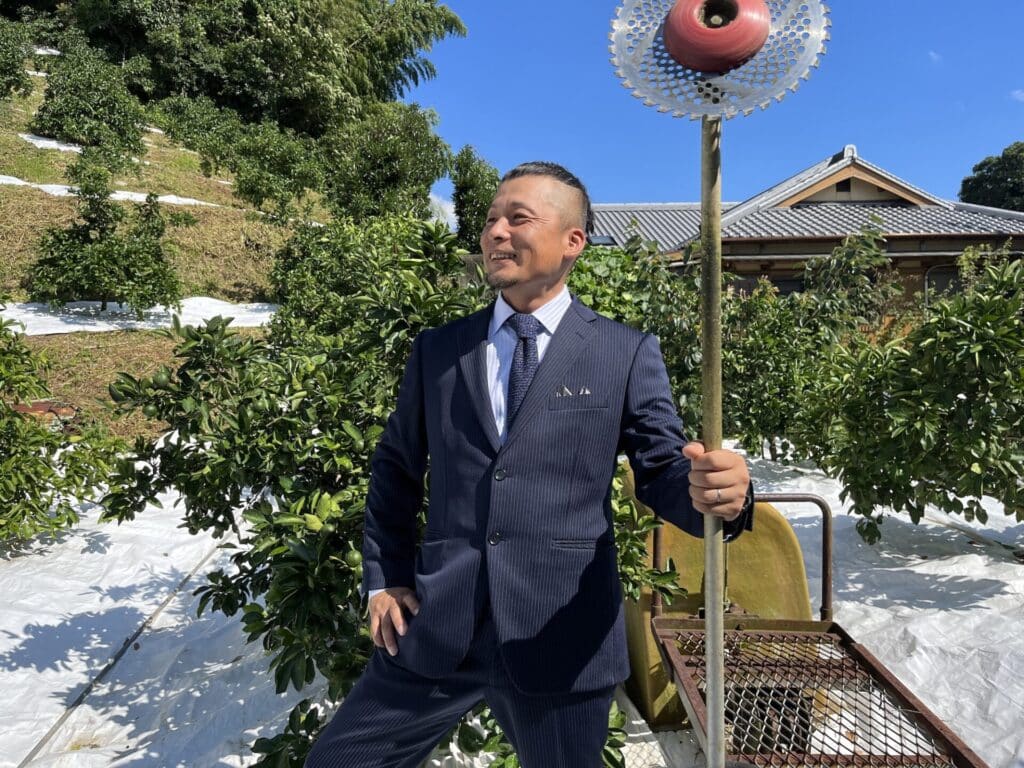 Daizo Kotani 
8 years ago, when his first child was born, he took over the family business of farming. He sells citrus fruits, Japanese plums, rice, and vegetables at JA (Japan Agricultural Cooperatives) and direct sales at local stores. He is actively trying to expand the orchard field and increasing the variety of fruit trees.
Hidenori Suzuki
In Shimomaro, Tanabe City, he cultivates citrus fruits, Japanese plums, rice, and vegetables (green soybeans, sweet potatoes, etc.). Former hotel chef. He painted the truck himself and started selling sweet potatoes and other products in February of this year under the name of the kitchen car "PEASANT KITCHENSÛ".

Taichiro Nokubo
The 5th owner of Toakien. He grows 30 kinds of citrus fruits, Japanese plums, kiwis, etc. When he was 24, he was working at the Suzuka Circuit in Mie Prefecture, but due to changes in his circumstance, he returned to his hometown. Currently, in order to create a "related population" in Tanabe City, he accepts people from the metropolitan areas to experience farming, and collaborates with local eel shops to manufacture original fertilizer that reuses "eel bones".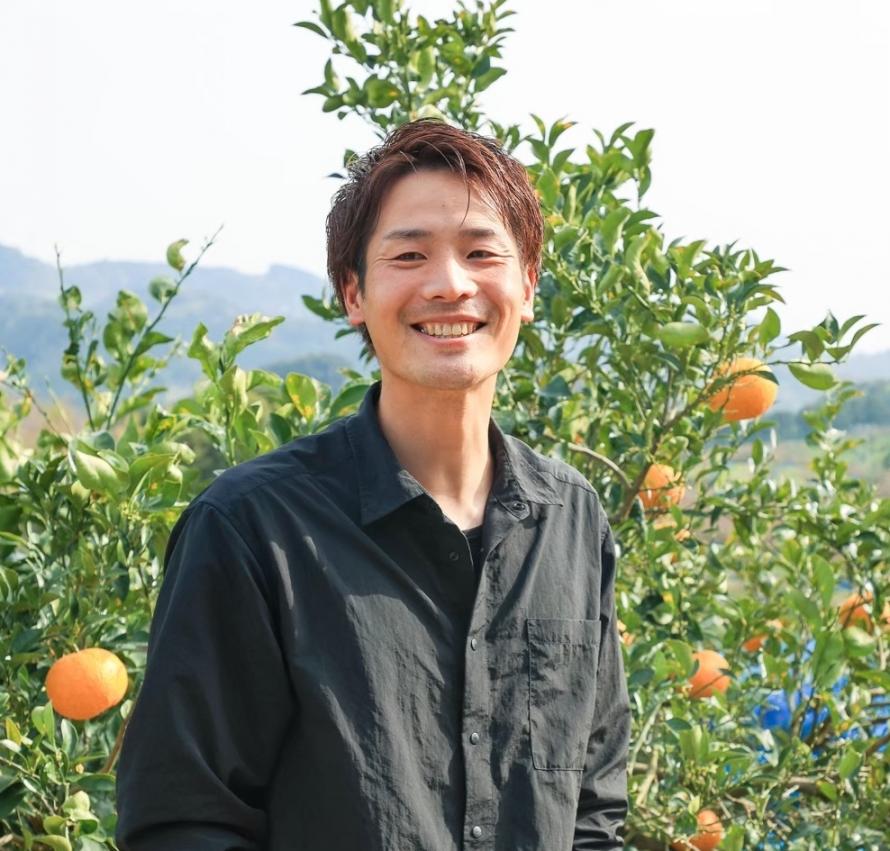 Masayuki Matsushita
After graduating from high school, he joined the local supermarket "Matsugen" in Wakayama, Osaka, and played an active part in the baseball team while doing his daily office work. After that, he helps out in his family business at his parents' home, Matsushita Farm, in Kamihaya, Tanabe City, Wakayama Prefecture. He is a young farmer who works in the fields of mandarin oranges and Japanese plums with his father, who runs a farm. His interview article at Kinan Art Week.
<Interviewer:「Kinan Art Week」Yuto Yabumoto>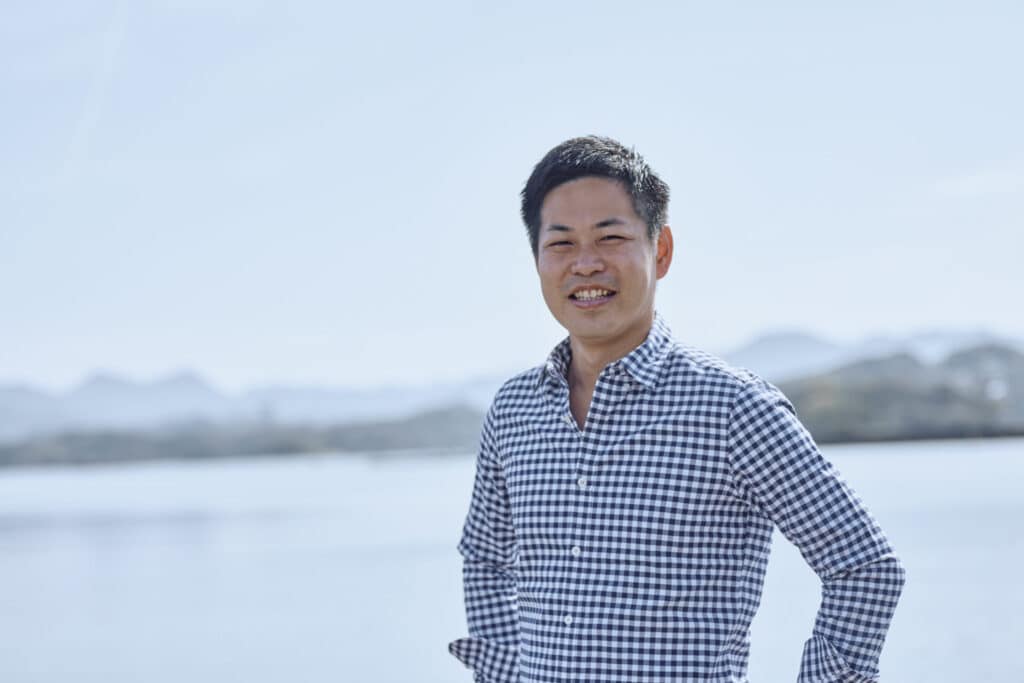 Born 1988, Kinan region, Wakayama Prefecture. For more than ten years, he has lived in Cambodia, Laos and other countries, providing grants and exhibition support to art collectives and other organisations in various regions. He is currently studying anthropology, folklore and contemporary art in the doctoral course at Akita, with an interest in myths, legends, fables and folklore of the Asian region. Major exhibitions include Kinan Art Week 2021 and the exhibition Zomi Immigrant on the water – Contemporary Art from the Mekong Region (Osaka).
<Talk Shooting Venue>

Akizuno Garten
A green tourism facility located in Kamiakizu, Tanabe City, Wakayama Prefecture, funded and established by local residents. Opened in 2008 by renovating an old elementary school building with the motto of tourism and regional revitalization. In the school grounds, there are a farmer's restaurant, lodging facilities, a sweets experience workshop, and a mandarin orange museum.
Official HP https://agarten.jp/