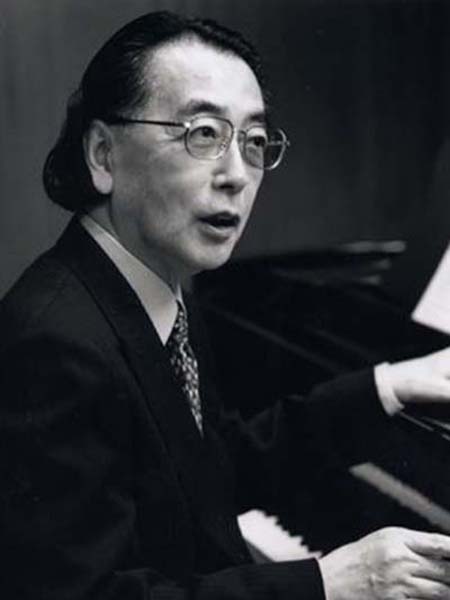 Toshi Ichiyanagi
Toshi Ichiyanagi Born in Kobe, Japan on February 4, 1933. Composer and pianist. He studied composition under Kishio Hirao, Tomojiro Ikenouchi and John Cage, and piano under Chieko Hara and Beveridge Webster. He won the first prize in the composition category of the 18th (1949) and 20th (1951) Mainichi Music Competition (currently known as the Music Competition of Japan). While studying at the Juilliard School in New York, from 1954 to 1957, he was awarded the Elizabeth Coolidge Prize (1955), the Sergei Koussevitzky Prize (1956) and the Alexander Gretchaninov Prize (1957). He is currently the Artistic Director of TIME, Music Director of Ensemble Origin - Millennial Resonances, Advisor to the Japan Music Competition, and a Councilor of the Saison Foundation. He is also a Councilor of the Suntory Foundation for the Arts, and the General Artistic Director of the Kanagawa Arts Foundation, and is involved in the promotion of contemporary music.
"Piano Music No. 2" (1959), performed by Takuji Kawai

"Graphic notation", which is not based on staff notation but on free figures, can be interpreted by the performer to create a unique performance. By introducing this kind of coincidence into his music, Toshi Ichiyanagi has rethought the concept of Western music- that of strict control by the composer. Takuji Kawai's use of a variety of techniques and spatiality will take us on a novel sonic journey.

Closed on Wednesdays

10:00-17:00

Bring your guidebook and get free admission with a limited one-hour pass. Please note that if you exceed the one-hour limit, you will be charged for admission.

Wakayama Adventure World is home to 1,400 animals made up of 140 species from land, sea, and air. Known for its successful panda breeding (up to now, 7 pandas have been bred including Fuhin, born last year) and dolphin shows. It is one of Japan's leading zoos and entertainment facilities and has been creating "smile (= happiness)" through human-animal interaction for over 40 years.