Dialogue project #2 "Are plums spice!?" – Kinan and the history of the plum trade –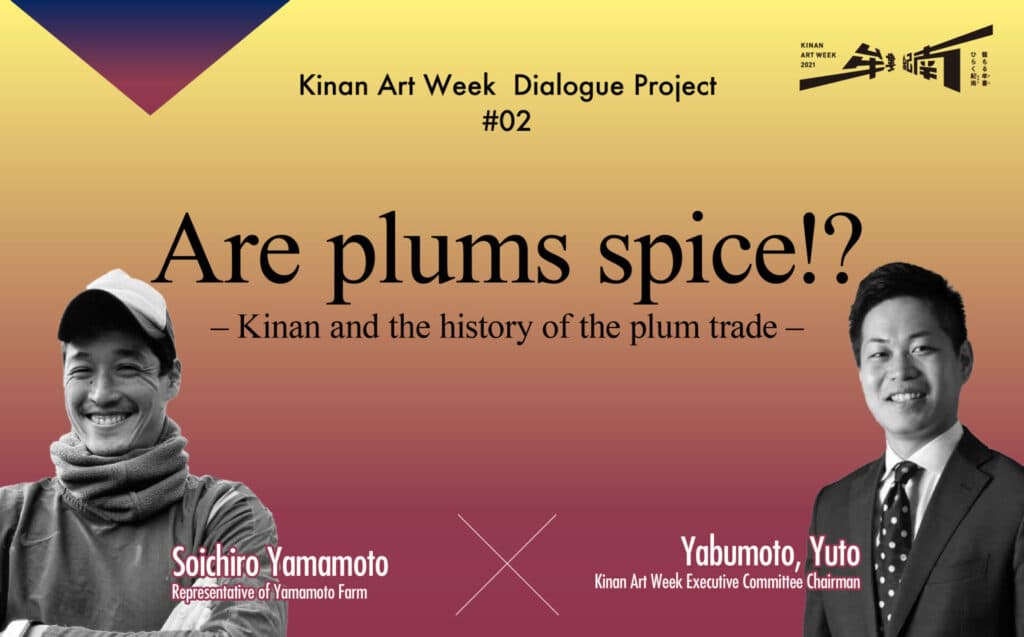 Kinan Art Week Dialogue project #2
Guest: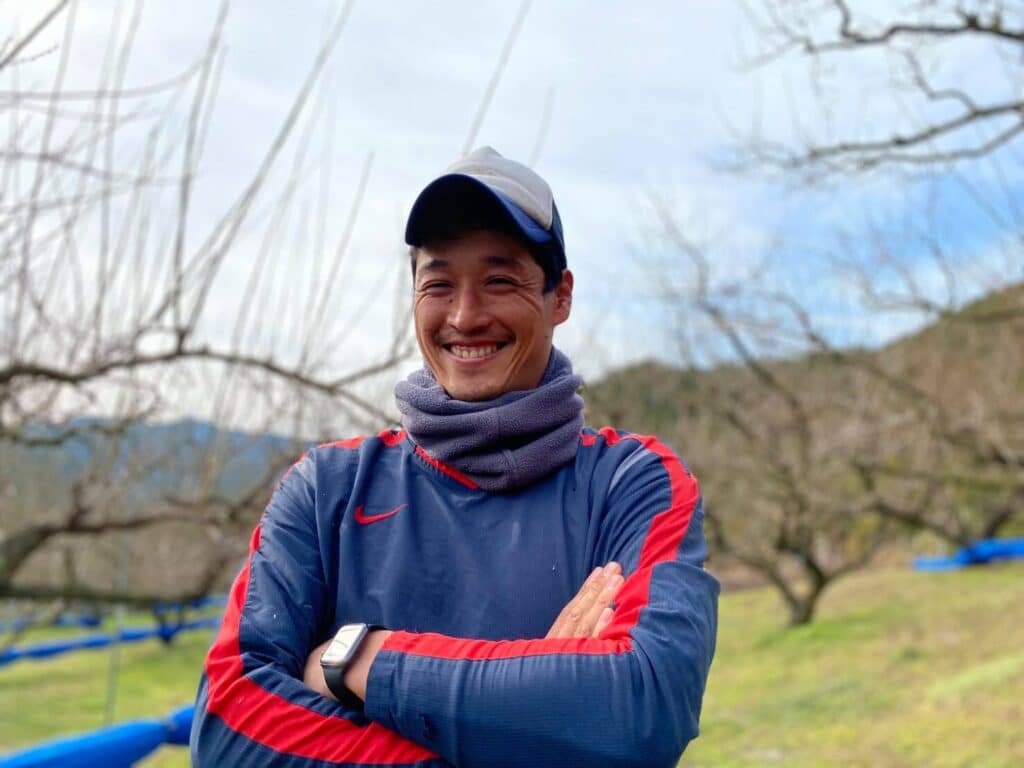 Soichiro Yamamoto
He is the third generation of plum farmers in Kiyokawa, Minabe-cho, who have been farming for 80 years.
The idea is not only to protect the plum growing area, but also to explore new possibilities for plums.


Interviewer :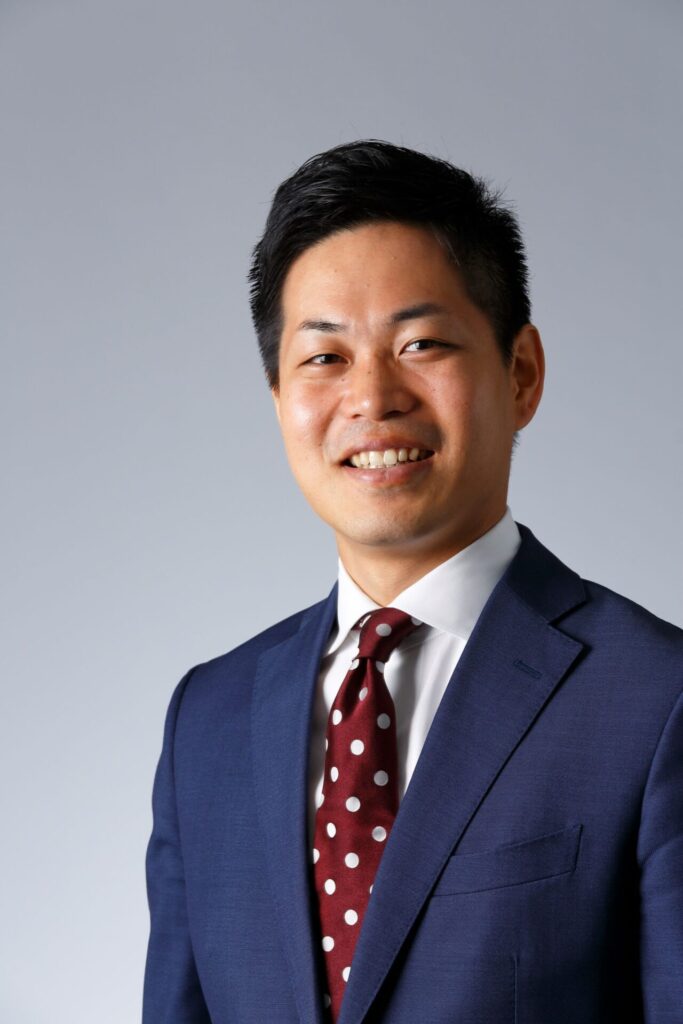 Kinan Art Week Executive Committee Chairman
Yuto Yabumoto


Participants :
Hisayuki Uchimura
Brand designer at PARADOX Inc. He makes a living out of verbalizing the aspirations, mission and vision of a company. He is involved in the naming, design and branding of Kinan Art Week.
https://www.prdx.co.jp/
Roku Moriwaki
Vice-Chairman of Kinan Art Week
Board member of TETAU. Designer. She is active in a wide range of activities involving local people.
https://www.tetau.jp/


Editing :
Kinan Editorial Department by TETAU
https://good.tetau.jp/
Is plum a spice!? – Kinan and the history of the plum trade –
1. Introduction to Yamamoto Farm
Mr Yabumoto:
Soichiro-san was one of my seniors in the baseball team of Tanabe High School, so I asked him for this interview. He was the captain and shortstop, and I was the left guard behind him. I miss those days….

You are the third generation of a plum farmer who has been growing plums in Kiyokawa for 80 years. Can you introduce yourself?
Mr Yamamoto:
I am a plum farmer in Kiyokawa, the most mountainous part of Minabe-cho.

I am the youngest of three and the only son, and I have always been a gifted farmer's heir.
I didn't want to start farming straight after high school, so I went to university in Tokyo where I could study agriculture, because I wanted to see the rest of the world.

I was always told, "You are the heir. So, since elementy school, the hardest question for me has been: "What is your dream for the future?" I used to joke that I wanted to be a professional baseball player, but I knew I was going to be a farmer.
Mr Yabumoto:
I see…(Laughs)
Can you tell us about the history of Yamamoto Farm and also tell us about the founder?
Mr Yamamoto:
Plum production began in my grandfather's generation. Until then, the mainstream in Kiyokawa was charcoal making and paddy field cultivation. In my father's generation, plum cultivation started in the surrounding area, and our family gradually expanded the scale of our business and quit the chacoal industry.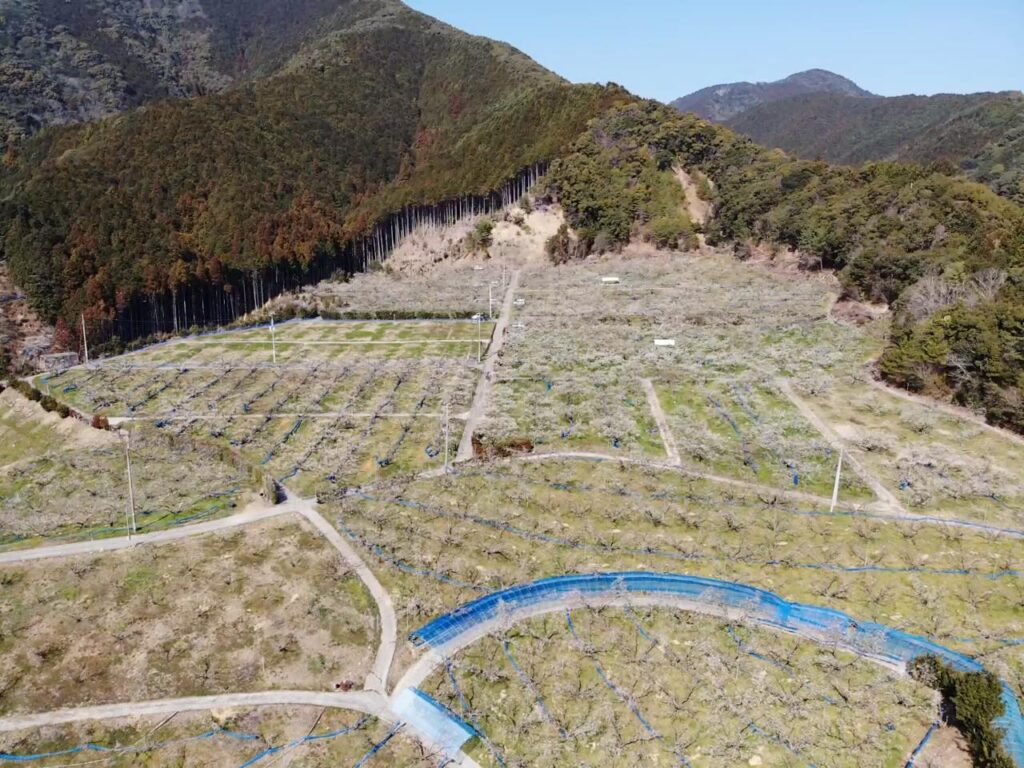 Mr Yabumoto:
Why did your grandfather start to grow plums?
Mr Yamamoto:.
I think they have been growing plums in Kinan for a long time, but it was probably not the mainstay of their lives. It was just when the 'Nanko plum'(Nanko ume) was introduced, and I think my grandfather found it attractive.
I think that other vegetables and fruits have been improved and new varieties have come out, but I feel that the great thing about tghe 'Nanko plum' is that its brand has not lost its power even after 50 years.


2. The plum industry in Kinan
Mr Yabumoto:
Wakayama Prefecture is a kingdom of fruit trees, and mandarin oranges, peaches, plums and persimmons are almost number one. Plums(ume), in particular, accounts for more than 65% of Japan's market share. Why are plum so dominant in this land?
Mr Yamamoto:
Wakayama Prefecture has many mountainous areas and almost no flat land. So, the question was asked: "What crops can be grown on sloping land in mountainous areas?" I think that is how the old people came up with the idea. The answer was plums and mandarin oranges.
Mr Yabumoto:
Is there any difference between them and mandarins?
Mr Yamamoto:
Mandarins have a taste, plums have a texture. Plums are mostly used as processed products, so it's not about the taste but the texture, specifically the thick flesh and the thin skin.
Mr Yabumoto:
Do you feel that you can make a living out of making plums in the normal way?
Mr Yamamoto:
I think that if we just carry on making them in normal way, the number of consumers and the amount of production will decrease. If we want to protect our production area, it is important to keep young people, to promote plums, and to connect with the city.

I feel that their interest is growing, like they want to live in countryside areas and be a farmer, partly because of the COVID-19 pandemic. Just in December, a young person came from Osaka. We hope that he will eventually become independent and support the plum industry. I would like to put a lot of effort into training successors.
Mr Yabumoto:
What's the attraction of growing and processing plums?

If you consider the fact that people have come here from the city of Osaka, then there must be something attractive about it.
Mr Yamamoto:
The young person from Osaka helped us with the harvest in June and then came back to help us. From that point of view, I think it was kind of interesting to him.

I think the biggest thing about Kinan is that it is the best plum producing area in Japan. Even if you are an amateur, if you grow plums here, you will be able to produce the best 'Nanko ume(plum)' in Japan.
Mr Yabumoto:
It's the same kind of brand power that makes someone say, "I want to grow grapes in Burgundy!" That's a great thing.
Mr Uchimura:
Are there any variations in the processing of the plums after they have been grown?
Mr Yamamoto:
If the plums are green, we make plum juice and plum wine, and if they are fully ripe, we make pickled plums(umeboshi). Broadly speaking, these are the three patterns. However I'm still looking for more possibilities for processing.

Most of the pickled plums sold in supermarkets today are pickled in honey or seasoned with beefsteak plants(shiso). The basis for them is the white pickled plum, pickled with 20% salt.
It can be preserved because it is pickled with 20% salt. After that, if they are processed, they will last longer. The farmer is responsible for this step of delivering the 20% salt of the pickled plums.

In other words, we might be a 'primary industry' (a primary and a half). We are creating a 'sixth industry' (diversification of primary industry), where farmers and traders work together.
Mr Uchimura:
I've heard that in the olden days, people used to make plum wine in their own homes. However, it seems that this custom has fallen into disuse since the big companies started to sell their products.

Like the young person in Osaka, I'm hoping that making your own plum wine will become more mainstream again. That's a good world view.


3. The Future of Yamamoto Farm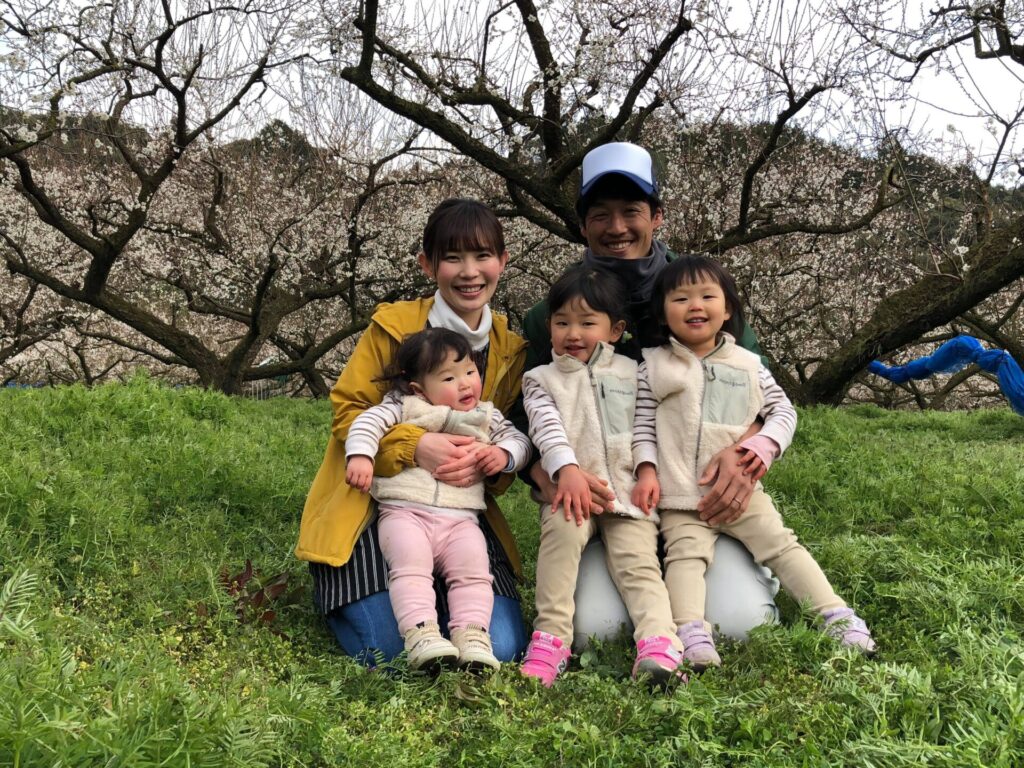 Mr Yabumoto:
What do you envisage for the future of Yamamoto Farm in 20, 30 or 50 years' time? What kind of situation would you like to see? Your children are still small, aren't they?
Mr Yamamoto:
I have three daughters and I would like them to be plum farmers. However, I think that the decline in consumption due to growing unpopularity in the demand for of pickled plums and the decline in production due to the ageing of the population will surely progress.

With an ageing population, there is a community of plum farmers who help each other with the work. I think we have to continue to create a situation where there are farmers around us who we can rely on so that our daughters can continue as plum farmers.

As a new possibility, we would like to introduce other varieties, not just 'Nanko ume' (plum).

Actually, about 10 years ago, a plum variety with red flesh, called 'Tsuyu-akane' came out and we have been growing it. The flesh of the plum is red, so you don't need to use beefsteak plants (shiso) to make red plum wine, which is very interesting.
Mr Yabumoto:
It's a job you can so proud of, that much.
How will you tell your daughters about the benefits of plum work?
Mr Yamamoto:
I believe that it's all about us enjoying our work. And that leads to a certain amount of income, I believe plum have the largest market share in Japan, a strong brand power, and it is difficult for newcomers to enter the market. All these points lead to a certain amount of income. It's not like tomatoes or strawberries where you can plant and harvest the same year, so in that sense fruit trees are a very special crop.

We want to involve not only Kiyokawa, but also Minabe-cho and Tanabe City, to show that it is possible to live a rich life through agriculture.
Mr Yabumoto:
It is an industry that is steeped in history and has its own local roots. It is difficult for newcomers to enter the industry, but there is the growing notion within products that the next generation should be educated about the dwindling number of producers. In other words, even though demand will decrease, we still need the next generation of farmers. Just because you are young and can farm, there is an opportunity there. And people don't know that very well. It's amazing.
Mr Yamamoto:
Even though it is difficult for newcomers to enter the market, there will always be fields that will become available. If we can be patient and train our people, I think there will be opportunities in the future.
Mr Yabumoto:
By the way, do you have a unique personality in Kiyokawa, like a terroir in wine?
Mr Yamamoto:
I'm sure there is something. However, that has not been established so far.

Data has been released that the difference in temperature makes a difference to the flavour of the plum wine, so some suppliers are offering that kind of value.

At the moment, we're hoping to find other possibilities for 'plum(ume)', other than plum juice, plum wine and pickled plums.


4. A new plum future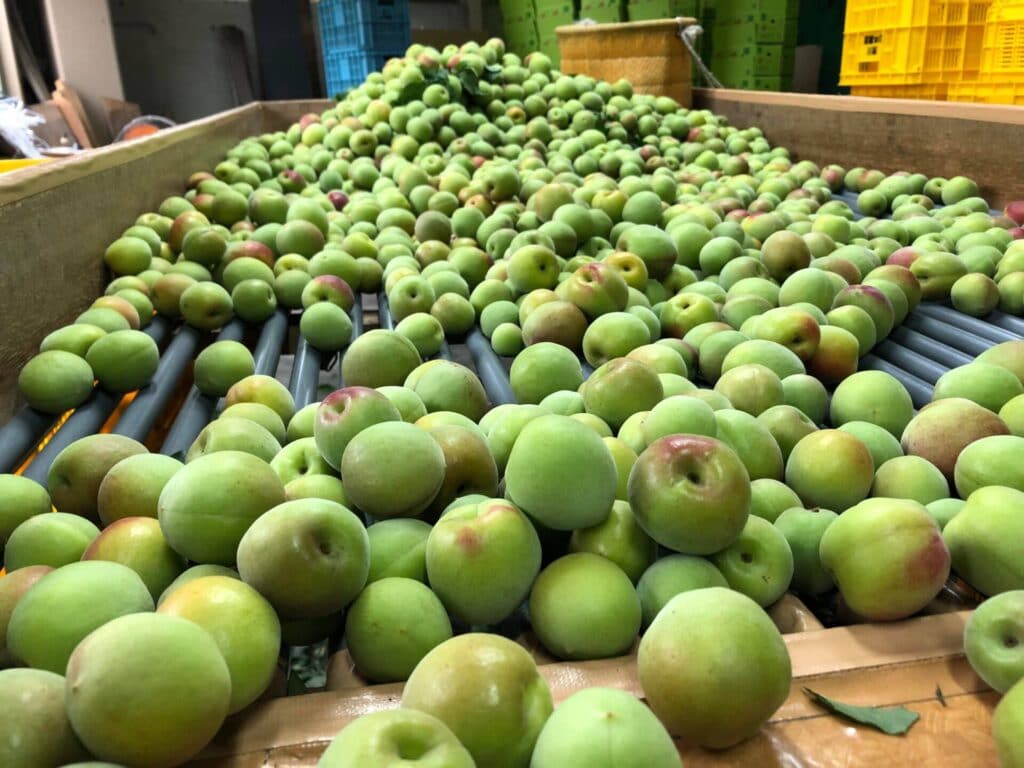 Mr Yabumoto:
I'm talking about the essence of the plum tree, what is it in the first place? Why do people grow and eat plums? Why did people start to eat pickled plums? What's the story there?
Mr Yamamoto:
What is it? A pickled plum (umeboshi) = a rising-sun(hinomaru) bento-box. (Laughs)
Plums are an ingredient that can be used in a lunch box to keep the rice from going bad and to make you salivate just by looking at it.
Mr Yabumoto:
There is even a word for it: "an-bai" (塩梅=salted plum). In Japan, there is a strong relationship between plums and salt.
Mrs Moriwaki:
It seems that pickled plums have been around since before soy sauce. There is a document that says that pickled plums(umeboshi) were used as an ingredient in a seasoning called "roasted sake". Kinan in Wakayama Prefecture, including Tondaura, was a key distribution point, so I think that pickled plums must have been distributed as a 'seasoning' along with everything else. In addition to being a preserved food, it is a seasoning with a sour taste, not just salty.
Mr Yabumoto:
Oh, wow!
Maybe if we take the discussion from that point, 'plums' could become more of an extremely conceptual idea!
Mr Uchimura:
If we consider 'plums' as spice, the acidity becomes a value. It's not the 'plums' we make, it's the 'spice'! It might be interesting to think of it this way.
Mr Yamamoto:
Japanese spice!
Mrs Moriwaki:
Wakayama Prefecture is said to be the origin of soy sauce, miso and Japanese food, isn't it? I've always wondered if we could sell plum vinegar like balsamic vinegar. (Laughs)
Mr Yabumoto:

I have always felt that such a perspective is not just about the pickled plums we see today. They are in fact deeply related to the "culture of the port" and are a crop that has coloured the history of Japanese trade.
The very origin of plums (ume)! I feel that we no longer need to be concerned about the form of pickled plums etc.
Mr Uchimura:
If we think that sourness is not a negative thing and think of it as 'spice', I believe it has another value. We can't get that sourness just by using salt.
Mr Yamamoto:.
The words "plums are spice!" were so impressive. They changed my whole concept of plums.


5. Ume and the export potential
Mr Yabumoto:
Sorry for all the sudden questions (laughs), but what do you want Kiyokawa to be like in 100 years time?
Mr Yamamoto:
We need more people here. In Kiyokawa, there are now about 100 plum farmers and the average age is over 60. I would like to see more of the younger generation. If there are no people, we can't do anything and can't even talk about it.
Mr Yabumoto:
Listening to your current situation, I don't think you need to change so much, in fact, I think that change will have more harmful effects. What do you think?
Mr Yamamoto:
There's a certain atmosphere in the countryside where people want stability rather than new things and changes. But I don't think it's good to maintain the status quo. If we don't take on new challenges, there will be no-one left.
Mr Yabumoto:
In that sense, though, my conclusion is "export".

I'm wondering what would happen if we could visualize the things we've been talking about, such as 'the trading history of plums' and 'what plums are', and export them like art.

I think it's possible to organize what we have now and suddenly export them to the world. I would like to export them as a more universal value, rather than something that is tailored to the urban style of Tokyo or Osaka, and that is the significance of Kinan Art Week.

The plum tree itself is full of stories and is one of seasonings, like salt and pepper. It's really interesting.
6. Are plums art?
Mr Yabumoto:
Finally, are plums an art? Are plum farmers artists?
Mr Yamamoto:
Since we produce agricultural products, would you say that they are 'works of art' or 'art'? (Laugh)
Mr Uchimura:
By the way, what do you find most impressive about plum production?
Mr Yamamoto:
Hmm, it's still the harvest. If I live for another 50 years, I will only be able to harvest 50 more times; even if I spend a year, I will only be able to harvest for one month, and for that one month I spend 11 months preparing. We want to make sure that we have lots of plums, that they are big, beautiful and without blemishes.
Mr Yabumoto:
What is important to you in order to produce good plums which meet your wishes?
Mr Yamamoto:
We are very particular about keeping the plum trees in good condition for a long time.

It is in the pruning process that a person's colour really comes out. Looking ahead to the future for the years to come, we look at the tree as a whole and decide how to produce fruitful branches. I look at each branch while thinking about the whole tree, such as the sunlight and the way the branches grow freely.

We do this every day, talking to the plum trees.
Mr Yabumoto:
In this sense, a 'plum' is not only a fruit.

It is very likely that there is something ideological and aesthetic in the pruning work and the plum production itself. It would be great if you could tell us more about this next time.

It was a great learning experience.
Mr Yamamoto:
No, no, I learned a lot too.


.
<Related article>