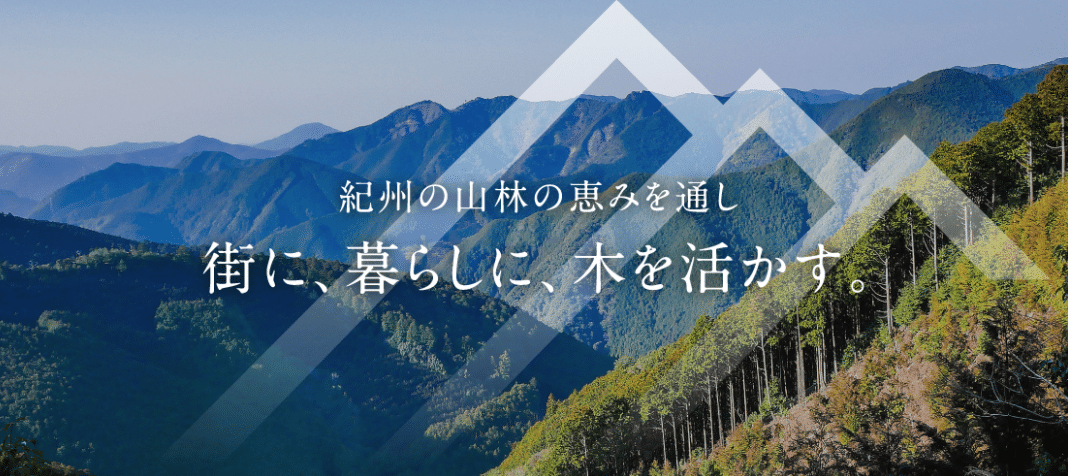 Dialogue Project #24 Kinan and Forestry. What is a tree harvest?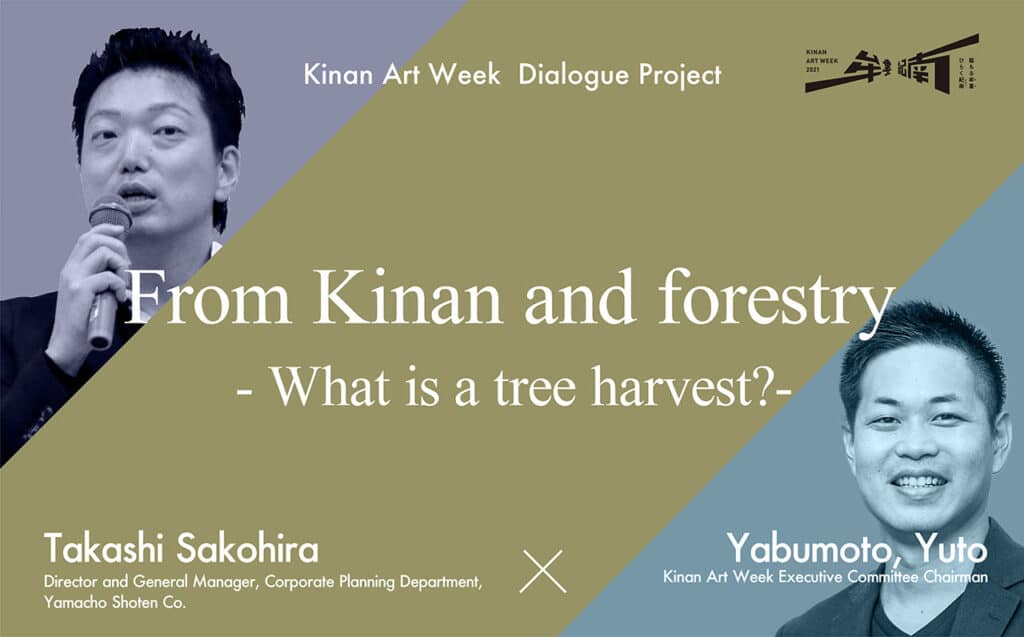 <Guest>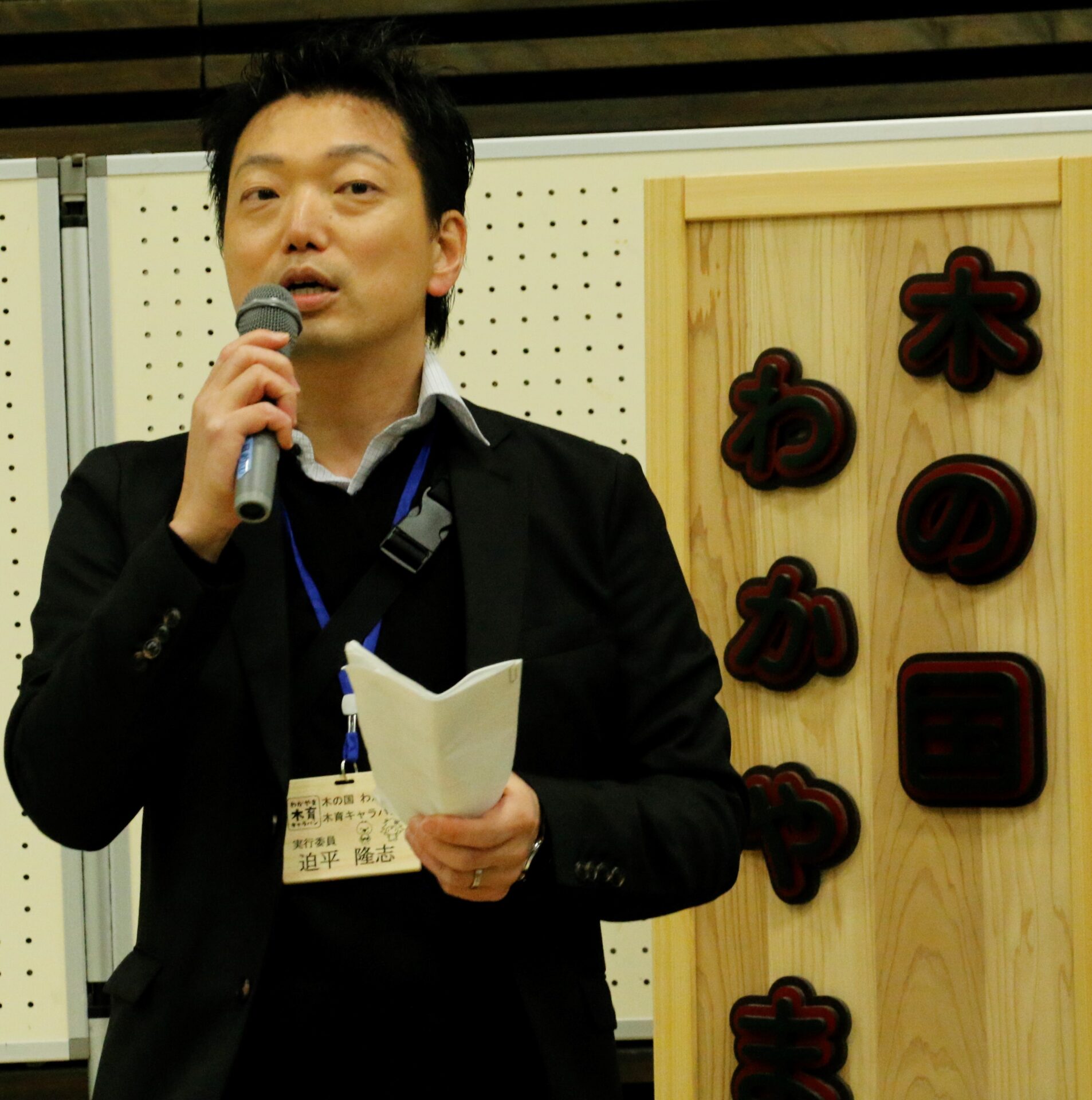 Director and General Manager, Corporate Planning Department, Yamacho Shoten Co., Ltd.
Takashi Sakohira
After graduating from Wakayama University, he joined a trading company specialising in housing. After working in Kashiwa City, Chiba Prefecture, he moved to Yamacho Shoten, a long-established forestry and lumber company in Tanabe City, Wakayama Prefecture, in 2007. After working in a lumber factory, on the inspection line, and in sales, he took up his current position in January 2018, and is committed to helping children and their parents become familiar with wood through his "Mokuiku" activities.
Interviewer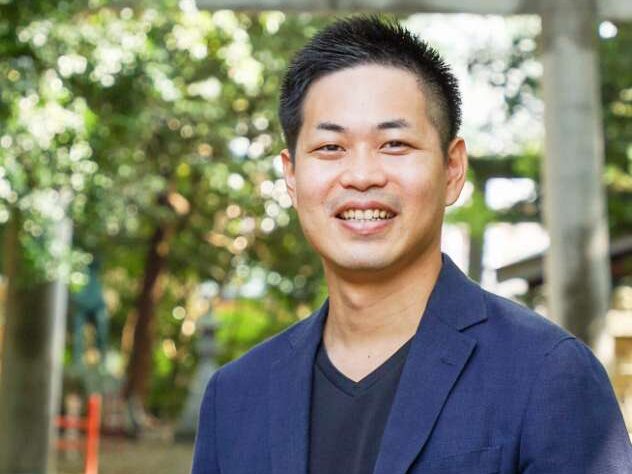 Yuto Yabumoto
Kinan Art Week Executive Committee Chair
Participants
Mariko Sugi
Vice-chairman of Kinan Art Week
Manabu Shimoda
Executive Director of Kinan Art Week

<Editing>
Kinan Editorial Department by TETAU
https://good.tetau.jp/
Kinan and Forestry. What is a tree harvest?
Table of Contents
1. Yamacho's history and its progress
2. Challenges for Japan's forestry industry
3. Challenges for the forestry industry in Wakayama Prefecture
4. Towards the future


1. Yamacho's history and its progress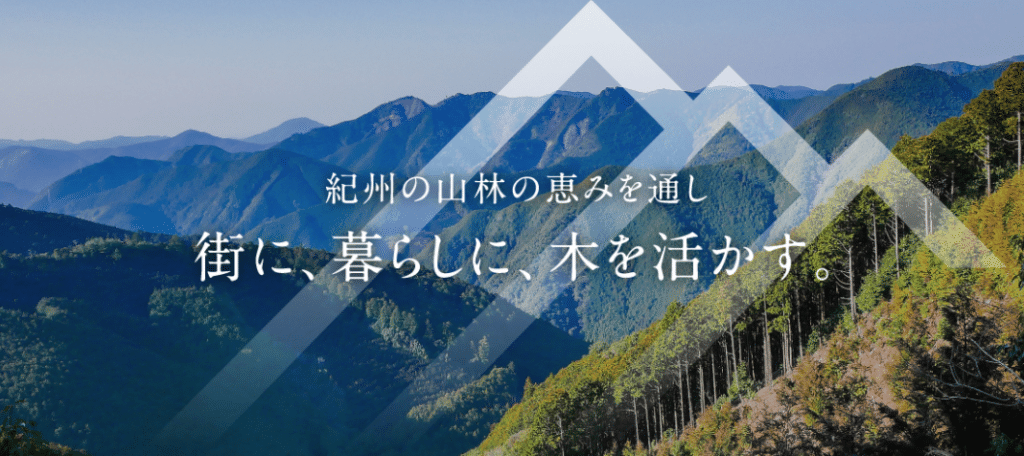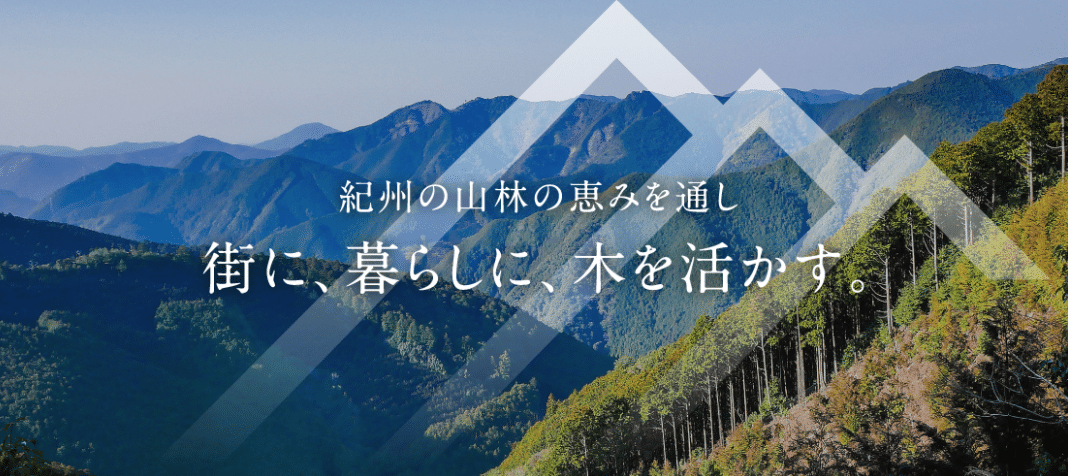 Yabumoto:
Thank you for taking the time to visit us today. I was looking forward to hearing your story about Yamacho Shoten. Yamacho's office, factory and lumberyard were exactly on the road from my parents' house in Shirahama to Tanabe High School, and I still remember the unique smell of the place.
Mr. Sakohira:
Thank you for having me.
Shimoda:
Mr. Sakohira, I have the impression that you are involved in a lot more than just forestry. Where are you from?
Mr. Sakohira:
Osaka. My connection with Wakayama started when I went to Wakayama University and lived in Wakayama City for 4 years. My job was in Kashiwa city in Chiba, where I worked for about 7 years. The son, who was to become the next president of Yamacho Shoten, happened to be a colleague of mine at that company. He took him up on his offer and came to Tanabe, but he died of illness four years ago.
Yabumoto:
I see . That's shocking. In a way, you are supporting Yamacho on behalf of your colleagues .
I understand that Yamacho is a company with a long history, founded in the middle of the Edo period, so I would like to hear your story from there.
Mr. Sakohira:
Originally, Yamacho was a charcoal wholesaler of Kishu-Binchotan. The current chairman* is the tenth generation, and since the eleventh generation has passed away, we will have to find some way to take over the business.
*Mr. Choji Enomoto, Chairman of the Board, Yamacho Shoten Co., Ltd
Yabumoto:
Does this mean that a non-founding family member could take over the business?
Mr. Sakohira:
I don't know about that, but I'm sure we need some kind of middleman.
Yabumoto:
Who were the founders of the company?
Mr. Sakohira:
The story of the Edo period is only known from literature, but it seems that the company started Binchotan charcoal wholesaler under the name of Yamadaya, and was a major charcoal wholesaler.
Yabumoto:
Do you still have the intentions and ideas of the founders?
Mr. Sakohira:
Yes, we do. "We contribute to the happiness and enrichment of people through the bounties of the forest."
This is the management philosophy that the current chairman came up with when he took over as president, and which is now widespread: to make the best use of nature's bounty in our manufacturing, and to act as a group of professional employees.
Even if the ingredients are good, it is no good if the cook is not good enough. There is a long tradition of company IMS , such as processing techniques and not shipping out bad wood.
Yabumoto:
You've been very active on the Facebook page "Ki no Magazin"*. Are you the one who runs it as the planning manager?
Mr. Sakohira:
That's right. The timber industry has always been a very reluctant industry to send out PR messages (laughs).
Yabumoto:
We can find it on your website, but you also have an online store for BtoC*. I like the series of Yatagarasu*.
Mr. Sakohira:
We are gradually working on BtoC, but of course our main product is with BtoB*.
We provide timber for use in building houses and public buildings. This is rare in Japan, but we do everything from forestry to sawing and final processing. In the forestry industry, Yamacho offers a system of direct production, which is the norm in agriculture.
*BtoC: Electronic commerce between companies and consumers
*BtoB: Electronic commerce between companies
Source: Business Daijirin
Yabumoto:
I suppose that system is rare in Japan. It's an image of a lot of middlemen coming in and accumulating small indirect costs. It's like the middleman is taking too much margin (laughs).
Mr. Sakohira:
Forestry is a time-based business, and it tends to be that way because it takes a long time. It takes half a century to plant a tree and harvest it, and then it's your grandchildren's generation that will actually use it. That's why forestry has a difficult continuity. It is important to think about how to maintain it.
Yabumoto:
Looking at the data and reference cases, most of the houses built with Yamacho's wood are in the Kanto region. *
*Beautiful Kishu-wood Houses Index
Source: Yamacho Shoten Homepage
https://yamacho-net.co.jp/category/gal/
Mr. Sakohira:
Yamacho Shoten is a long-established local business, so we have a certain economic base in Wakayama, but the actual business base is outside the prefecture. More than 60% of what we produce in Wakayama is consumed outside the prefecture.
*The group's integrated production and sales system has eliminated the complicated distribution flow with intermediate margins at many stages, and established a sales route directly from Kishu to the Tokyo metropolitan area. At present, 70% of Kishu products are sold in the Tokyo metropolitan area and 20% in Wakayama, and workshops are held for construction companies and other building businesses to educate them about timber and construction.
Source: Use of domestic timber – Council for the Promotion of Building with Wood Example 2: Yamacho Shoten Co., Ltd http://www.kiwoikasu.or.jp/upImages/uploader_examiner/pdf20131213152759.pdf
One of the themes of this Kinan Art Week is the "culture of seclusion", isn't it? I think that most of the primary industries in Kinan have a "culture of seclusion". Nowadays, the roads have been improved and it's not so difficult to go to Osaka, but in the past Kinan's was a shipping culture. That's another theme of Kinan Art Week, the "culture of the port". It's very much akin to the image of Kinan as a place where you're just caged in and suddenly you're flowing out of the port at once.
Yabumoto:
The timber went out from Tanabe and Tonda ports in the past.
Mr. Sakohira:
That's right. In the old days, the wood was sawn here and transported by boat* on the Kuroshio Current. I think that trend is still rooted here.
Yabumoto:
I'm a collector of Ukiyo-e and I've been steadily collecting Kishu Ukiyo-e. Recently, I finally found a work of Higaki-kaisen. It was a ship that went from Tanabe port to Edo, but it was carrying timber.
Mr. Sakohira:
The fact that we still ship so much to the Kanto region is clearly deeply rooted in that period.
*Higaki-kaisen: These were the boats that plied the route between Edo and Osaka. They were called "higaki" boats because they were decorated with a lattice of "hishigumi" (diamond-shaped latticework) on their hulls, and at their peak there were about 160 boats in service. They carried cotton, soy sauce, oil, sake, vinegar, paper and other daily necessities from Osaka to Edo.
*Reference: Logistics Museum: Higaki Kaisen
http://www.lmuse.or.jp/collection/gallery/edo/06.html
Taru-kaisen: These ships were called taru-kaisen because they mainly carried barrels of sake. They gradually surpassed the Higaki-kaisen in terms of low freight rates and speed.
*Reference: Japan Search
https://jpsearch.go.jp/gallery/ndl-pE1m3p8lllcEYP
Mr. Sakohira:
The population of Wakayama Prefecture is less than one million and is expected to decline in the future, so if we think only of in-prefecture consumption, we cannot expect development. Yamacho's business is based on how to connect with the Tokyo metropolitan area, which has always been the foundation of the prefecture.
Yabumoto:
Tanabe is now only a remnant of a timber town.
Mr. Sakohira:
Tanabe used to be a town of timber industry, so there used to be various timber shops, but nowadays it's more like "Oh, there used to be trees all over the town". Even among the locals, people from about 40 years old and below don't think of Tanabe as a town with a timber industry at all.
Yabumoto:
That's true. I saw the signs on the way to school, but at the time I didn't know what the company was (laughs).
Mr. Sakohira:
In the past, there used to be 30 to 40 companies, not just Yamacho, and there must have been a recognition that this was a town of the timber industry. However, the number of people involved in the timber industry has gradually decreased, and Tanabe is no longer a timber town. Now people think "What kind of company is Yamacho Shoten?" If you look at the history books, all of Tanabe Bay used to have wood floating around.
Yabumoto:
In Japan, lumber comes in from Indonesia and other countries in SouthEast Asia. What kind of people buy your wood?
Mr. Sakohira:
People who are particular about something. If you're a home builder and you're just looking for a place to live, then it would be difficult to be our client.
Yabumoto:
On your website, you explain your history, your specialties and your commitment. You have a page about what it means to live in a wooden house. It's very informative.
Mr. Sakohira:
Yamacho's target customers are those who are interested in the keyword "natural materials" and who enjoy and are particular about building their homes.
Yabumoto:
So the customer becomes the contractor?
Mr. Sakohira:
That's right. When construction companies and design offices build houses, they add Yamacho's wood as one of the options.
The end product is the house. In front of it, are the customers.. Ideally, We would like to be able to get a contract from them. We want customers that say "I want to use wood from Yamacho Shoten in Wakayama", so we are sending out information on our website and Facebook.


2.Challenges for Japan's forestry industry
Yabumoto:
What are some of the challenges facing the Japanese forestry industry today? I think that domestic demand in Japan as a whole is gradually waning.
Mr. Sakohira:
Until about six months ago, this was a problem, but now the problem is that the price of imported lumber is rising due to the wood shock*. The wood shock has its roots in the Corona pandemic . US and China were the first countries in the world to revive their economic activities, while the rest of the world was restricting movement, orders and production, causing a shortage of wood.
Originally, the self-sufficiency rate of domestic timber was 38%. In other words, more than 60% of our timber comes from foreign countries and we are dependent on imports. We have been working to improve this situation and encourage people to use domestic timber more, but since spring this year, timber imports from abroad have been stagnant, and timber is not coming in as it should. Now, domestic housing companies are in a state of confusion.
People say that Japan has no natural resources, but we have lots of wood, so we should use it, but to produce usable wood we need the right facilities. However, with the facilities we have now, we can't make up for the 60% of wood that we import.
When the opportunity arises to use domestic timber, we are not able to produce as much as we would like.
*Wood shock… Influenced by the increasing demand for housing construction in the U.S. and other factors, the global supply and demand for timber is tightening. As a result, since the beginning of 2021, the import price of logs and lumber used for housing construction has been rising in Japan.
*Reference: Supply constraints posed by the Corona pandemic: The impact of the Wood Shock
https://www.meti.go.jp/statistics/toppage/report/minikaisetsu/hitokoto_kako/20210719hitokoto.html
Yabumoto:
There seems to be a production problem, but there is also a price problem, isn't there?
Mr. Sakohira:
It is only in the last few decades that imported timber has come into use. It's partly a question of price, because it's cheaper to import wood from abroad, but it's also a question of quality.
If you look at the whole of Japan, the quality of the wood varies, but the Kishu wood in Wakayama has less variation and there is a lot of good wood. There are woods that lack strength or are not dried properly. Our wood is also like that, but Yamacho does not use such wood because it is the responsibility of the manufacturer. But if you look at it as a whole, there are a lot of immature wood products on the market.
Yabumoto:
What does good wood look like?
Mr. Sakohira:
It is a strong wood with good colour and gloss. The tighter the annual rings are, the better. If the forest is properly cleared and thinned, the final product will have fewer knots and be more beautiful.
Yabumoto:
So you manage plantations to produce dense wood for housing. And it takes half a century to make the product.
Mr. Sakohira:
That's right. It takes half a century, but when a typhoon hits it's over in an instant.
Kishu wood is one of the most important timber products in Japan. That being said, there are other good woods, for example, the logs of Yoshino in Nara Prefecture, our neighbour, are said to be the best in Japan. There are other areas where the wood is grown in a more dense way than in Kishu. However, when it comes to the final processing and delivery of the wood, I believe our company, has the upper hand.
Yabumoto:
I think there are also craftsmen, but what kind of person is a "craftsman"?
Mr. Sakohira:
We consider all the workers who process the wood into the final product to be craftsmen.
Wood is a natural material, so even if it looks straight, it is not. It is the craftsmanship that makes it work. How do we make a bent piece of wood usable? Or at what stage of the process do we decide that the wood is useless or unusable? It is a challenge for Yamacho to pass on this skill.
Yabumoto:
What is the average unit price of timber?
Mr. Sakohira:
In the timber industry, the unit price per tree is replaced by the unit price per cubic metre.
The average unit price nowadays is 71 400 yen/m3* for a Japanese cedar square*.
* Square – a square piece of timber with a cross-sectional length of at least 7.5 cm.
Reference: JBN (Japan Business Federation), National Association of Construction Contractors
* Statistics of Agriculture, Forestry and Fisheries: Wood Price Survey (July 2021)
Yabumoto:
How would you be able to increase the price per unit by 10 or 100 times?
Mr. Sakohira:
Yamacho was awarded the Good Design Award in 2013. The award was not for the visible design, such as the architecture, but for the soft aspect, such as the distribution system, which we have continued to develop through the direct production of wood.
We want to create a system that is safe and reliable for people who want to build houses and work with us. If we can create a system of pre-order sales with timber, and a system of contract purchases , I think we can increase the unit price.
Yabumoto:
When we build a house, you want it to be made of Yamacho's wood.
Mr. Sakohira:
That's right.
3. Challenges for the forestry industry in Wakayama Prefecture
Yabumoto:
There are many possibilities for Kishu wood through branding.
In Japan, "wood" itself is an object of worship. If we rebuild from there, a contract system is of course feasible. In particular, why don't we rethink the Kumano forest from a Jomon perspective? By the way, do you do any kind of ceremony when you cut down the trees?
Mr. Sakohira:
We always do the purification. We have to cut down trees that are older than we are.
Yabumoto:
From the point of view of such a faith, we may focus on the "spirituality" of the tree. It is an art form, and in fact I have collected quite a few films about trees. "I don't think the belief in trees is only for Japanese people, I think it is a theme that is common to people all over the world.
Mr. Sakohira:
If we want to increase this value, we have to present it in another way..
Shimoda:
Do you keep a record saying "this tree is from this slope of this mountain"?
Mr. Sakohira:
I haven't gone that far.
Shimoda:
In agriculture, the added value comes from the fact that "this person grew it in this field". It's hard to tell the difference between a tree and any other tree.
If we can say, "This tree is different from other trees, this tree has a story" then it will be more valuable.Moreover, if you say that it is a tree from the forest of Kumano, then the value will rise further.
Mr. Sakohira:
Kumano is a region that attracts a lot of attention on a global scale. The philosophical aspects of Kumano seem to be of more interest to people overseas.
Yabumoto:
I think we can export its value even if we don't ask people to come. I think there is a lot of potential if we can integrate it with Kumano's animistic ideas that transcend modern values.
Sugi :
We believe that by communicating to the world the value of things that local people are too familiar with to recognise, we can help them to see their value.
Various companies are working on the SDGs*, but when I think about the flow of "growing" and "developing", I feel that wood is the most cyclical. Before Corona, there was a sense that consumption in the flow of growth was the economy, but I think this sense of value has changed.
Why don't you build a museum with us, for example, with these new values (laughs)? I would like to collaborate with you on something else.
* SDGs: The Sustainable Development Goals (SDGs), commonly known as the Global Goals, are a universal call to action aimed at ending poverty, protecting the planet and ensuring that all people can enjoy peace and prosperity.
Source: United Nations Development Programme
https://www.jp.undp.org/content/tokyo/ja/home/sustainable-development-goals.html
Mr. Sakohira:
We'd love to see that. It's good to work while you play.
Shimoda:
I see you've also started an Instagram.
Mr. Sakohira:
We haven't done it strategically yet, so I'm thinking we need to get a dedicated person.
Shimoda:
It's about what you do beyond sending out your message. It's difficult to make a direct sale when you send your message abroad in English. But I think it has an indirect effect. If you can get people from overseas to write about you, you can increase your value in Japan. I think that's one way of communicating. Ukiyoe is also something that was appreciated overseas and became valuable in Japan.
Yabumoto:
That's right. That's why I'm interested in Ukiyo-e and I'm continuing my collection.


4.Towards the future
Mr. Sakohira:
At the moment, Yamacho is involved in an activity called Mokuiku.
Yamacho Shoten is a long-established company in Wakayama, but we hardly do any business in the local area, so we didn't have much contact with the local people. I always thought that was a shame. At the same time, I felt that the local people's awareness of Yamacho Shoten was declining.
That's why I wanted to create an opportunity to work with the local people and touch the wood.
I'd like to create a museum that can be a hub for the community, or a place in a library where people can experience wood education.
Yabumoto:
You call it "mokuiku", but what kind of activities are you involved in?
Mr. Sakohira:
We offer an experience to familiarise people with trees. Traditionally, the way of growing mountains in Wakayama is "good". We want children to know this and feel familiar with trees.
Yabumoto:
What do you mean by "good"?
Mr. Sakohira:
Wakayama's mountains were opened up to the private sector for the opening up of forest land. As a result, most of the mountains in Wakayama are privately owned and the percentage of privately owned forests is 95%. National, prefectural and municipal forests are only 5%, so there was a culture of private competition to build better mountains than the neighbouring ones.
The wood that is harvested now is often good wood, a remnant of that era. This is rare in the whole country.
Yabumoto:
I see.
Mr. Sakohira:
It is because of this soil that Wakayama timber has a reputation for excellence. It is thanks to the efforts of our predecessors that we have been able to brand Kishu timber.
Yabumoto:
How does Yamacho see the forest and trees?
Mr. Sakohira:
It has been handed down to us from our ancestors. I have been to mountains all over Japan for my work and the mountains where they are grown are beautiful. It's a good mountain.
Yabumoto:
How do you grow a beautiful mountain?
Mr. Sakohira:
When you look at the mountains from the outside, they all look the same, but when you go inside, it's very obvious whether they've been looked after or not.
A mountain that has been cared for has its own history. The same can be said of the Kumano Kodo, a World Heritage Site, which is just a path that was tended by the people living around it. It is the result of daily efforts and not just a beautiful or mysterious place. Especially in agriculture and forestry, there is always a human hand involved. It is the result of the work of previous generations, not our own.
Yabumoto:
What does it mean to work on a mountain?
Mr. Sakohira:
It's not just about making it safe and easy to walk, but also about clearing paths that have been damaged by rain, or thinning out trees that have lost out in the race for survival, or making sure that trees that have fallen due to typhoon damage don't interfere with the growth of other trees.
Yabumoto:
It is similar to pruning in agriculture.
Mr. Sakohira:
That's what forestry is all about, taking time. It takes half a century (laughs). We don't use the word "felling", we use the word "harvesting".
Yabumoto:
I like the way you put it. I like the way you say it, "harvest".
Mr. Sakohira:
Mountains are like rice paddies and fields. The only difference is that mountains are slopes and have a longer time scale.
Yabumoto:
It's an epic timeline. What do you think should be the relationship between mountains and people?
Mr. Sakohira:
We have to pay more attention to the mountains. It's not only important to protect them, but also to use them. You don't have to live in the mountains to use them, they can be a place of work, and we should be more involved in nature.
Yabumoto:
Just like the plum system*, the forestry industry cannot exist without human intervention. So by working on a mountain, you are maintaining it?
Mr. Sakohira:
I suppose that's the way it is.
There are other problems with forestry. There are two main periods in forestry: the nursery period and the harvesting period, but the nursery period alone takes 50 years. During that time, there is no harvest, so there is no money to be made. That's one of the main problems in forestry.
Yabumoto:
So there is a long period of time when no cash is generated. When were the trees you are harvesting now?
Mr. Sakohira:
The cedar and cypress trees, planted about 50 years ago, are now ready for harvest.
Yabumoto:
I have heard that prices are falling because there are so many of them and there is no demand to accommodate them.
Mr. Sakohira:
There's that too. We had trees at harvest time, but there was not enough demand for domestic lumber to consume them. It would be nice to be able to ship wood now, when there is no import from abroad, but we don't have the equipment to do it. We have to wait for about a year to get the equipment.
Shimoda:
In extreme cases, do you think it would be difficult for a very large company or a venture company to come and enter the forestry industry?
Mr. Sakohira:
I don't think it's easy.
Shimoda:
It's not like farming, where you can just start it yourself.
Mr. Sakohira:
In the case of wood, you can reduce the size of the final product, but the material in the process remains large.
I think that if we can connect the growing, the making and the using of wood, and if we can raise the awareness of everyone to use wood, then we can make another move.
Yabumoto:
What will happen if the forestry industry disappears?
Mr. Sakohira:
If we let agriculture, forestry and fisheries decline, we will diminish our national strength.
It is said that Japan has no natural resources, but I think wood is a resource that Japan can be proud of.
The trees are also a renewable and sustainable resource. They should be used systematically, and after use, they should be planted, grown and used again. We need to re-establish the cycle of continuous use at this time.
Yabumoto:
In that sense, the "Mokuiku Caravan"* is wonderful.
*Mokuiku Caravan: Organized by the Wakayama Mokuiku Caravan Executive Committee (secretariat: Yamacho Shoten), with the cooperation of the Art and Play Creation Association (a certified NPO), the Tokyo Toy Museum and other organizations, this event provides children with opportunities to experience wood through wooden toys and other products.
Reference: Wakayama Lumber Cooperative
http://wakayama-mokuzai.or.jp/topic/2019/2019-no2-mokuiku-inTanabe.pdf
Mr. Sakohira:
What makes wood education most effective is the experience of children touching wood. We want them to always have the feeling that "wood is nice".
Yabumoto:
Wakayama is a "Kinokuni"*. I learned a lot. I would like to hear from people who are actually in the mountains.
*Ki-no-kuni: Wakayama Prefecture has been called Kii-no-kuni since ancient times, derived from the word "Ki-no-kuni", meaning the country where the god of trees lives.
Reference: Wakayama Prefecture Tourism Promotion Division Tracing the origins of Kino Country
http://wakayama-rekishi100.jp/story/005.html
Mr. Sakohira:
Come and visit us in our mountains.
Yabumoto:
Yes. I would like to hear what the Chairman has to say. I am wondering what the Chairman sees in the mountains with his eyes.
Mr. Sakohira:
The Chairman also likes contemporary art.
Yabumoto:
Oh, really? I'd love to talk to him about that. Thank you very much.
<Related Articles>