Dialogue Project #25 School Education in Kinan and the Future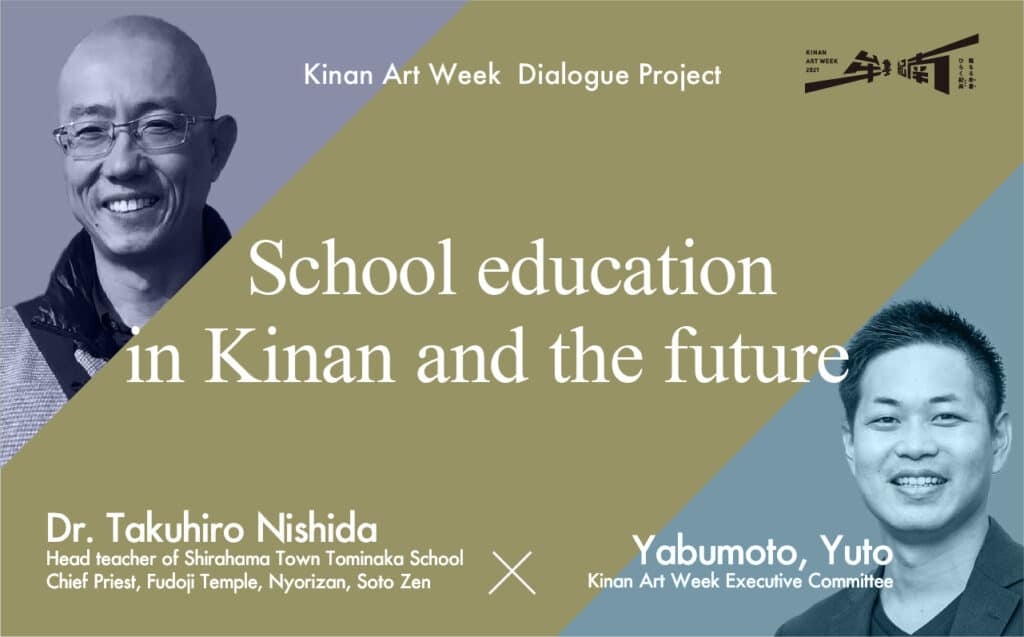 Kinan Art Week Dialogue Project #25
<Guests>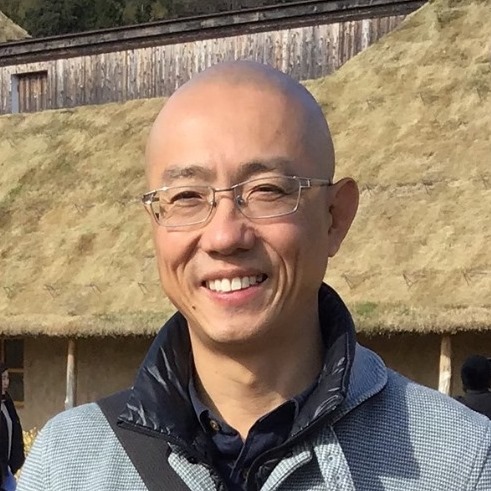 Vice Principal of Tonda Junior High School in Shirahama
Chief Priest, Fudoji Temple, Nyorizan, Soto Zen
Mr. Takuhiro Nishida
He has a keen interest in the Sustainable Development Goals (SDGs) and is working to communicate their essence and develop a sense of ownership in her students. She also sees challenges in the current state of school education, and is exploring ways to create a system where teachers themselves can take the initiative in solving problems.
https://tonda-j-h-s-shirahama-town.edumap.jp/
Health and Physical Education Teacher, Tonda Junior High School in Shirahama
Mr. Katsuya Funai
He has the important role of "Head of Year 3". As a teacher, she wants to nurture students who can envision their own future. She is also striving to become as good a teacher as her students.
Intervier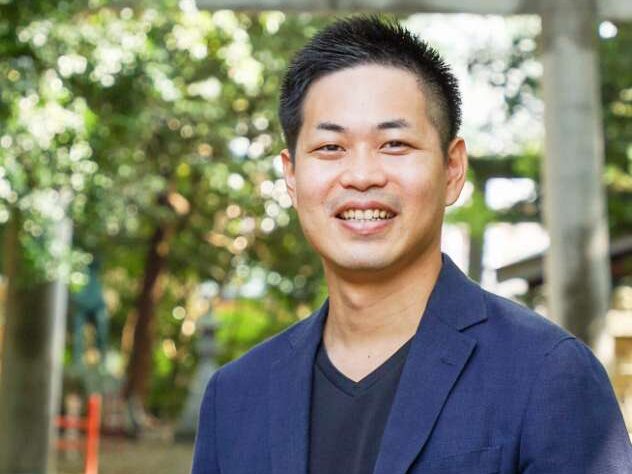 Yabumoto, Yuto
Kinan Art Week Executive Committee Chair
<Editing>
Kinan Editorial Department by TETAU
https://good.tetau.jp/
School education in Kinan and the future
Table of Contents
1. Introduction of the Two Guests
2. SDGs and Education
3. What are the Functions of a Secondary School?
4. Creating Spontaneity
5. Towards a Sustainable secondary school
6. Envisioning the Future


1. Introduction of the Two Guests
Yabumoto:
Thank you very much for your time.
Today, we would like to talk to you about what you both do on a daily basis, and about the future of Kinan and the challenges it faces in the future from an educational perspective.
First of all, please introduce yourself.
Mr. Nishida:
My name is Takudai Nishida. I worked at Tomita Junior High School for eight years from my first appointment. After working at Shirahama Junior High School for eight years, I came back to Tomita Junior High School for my tenth year as head teacher.
It was my first year at Tomita Junior High School and I was a homeroom teacher in Yabumoto's class. At that time, Yabumoto decided to name his class newsletter "Soramori (facing the sky)", and I remember the other students saying "Soramori, Soramori" happily. He always seemed to be enjoying himself.
At present I am also the abbot of the Soto Zen temple, Nyorizan Fudoji*. At first there was no talk of me taking over the temple, but when my father passed away suddenly, I decided to follow the path of a monk. I cherish my father's teachings: "Don't kill people, don't discriminate, and give a helping hand to those in need".
Reference: Fudoji Temple (TanabeTourist AssociationTanabe City, Wakayama Prefecture)
Video: Peace Bell atFudoji Temple in Tanabe on Hiroshima A-Bomb Day(August6,2020, Kii MinpoAGARA)
Source: Nyorizan Fudoji Temple, Soto sect21March2020, Takudai Nishida,Facebook)
Before I became a monk, I had taken two months of parental leave at work. I could feel firsthand how important and hard it is to take care of the house and raise children every day. It was really hard to cook meals for eight people and I could see how amazing my wife was. It was also at this time that I started to say to my children, "I love you! to my children on a daily basis (laughs). Those are the magic words that make a lot of things work!
However, it was the first time for a male to take parental leave in a junior high school in Wakayama Prefecture, and I think that the system managed to be taken with the help of many people. I think the world of education is unique in its work, but it has been slower than other industries in dealing with parental leave and maternity leave. The situation is changing, with more and more teachers now taking leave, but there are still many issues that need to be addressed, and I hope that some of them will be resolved.
Yabumoto:
Thank you, Mr. Nishida. Next, Mr. Funai, please introduce yourself.
Mr Funai:
My name is Katsuya Funai. I am from Shirahama Town. I have been a teacher for 11 years now, but I have been working at Tomita Junior High School since I first started, and I am also the advisor of the baseball team.
I played baseball with Yabumoto-kun from junior high school to high school. Although Yabumoto-kun is my junior, I think we have been friends since childhood, transcending the barriers of seniority and juniority. When I started teaching, I learned that Yabumoto-kun was working extensively overseas, and I was amazed to see that he was active in a world different from my own.
Last year, we were unable to organise a work experience course for our second year students, so we were hoping to get a talk from someone we don't normally get to know. When I thought about who I could ask, Yabumoto came to mind.
It was an invaluable experience for the students and myself to hear from such a world-renowned figure.
2. SDGs and Education
Yabumoto:
I saw on your Facebook* that you are very interested in SDGs*1 and you are actively introducing SDGs initiatives in your school. How did you come across the SDGs and how did you start working on them?
1 Abbreviation for Sustainable Development Goals, the international development goals for 2030 adopted by the United Nations in September 2015. 17 goals and 169 targets are to be met by developing and developed countries to achieve a society where "no one is left behind". The goals are to be achieved by developing and developed countries.
SDGs(Ministry of Economy, Trade and Industry
Reference: TakudaiNishida(Facebook)
Mr Nishida:.
I first became aware of the SDGs when I was training to become a monk. Originally, I was not aware of the SDGs at all. Through my training, I came to know about Malala Yusufzai*, who is appealing to the world for the importance of girls' education, and the key words SDGs.
See "Special Feature: Malala Yusufzai and Girls' Education" by Plan, aninternationalNGO.
After that, I came across the card game "2030 SDGs*", which allows students to experience the process of achieving the SDG goals, and through the card game, I wanted to make school students aware of the SDGs. After completing the training course, I was certified as a '2030 SDGs Certified Facilitator'. I used to be a facilitator at Tanabe Technical High School when they held a learning session on the SDGs using a card game*. Now I am not only conducting this program for students, but also for in-service training in schools, communities and companies.
Reference: Introduction of the card game "2030 SDGs" (Imaco Collaboration)
Reference: "Experiencing theSDGsthrough games: Tago High School considers the economy and environment"February18,2021, Kii MinpoAGARA)
I am also a certified educator for 'SDGs for School'*. I hope to not only implement initiatives to communicate the essence of the SDGs to students in schools, but also to nurture the "spontaneity" of students who learn about the SDGs so that they can take the lead in thinking about things.
AboutSDGs for School(Please supportSDGs for School,Think the Earth)
Reference List ofSDGs for SchoolAccredited Educators (Think the Earth)
Yabumoto:
What do you actually do at Tomita Junior High School?
Mr Funai:
The students have been asked to choose their favourite of the 17 SDGs goals* and work towards achieving them themselves. This initiative is being carried out under the supervision of the head teacher and is aimed at 83 third year students. For example, if they want to do a beach clean-up, we not only discuss the date, time and location, but also the fundamental question: "What can we do to reduce the amount of rubbish? For example, if we want to do a beach clean-up, we not only discuss the date, time and place of the clean-up, but also the fundamental issue of how to reduce the amount of rubbish.
Reference: Targets and Goals of the SDGs(Ministry of Agriculture, Forestry and Fisheries)
Of course, it is difficult to achieve all 17 goals, and sometimes our own initiatives do not work out. However, I believe it is important for each student to think and revise, "How can I achieve my goals?" I believe it is important for each student to think and revise.
Yabumoto:
I believe that in the future, if students can experience success after overcoming failures, they will be able to feel that they can do anything. Maybe one day the students will feel that there is nothing they can't do.
Mr Nishida:
I used to think about how I would teach my students, how I would lead them in the direction I wanted them to go. I used to try to teach them and guide them in the direction of what I wanted them to be, but I felt that in some ways I was taking away their opportunity to think. Now I believe in them and try to give them a learner-centred lesson, where the starting point is what they want to do or what they have questions about. When I try it, my students are totally motivated!
In addition, in a learner-centred classroom, I sometimes become aware of the diversity and potential of children. I feel that I am growing along with my students.
Since learning about the SDGs and becoming a facilitator of the 2030SDGs game, I feel that my own way of being and my teaching has changed a lot.
3. What are the Functions of a Secondary School?
Yabumoto:
What functions do you see the secondary school performing?
Mr Nishida:
I think it is important for us to ask ourselves, "What is the function of a secondary school? I think it is important for us to think proactively. For example, when a problem arises at school, we sometimes have trouble deciding how to deal with it. The Ministry of Education, Culture, Sports, Science and Technology (MEXT) has guidelines called "Courses of Study", but these are a map of learning and not a basis for making decisions in this kind of situation. What guides us is the dialogue we have with others about what is most important to us, and how we can proceed in the light of this. This is where the "function of the junior high school" will become clearer.
Reference: Guidelines for the Course of Study "The Power of Life" (Ministry of Education, Culture, Sports, Science and Technology)
ReferenceGuidelines for the Course of Study for Junior High School:published inMarch2009Revised Guidelines for the Course of Study (Text and Commentary), Ministry of Education, Culture, Sports, Science and Technology2009/30/31)
And for that dialogue to take place, we believe it is important to create a safe and secure space where teachers and staff can work together, across generations and positions, to consider better decisions and more satisfactory responses to solve problems.
Yabumoto:
This is exactly the kind of work that you do as a priest, and is very close to your values, ideas and philosophy.
Mr Nishida:
Yes, it is. So, if I may dare to define it, I would say that junior high schools have the function of "learning ethics". I believe that we need to foster "ethical thinking", which is not based on absolute values such as morality, but on thinking independently and creating a better way out of hesitations and worries. This could be very important for teachers and students.
Yabumoto:
"Learning ethics" is the very function that temples used to have. I think that the fact that junior high schools are taking on this function is helping to develop proactive people at an early stage. I think that in the future, people with initiative will be more important, and in this sense, junior high schools are playing a very important role.
4. Creating Spontaneity
Yabumoto:
In the earlier discussion about the function of junior high schools, you mentioned the development of ethical thinking and the fostering of proactive human resources, but have there been any moments when you have actually seen growth in the students at Tomita Junior High School?
Mr Nishida:
"There was one occasion when I was really impressed with the way the pupils were able to make things personal. Last year we had an evacuation drill on the hill behind the school, which is also an evacuation site in the event of a disaster. During the drill, the evacuation route was littered with fallen leaves and some of the third year students saw this and volunteered to help clear the route. I asked them to prepare a plan of when and what they would do, and they came prepared. When I asked them to come up with their own suggestions, they did so at the staff morning meeting! And they did it themselves!
This year, the students again felt the need to clean the evacuation route. At that time, they all got bitten by mosquitoes. Naturally, we were scolded by the school. However, I heard the students who organised the event say that they would take measures to avoid mosquito bites next time. I was amazed to hear them say that the activity had become a part of them.
Until now, we haven't had a lot of students planning things themselves and making mistakes as they go along. That's why I thought it was really great to see students like this. I was also very surprised to see how many of the students felt that even if they failed once, they could revise their plans and try again.
Yabumoto:
That's fantastic! In that sense, we can see secondary school as a place for education to create spontaneity.
Mr Nishida:
I think it's important not only for students to feel involved, but also for them to be able to learn by making mistakes. Sometimes teachers are afraid of making mistakes, and they become rigid, thinking "I'll never make a mistake". This can put pressure on the students. I think that if teachers show that they are not afraid to try, then students will feel that it is okay to fail. I think it is very important for teachers to show students how to take the next action even if they fail.
Yabumoto:
Teachers are also born in a system where they are not allowed to fail, so it is quite difficult for them to be spontaneous.
Mr Funai:
I myself have a strong feeling of "what if I fail…". I am sure that there are many other teachers who are afraid of failure. However, I believe that students grow up by watching the backs of their teachers, and for their growth, teachers themselves must change.
5. Towards a sustainable secondary school
Yabumoto:
You say that Tomita Junior High School aims to be a 'sustainable junior high school', but the question is: "Can the public school part and sustainability go hand in hand?" This is a question we have to answer. What do you think is the best way to create a system that can maintain and sustain a public school?
Mr Nishida:
After all, in these unpredictable times, it is necessary to foster a sense of ownership in schools. This is something that the OECD (Organisation for Economic Co-operation and Development)* has recommended in a project called the OECD Future of Education and Skills 2030 (Education 2030)*, which was launched in 2015. The OECD Learning Compass 2030*, which is part of the OECD Future of Education and Skills 2030 (Education 2030)* project, encourages students to think independently about what they can do to help society. The OECD Learning Compass 2030*, which was developed as part of the OECD Learning Compass 2030, sets out the direction for students to think and act independently.
Reference OECD
Reference OECD Future of Education and Skills 2030(OECD)
Reference Learning Compass 2030(OECD)
In a nutshell, this project is really an initiative to foster a sense of ownership. I believe that if we can do the same in our schools, if we can see local issues as our own business and act on our own initiative, we will be able to achieve sustainability as a school. I believe that it is possible for public junior high schools to create community-based systems based on this philosophy, as is being done in many leading private schools and high schools.
And while until now the ultimate goal of education has been focused on "economic development", from now on the goal should be "individual and social wellbeing". Children with a sense of ownership will be able to create a happy individual and society, both now and in the future.
Yabumoto:
When you think about the sustainability of public schools from another point of view, for example, from an economic point of view, I think there will be issues such as financial resources. It may be difficult because of our position as a public school, but if we can also work with companies, we may be able to become a sustainable school.
Mr Nishida:
In extreme cases, I think it would be great if junior high schools could make their own money by signing sponsorship agreements with companies. In order for this to happen, I think it is necessary for the community, the school and the company to all be connected, rather than the relationship ending at "school and company". Eventually, if the community takes the initiative to support the school, it may be possible to increase the financial resources of the public school.
Yabumoto:
It could be said that public schools are the very foundation of society. However, the question remains: are public schools the best place for initiatives such as those being implemented at Tomita Junior High School to create spontaneity? But is it the best way to do this? With this in mind, would you be interested in establishing a private junior high school?
Mr Nishida:
Public schools cost a lot of money, but they are interesting in the sense that they can meet a variety of needs.
Yabumoto:
By all means, let's do it! Now we just need to figure out how to make it happen.
In the future, I would like to run museums and galleries as a designated manager*4. For this purpose, I am planning to carry out a demonstration experiment at a museum next year or the year after. If we can successfully commercialise the system, we would like to be able to take on educational functions in the future with the help of the government. The first thing we need to do is to see if we can commercialise it (laughs).
4 An entity designated by a local government to manage and operate public facilities.
Designated Manager System (Wakayama Prefecture Website)
Mr Nishida:
I am really amazed by your energy, Yabumoto. I think it's great that you're not just talking about ideals, but that you're making steady progress, step by step.
Last year, when Yabumoto-kun asked me to have a conversation with him, I had no idea how the project would work. However, I believe that you will be able to turn Kinan Art Week into a sustainable art event, and I'm sure that your future projects will go well too.
6. Envisioning the Future
Yabumoto:
The key word "2030" appeared in both the "SDGs" that you mentioned at the beginning of your talk and in the OECD's "Education 2030" that you mentioned earlier. Nine years from now, what kind of future do you envisage for 2030?
Mr Funai:
First of all, I would be happy if the students of Tomita Junior High School became fine adults, and I am sure that the SDGs initiative for third-year students will help them in their future, as it is also a training for them to take voluntary action.
Yabumoto:
This is exactly what we need in public schools: mobility between the public and private sectors. For example, we should replace personnel between public schools and public schools, or we should move between businessmen and civil servants. From the point of view of financial resources, we will eventually have to ask for help from the private sector, so I feel that this kind of system will be necessary in the future.
Mr Funai:
In my talk with Mr. Yabumoto today, I felt that what we, as teachers, should aim for is to nurture people who can draw their own future. Many of our students say that they don't know what they want to do in the future. That's why I want to see more students like you, Yabumoto, who can talk about their future with joy.
Mr Nishida:
I believe that Yabumoto is able to achieve his dream because he always has a positive attitude, which has not changed since he was a junior high school student. Through Kinan Art Week, people who have never had the chance to come into contact with art may become interested in it. We look forward to seeing more of Yabumoto's work in the future.
Yabumoto:
Thank you very much for your time today.
Mr Nishida:
Thank you very much.
Mr Funai:
Thank you very much.
<Related Articles>