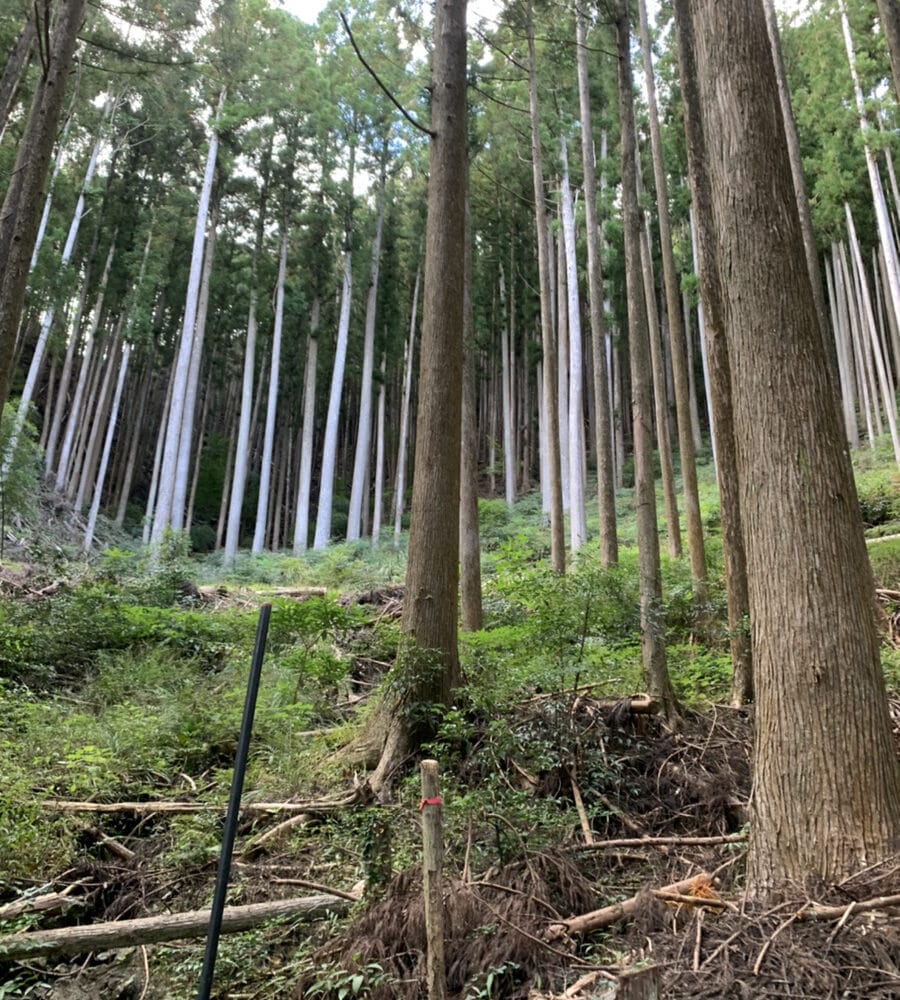 Preserving traditions and passing them on to the future – The state of forestry and agriculture –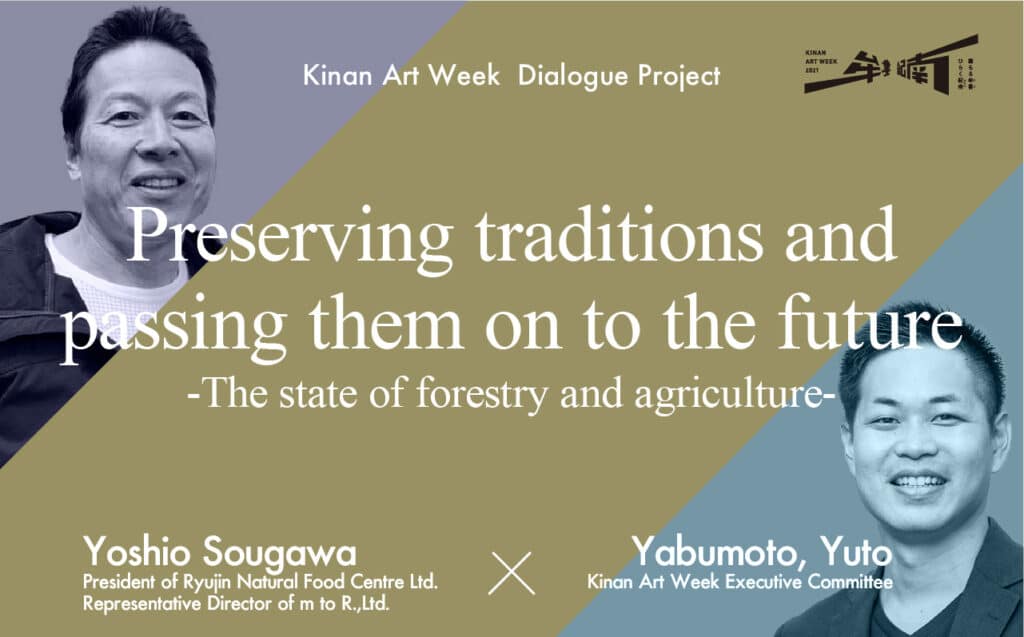 <Guests>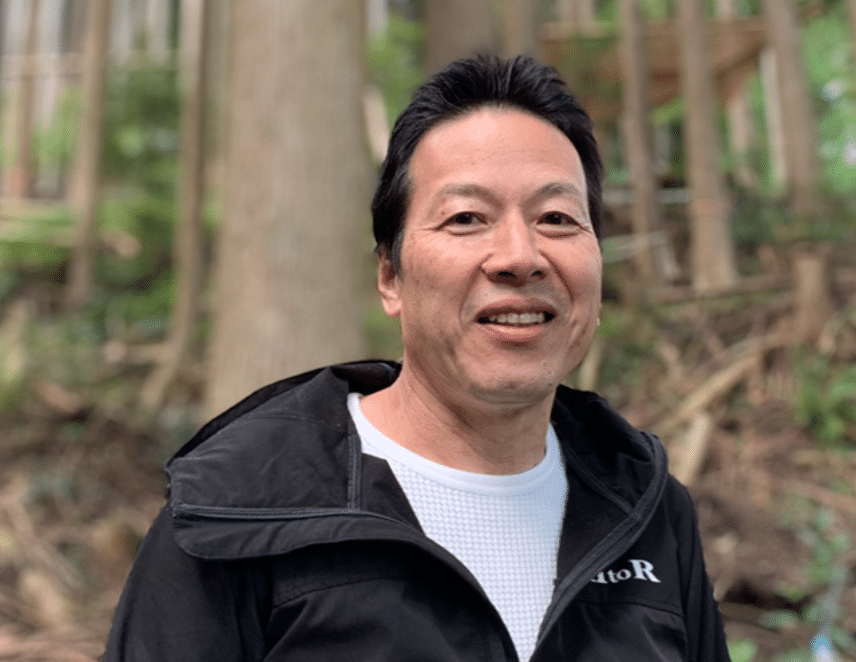 President of Ryujin Natural Food Centre Ltd.
Representative Director of m to R Co.,Ltd.
Yoshio Sougawa 
He is a lumberjack and farmer in the Ryujin area of Tanabe City. He manages all aspects of his business, from forest management to the production of products from the trees he cuts down. His goal is to "preserve the forests we have now for the future", which has remained unchanged since he took over the family business.
His company also grows their own ume(Japanese apricot)and shiso(Japanese herb), and produces their own ume products such as umeboshi(pickeled plums) and plum wine. He has a strong belief that he wants to produce genuine ume, so he carefully cultivates ume from the raw materials and creates a brand called "Ryujin-ume" which makes the most of the natural acidity of ume. The company hopes to pass on Wakayama's ume to the future for decades and centuries to come.
Information website on natural farming methods practiced by a Ume farmer in Ryujin Village.
Ryujin Natural Food Centre Online Shop
m to R Co.,Ltd.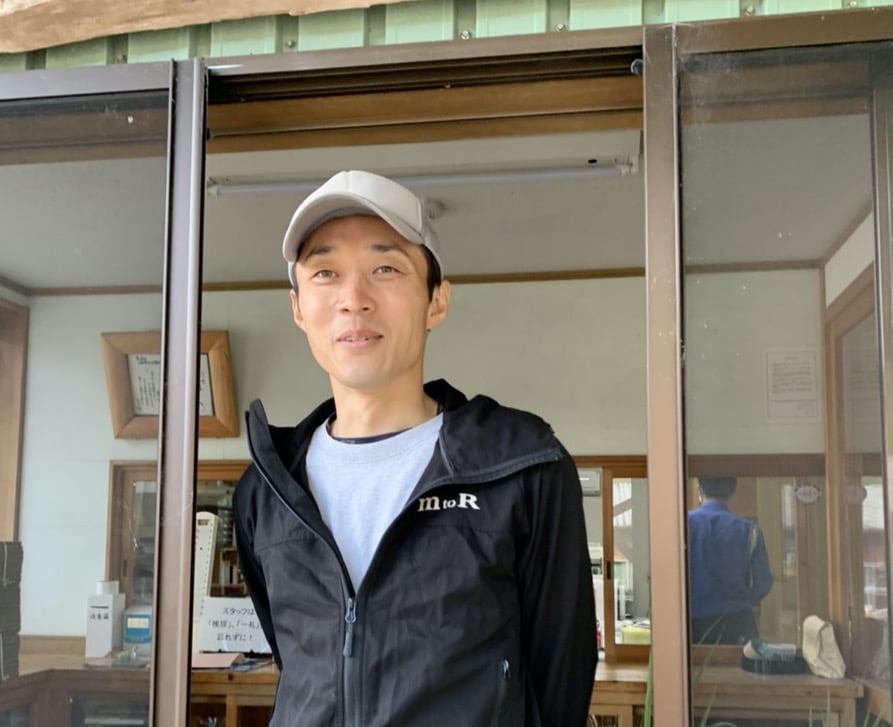 Ryujin Natural Food Centre Ltd. Staff
m to R Corporation Staff
Naohiro Itani
He is a young employee in his second year with the company.  He joined the company because he admired Mr. Sougawa 's work style. He is also good at office work and is in charge of updating the website and other computer-based tasks. He says, "I am always following the president around," and through  his daily work, he is deepening  his knowledge of forestry and agriculture. He is learning a lot from Mr. Sougawa  and is striving to become a leader in forestry and agriculture in the future.
<Interviewer>
Yuto Yabumoto
Kinan Art Week Executive Committee Chair
<Editing>
Kinan Editor by TETAU
https://good.tetau.jp/
Table of Contents
1. The current state forestry and agriculture
2.  How to deal with mountain forests
3.  Enthusiasm and belief in the work
4. What is the attraction of Ryujin?


1. The current state forestry and agriculture
Yabumoto:
Thank you very much for taking the time to talk to us. Today, we'd like to hear from two people who are involved in forestry and agriculture about the current state of the industry and the relationship between people and mountains. Please tell us about the current situation in forestry and agriculture.
Mr. Sougawa :
The biggest problem in both industries is the lack of successors. However, there are other problems too, so for now I will focus on forestry and agriculture.
The first thing that bothers us in the forestry industry is that the forests are not well cared for. If they are not carefully tended, the roots of the trees die and heavy rains can cause landslides. Some companies leave the trees unplanted after felling, which leads to a vicious circle of disasters. Of course, we take good care of our forests, so there is no such problem.
Yabumoto:
This is my hypothesis, but in that sense I think we can learn a lot from the woodcutters.
Mr. Sougawa :
When we take care of the forest, we thin out the trees as they grow to allow enough light to enter. When the trees are 70 to 80 years old, they are cut down to make way for larger trees. In natural thickets, the thickest trees are cut down and the thin ones are left. This is called thinning*1 and we have been doing it in the same way for a long time. We believe that by thinning the trees, we can leave them for the future. That's why it's really hard to believe that there are businesses that can't manage their forests properly.
*1 A silvicultural technique in which unsuitable trees are cut down as they become overcrowded to give the remaining trees more light and space. If left unthinned, the overall growth and fertility of the trees will be inhibited, and dead and overstressed trees will result.
Yabumoto:
Perhaps the emphasis is more on the "production" of planting trees and less on the "decomposition" of using the cut down trees for other purposes. . I had a conversation with a fisherman who told me that the situation is similar in the fishing industry. Aquaculture is one of the reasons for deflation, because although the amount of production has increased since aquaculture was born, in the end the price of fish has fallen. In other words, we've become so focused on production that I think the whole industry has gone mad because of it.
Mr. Sougawa :
The price of forest products is also much lower than it used to be. I think this is because more and more businesses are not able to take good care of their forests because they cannot make a profit no matter how much they ship. After all, you can't protect trees by felling them in a way that leaves the mountain bare and unattended. We will continue to care for our trees in the way we have always practised, and leave the forests we have for the future.
2. How to deal with mountain forests
Secretariat photo
Yabumoto:.
Mr. Sougawa,   you are the president of "m to R Co., Ltd.", which is engaged in forestry, manufacturing and sales of woodwork and furniture*, what exactly are your responsibilities?  You mentioned earlier that you are taking care of the forests and thinning the trees.  Could you tell us more about this?
*Reference Company profile (mtoR Co., Ltd.)
Mr. Sougawa :
In our company, we do everything from managing the forest to turning the felled trees into products. We do not ship the thinned trees in their original state, but leave them to dry naturally in the sawmill for processing.
Yabumoto:
Is thinning done on a regular basis?
Mr. Sougawa :
We cut down the trees during the new moon period in November and December. This is a method of felling that has been handed down from generation to generation since the days when there were no preservatives. We focus on the "season of trees" when logging, but  the new moon season, from autumn to winter, is the best time to cut down the trees*. Trees cut down during the new moon season are dried in the mountains and made into products. The naturally dried wood retains its natural oils, which makes it shiny and resistant to stains and insects, so the wood lasts longer.
*Reference: "Tree of the new moon": the magic of the moon protects the forest" (Law Hus Club, a non-profit organization)
*Reference "Q&A on gardening soil "Q3: What types of soil are available? (Sumitomo Chemical Horticulture)
Yabumoto:
The fishing industry is also suffering from a lack of successors, with some areas having only 90 year old fishermen. In particular, I think that mountain people and sea people tend not to leave behind any kind of "work manual". In this sense, successors may be facing difficulties in taking over the business.
3. Enthusiasm and belief in the work
Yabumoto:
Mr. Sougawa , how long have you been involved in forestry and farming?
Mr. Sougawa :
Originally, my grandfather was a forester and later, as a farmer, growing ume, rice and shiso. If you include helping out in the family business, I have been doing this since I was a child, but I didn't really get involved until I was 40. Actually, when I was 27, I had a fight with my father and left home to work as a used car salesman in Tanabe (laughs). I've been through a lot, but now I'm working hard with my employees.
Also, when we work on the farm, our employees bring their own children to work with us. Both Mr. Itani and I have brought our children to the fields many times. When you actually grow and eat the crops yourself, you understand how hard it is to cultivate them and how "grateful" you are to be able to harvest such fine crops. Farming just to work is too hard for me to continue, so I prefer farming where there is the joy of harvesting. I am sure that this will motivate our employees.
Yabumoto:
I see. Why did you want to work in forestry and agriculture, Mr Itani?
Mr. Itani :
I joined the company because I admired the way the president worked and I wanted to work with him. It's been almost three years since I joined the company. I'm always following the boss around (laughs).
Mr. Sougawa :
Mr. Itani  can also do office work, so he does a lot of work using the computer, such as updating the website. This goes back to what I said earlier about the work manual, but some operations can be communicated to employees in a manual format. There are some tasks that can't be explained in words, that are done by feeling, and it's difficult to teach them.
Yabumoto:
This is exactly what Mr. Sougawa  does, he creates his own style and I feel that there is a "beauty" in such a sensual part of his work.
Mr. Sougawa :
We are probably one of the fastest at thinning trees (laughs). 
Yabumoto:
That's fantastic! What do you usually keep in mind when you work?
Mr. Sougawa :
When it comes to farming, and in particular to making umeboshi, we are very conscious of the importance of making real umeboshi. Nowadays, umeboshi are usually made from ripe umet that have been pickled and desalted to make them easier to eat. But from my point of view, today's umeboshi is not "real umeboshi".
Yabumoto:
What makes you think, "These aren't real umeboshi"?
Mr. Sougawa :
Fully ripe ume contains less citric acid than green ume, so it is difficult to feel the natural sourness of ume. In addition, desalinating ume plums causes their citric acid and other healthy ingredients to be lost*. That's why we grow our green plums without agricultural chemicals and make the best use of the sourness of the ume in our traditional umeboshi. Our 'Ryujin Ume' is particularly popular with city customers.
In fact, my belief in making real pickled plums is because I was fascinated by the Kyushu style.
*Reference Ryujin Ume 's specialties (Ryujin Natural Food Center Ltd.)
Yabumoto:
What are the methods used in Kyushu?
Mr Itani :
In Kyushu, there is a strong desire to make real umeboshi. 
Mr. Sougawa :
That's right . In Kyushu, ume are grown with great care. In addition to umeboshi, the plum wine from Miyazaki and Kagoshima is also very tasty. Both the ingredients and the products have a real taste.
Moreover, Kyushu values local specialties and other products, and they are very conscious of "leaving them to the future". Kyushu's style is really good culture and I think it is important for us and all ume farmers in Wakayama prefecture to make "real pickled plums". By doing so, we can leave the ume of Wakayama to the future, don't you think? I think so.
Yabumoto:
We need to dig up and re-organise the "valuable things" that are lying dormant in our local area. If we don't do this, we may end up with nothing left in the future, decades or centuries from now. As for me, I would like to export "good local products" to the whole world after rearranging them. I would be happy to help local players like the "farmers who make real pickled plums" mentioned by Mr. Sougawa  to be active in the whole world.
4. What is the attraction of Ryujin?
Yabumoto:
What is the attraction of the region of Ryujin? As the name "Ryujin" suggests, I think it is exactly the place where the dragon gods live. Have the two of you ever met the god?
Mr. Sougawa :
What do you think? (Laughs)
Mr .Itani :
It's hard to say that we've met clearly, although there may be a feeling.
Yabumoto:
I'd rather hear about that part (laughs). For example, have you had any strange experiences in the past, such as getting the feeling that you can see invisible things?
Mr. Sougawa :
Early in the morning, when you go into the mountains, you can sometimes see a sea of clouds. I felt as if a dragon could come out of the sea of clouds, it was truly sacred.
Mr. Itani :
It's really beautiful.
Mr. Sougawa :
I feel like there is some kind of power in it. It's a really divine sight, and when I see the sea of clouds, I think again that mountains are great.
Yabumoto:
I see. It's a beautiful landscape that Ryujin is very proud of, and I think it should definitely be preserved for the future. In that sense, what do you want Ryujin to look like in the future?
Mr. Sougawa :
We want all the producers in Ryujin to be self-sufficient, not only in forestry and agriculture. For example, we grow shiso, but we buy the seeds from outside. If something were to happen to the company that sells the seeds, we would not be able to buy the seeds and it would be difficult to grow shiso. So in the future we hope to be self-sufficient in everything, including the seeds.
Ryujin also has mountains with rich nature, and it would be interesting to use them as a playground for children. If we can promote it as "an activity that can be enjoyed in Ryujin", tourists from outside will come to visit. It is only a possibility, but this kind of initiative may lead to the revitalisation of Ryujin.
Yabumoto:
As for me, I think it's okay to go in the direction of "conveying the charm of the mountains as they are now". The theme of this Kinan Art Week is "to open up while staying in". In that sense, I think it's important to think, "What can we do to open up to the outside world after we've gone through the stage of rethinking our hometown? I think it's important to think about that. I think it's important to think, "What can we do to open up to the outside world?
Also, as Mr. Sougawa says, I think it's a great idea to start from the point where "producers aim to be self-sufficient". In the future, my ideal situation would be for some local players to compete with each other in friendly competition to earn foreign currency. In this sense, I think that your company should expand its activities not only in Japan but also in the world. I believe that if we can find a way to export our products to all over the world, regardless of whether it is forestry or agriculture, it will ultimately lead to the maintenance and development of the Ryujin region.
I myself would like to visit the mountains first to feel the richness of nature. One day I would like to see the beautiful sea of clouds that Ryujin is famous for.
Mr. Sougawa :
Let's go and see it together! I'm sure Yabumoto will be very impressed when he sees the sea of clouds.
Mr. Itani :
We'd love to hear your thoughts on it.
Yabumoto:
I'm really looking forward to it! Thank you very much for taking the time to visit us today.
<Related Articles>