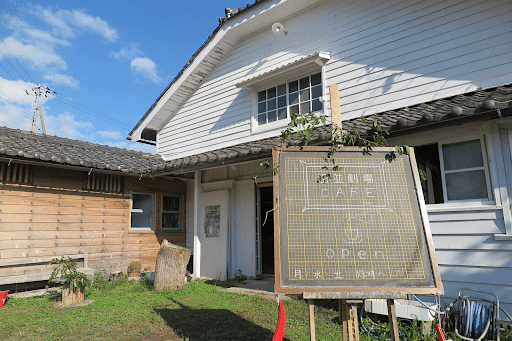 Dialogue#39 Stories of a connected world- Being able to see from the barge door-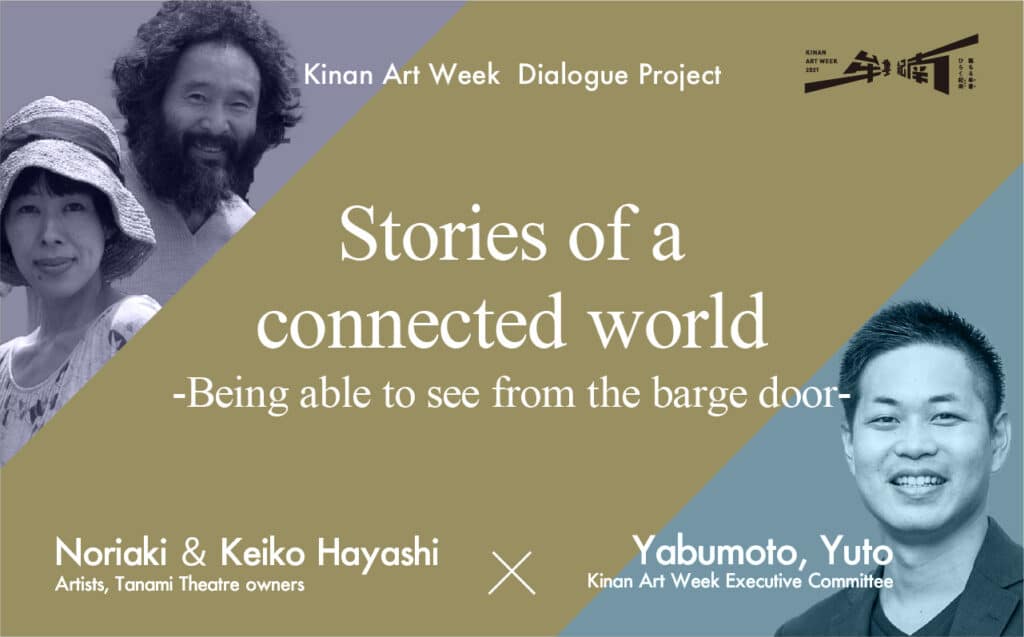 [Our guest this time]
Artists,Tanami Theatre owners
Mr. Noriaki Hayashi.
Mrs. Keiko Hayashi
In Tanami, Kushimoto, Wakayama Prefecture, an artist couple spent four years revitalising a derelict building that was on the verge of collapse by themselves, and in the summer of 2018 they restored it as the Tanami Theatre. The couple had been based in Tokyo and engaged in artistic activities around the world, but when their child was born, they decided to move to the area, saying that they wanted to raise their child on the soil. They moved to Tanami, where they had a connection with an art event, because they could find more inspiration for their creative work in nature. While living close to the sea and mountains, they organise and manage many events.
[Interviewer]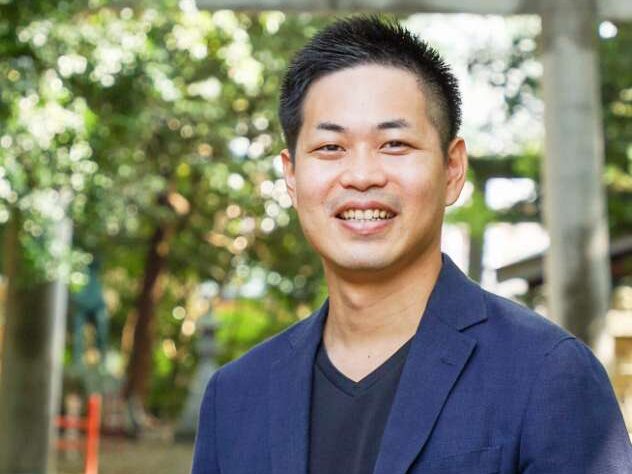 Yuto Yabumoto
Chairperson of the Kinan Art Week Organising Committee
<Edited by>
Kinan Editorial Department by TETAU
https://good.tetau.jp/
Stories of a Connected World
Table of Contents
1. Introduction of Mr and Mrs Hayashi
2. Meeting Mr and Mrs Hayashi
3. Nature-rich life in Tanami
4. Activities at the Tanami Theatre
5. The Tanami Theatre as a place to connect
6. Life in Tanami is state-of-the-art!
7. Living with the sensibilities of the Jomon people.
8. Existence of mountain gods.


1. Introduction of Mr and Mrs Hayashi
Yabumoto:
Quickly, please introduce yourself, including your background and past activities.
Keiko
It has been exactly 12 years this month since I moved from Tokyo to Wakayama.
Yabumoto:
I would like to hear about the roots of how you came to work in Tanami. Noriaki, you are a graduate of the Tokyo University of the Arts. Where were you born?
Noriaki:
Toki City, Gifu, is a pottery town. My maternal grandmother's house was a pottery kiln. When I was a child, I used to make things out of leftover clay and have them fired.
Yabumoto:
So that's where your roots as an artist lie. What made you decide to go to the Tokyo University of the Arts?
Noriaki:
I wanted to study science, and I thought I would go to university to study science. I was a child who really liked living things, and I liked looking for mushrooms and wild vegetables in the mountains.
Yabumoto:
You were leaning more towards biology?
Noriaki:
Yes. But in the summer of my senior year of high school, for some reason I suddenly decided to go into art, so I took a year off and entered Tokyo University of the Arts. People around me were surprised (laughs).
Yabumoto:
Do you think that had any unseen consequences? Tokyo University of the Arts isn't a place you can get into after taking a year off.
Noriaki:
I was lucky in many ways (laughs).
Yabumoto:
What was your department?
Noriaki:
I was in the oil painting department, but it was a cutting-edge international art department where we did everything.
Yabumoto:
It's not at all like the name.
Noriaki:
I was in the 'Western' department. There were some interesting teachers there. They inspired me to pursue a career in contemporary art.
At that time, I used to represent the visible landscape in three-dimensional and two-dimensional forms. After graduating from university, in 2000, when I was about 30 years old, I won the Grand Prix at the Philip Morris Art Award, which Philip Morris was doing at the time. That allowed me to exhibit in New York and broaden the scope of my activities, but for some reason I moved to Mexico.
Yabumoto:
Mexico? What year did you go?
Noriaki:
Around 2002. I thought it would be interesting to go to a place that was neither American nor European, so I somehow ended up in Mexico. When I went there, I found the traditional Mexican primitive art* and the art created by the fusion of cultures after the Spanish conquest interesting.
*Primitive art – This includes prehistoric art as well as the art of uncivilised tribal societies. The simple, clear and intense instinctive figurative expression of Black African sculpture and the works of Oceania's primitive peoples has had a major influence on 20th century art movements such as Fauvism, Cubism and Expressionism since the Impressionist movement.
Reference: Encyclopaedia of Japan (Nipponica).
In Mexico, there is dynamic art of the mural movement* such as the Siqueiros, and I actually looked at those works very closely in an art book in the art room when I was in high school. It was only when I went to Mexico that I realised that the artworks I was looking at at the time were in Mexico. Everything I was looking at back then was here!" I felt a connection with the country .
*Mural Movement: art movement that emerged in Mexico, centred on Siqueiros, Rivera and Orozco, who wanted to create art suitable for the new era after the Mexican Revolution (1911), depict the significance of the revolution in murals and communicate it widely and for a long time among the masses.
Reference: World Encyclopaedia, 2nd ed.
Mexico is simply associated with the sun, so I thought about what I could do with the sun's rays and started doing what is known as blueprints or sunlight photography* in the region. That's when I started making my sunlight photography work.
*Sunlight photography – photographic toys that apply chemical changes. Also called blueprints. A thin sheet of printed picture (taneita) is overlaid on low-sensitivity sunlight-sensitive paper (tanegami), placed in a small glass frame, exposed to sunlight for a few minutes to burn it, and then dipped in water to finish.
Reference: Encyclopaedia of Japan (Nipponica)
I stayed in Mexico for two years. After living there for that long, I became somewhat fluent in Spanish, so I decided to go to Europe. So I went to Spain and worked as an artist-in-residence* and received a scholarship, and then returned to Japan.
*Artist-in-residence: An artist stays in a certain place for a certain period of time to create artworks and conduct research in a cultural environment different from the one in which he/she normally lives. Or a project that supports the artist's residency.
Reference:Bijutsutecho
Yabumoto:
You've been to Spain?
Noriaki:
I lived in the Basque* in Spain. It is a place with incredible food. .
*Basque – The Basque Country is an autonomous region in northern Spain. It lies to the west of the Pyrenees mountains and to the north faces the Bay of Biscay in the Atlantic Ocean. Basque cuisine is a cuisine created and developed among the Basque people living between Spain and France.
Reference: Wikipedia.
There is a pilgrimage route there called the Camino de Santiago*. So I decided to walk the path there and spent about a month.
The Camino de Santiago and the Kumano Kodo are registered as pilgrimage paths on the World Heritage List, so I thought I had to walk the Kumano Kodo then. I walked it after I came back to Japan.
*Camino de Santia – pilgrimage route to Santiago de Compostela in Galicia, Spain, the holy city of Christendom. Mainly refers to the route from various parts of France through the Pyrenees Mountains to northern Spain.
Reference: Wikipedia.
I walked on the Kohechi road from Mt. Koya.
After that, an art event called 'Mori no Chikara*' was held in Kinan, and they were looking for artists. I was selected as the first invited artist for my presentation of a work inspired by my experience of writing about my walk along the Kumano Kodo, and I stayed and worked in Chikatsuyu and Nonaka in Nakahechi Town for about a month and presented my work. That was in the spring of 2008.
*Kohechi – Kumano Kodo Kohechi road connects the sacred sites of Mount Koya and Kumano Sanzan in the shortest distance.
This is the most rugged of the Kumano Pilgrimage Routes, traversing the central part of the Kii Peninsula from north to south and crossing three mountain passes over 1,000 m high, including Mount Oboko on the way.
Reference: Tanabe City Kumano Tourism Bureau.
*Mori no Chikara – The "Power of the Forest" project, which is implemented as part of the Wakayama Prefecture Kinokuni Forest Creation Fund, invites artists to the rich forests of Kumano, which have nurtured history and culture, to discover the charm of the forests from a new perspective through on-site production, and through exchange between people invited from inside and outside the prefecture and local residents, the wonderful nature of Kumano's forests is brought to life. Project aimed at disseminating information.
Source: Mori no Chikara Facebook
Keiko came with me, and we made various connections in Kinan. I had an exhibition in Europe with the work I produced then, and after returning to Japan and giving birth to my first child at home, I experienced life as a four-month artist-in-residence, in Shodoshima. Before returning to Tokyo, I wanted to say hello to the Kumano Gods and visited a friend I met in Nakahechi. She was in Tanami, so I visited Kushimoto for the first time. When I returned to Tokyo, the mountains, sea and darkness that had been so close to me during my previous travels and residencies were far away. Besides, I wanted my son, who had started crawling, to walk on soil instead of asphalt. So when I heard my friend was leaving her house in Tanami, I said, "Well, let's go then!" And then, poof! I moved to the city in the early 1990s.
Yabumoto:
Where did you two meet?
Noriaki:
After returning from Spain, we met in downtown Tokyo. It is a town with many art events and remnants of the old Edo period.
Keiko:
I had a connection there and lived there while helping with art events. At one point, Noriaki was helping a mutual architect friend of ours with carpentry work on a site that was being renovated. I had graduated from university at the time and was apprenticed to a joiner, so after we got to know each other I would sometimes bring my tools to the building site to visit him.
Yabumoto:
You were a joiner?
Keiko:
There are only a few craftsmen in Tokyo who still feel the Edo period. I collected the tools in Asakusabashi, cared for them myself, and the craftsmen took me to lumberyards and various job sites. This experience is now being put to good use here. I didn't expect to fix such a big shed with broken roof tiles, but I had already started renovating it before I met him.
Yabumoto:
You two shared a similar atmosphere then..
Keiko:
We have mutual friends, but our generations are completely different (laughs).
Noriaki is more lively and produces better work in the forests of Shodoshima and Kumano than in Tokyo. If it had been just me, I might still be in Tokyo, but if I wanted to be part of a family with him then this wasn't the place.
We wanted to bring up our children in nature, but for the sake of his creativity, I thought, "Tanami was a very fitting setting for our new life as a family!" . He didn't think about it at first because I had never lived in the countryside before, but I said, "Let's just go there!" When I suggested it, he said, "What? Are you sure? Let's go then! "
We came to Tanami on 4 October 2009, the day of the full moon. We chose the full moon day because there are no street lights around our house and we had to unload by moonlight.
Yabumoto:
That was quite the story. Where are you from?
Keiko:
I'm from Sendai. I went to university and came to Tokyo.
My father loved art and music and we went to see performing arts together once a month. He wanted to show really cool things. I was very excited to go with him. We weren't allowed to have cartoons, TV or games at home, so I didn't really get along with the other kids around me (laughs). My father was a Christian, so we went to church together. I was interested from a young age in things like faith, which supports people's lives, and I was influenced a lot by my father.
I have always liked art. I really wanted to go to art college, but my father stopped me. This is because he had seen many other artists struggle. But I wanted to leave home , so I studied architecture in Tokyo.
But even during my studies, I got more and more involved with art, and my teacher kindly allowed me to graduate (laughs). I was more suited to art than architecture, but I was interested in buildings and architecture as a space that surrounds me, as something that draws out the power of a place.
Yabumoto:
Can you tell us about your family's life in Tanami, the theatre renovation and the art activities you do in Tanami?
2. Life in Tanami
Keiko:
We moved here in the autumn of 2009. I was very impressed by the beautiful sunsets. When we came here, our first child was not yet one year old. We started a new life in a place with the sea, mountains and total darkness. We live in the mountains, but in the evenings I loved coming down to the seaside and watching the sun setting over the sea and the ever-changing sky.
The river is really clean here. There is no running water in the house where we live now, so we pump water from the river.
I also make dried plums and miso by hand. I tried my hand at farming, but there was a lot of damage done by wild animals. Especially as our house is in the deepest part of the village in the mountains, the animal would take all the crops. One day the potatoes we grew were wiped out by a wild boar, so he started hunting to avenge them .
We make our own traps and get enough deer and wild boar from the mountains for our own food. We process them into ham, bacon, etc., make soup stock from the bones, tan the skin, etc. We make entire use of its life.
We receive seasonal wild vegetables, nuts and the bounty of the sea, and our rice is cooked over wood. We also use wood for the bath and stove, and although it takes a lot of time and effort, I think it is a very relaxed and rich lifestyle.
I wanted to have a place where I could share with others the many things I have received from living here. I also felt the need for a place for culture and exchange as my children grew up.
I've always been curious about this theatre in front of the station. And when my daughter started nursery school, I decided to find the owner and make this a place where people could come together again.
But at that time this theatre was a ruin on the verge of collapse, with ivy tangled and plants growing from the roof. The building had been used by various people for various purposes, so it was full of stuff and in a really bad state. I heard from local people that this used to be a cinema, and I thought that if it had been a cultural institution, it would be a place where people could gather again and share various things, so I decided to do my best to fix it up.
It took four years to clear out the inside, empty it out, fix the roof that fell from it, and renovate the building with seismic reinforcement. The two of us worked hard and taught ourselves what we didn't know.
Eventually, all the soil on the roof was taken down except for that used for the ridge tiles, and 6,000 tiles were fixed over a period of six months. When you're working on the roof, you can see the sun setting into the sea. When the sun goes down and the temple bell rings, we finish our work and say, 'Ah, the day is over'. It was hard work, but it was exciting for us because we could see what we were doing, and it was a lot of fun and fulfilling.
3. Activities at the Tanami Theatre
Keiko:
During the renovation work, we also tried to create a gallery for art events, workshops, a small café and an exhibition space.
Since we started film screenings in 2018 with a selection of posters from this theatre, we have been doing a lot more than just films, such as rakugo, theatre, live music events, organising original picture book exhibitions and inviting authors.
We also had a karuta tournament on the subject of Kinan and a games tournament on a big screen showing a film. When it was difficult to get people to come to the Corona pandemic, we thought of a project that could be done online. When the local high school drama club won second place in the Kinki competition, they gave a triumphant speech!
Whenever possible, related books are purchased for film screenings to enhance the Tanami Theatre library. We have also created a corner to enjoy the world of the film by making life-size horses for films featuring a girl lifting a horse, or fire for films about fire-breathing monsters, out of cardboard and veneer.
At one point, we also held weekly modelling classes where we enjoyed various methods of creation and expression with the children. When we played with crow characters(*) from the Kumano Goofu, the nameplate of Kumano Hongu Taisha shrine, I also tried to assemble the characters for "Tanami Theater" with many crows.. As much as possible, I try to play with ideas inspired by or developed from things associated with this land.
*crow character: Kumano Goofu (Goo treasure seal), also known as 'Okarasu-san' (crow characters), is a unique Kumano Sanzan (Hongu, Shingu and Nachi Grand Shrines) deity seal written in crow characters.
Then there is also a history of immigration in Tanami.
Many immigrants from Tanami went to Hawaii and the USA, and some went to Australia to work as pearl divers, and the objects they brought back to show their children back home now lie in an abandoned primary school. Noriaki once exhibited a tribute to them at an art event at Tanami Station. The work looks at the future that they risked their lives to connect in a distant foreign country, and that is now here.
Tanami also has a connection with Turkey, so we held workshops with local children to make large Turkish lamps and sunk them in the sea, and exhibited our work in a forest that was once a centre of sun worship. Through the Tanami Theatre, many things are connected and we have made many discoveries, which in turn lead to our creative activities.
Yabumoto:
It's wonderful. You are ahead of what I want to do and I am nothing but impressed.
4. The Tanami Theatre as a place to connect
Yabumoto:
You are truly a producer and a place-maker.
What kind of place is Tanami for you both? Do you have any ideas about the kind of place you would like to make it?
Noriaki:
No, not really. .
Keiko:
Our thinking is that we come from the outside and are allowed to live here. We are aware of what we can do here. We do want to share the treasures we have here with people from all walks of life. The number of elderly people who tell us about the land is decreasing.
Yabumoto:
There are only so many people you can meet during fieldwork.
Keiko: .
Just by living here we have the opportunity to learn many things. When we are told an old story, we can go and see and experience the site together. We can still go to the site of the story, like the river where the kappa (river imp) was, or the waterfall where the white snake came out!
We are here now because of various coincidences, but we feel 'called' by something. The place where we live now, where our home is, is in the deepest part of the mountains in Tanami, and the theatre is a five-minute walk from the sea. It's kind of like we're allowed to be both the head and tail of Tanami. I always want to make it a place that is well ventilated, unbiased and a place where many things can circulate.
Noriaki:
This whole area is very depopulated. When you go to the countryside anywhere in the country, there are fewer and fewer people, and only the elderly are left. There is no middle generation – there are no 20-somethings. Because of this , the cultural upbringing is very weak. I feel that the most energetic segment of the population, like in urban areas, is very thin here. We are trying to find something in the remote areas that we can communicate and appeal to people.
We also intend to choose films to be screened that can be enjoyed by people of all ages. Even in the gallery, I feel that it is not a good idea to show contemporary art that was born in the city.
I think it would be interesting if a culture unique to this place could be born and grow out of this land.
Keiko:
The 2011 earthquake and the Corona pandemic have led to an increasing number of new migrants who have reconsidered their livelihoods. Some want to make their own food to eat. We want to be a receptacle for these people. But I don't want Tanami Theatre to be a place where only migrants gather. I would be happy if I could connect with local people. I hope we can grow together with the theatre as such a place.
Although the number of children is small, some of them like to express themselves through art and music. I want to be an adult who can tell them, through my everyday contact with them, that there is this way of life and this kind of expression. It is with the children who are here now that I want to experience the charms of this land with them, and I hope they will have the ability to communicate these charms. There are many things that are commonplace to the locals that seem new to us. So, although it is not easy, we are also looking for things that we can enjoy together with the local people.
Noriaki:
I want to make it a place where children encounter things that are a bit weird. In the city, there are adults here and there who are a bit strange, and if they are interested in art, music and literature outside of school, they will have opportunities to come into contact with them. Here, such opportunities are rare, so we want to make it a place of cultural stimulation for the children.
Yabumoto:
I think it is very important. I think that what the world is looking for now is actually in Tanami. I think that the charm and value of Tanami may come from indigenous things. Isn't life today exactly like that of the Jomon people?
Keiko:
I failed to become a Yayoi (laughs). It was quite difficult to work the fields… Rather, I am gradually acquiring the ability to read the seasons and catch the sensors of blessings by the changes in air temperature, humidity and wind currents, such as when the fruits of that tree are ready to be harvested, or when wild plants are ready to be harvested over there. My daughter once told me, "You can eat these berries!" After she realised that, she quickly started finding many more.
5. Life in Tanami is state-of-the-art!
Yabumoto:
I feel that the invisible is becoming more important and the world lacks the ability to see beautiful things as beautiful. I feel that living in Tanami is actually living on the cutting edge.
Keiko:
When my mother hears that our family cooks rice in the furnace , she takes it as a 'return' to the old way of life. However, we don't intend to go back. We use the internet, and we use what is available to us in a convenient way. But we are just taking in things from the past as one of the things that we think are better than what we take for granted now. Rather than going back, we think we are moving on.
Yabumoto:
We don't intend to be old fashioned , but we can't evolve without that process. That kind of thing is mentioned in the theory of evolution.
Keiko:
Kushimoto often gets typhoons, so my mother calls me to worry. But the children feel the energy of the wind and enjoy the excitement of the typhoon coming, so they go outside and start dancing in the rain. We don't think there is any need to stop them, so we watch over them. In our everyday play, we take a full body dip in the river or dive in the sea together, but the local children don't necessarily do that kind of play.
Yabumoto:
Indeed, as a child, I was excited when typhoons came.
Keiko:
We are told to put our umbrellas up when it rains, and that becomes the norm, but in our house we all say "Woah!" They play in the rain and get soaking wet. I think that the children are very fortunate to have had such an experience as a part of their original landscape.
Yabumoto:
I would love to go back there too. Your children would have so much fun. I think that kind of life is very important.
Keiko:
Experiencing total darkness, for example, is very rare nowadays. I think the world is becoming less and less dark. The days where it's so dark that you can't see your own hands are becoming rarer. It gets really dark at our house, so you can see so many stars. There are no cars coming, so we can lie on the road and look at the stars as a family.
Yabumoto:
Surprisingly, darkness is something your eyes get used to. The light from the moon and stars helps your eyes to see.
Keiko:
Right. The moonlight is so bright.
I think you have to experience total darkness to understand how majestic the moment of moonrise is, which is different from sunrise, or how much the night world changes depending on whether it is a full moon or a new moon. The fact that there are so many stories about the moon and the sun in the world is probably because people in the past experienced the fear of darkness and the presence and strength of light breaking through the darkness, which is why there are so many myths. I think that living here, where you can experience the feeling of when myths are born, is a very rich experience.
Animals are also very healthy around us.
Yabumoto:
I always think that you don't have to kill a cockroach just because you have one.
Keiko:
Cockroaches are cool to look at. There are big, black mountain cockroaches around here. Worms, too, big and glowing metallic blue, show up the day after it rains!
Yabumoto:
Keiko, you seem to be having a good time (laughs). Will you continue to work in Tanami for a long time to come?
Keiko:
We have developed through various connections, so we will look for things we can do without overworking ourselves. However, as the children grow up, there is a possibility that life in Tanami may change in the future.
The exhibition here also led me to join the Ohechi Kari-Opening Team*. I work with elders who know a lot about the land here, mending collapsed stone walls.
Yabumoto:
I want to go too!
Keiko:
It's great fun. Each street has its own history, its own story, its own life.
Knowing the story of Tanami, its neighbouring villages and how they are connected to each other and to the present day broadens your perspective.
Ohechi* is a minor part of the Kumano Kodo, but there is much to learn from the elders who are working to ensure that people can continue to walk this rich path that looks out over beautiful scenery by the sea.
*Ohechi … refers to the 120 km stretch along the sea from Tanabe City to Nachi-Katsuura Town. As the Nakahechi route was often used for Kumano pilgrimages, the Ohechi route was used by ordinary people and writers and artists who had more time to spare, who walked it while admiring the scenery of the Karekinada and Kumanonada Sea.
Reference: Wakayama Prefecture official tourism website.
6. Living with the sensibilities of the Jomon people.
Yabumoto:
What are the values of Tanami and Kumano? Is it difficult to put into words?
Keiko:
This Kinan Art Week is based on the concept of 'Seclusion' and 'Openness', and Tanami is also such a land. Originally, in the Kamakura period (1185-1333), a family was told to watch out for pirates and came here from the capital. So even today, the structure of the village is such that it is not easy to enter from the national highway. In that sense, it is also very 'secluded'. But when the time comes, we don't go inland, we go to the other side of the sea. It is also the land where we went to emigrate to Hawaii, the USA and Australia. It's very closed, but it feels very open. People say it's like we're at the very edge, but on the contrary, we're at the cutting edge.
Noriaki:
We are living the most advanced (river) upstream life in Kushimoto, the southernmost part of the country (laughs). It is a wealth that cannot be measured in economic terms.
Yabumoto:
Most of the indigenous remnants have been erased and homogenised. I feel that we need to stop the flow of time a little bit.
Keiko:
Tanami is also starting to build a motorway, but we want a 'slow road'. There is a lot of information you can only get by walking slowly, and I think that even in the landscape you can see, there are things you haven't seen yet.
There are things that were not visible to me ten years ago, but are now becoming dimly visible in the same landscape. It goes back in time, maybe as far back as the Jomon period. There are remnants of a world before the mythology of Japan, but there is not much documentation, and it is hard to tell from written sources. However, there are still various hints like, "What if this pattern on the rock is ⁉".
We don't mean to deny agriculture, of course, but to some extent we control nature and we grow our own food! The other is that we will look for food from the forests and the sea! I think there is a difference in motivation between the two.
I think there is something different between before and after the era when people became aware of the need to grow food and own land. I feel that this is a place where there is still a chance to feel the fluctuation of that transition.
Yabumoto:
Right. The Jomon and Yayoi seem to have gradually integrated. Tanami and Kumano might be places where something of the Jomon people remains.
Noriaki:
We just live at the foot of the mountain, but there is something that comes from the other side. It's like something that nature gives us. For example, the day before a family member's birthday, or before an important guest arrives, we can catch something.
Keiko:
We hadn't taken anything at all until then, We hadn't taken anything for a week or two.
Noriaki:
I wonder what those things are.
Yabumoto:
In such cases, do you give something back to the mountain again?
Noriaki:
I think I have to give it back, but I don't know how (laughs).
Keiko:
The forest is the domain of the gods. In Japan, there were forests of Shinto shrine where people were not allowed to enter, weren't there? I think there is a world in nature that people are not allowed to enter. There are moments when I feel that we are on the borderline between the two.
We are very dependent on sight, but as living beings we should hone our other senses, and I wonder if the Jomon people were able to use something like a sixth sense in the same way as other senses. I hope we can regain those senses.
Yabumoto:
I feel like that's the key to building, to a true, ultra-high level of circulation.
Noriaki:
I don't know how to return the blessings from the mountains, so I put my hands together towards the mountains. I feel that the rock surfaces that were chipped away to make roads are directly connected to the mountains, so I have formed the habit of putting my hands together when I go there. Children who see this also say, "This is where God is, isn't it?" and put their hands together in the same way. When I see that, I say, "Faith has been born!" I think that's how shrines are created in such places.
Yabumoto:
You have completely taken over the sense of the Jomon people.
7. Existence of mountain gods.
Noriaki:
I once had a TV station interview us for three months and made a documentary about our lives.
Yabumoto:
I'd like to see it!
Noriaki:
I have never shown people what I am hunting. I think that confronting an animal in a trap and killing it is something that shouldn't be shown to people, something that is a secret between me and the mountains. There have been people who have wanted to see it out of curiosity, but I've always kind of brushed it off. But because I'm covering the programme, I'm followed to the hunting site every morning.
Keiko:
When they followed him, he didn't catch anything (laughs).
Noriaki:
But the programe staff were returning to Osaka when the catch was taken.
Keiko:
That was the day before my daughter's birthday.
Noriaki:
It caught a deer. I promised the staff that I would call them if anything was taken, so I called them. ' I've got a a deer, what do you want to do?'. Then they told me to wait for three hours and they would be there, so I waited. When the camera arrived, they filmed a scene where I beat the deer, stunned it and drained its blood, but from the mountain god's point of view, it was like, "Don't show that!" This may have been the case.
The film crew left that day, but the next day there was a bigger wild boar in the trap this time. And when I found it and confronted the boar, the trap came off with the boar's claws and I was beaten to a pulp by the boar.
Keiko:
He had five holes in his body! He came home covered in blood.
Noriaki:
"The mountain gods were angered" I thought. There were traces of a wild boar rampage all night long. That came off the moment it confronted me. I'm not a religious person, but I couldn't help feeling that I had offended the mountain gods.
Keiko:
He was operated on under general anaesthesia and was in hospital for a week.
The day after his hospitalisation, he asked me to go and bury the items in the two buckets in front of his studio in the pile. I looked inside and found that the buckets contained the raw head of a deer taken the day before my daughter's birthday, its skin, ribs and both legs. I knew I had to go and bury these properly to apologise and thank the mountain gods.
I asked the TV crew not to talk to me today and went into the mountains with two buckets and a pickaxe and a straw on my shoulder. It was a male deer with great antlers, so I dug a hole the size of a big bath that would fit all of them. I didn't want to cry in front of the TV cameras, but during the digging I chopped off a worm's body with a straw. Then I couldn't stand it any longer, so I dug a hole, crying a lot, saying I was sorry. I buried the bones and skin as carefully as I could, with the ribs under the head, the front legs next to them and the back legs here, and finally covered them with earth and said a prayer.
I had to pray! I felt the tension of having taken a life and being allowed to live. You don't often get to hold the head of a live deer.
Yabumoto:
You really don't. . It really is like Princess Mononoke, isn't it?
Keiko:
I think the Princess Mononoke film is the story of that moment when iron enters human life and God disappears, so perhaps we are experiencing that now. It's not a story from the distant past, but a story that is connected to the present.
There are stories all over the world that are connected to such nature, and I believe that various stories give us hints on how to live as human beings living in the midst of nature.
The power of stories is huge and very important. I want to continue to introduce them through the theatre.
Yabumoto:
It's fantastic. It's a real place to connect. I'm really looking forward to seeing how it will be expressed in Hayashi's future work.
Noriaki:
I wonder in what form it will come out. I have the feeling that I want to express something.
Yabumoto:
Sounds like fun. I think it will be very interesting to see how we can communicate those values to the whole world.
So, is there anything you would like to say in closing?
Keiko:
I believe that everyone in the world is family.
I was born in Sendai, but my ancestors on my father's side mixed Russian blood in Kanazawa and moved to the north-east during the Edo period. I don't know if it is true about my mother's side, but I heard that her ancestors killed the Nine-Tailed Fox, but were chased out of the capital and fled to the north-east.
I think it is difficult to trace our ancestors back to ancient times, but now we happen to be living here as Japanese and Asians, but I am sure that if we search for our blood roots, they will not necessarily be confined to Japan. I think that everyone moves around in search of a better life, and that the end of their journey is where they are now. When you look at different stories and cultures, they are all far away from each other, but they all have something in common.
Neighbouring villages and countries may have many reasons for quarrelling, but in fact they are all connected and may have once been a family. You can find that a lot the further back you go in the old stories.
Imagine if human beings from different parts of Africa had followed various routes and now happen to be here. I think we are all on a journey. I think now is the time for humanity to move in a new direction, confirming connections, finding commonalities, and finding differences interesting.
I know it is difficult when you can only see so close, but I feel that it is about time there was such a big cycle.
Yabumoto:
I learnt a lot. I would end up expressing it with a lot of difficult words, but we both think alike. . You explained it in a way that was easy to understand.
I think that's exactly what it is. I think myths and things like that will become more important. I feel that the work of tracing your roots is very important.
Noriaki:
Japan's remote, depopulated lands are in some ways the most advanced. It is cutting-edge in the sense that it faces many problems in the future.
Yabumoto:
It's such a global issue that it doesn't need to be contained in Kinan at all.
Noriaki:
The problems we are facing now are very global issues, and this is a place where we can experience these things up close. Nowadays we tend to focus on urban problems, but the problems in rural areas are more cutting-edge. If expression is born where there are problems, it can be said that this is the cutting edge where something is born.
In Japan, in many places, the number of places where the number of people is decreasing is going to increase in the future. In urban areas, the same process will continue, with more old people and fewer children. But perhaps it is in the local area that we can experience the power to create something out of this.
In that sense, I think it would be interesting if we could expand new ways of looking at things and transmitting information, and create some kind of common culture, as we try and have fun while doing something here.
Yabumoto:
That's exactly right. I am very interested in what Hayashi and their colleagues experience in their lives, and I would love to talk to them again.
Noriaki:
It would be interesting to have a study group.
Keiko:
Please come and visit us again.
Yabumoto:
Thank you for your time.
<Related Article>