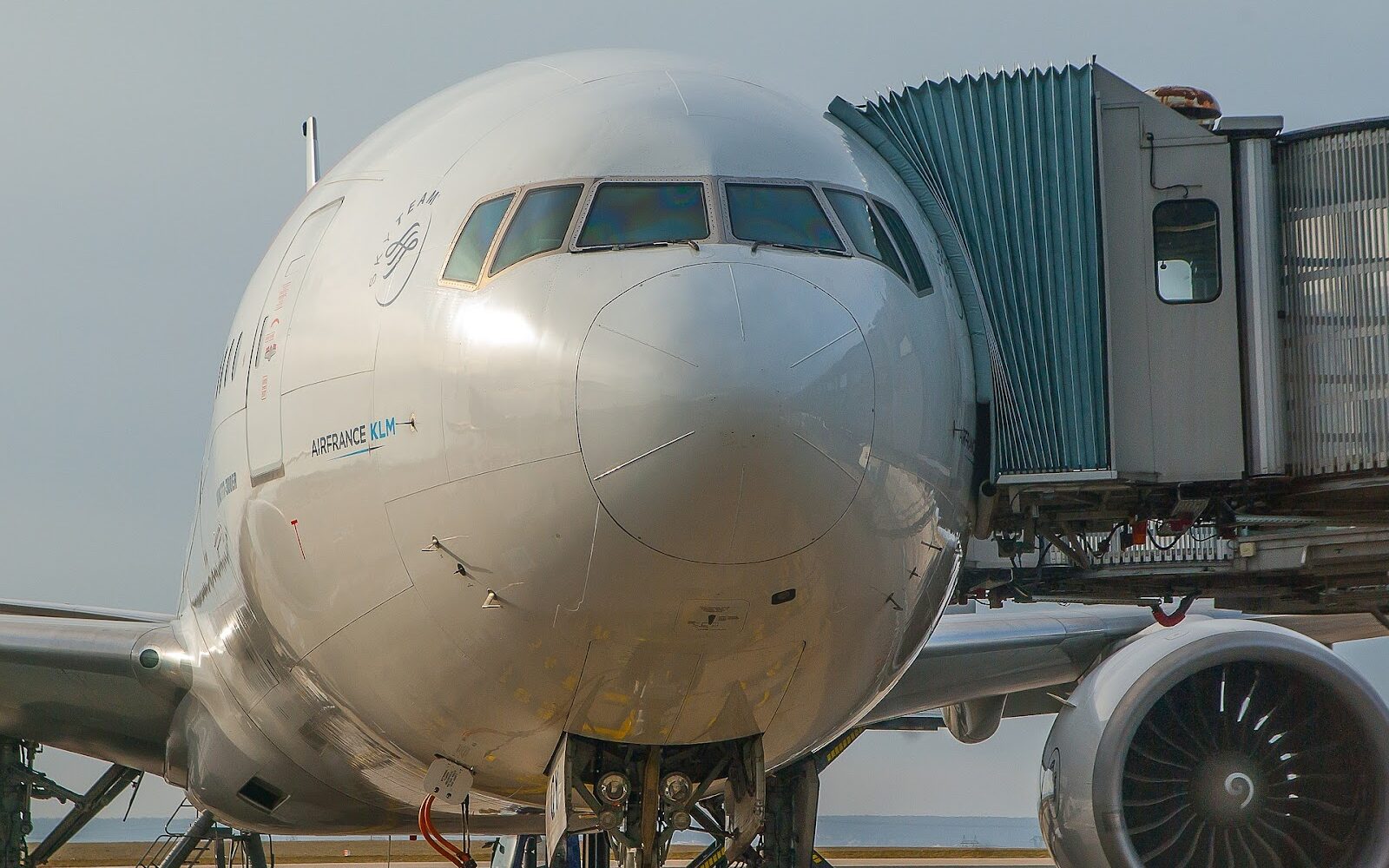 Dialogue#40 As the 'Port of Kinan'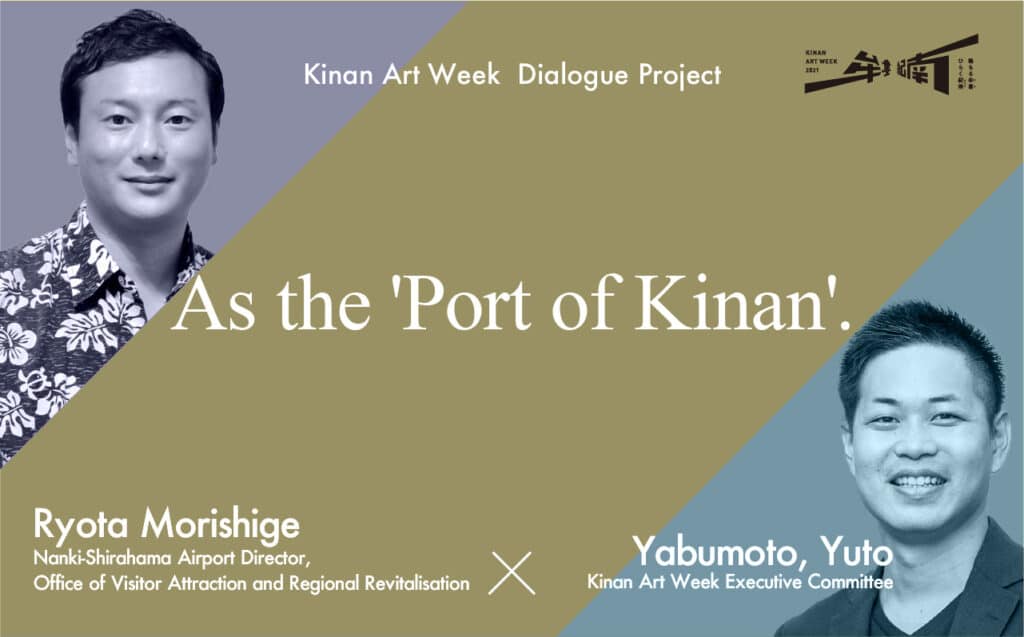 <Guest>
Nanki-Shirahama Airport Director, Office of Visitor Attraction and Regional Revitalisation
Ryota Morishige
Nanki-Shirahama Airport's management concept is 'airport-type regional development'. As an airport company that even revitalises the region with the airport as its starting point, you are involved in attracting airlines, regional cooperation and travel business in the Office for Attracting Visitors and Regional Revitalisation, a department specialising in regional development.
<Interviewer>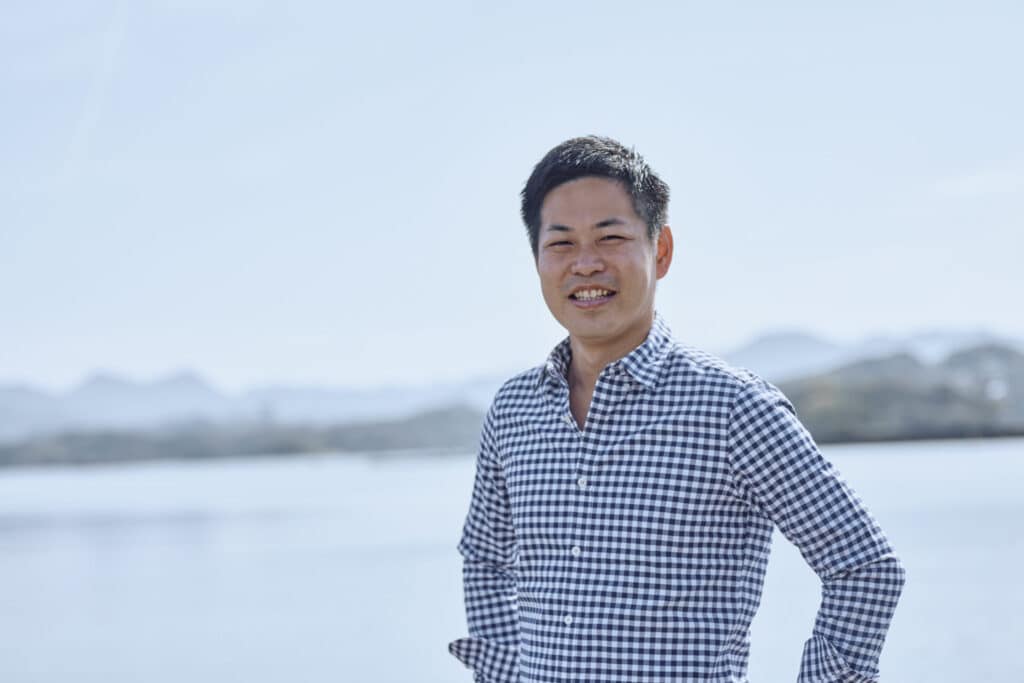 Yuto Yabumoto
Chairperson of the Kinan Art Week Organising Committee
As the 'Port of Kinan'
Table of Contents
1. Introduction of Mr Morishige
2. The History of Nanki-Shirahama Airport and the Challenges of Privatisation
3. Nanki-Shirahama Airport Initiatives
4. Privatise Airports
5. A Warp-like Gateway to Connect with the World
6. Non-verbal Art to the Whole World
7. Diversity in Kinan.


1. Introduction of Mr. Morishige
Yabumoto:
Thank you for your time today.
I hope that this issue will provide an opportunity to introduce the role of regional airports and what Nanki-Shirahama Airport has in mind when curating at airports. First of all, can you introduce yourself and tell us about your background, Mr. Morishige?
Morishige:
I am a blood type A Virgo (laughs) .
I am from Fukuoka, Japan. I graduated from university in Tokyo and started working for a major electronics manufacturer. As a strategic staff member, I was involved in business strategy formulation, medium-term planning, group company turnarounds, internal mergers and acquisitions and other corporate planning tasks. I wanted to deepen my business turnaround skills and management knowledge more as an individual. With this in mind, I moved to IGPI (Institute for Management Innovation), which excelled in corporate revitalization. For about two years, I was involved in projects such as developing strategies for private companies and supporting the implementation of M&As. For the last six years, I have been involved in projects related to airport privatisation and regional development . I moved to Shirahama two and a half years ago as a member of the Nanki-Shirahama Airport privatisation implementation team.
Yabumoto:
You were already a member of the Nanki-Shirahama Airport Concession*1?
*1: Selling the right to operate infrastructure and other facilities to a private operator for a certain period of time, while retaining ownership of the public facilities with the public authority.
Morishige:
Yes. Nanki-Shirahama Airport was privatised in 2019, but the terminal building started in October 2018 ahead of schedule. I was involved in the planning and tendering stages more than a year before that.
Yabumoto:
So it is just three years old.
Morishige:
Yes, I was involved in the privatisation of airports across the country, including Kansai International Airport and Sendai Airport, which are said to be the first privatisation projects from both the public and private sectors, and I came to Nanki-Shirahama Airport as an executive member.
Yabumoto:
I see. So you're actually doing it, which makes the consultation even deeper.
Morishige:
IGPI is a company that does a lot of business turnarounds. Consulting alone is not enough to survive and resurface a company that might go under tomorrow. At Nanki-Shirahama Airport, we do more than just consulting and come up with plans; we mobilise all of our people, money and wisdom in a style that commits us to implementation.
2. The History of Nanki-Shirahama Airport and the Challenges of Privatisation
Yabumoto:
It must have been quite a challenge to privatise the port since it was opened in 1968.
Morishige:
As you say, the airport was opened in 1968, just over 50 years ago. Of the 97 airports in Japan, it is relatively old and has existed for a long time.
In the early days, the airport was not yet accessible from Osaka in terms of land transport, such as motorways. The airport was created to link Tokyo, Osaka and Nagoya. However, after flying to Osaka and Nagoya for a few years, the route was temporarily suspended. After that, only the Tokyo Haneda route was flown. At that time, aircraft were propeller-driven, but in 1996, a new runway was built next to the original runway and the airport was reborn as an airport capable of receiving jet aircraft. Then there were also Fukuoka and Hiroshima Nishi routes, but they ended after a few years and now is the only remaining Haneda route.
Yabumoto:
Perhaps there was no need?
Morishige:
As a profitable business for the airline, we surmise that it was not a stable and profitable route at the time.
Yabumoto:
Why was the airport built here? Was there a strong tourist aspect?
Morishige:
It was 50 years ago (laughs).
Shirahama itself was developed just about 50 years ago. Rather than being created because there was a tourist attraction, I think the airport also developed as Shirahama developed as a tourist destination.
It was probably a period of high economic growth and the building of domestic infrastructure. It was a time when the most prosperous things were being done, such as opening new bullet trains, widening highways and building one airport in each prefecture . On the other hand, 50 years on, I think we are now in an era in which we have to think about how to utilise and maintain the infrastructure that was built in the past. I feel that the timing of the privatisation is also a turning point in the era of how to utilise and operate airports.
Yabumoto:
Concessions are competitively bid, right?
Morishige:
Yes, with the help of local companies, they selected our group in a competitive bidding process. They said that we need to work together with local companies to regenerate the airport. We are operating together with Shirahama Kan as our local partner.
One of the reasons why we took on the challenge of Nanki-Shirahama Airport is that we feel that the area has tremendous potential. People in the Kansai region know Nanki-Shirahama well, but in the Tokyo metropolitan area and the rest of the country it is still not well recognised. When you actually touch Wakayama, you realise that the onsen, beaches, pandas, etc. are wonderful, the food is delicious, and there are many tourist resources such as Kumano Kodo and Koyasan mountain that can compete on a global scale. The fact that it is still not well known outside the Kansai region is rather an opportunity for growth. I think it is a region with potential not only in terms of tourism but also in terms of business. Satellite offices of companies such as Salesforce, Mitsubishi Estate and NEC Group have set up in the area. The current demand for Nanki-Shirahama alone may be difficult to meet, but we are trying to make it an area with great potential for growth in the future.
3.Nanki-Shirahama Airport Initiative
Yabumoto:
With the Corona Pandemic, there is a trend that you have to increase non-aeronautical revenues as a business. Is there currently more aviation income?
Morishige:
As you mentioned, there are two sources of income for airports, known as aviation and non-aeronautical income. Aeronautical revenues are mainly landing fees collected for each aircraft landing. Non-aeronautical income mainly includes tenant income from restaurants and souvenir shops in the terminal building. In the case of regional airports, non-aeronautical revenues generally tend to be higher because the number of flights is overwhelmingly low. In the case of Nanki-Shirahama Airport, non-aeronautical income is currently higher than aviation income.
Yabumoto:
So you already have more non-aeronautical income. I think you need both, but will the trend be towards even more non-aeronautical income in the future?
Morishige:
Ideally, airports should increase their aviation income by increasing aircraft arrivals and departures, but inevitably the demand for dozens or hundreds of flights a day at regional airports cannot be created quickly enough. We believe that it is very important in airport management to firmly establish a revenue base from non-aeronautical income.
Yabumoto:
In that sense, the current initiatives are amazing. You are working on paperless, cloud computing and even facial recognition*.
*Reference: Press release introducing new digital signage displaying congestion levels and electronic coupons using face recognition as part of the Nanki-Shirahama IoT hospitality service demonstration.
Morishige:
In addition to going paperless, airport operations are being made more efficient while increasing safety through the use of IoT, such as using imaging diagnostics for runway inspections. At the same time, we are working to reduce costs.
Yabumoto:
That can never be done without privatisation, right? Also, you have a business alliance* with Mirai Works. In a broad sense, you also have a network for local revitalisation there, so are you going to be gung-ho about this kind of initiative?
*Reference: Mirai Works and Nanki-Shirahama Airport business alliance press release.
Morishige:
Yes. The use of IoT in airport operations is a cutting-edge initiative that is attracting attention from the Civil Aviation Authority and other airports. On the other hand, facial recognition, the 'hospitality service' that offers special hospitality experiences and the use of sideline personnel with Mirai works are more a part of our aggressive marketing efforts to create new aviation demand in the future.
Facial recognition is not limited to airports, but also involves 13 facilities in the region, which are working together as a whole region. For example, we are offering special face-passing experiences for each facility, such as baggage being released in a few minutes or hotel keys opening with the face, to increase customer satisfaction while keeping the customer's regional flow lines in mind.
*Reference: Nanki-Shirahama "IIOT Hospitality Service" face recognition service facilities expanded Press release.
After getting to know the area and getting to know people, they can make travel arrangements to come here, and can come by plane or bullet train at a low cost. After entering the region, they can freely move around by bus, cycling or taxi in various ways, and accommodation, experiences, food and beverages have been developed from the target's point of view. We are doing this based on the strategy of optimising the entire travel process from both tourism and business perspectives.
Yabumoto:
You also have a shuttle service with Near Me, don't you?
Reference: JAL, Nanki-Shirahama Airport and NearMe launch shuttle service for seamless travel in Nanki-Shirahama Town Press release.
Morishige:
Where secondary transport is inadequate, we are working on bringing out new services to match it, including shuttle services.
Yabumoto:
Is it "Super City-like"?
Morishige:
Yes, the Super City concept is also being worked on in the neighbouring town of Susami. However, even without the Super City concept, we will continue to improve the region. In terms of tourism, we have started a 'hospitality service*' to give travellers a special experience. And in the future, we would like to use advanced technology in the everyday life and education of local residents.
* Reference: About the Super City Concept / Susami Town, Wakayama Prefecture
Yabumoto:
In the long term, you include the idea of turning a profit. Is there a very long way to go to get there?
Morishige:
Originally, Nanki-Shirahama Airport had an annual deficit of about 300 million yen, and over a ten-year period it had a deficit of about 3 billion yen. How far can this be reduced? We are proposing a reduction of 600 million yen, which would bring the deficit down to around 2.4 billion yen. With the small number of airport arrivals and departures, it is a very high hurdle to make a stand-alone profit on that basis alone. It may take five, ten or even twenty years, but we want to create an airport that will become bigger one day.
Yabumoto:
If you get to the point where you can turn a profit, you can export that know-how to all regional airports.
Morishige:
We will do our best to reduce costs as much as possible, but at the same time we will take up the challenge of increasing added value and productivity towards the creation of a new regional development model with the airport as a starting point. We have a department specialising in attracting visitors and revitalising the region, and we have acquired a travel business and a DMO (Destination Management Organisation), and I don't think there is any other airport like this. We will be firmly involved in the offensive part of the project. I hope we can create a new model for regional airports.
4. Privatise Airports
Yabumoto:
It's been two years just this April since privatisation.
Morishige:
Yes, it has been two years.
Yabumoto:
What do you think? Repercussions and so on.
Morishige:
Originally, the airport had 70 to 76 seats with three flights a day and passenger numbers of around 100 000 to 120 000 for a long time. In the first year of its privatisation (2018) it had 150 000 to 160 000 passengers; in 2019 it went up to a record high of 180,000 . I think this is the power of the region. 2020 also started off with a record number of passengers, but the impact of Corona was still significant.
However, compared to other regional airports, the drop in demand was slower, and reduced flights were avoided until the very end, and were soon back in service after the state of emergency was declared. I have heard that all other privatised airports are in a difficult business situation , but Nanki-Shirahama Airport has a very small decline. I feel that this is due to solid demand compared to other airports .
Yabumoto:
You are expressing the vitality of the private sector in a positive way, and I am sure the local people are positive too.
Morishige:
Many people say that their impression of the airport has changed since it was privatised. Above all, the airport was rarely featured in local media such as TV Wakayama and Kiiminpou before privatisation, but recently the airport company's efforts have been covered by many media. I think people feel that the airport has changed in these areas.
5.A Warp-like Gateway to Connect with the World
Yabumoto:
It's going to be the theme of this issue, 'port culture', but what is the airport of the future, what is a 'port'?
Morishige:
As a regional airport, it wants to play a social role as a gateway to the region. Not only for physical movement of people, but also for transmitting local culture, history and regional information . Conversely, we would also like to fulfil a window function to bring Tokyo and global information into the region.
Yabumoto:
Is it a window for re-editing and exporting local history and culture, and a place where useful things from all over the world and wonderful things from all over the world can be re-edited for the local market?
Morishige:
Yes, I think it is a good thing that airports can be connected to the rest of the world. In the case of airports, especially compared to railways, roads and ships, I think the attraction of an airport is that even if the economic zones are far apart, they can be connected to some extent with a sense of warp. Until now, Nanki-Shirahama and Kumano have been marketing the relatively nearby areas of Kansai and Chūbu, and have been a region where people from those areas have come. From now on, I would like the airport to play a role in making this region known domestically and internationally. Nanki Shirahama, The concept of the airport is based on the slogan 'From Kansai's back room, to Japan's Shirahama, to the world's Kii'. We want to make Shirahama and the Kii Peninsula known and visited not only by people in Kansai, but also by people from all over Japan and the world.
Yabumoto:
If you take it one step further, you don't have to fly the plane, do you? (laughs )
Morishige:
Basically, people have to move (laughs).
Therefore, we would like to play a role as an airport company in connecting this region with the rest of the country and abroad by creating new exchanges and related populations.
Also, we want to continue to make the airport not just a facility for people who fly, but a place where local residents who don't fly, children, or people who come by train or car can say that the airport looks interesting and that they should go and have fun.
6.Non-verbal Art to the Whole World
Yabumoto:
Airports and culture, airports and art. In terms of the topic of airports and culture, I think the affinity between airports and culture is very high.?
Morishige:
I believe that the history and culture of the region and the people who live there themselves are everything that makes the region attractive. As for the port's function, I would like to help the port to successfully disseminate information about the region.
Yabumoto:
Airports re-edit and export culture in an easy-to-understand way. The theme of this year's Kinan Art Week is export. In this sense, art in particular has the potential to be exported to the whole world as it is, without the need for language. The functions of airports and art are highly compatible. With art, you can suddenly access the whole world without any movement of people. I think this is a very good match and has the potential to develop in the future. We would like to take such measures.
Morishige:
I would like to make this area known to more people and areas through art by communicating the attractions of this area that we have not been able to deliver so far. And I would be most happy if people could come here someday. Such accumulation will lead to future airline demand, and I would like to build on that kind of demand to attract various routes.
7. Diversity in Kinan
Yabumoto:
Finally, what would you like to see from Kinan Art week ?
Morishige:
I believe that the history and culture of Kinan is so broad, deep and fascinating that I still don't know much about it. Through the Kinan Art Week , I would like to work with Yabumoto and everyone else to re-explore and re-acknowledge this region. It would be wonderful if the Kinan Art Week could become a new place where the history and culture of Kinan can be transmitted in new forms to the rest of the country and the world. I would also be happy if the local people could become aware of the good qualities of their local area and use art as a new form of pride and identity for the region.
Yabumoto:
Thank you.
Morishige:
Until now, the Showa period gave the impression of an era of mass production and mass consumption and material abundance, but I feel that the future era of 2025 is changing into an era of diversity, SDG's and spiritual abundance . The region is the origin of nature worship, and the idea of something like a Shinto/Buddhist syncretism is something that is not possible in the world . I think it's a way of diversity that is unique to this region, like two religions merging and having a temple and a shrine side by side on the same site.
Yabumoto:
As a result, I think we will end up discussing what it means to be Japanese. I feel that this would lead to a project that would connect the Kii with all the regions of the country.
Morishige:
In that sense, I think it was good timing to reaffirm this region at this time.
Yabumoto:
Thank you for your time today.
<Related Articles>