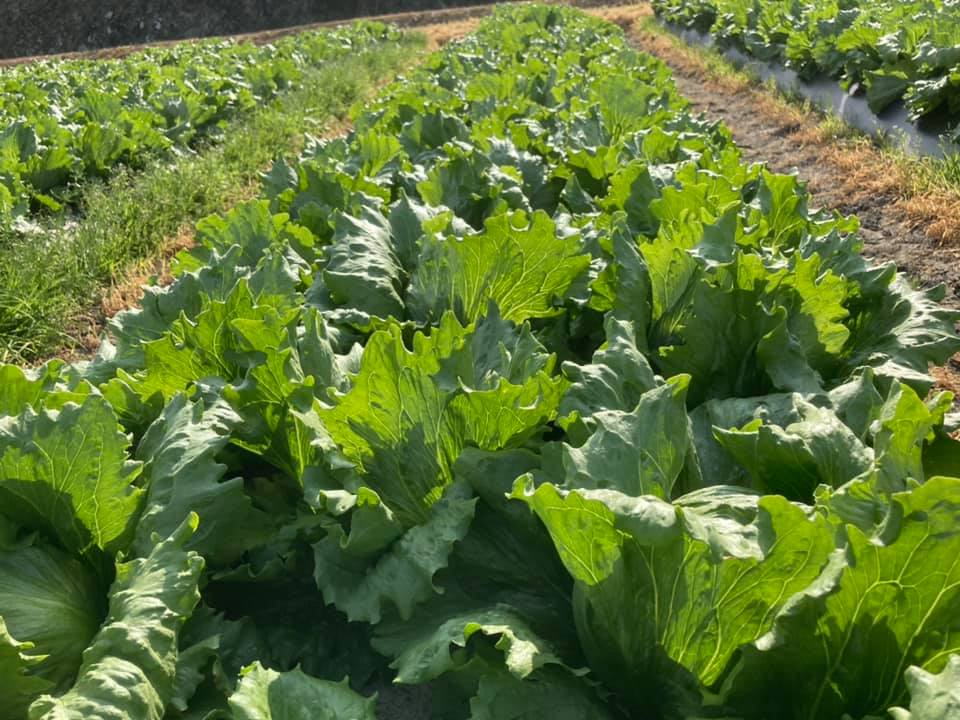 Dialogue Project #19 "The Relationship between Art and Lettuce" – Exploring the Art History of Lettuce –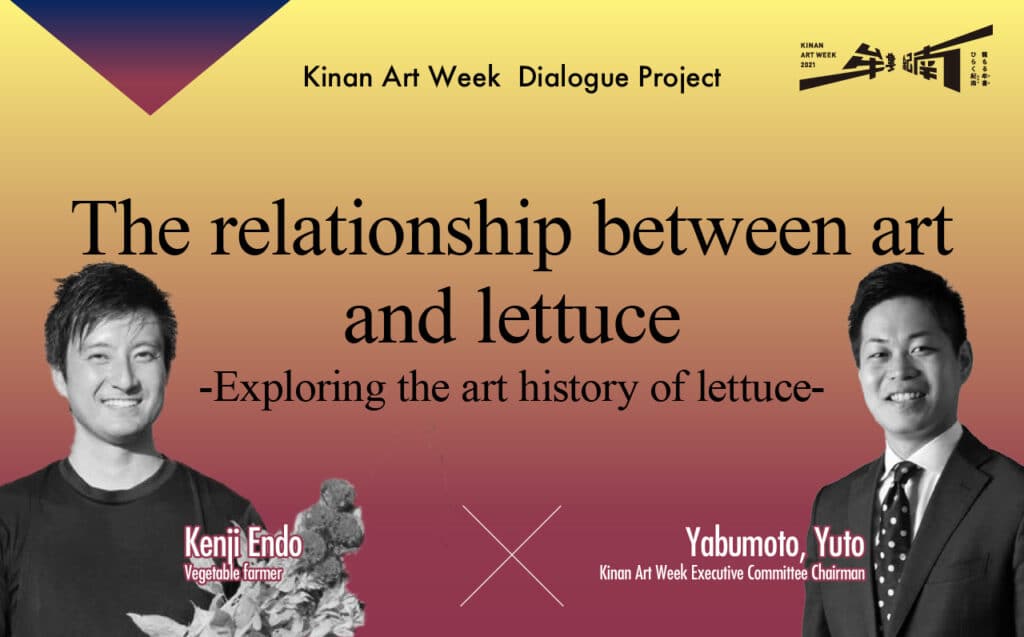 Kinan Art Week Dialogue Project#19
<Guest Speaker>
Vegetable farmers
Kenshi Endo
Born in Uji City, Kyoto Prefecture. After graduating from university, he worked at Adventure World in Shirahama-cho, where he trained dolphins. He is now working as a vegetable farmer in Shirahama town, accepting people who want to experience farming.
https://shirahama.theshop.jp/


<Interviewer>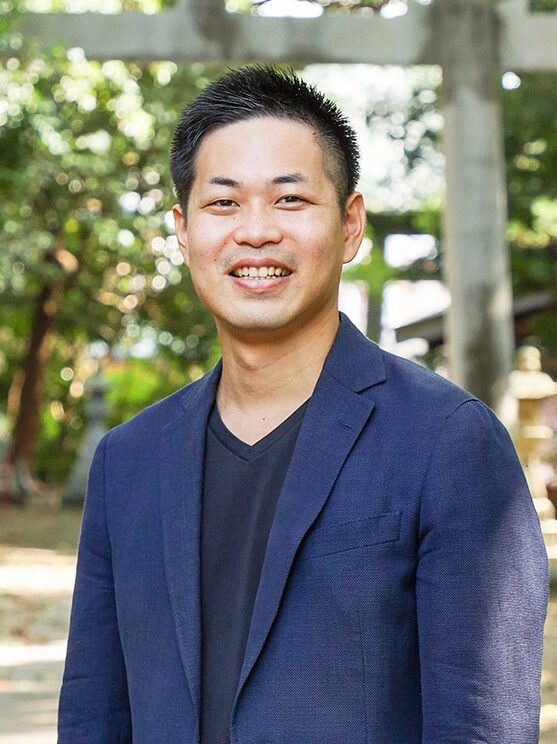 Yuto Yabumoto
Kinan Art Week Executive Committee Chair
<Participants> 
Mariko Sugi
Vice-chairman of Kinan Art Week
Manabu Shimoda
Executive Director of Kinan Art Week
 

Editing :
Kinan Editorial Department by TETAU
https://good.tetau.jp/


The Relationship between Art and Lettuce
[ Table of Contents ]
1.Endo's Background
2.To Sell Lettuce for 1 Million Yen
3.The History of Lettuce and Factors that Determine its Taste
4.Farmers are Super Creators
5.The Value of Lettuce cannot be Measured by its Taste Alone
6.What Takes to Revive Lettuce Farming


1.Endo's Background
Yabumoto:
Thank you for taking the time to visit us today.
For this interview, we wanted to talk to Mr Endo about his positive approach to farming under the theme of "Creating the future of Kinan". First of all, could you tell us about your background?
Mr Endo:
I'm from Uji City, Kyoto.
I have always loved animals and nature, and I knew that I wanted to be a dolphin trainer in the future, so I studied animals at university.
After university I went to work at Adventure World* and spent most of my time there as a dolphin trainer.
* Adventure World: A theme park that combines a zoo, aquarium and amusement park in Shirahama-cho, Wakayama Prefecture.
Adventure World
Yabumoto:
That's when you left Adventure World, right?
Mr Endo:
Yes, I did. I enjoyed my work at Adventure World, but somewhere in my heart I wanted to work in an environment closer to nature. Another reason was that I wanted to be more closely connected to the people of Shirahama. As I spent more and more time in Shirahama, I became aware of the charm of the people who live in Shirahama, and I wanted to work with them to make the area more exciting.
When I thought about what kind of job would allow me to combine all these things, I thought "the fields! So I decided to become a vegetable farmer. The fields are natural and you can feel close to them, and I had the image of a farmer interacting with a wide range of people. I was fascinated by the wide range of possibilities that fields offer.
Yabumoto:
What is the situation now that you have started working as a vegetable farmer?
Mr Endo:
We have been growing lettuce and maize for three years now. I also grow flowers such as keto and stock.
The vegetables we grow are basically shipped to the agricultural cooperative. We also sell them on the internet and use them in local restaurants. There is not much of an image of agriculture in Shirahama, so we hope that people will get to know us through our food and feel closer to nature and the fields.
Yabumoto:
What is the ratio between BtoB (*1) and BtoC (*2)?
*1 BtoB stands for Business to Business and refers to transactions between companies.
What is BtoB (B2B)?
*2 BtoC stands for Business to Consumer and is a form of business conducted by companies for the general public.
What is BtoC (B2C)?
Mr Endo:
80% of our business is BtoB, shipping to agricultural cooperatives. If I had to take care of the delivery and distribution myself, it would be too much for me, so I don't have the time for BtoC. The number of vegetables we sell and the unit price are not that high.
Yabumoto:
How much does a piece of lettuce cost nowadays?
Mr Endo:
It's 150 yen. People around me say that it's a bit too cheap (laughs).


2.To Sell Lettuce for 1 Million Yen
Yabumoto:
Can we make one lettuce sell for one million yen? This is because one of the aims of Kinan Art Week is to contribute to the differentiation of 'local primary products' such as agricultural produce.
In my work, I feel that the financial gap between global and local jobs is widening. Therefore, I believe that the region could be enriched by just a little bit of involvement in the global part.
This is already happening in the art world, for example. The artist collectives (*) that are very popular these days are very local, but they are expressing their localness through contemporary art and exporting it all over the world. There is also a system in place for everyone to use the earnings from those exports. They are exporting what is local to the rest of the world.
My idea is to recreate the same thing here in Kinan. I started Kinan Art Week as a way to export local products as contemporary art. The idea is that if local farmers can become "artists" and export lettuce and other crops as high value-added products with the value of "art", then the region will be enriched.
It may sound far-fetched, but I am convinced that it can be achieved in Kinan.
* Artist Collective: A collective formed by artists.
Artist Collective
Mr Endo:
Kinan has a lot of potential.
Yabumoto:
That's right. When taking on a new challenge, the nature of the region is also important. In this respect, Kinan has a successful track record as a kingdom of fruit trees, so we have a good foundation for taking on new challenges.
Mr Endo:
If we can make that system work, it will create a good cycle in the region, as the financial resources will be enriched and the money will be used to employ people and export crops again.
Yabumoto:
That's right. And I think that the realization of the system is all about selling the lettuce that Endo-san is producing for one million yen. In fact, in the world of contemporary art, a piece of banana on a wall has been bought for tens of millions of yen. If you can sell a banana, you can sell a lettuce for the same.
And in order to sell lettuce with high added value, we need to re-organise the "art history of lettuce". And in order to sell high value-added lettuce, we need to rearrange the "art history of lettuce", so that we can say, "My lettuce is art", or "This is an important initiative in the art history of lettuce". Then the lettuce will go down in history as a lettuce that could sell for a million dollars!
In considering the art history of lettuce, I was hoping to hear various stories from Mr Endo about the history of lettuce in Kinan.


3.The History of Lettuce and Factors that Determine its Taste
Mr Endo:
Lettuce is said to have originated in the town of Susami in Wakayama Prefecture, and from there it seems to have drifted to Shirahama Town. At one time, most of the farmers were lettuce farmers, but I heard that lettuce disease spread in the area and it was discontinued at once. But recently, though, young new farmers are gradually increasing the production of lettuce.
Yabumoto:
How did the lettuce come to Kinan?
Mr Endo:
It seems to have started to be grown after the war, 80 years ago, as a meal for the American army. It was a rare vegetable in Japan at that time.
Yabumoto:
From a logistical point of view, it seems strange that it would not be rational to grow it in the Kinan region. Is there any point in growing lettuce in Kinan?
Mr Endo:
If lettuce is frozen by frost, the thin skin peels off and it becomes useless. In the Kinan area, the frost period is shorter than in other areas, so it is easier to grow in winter.
Yabumoto:
I see. Is there any difference in the taste of the lettuce?
Mr Endo:
The freshness of the lettuce has the greatest influence on its taste. Freshly plucked lettuce is very energetic, but over time it loses its crispness as it loses its water content. In addition to the texture, the appearance of the lettuce also loses its vitality. Lettuce that has been harvested within an hour will look and taste much better.
Yabumoto:
After all, freshness is the key.
Mr Endo:
I also think that the size of the lettuce has an effect. It's a sensory thing, but there's a size that looks just right, not too big, not too small. It's about how good it looks.
But still, nothing beats freshness when it comes to taste.


4.Farmers are Super Creators
Yabumoto:
It means that the beauty and taste of a product is something that can only be experienced for a moment after it has been harvested. But that moment is also valuable. So, if you were to sell lettuce for just that one moment of brilliance, it could fetch a high price.
Mr Endo:
It's quite possible. I'm always conscious of how to convey the brilliance of the lettuce in the moment.
Lettuce has an outer leaf, which is the leaf that faces outwards. You can't see it in supermarkets because it's wrapped in packaging film, but it's the outer leaf that holds all the energy of the lettuce at the moment it's harvested. That's why we sell it in a bag instead of a film, just so people can see it.
Yabumoto:
As long as it is connected to the ground, it is healthy, but if it leaves the ground, it loses its energy in an instant. It's a food that makes you think about the ground too.
Mr Endo:
Also, when lettuce grows, it produces flowers, but it also produces very thick and energetic stems. These stalks are so hard that you have to cut them with a saw to eat them, but we display them when we sell lettuce so that people can see how energetic they are.
Yabumoto:
Flowers bloom for mating and reproduction in animals, don't they?
Mr Endo:
That's right. There are two types of growth in plants, nutritional growth (*1) and reproductive growth (*2), and the reproductive growth is what makes the stem grow to flower.
*1 Nutritive growth – the production of nutrient organs such as stems, leaves and roots by plants.
Nutritional growth
*2 Reproductive growth: the formation of flower buds, flowering, fruit and seed production.
Reproductive growth
Yabumoto:
What influences the switch between nutritional and reproductive growth?
Mr Endo:
When they are growing well, they will naturally try to flower. Then, when they are under stress, such as when the temperature is too high, they will try to flower even if they are not fully grown. It's a bit like humans.
Yabumoto:
It's almost like a human being. That's the interesting thing about lettuce, isn't it?
Mr Endo:
That's right. The more you work on it, the more it will grow as you want it to, and the less you work on it, the less it will grow as you want it to.
By that I mean keeping the lettuce out of the water as it weakens it, and keeping it warm in cold weather.
Yabumoto:
Do you feel like a father or mother when you raise them?
Mr Endo:
It's more like a coach. Vegetables have a great potential from the beginning. It has the potential to grow into a delicious vegetable. The farmer is the one who finds it and develops it.
The power of vegetables is so great that it's almost impossible to grow them.
Yabumoto:
Moreover, the human side is also supported by the lettuce through food. My feeling is that the farmer who creates this cycle is almost like an artist.
Mr Endo:
Someone once said to me: "Farmers are super creators, aren't they? I was convinced that this was true, because we grow very small seeds until they become magnificent crops. No two crops are the same, and each one is different and has its own strong personality.
I also grow flowers, and some of them get bent during the growth process. I sell these flowers under the name of "Cosey-tsuyome" (strong personality). We call them "Cosey-tsuyome" and sell them as "Cosey-tsuyome" because people feel that we are trying hard.
Yabumoto:
"There are people who are sympathetic and say, "You're clumsy, but you're trying.
Perhaps the world should be a place where lettuce with character is equally recognised, rather than lettuce with a good shape always having a higher price.


5.The Value of Lettuce cannot be Measured by its Taste Alone
Yabumoto:
What do Shimoda-san and Sugi-san have to say to Mr Endo?
Sugi:
After listening to your story, I thought it was important to create an "experience" in order to sell lettuce for a million yen. "It's about the experience of going there, picking the fresh lettuce on the spot and eating it immediately in the best way possible.
It's not just about the product itself, it's about the whole experience, and that's what makes it so valuable.
Mr Endo:
It's important to master the taste, but creating a background for eating is also likely to change the value.
When I sell maize, I give out a QR code only to those who buy it, so that they can watch a video of the harvest and growth. I think it tastes different when you eat it after watching the video. I think that's one of the values.
Yabumoto:
I think that's exactly what it's worth.
When you consider that deliciousness includes not only "taste" but also "experience" and other background factors, the definition of deliciousness is quite broad. A single lettuce can be interpreted in many different ways, so I felt again that lettuce is an art.
Mr Endo:
Incidentally, we sometimes call the lettuce we sell "just-picked lettuce". It means "lettuce that was picked a while ago" (laughs). (Laughs) We pick the lettuce about half an hour before we sell it, and we call it that.
Shimoda:
Is it difficult to go further and sell the whole soil? If you take the lettuce out of the soil and it loses its freshness, then you could take it out of the soil and sell it at a higher price. If you could say, "Take the lettuce out of the soil just before you eat it," then you could have fresh lettuce at home.
Mr Endo:
Yes, it is. If you take it out of the soil or cut the roots, the lettuce will lose its vigour.
Shimoda:
It would also be interesting to bring different varieties of lettuce from other countries with similar food cultures to sell.
Mr Endo:
On the other hand, it is also good to sell lettuce unique to Japan abroad, like "Japan Lettuce".
Shimoda:
Either way, lettuce's appeal is summed up in the word 'fresh'. The word "fresh" implies freshness, with a hint of moisture. Therefore, I thought it was possible to express the value of lettuce as "eating delicious water" rather than "eating lettuce".
Yabumoto:
However, freshness is one of the values of lettuce, and it is not surprising that wilted lettuce has a value, isn't it? People, from the young to the old, are all different and each has a different value. In the same way, a wilted lettuce has its own charm.
Shimoda:
That's true. When the season is over, it is called "toh (rape) ga tsu". It is a word that is generally used in a bad way, but lettuce that has gone to seed and people that have gone to seed may have different qualities.


6.What Takes to Revive Lettuce Farming
Yabumoto:
I understand the appeal of lettuce now that I have heard about it.
Next, I would like to ask you about the situation of farmers in Kinan. What do you think is currently lacking and what needs to be done in order to revive lettuce farming in Kinan?
Mr Endo:
The lack of people is our biggest challenge. And in order to increase the number of people, we need to create an environment where people who are interested in farming can easily come and visit us.
Yabumoto:
We don't have enough people. There is no way to increase crop production because there are no bearers.
How about filling the workforce with foreigners?
Mr Endo:
It can be a foreigner. However, one of the main reasons for the shortage of labour is that people have too strong an image that farming is hard work. So I think it is necessary to spread the image that farming is fun and profitable.
Surprisingly, fields are very close to us. If we can make it easy for people to come and experience farming in these fields, it will make people think that farming is interesting and the number of people will increase.
Yabumoto:
So the first priority is to get more people interested in agriculture.
From there, if the farmers are able to raise more money and deal with social security, we may be able to attract more people.
Mr Endo:
That's right. There are plenty of fields, so as long as we can provide an entry point to farming, the number of people will naturally increase.
Yabumoto:
There are many more things we would like to discuss with you, but the time is getting longer.
Lastly, we would like to know if there are any expectations that you have for Kinan Art Week.
Mr Endo:
It may be different in reality, but there is an image of art as being too expensive. I think it would be great if people could see art as an extension of their lives and something that is accessible to everyone.
Yabumoto:
Thank you for your time today.


.
<Related Articles>