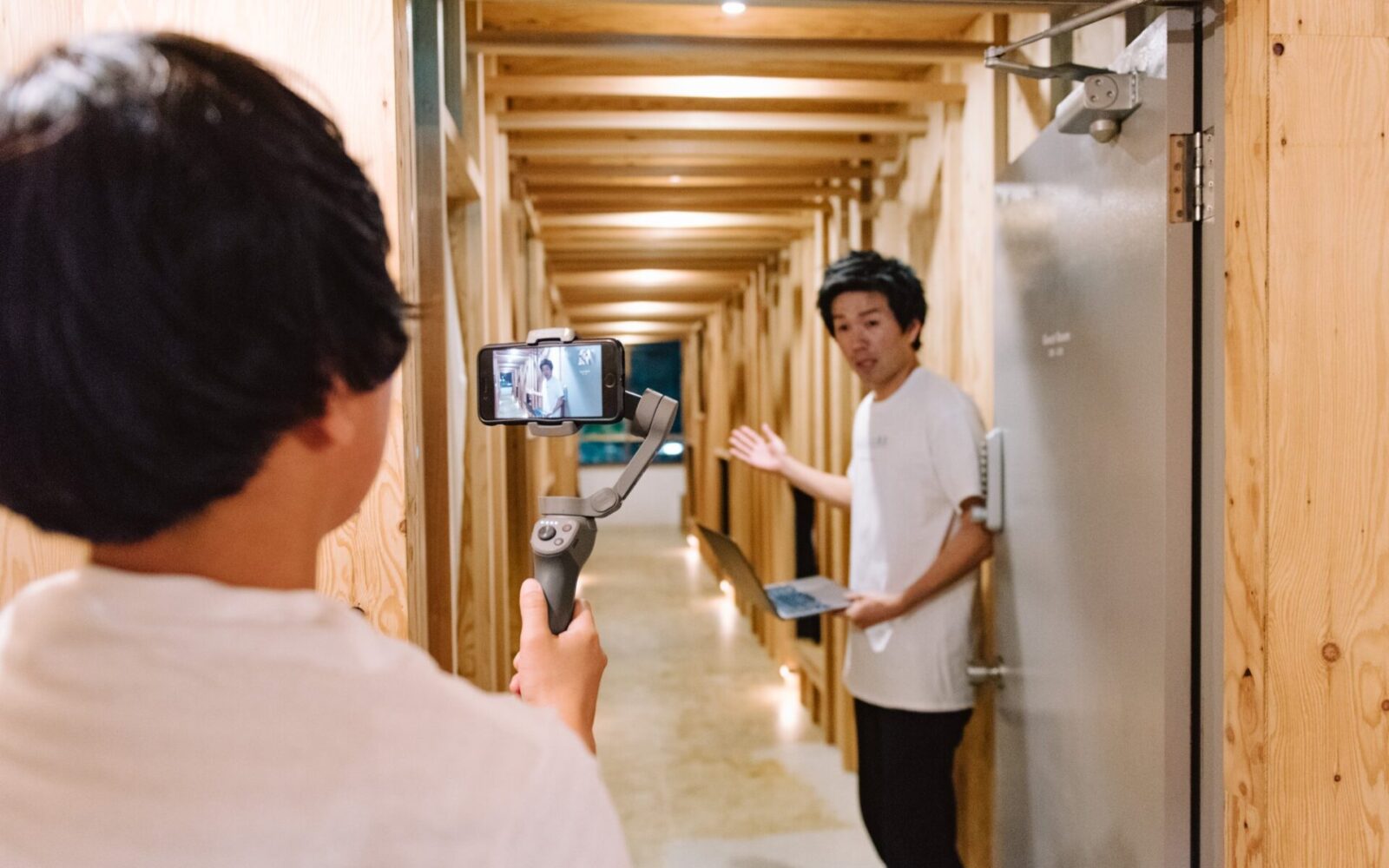 Dialogue Project #20 City Planning and Art – From Kumano to the World –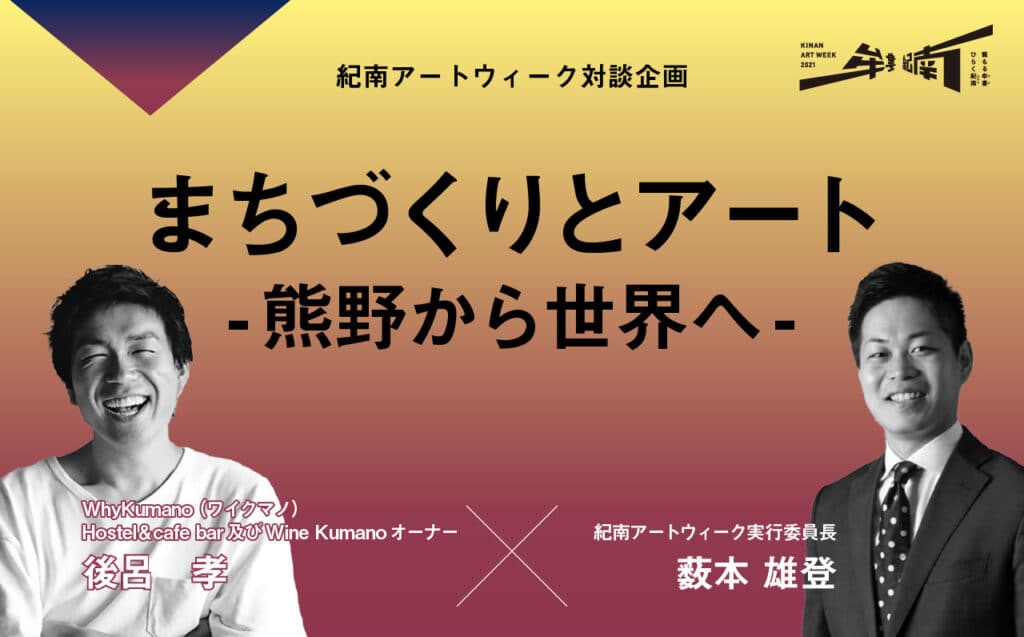 Kinan Art Week Dialogue Project#20
<Guest Speaker>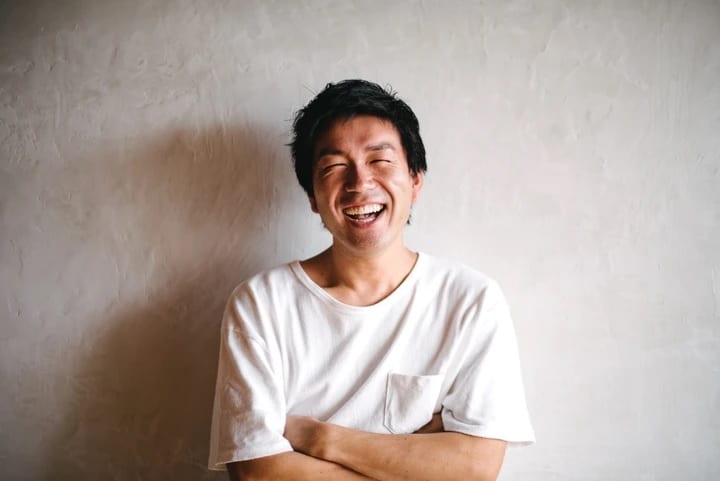 Owner of WhyKumano Hostel & Cafe bar and Wine Kumano
Mr. Takaya Ushiro (AKA Goro)
Born in Shingu City, Wakayama Prefecture, he moved to Tokyo when he went to university. After graduating, he worked for five years at a company in Utsunomiya, Tochigi Prefecture. In his private life, he lived in a share house where he organised various events and was able to expand his circle. In July 2019, he opened the guesthouse WhyKumano, and in March 2021, he opened the restaurant WineKumano. He is working hard to make her hometown more exciting and to spread the charm of Kumano to the world.
https://www.whykumano.com/


<Intervewer>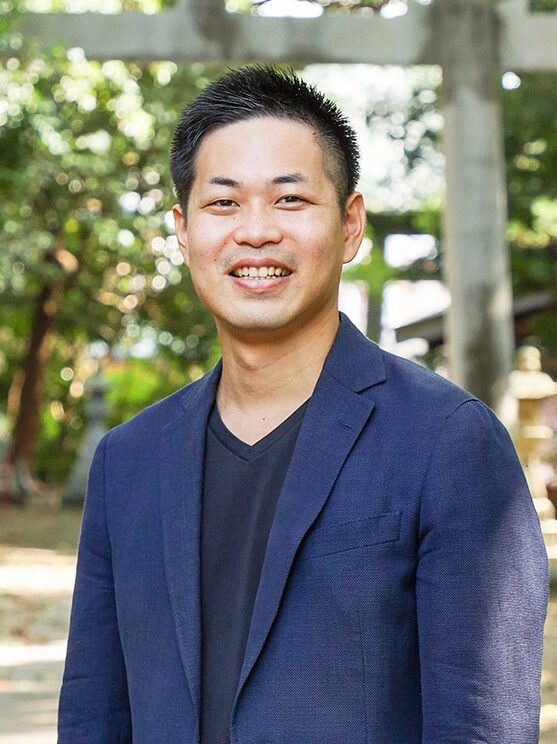 Yuto Yabumoto
Kinan Art Week Executive Committee Chair
<Participants>
Mariko Sugi
Vice-chairman of Kinan Art Week
Manabu Shimoda
Executive Director of Kinan Art Week


< Editing >
Kinan Editor by TETAU
https://good.tetau.jp/


City planning and art
Table of Contents
1. Introduction of Mr. Goro
2. WhyKumano Now
3. From Samurai to Kumano-biquni
4. What Do You Want to Say?
5. To Make a Million Yen a Night
6. Towards the Future of Nachikatsuura


1. Introduction of Mr. Goro
Yabumoto:
Thank you very much for taking the time to visit us today. I would like to talk to you about the future of Kinan, but first of all I would like to ask you to introduce yourself.
Mr. Goro:
I was born in the city of Shingu in Wakayama Prefecture and spent 18 years in my hometown until I graduated from high school, and then moved to Tokyo when I went to university. At the time, I thought that my hometown was in the countryside and I wanted to go to the city and work hard in the city. However, it was not until I moved out that I realised what a great place my hometown was. There are hot springs, tuna, nature, food and world heritage sites. Once I stepped outside, there was hardly anyone around me who knew about Kumano. Every time I went back to my hometown, more and more shops closed their shutters, and that's when I started to think that I would like to return to my hometown one day and spread the charm of Kumano to the world.
Yabumoto:
What kind of work did you do after university?
Mr. Goro:
I was in charge of sales at an electrical equipment manufacturer. I imagined myself working in Tokyo, but when I was assigned to Utsunomiya City in Tochigi Prefecture, I didn't know a single person, and to be honest, I wanted to quit my job (laughs). After a year, I realised that I hadn't really tried to get involved in the local community as I was working on weekdays and living in Tokyo on weekends, so I started living in a share house. I thought that if I could do something in Utsunomiya, a provincial city with a large population, I could use it as a role model to do something back home. The share house was spacious, so I invited guests once a month and organised events. I drew up plans with my share mates, who are both first class architects and CAD engineers, and we made a course and had a real sink or swim party (laughs).
After that I started to enjoy my life in Utsunomiya more and more, but after 5 years I decided to go around the world to get outside. Before that, I dressed up as a samurai and went around Japan, which made me realise how interesting Japan is. I came back to my hometown 4 years ago because I felt the goodness of my hometown again.
I was staying in guesthouses all over Japan, and when I was asked "Where were the best places? I remembered all the things I did in the guesthouses. I met a lot of people, I had a lot of fun nights, I liked the area. So I realised that it's the interaction with the people in the area that makes a town memorable, so I decided on Katsuura as a candidate because of the tuna and hot springs, and that's how I got started.


2. WhyKumano Now
Yabumoto:
So you set up WhyKumano after you came back to your hometown?
Mr. Goro:
It took us a year to find the property and set it up. We opened before Corona, so we had a lot of international visitors. In the beginning it was going really well, but the timing of the off-season in the winter of 2020 had a big impact.
Yabumoto:
Yes, that's right. We also got to know WhyKumano and Mr. Goro through the online accommodation initiatives against Corona. What is the situation now?
Mr. Goro:
We have now held the event more than 100 times and there are about 600 participants in total. When I was on holiday, I used to hold them on all but one day a week, but now I stay online every Wednesday because I also have a physical shop to run. However, we have recently taken a break because we had to set up a restaurant shop, and we are thinking of bringing it back.
Yabumoto:
You've been noted as a pioneer in starting online accommodation, but that's just a way of getting people to come, isn't it?
Mr. Goro:
Yes, we do. It's a promotion, so the main aim is to make people want to come to Kumano.
Yabumoto:
As a cash point, we need people to come to us to do business. Do you have any plans for the future development of online accommodation?
Mr. Goro:
I think the same as Mr. Yabumoto regarding movement and whether people will come in the first place. What I am thinking is "If they don't come here, let's go to them". I'd like to hold offline meetings for the 600 people who want to visit Kumano, either as online guests or as WhyKumano guests only. We want to create a WhyKumano community all over the country, and we want to take advantage of the off-season when people don't come, which is one of the business challenges in the tourism industry.
Yabumoto:
That's interesting! I've been thinking about the question of whether tourism is an export industry, and I think it's true that you don't need to send high value-added exports to get people to come and pick them up. In that sense, it's a new idea to move tourist attractions around the country in order to eliminate the boundary between tourism and export. I'm worried about the cost and whether the value will be diminished by moving too much…
Mr. Goro:
Winter is the best season for tuna in Katsuura. So we thought it would be more valuable if we not only went to Katsuura but also made sushi there with the tuna in season. I thought about dismembering the tuna, but I thought it would not be very cost effective, so now I am thinking of learning to make nigiri-sushi.


3. From Samurai to Kumano-biquni
Mr. Goro:
Also, when I think about why there are Kumano shrines all over Japan, I think it's because of the existence of Kumano-Bikuni* who spread the Kumano faith. And I feel that I am a modern version of Kumano-Bikuni, as I am trying to spread the charm of Kumano throughout Japan and the country.
* In order to raise funds for the operation of the three Kumano mountains, they travelled around the country preaching the Kumano faith.
About Kumanohikuni (Kotobank)
Yabumoto:
That's interesting. I think it goes well with art.
Mr. Goro:
I'm a traveler myself and it would be great if I could travel around the country once a year as a job, and I think that if we work in the cause of being a modern version of Kumano Higauni, it will spread more and more. So now I want to bring all the attractions of Kumano with me, such as local products and specialties, or bring people with me.
Yabumoto:
I have a new company in Shirahama called Artport * that does planning and research, and one of the things we are researching is Kumano. One of the things we're researching is Kumano, and we're looking into the Kumano-Bikuni, and if you think about the fact that she was a painter of pictures of paradise and death, it seems to me that she could be connected to a lot of things, such as bringing utopian artworks with her when she goes around the country.
* See Artport Ltd.
https://artport.biz/jp.html#
Mr. Goro:
It is said that there are about 4,700 Kumano shrines in Japan *, so it would be great if we could connect them in various ways to spread the word about Kumano. But I don't want to get too close to the historical background, I just want to tour around Japan as a modern version of Kumano-Bikuni (laughs).
* Number of Kumano shrines by prefecture from Kumano Sanzan Council
http://www.kumano-sanzan.jp/sanzan/zenkoku/chiiki.html


4. What Do You Want to Say?
Mr. Goro:
The concept of WhyKumano is to turn as many "Why Kumano" into "This is Kumano" as possible. If you come to Kumano without knowing about this place, we will try to answer your question "Why Kumano?" I would like to change their minds to "This is Kumano" through various experiences in Kumano. In the same way that I thought my hometown was boring and rural when I was a student, I think that if there are people who feel the same way about where they live, staying in Kumano will help them to see their hometown in a different way. I hope that it will be an opportunity to find the "This is _______" of my region. I call it a mind change or a modern revival.
Yabumoto:
What do you mean by revival?
Mr. Goro:
I haven't dug too deep into it, so it's just a modern version (laughs). I feel that my everyday life is someone else's extraordinary life, because I think that people who think that there is nothing in their hometown have come to Kumano and felt a lot.
Yabumoto:
It seems like a modern version, or more secular. I'm currently researching Cambodian mythology, and there are some local religious rituals that were born out of Buddhist ideas from Indian culture that represent reincarnation and the cycle of life. Also, in the Asian region, the content is slightly different, but there are many similar myths, so I feel it would be interesting to collect myths from all over the world with the theme of "revival".
By the way, what is WhyKumano for you, Mr. Goro?
Mr. Goro:
That's a question I get asked a lot (laughs). I run an inn, and I want the people who stay here to go out into the city. It's a bit like the Albergo Difuso* in Italy, where the whole town is a hotel. Also, when I travelled, the reason I fell in love with each place was the "people", so I hope that people in the Kumano area will also feel the charm.

* Albergo Difuso, meaning "dispersed hotel", is an initiative to revitalise the town by using empty houses in the town as inns.
Yabumoto:
What attracts people to the area around WhyKumano?
Mr. Goro:
I've been surrounded by people, both guests and locals. Many of them are very proud of the area they live in. Many of them are very proud of the area they live in, so I was very impressed to see them talking to tourists about places they recommend.
Yabumoto:
Where does this pride come from?
Mr. Goro:
There are a lot of people who, like me, once they got out of the city, realised the beauty of their hometown. I think they came back to their hometowns and became more aware of the charms of the region as they worked.
Yabumoto:
That's right. I also have a renewed sense of local quality. I feel that content and history are the source of pride. So you want to turn that into value?


5. To Make a Million Yen a Night
Yabumoto:
I am currently thinking about how to export lettuce and oranges to the world at one million yen each. It's difficult to export agricultural products directly, because they are only consumed by domestic demand, so when I think about how to increase the price a hundredfold, I feel that art is the only solution. How do you make a guesthouse that costs a million yen a night? In that sense, what is the significance of staying in a guesthouse and a hotel?
Mr. Goro:
In my opinion, there is a shared lounge where you can socialise. It's not often that you can talk to hotel staff and have a drink with them, and I think that's one of the features of a guesthouse is that there's not much of a boundary between you and the guests.
Yabumoto:
I see. If you dig deep into the source of value of your guesthouse, you may find your way to 1 million yen.
Shimoda:
I think it is often said in the guesthouse industry whether there is an opportunity for exchange or not, but as Mr. Goro mentioned earlier, in Italy, the guesthouse is the reception desk and various facilities are located in the town and circulate, and the whole town is an inn. The guesthouse is the hub of the town. It seems to have something to do with whether the guesthouse is the hub of the town or not. I think there are a lot of people who actually stay in guesthouses for the purpose of exchange.
Sugi:
I love to travel and stay in hotels, but the hotels and shopping malls built by big companies in Asia are all very similar. Sometimes it's comfortable, but sometimes it's not so interesting. But with a guesthouse, it functions as a kind of reception in the city. The absolute difference is whether you can recognize "This is Kumano", as Mr. Goro said earlier.
Shimoda:
Maybe the point is that it is localised. A place where the information and communication of each town is gathered, and where the shopkeepers are particular about their personalities and what they can do only in that place.
Sugi:
And when I heard earlier that you want to expand the WhyKumano community nationwide, I felt that WhyKumano is a unique entity that transcends the guesthouse.
Mr. Goro:
It's true that online accommodation is probably the main reason why we are able to do so much. One of our strengths is the fact that we have customers online. The number of guesthouses is increasing at a saturated rate, so it may be that guesthouses are evolving into new and unique forms. If we look deeper into the nature of the industry, we may find the answer to how the guesthouse industry itself can change to the next step.
Shimoda:
I think the essence of what we are trying to achieve lies in what kind of value we can provide to survive.
Mr. Goro:
That's right. When we first opened the hotel, the service was the same as now, but I think the level of satisfaction was much higher.
Sugi:
You said earlier that by promoting the value of Kumano, we can rediscover the value of each local area, and this is exactly what I feel about contemporary art. For me, the value of contemporary art is to ask myself questions and to find the common essence, so I think you yourself are like contemporary art. So I felt that it is not only staying at WhyKumano, but also staying at WhyKumano and communicating with Mr. Goro is worth 1 million yen.
Mr. Goro:
I see. Thank you very much, I never thought about how to get to 1,000,000 yen per night, I would like to think about it more.


6. Towards the Future of Nachikatsuura
Yabumoto:
What does the newly created restaurant look like? Is the concept similar to WhyKumano?
Mr. Goro:
It's also different. When I was asked if I could use a vacant house, I had the idea of turning the whole town into a hotel, so I rented a two-storey building with a restaurant on the ground floor, 45 seconds walk from WhyKumano. I wanted to create something that wasn't there in order to give customers more options in the city, so I started a wine and craft beer shop. I was also interested in those two alcoholic drinks, so that had something to do with it.
Yabumoto:
Where is the core of where you are now? I was supporting an initiative to create a private museum in Kanazawa, Ishikawa Prefecture, with the 21st Century Museum of Contemporary Art at its core. I was thinking.
Mr. Goro:
One of the challenges of Katsuura, where the guest house is located, is that the Nachi waterfalls are about 15 minutes drive away from the city, so the flow of people to see the waterfalls is not so good because they don't stop in the city.
Yabumoto:
On the contrary, it would be interesting to think about the waterfall as the centre. At the level of city planning, we could create a comprehensive art and entertainment centre around it.
Shimoda:
In front of the station is the best place to go around on foot, if you want to go to various unique shops in the evening, as I did before. So I would like to bring the city centre as a place to go in the evening. It would be interesting to have a night market, a museum open only at night, or a cinema. I think that if the whole city can work together to give a reason for the specialization of the hours and the contents, there will be a lot of multiplication.
Mr. Goro:
That's right. Rather than trying to enclose people in one place, I think we need to create a system that allows visitors to move around Katsuura.
Yabumoto:
Thank you very much. I think what we can do is to do thorough research and relate Kinan's culture to art history on the cultural side, and on the economic side, to maximize the value from the perspective of art & entertainment, so we are happy to work together. Finally, do you have any expectations for Kinan Art Week?
Mr. Goro:
In this interview, we talked about many things that I wanted to deepen and I realized many things. There were some points that I hadn't thought of before, so I learnt a lot and I hope we can do more things together when we go around the country.
Shimoda:
I think Mr. Goro's strength lies in his ability to take action, so I would like to support him in his planning and editing. I think it would be interesting if we could work together, with Mr. Goro taking the various processes and hypotheses that Mr. Yabumoto has researched, so that we can both make the most of our strengths. I think Mr. Goro is a modern version of a Kumano nun, and is an evangelist who conveys the charm of Kumano.
Yabumoto:
It would be nice to have a team like that. Thank you very much for your time.


.
<関連記事>