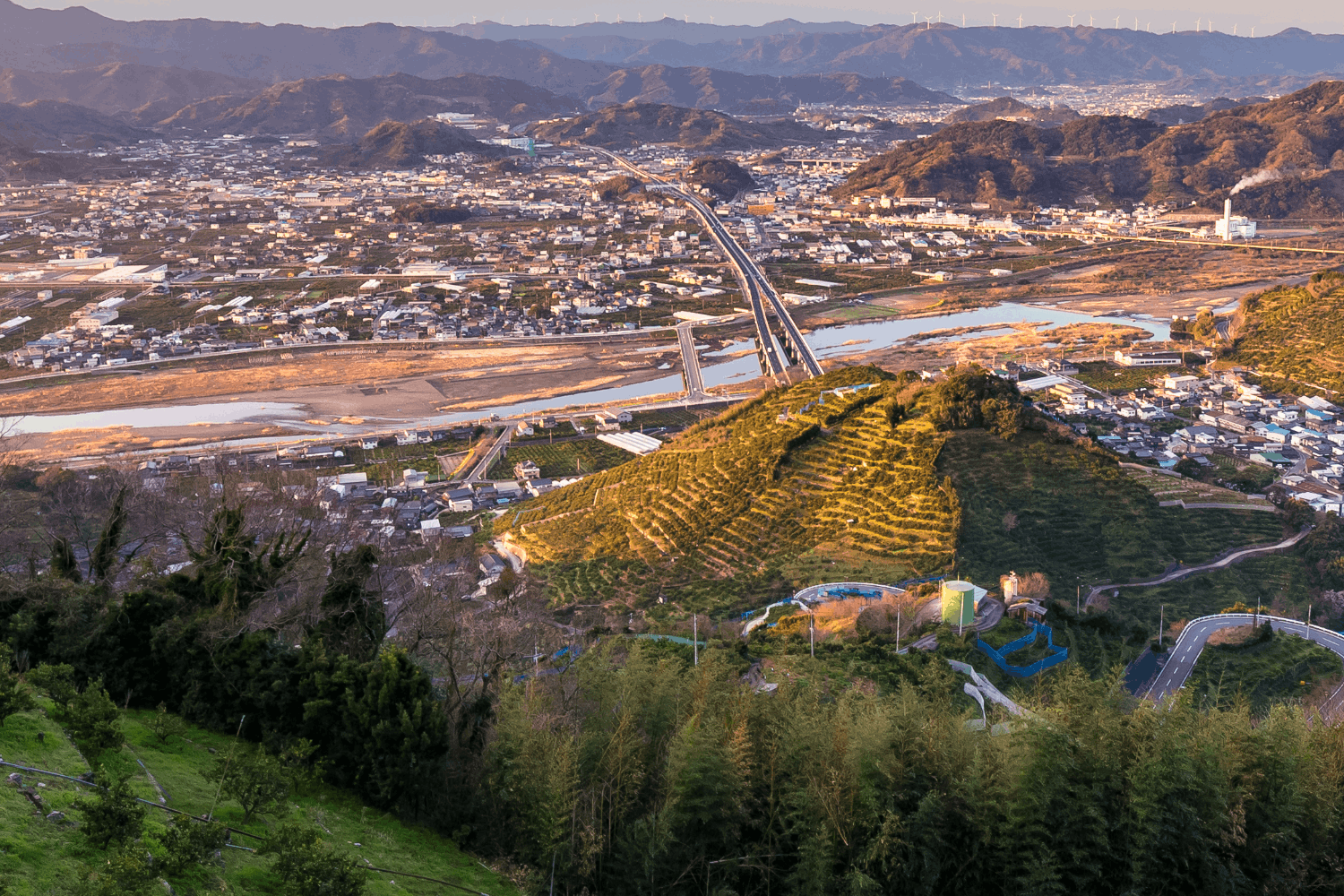 Dialogue Project #22 "Kinan and the Future of Regional Banks"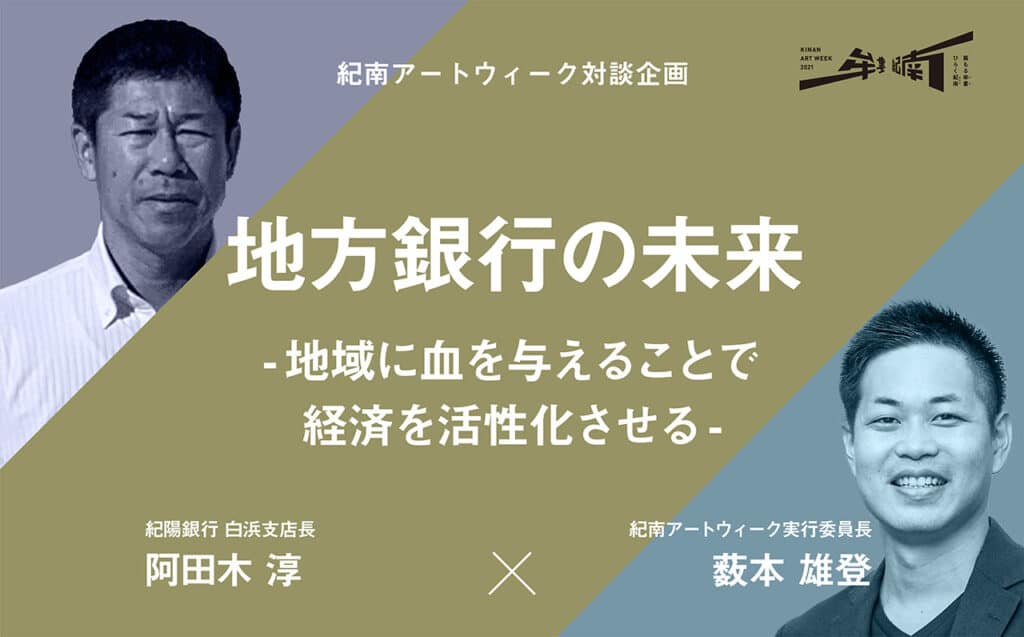 Kinan Art Week Dialogue Project #22
〈Guest Speakers〉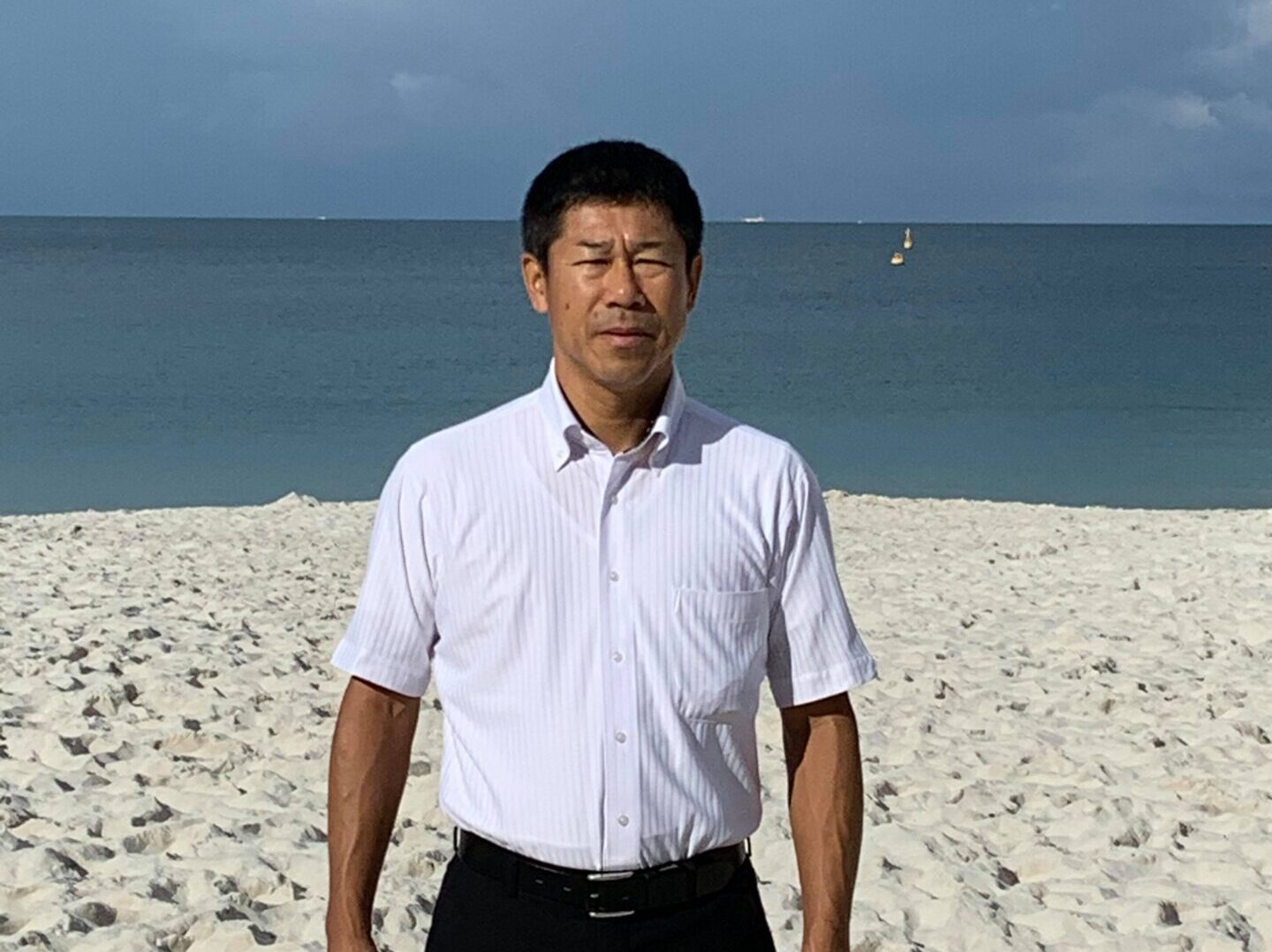 General Manager, Shirahama Union Branch, Kiyo Bank (*At that time, now General Manager , Tanabe Union Branch)
Jun Atagi
Branch Manager, overseeing the Shirahama Branch and three other branches in Nishimuro County. With a desire to contribute to the local community, he is supporting businesses in the Kinan region.
https://www.kiyobank.co.jp/
General Manager of Sales Support Department and General Manager of Regional Development Promotion Office, Kiyo Bank
Kazuhiko Suita
Concurrently held two positions.
He is using his marketing knowledge to help revitalize the community.
Deputy General Manager, Regional Development Promotion Office, Kiyo Bank
Kazuki Ohashi
Acting Director of the Local Development Promotion Office, who serves as a bridge between the local people and the government. Through his experience in various organizations, he is committed to local development with a broad perspective.
<Interviewer>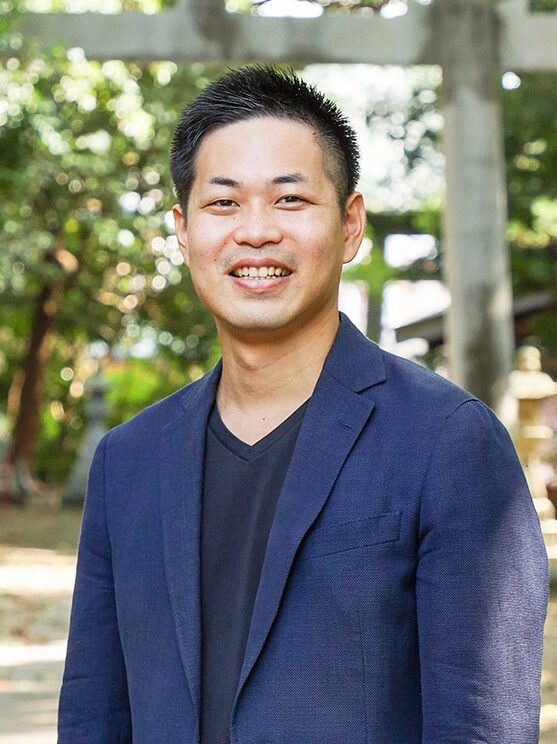 Yuto Yabumoto
Kinan Art Week Executive Committee Chairman
Editing :
Kinan Editorial Department by TETAU
https://good.tetau.jp/
Kinan and the Future of Regional Banks
[Table of Contents]
1. Introduction of the three of you
2. Kiyo Bank's History of Kinan
3. What is the role of banks?
4. The relationship between local development and exports
5. Bank Management Strategies and Art
6. Policies for the future
7. Polishing the good things of the region.


1. Introduction of the Three of You
Yabumoto:
This time, I would like to hear from Kiyo Bank about how we should think about the future of Kinan from the perspective of a financial institution. We hope to have a dialogue about the functions and roles of regional banks in the Kinan region.
First of all, please give us a brief introduction from each of you.
Mr. Atagi:
My name is Atagi, and I am the General Manager of the Shirahama Union Branch of Kiyo Bank (*At that time, now General Manager , Tanabe Union Branch) . I was born in Mihama Town, Wakayama and played baseball at Hidaka high. When I joined the bank, I worked at the Gobo Branch, but when I was younger, I mainly worked in Osaka. I have been working at a branch office in Osaka for a long time, and I have also been the branch manager of three stores. Two and a half years ago, I started working at Shirahama United Branch and this is the first time in 20 years that I've worked in Wakayama. Originally, my motivation for joining the bank was that I wanted to contribute to the community and work locally in my hometown. Now that I have become the general manager of the Shirahama Union Branch, I feel as if my dream has come true.
Mr. Suita:
My name is Suita. I joined Kiyo Bank in 1991, and this year marks my 31st year. I was born in Sakai City, Osaka Prefecture and had almost no connection with Wakayama before joining Kiyo Bank. I worked in Osaka for about 5 years and have been working in Wakayama for the remaining 25 years.
Originally, I did not have a dream of becoming a banker. When I joined the bank, financial liberalization *1 was underway, and I was very impressed by what the personnel department of Kiyo Bank told me at the time. He said, "In order to increase customer satisfaction in the midst of new competition, marketing skills are necessary. I was very surprised, because I had thought that marketing was only for tangible things. I decided to join the bank because I wanted to use the marketing skills I had majored in when I was a university student.
*1 Financial liberalization refers to the deregulation of banks, securities companies, insurance companies, etc. to liberalize the operations of financial institutions. What is liberalization (Kotobank)?

Mr. Ohashi:
My name is Ohashi, and I am from the Regional Development Promotion Office. I am from Wakayama City. I was transferred to the Regional Development Promotion Office in April last year, and I am involved in the work of regional revitalization and regional development. My clients are mainly the government and local governments, but I also interact with local businesses.
In the past, I worked mostly at branch offices in Osaka and Wakayama. When I was in my late 30s, I was transferred to the Wakayama Prefectural Government on business for two years, where I worked in a department that was responsible for promoting local businesses. I also worked as a branch manager at the Wakayama City Hall Branch until just before I was transferred to the Regional Development Promotion Office. I worked from the perspective of seeing if there was anything the bank could do to help with the administrative issues facing Wakayama City.
Yabumoto:
Thank you all for introducing yourselves.
What other work do you do in the Regional Development Promotion Office?
Mr. Ohashi:
We helped set up an organization called the "Nanki-Shirahama Future Creation Committee *" to help local people think about the future of Shirahama as their "own affair," and we went around working with the government and asking local people "Wouldn't it be great if we could do something like this?"
In addition, Kiyo Bank, the town of Kushimoto, and NOTE Corporation, a company that restores old houses, have formed a three-way partnership to renovate a 100-year-old house in Kushimoto into an accommodation facility. The entire town of Kushimoto is regarded as a "town inn," and we are aiming to revitalize the area. In particular, we are providing financial support for the renovation of old houses.
*Reference: Nanki Shirahama Mirai Creation Committee@mirai.nankishirahama (Facebook)
*Reference: Hydration stay in the southernmost town of HonshuKushimoto (NIPPONIA)
*Reference: "Opening ofNIPPONIAHOTELKUSHIMOTO KUMANO Kaido, the First Phase of the "Kushimoto Old House and Town Development Project"" (June 10, 2019, Kiyo Bank, Ltd.PressRelease for corporate and business customers)
*Reference: "Opening of the third building of NIPPONIAHOTELKushimotoKumano Kaido, the second phase of the Kushimoto Old House and Town Development Project" (May 27, 2021, Kiyo Bank, Ltd.PressRelease)
Yabumoto:
I see. Based on the creditworthiness of regional banks, Kiyo Bank is playing a role as a "community facilitator" isn't it?
Mr. Ohashi:
That's right. We hope to play a role in connecting local people, businesses, and government.


2. Kiyo Bank's History of Kinan
Yabumoto:
I would like to start by asking you about the history of Kiyo Bank. Kiyo Bank was founded in 1895, how did the company develop?
Mr. Atagi:
Originally, there were 12 branches in the Kinan area, 10 of which started in the Meiji era. The Kiyo Bank has continued to change its form through acquisitions and mergers of local financial institutions.
For example, the Tanabe Branch was originally established in 1885 under the name Kyoeisha *. It later changed its name to the Kushimoto Bank, the Hidaka Bank, the Tanabe Bank, and was finally merged into the Kiyo Bank in 1941 *. Today, there are eight branches in the Kinan area and four of them are now only ATM corners. In Osaka and Wakayama city, the number of branches increased with high economic growth, but in the Kinan area, it has not increased at all, but rather has decreased recently.
*Reference: Kyoeisha (Database of the History of Bank Changes)
*Reference: Kiyo Bank, Ltd. (Bank History Database)
Mr. Ohashi:
In addition, Kiyo Bank is currently serving as a designated financial institution *3 for local governments. Of the 30 municipalities in Wakayama, 20 have designated Kiyo Bank as their financial institution, so I think it is safe to say that Kiyo Bank's presence is recognized.
*3 Financial institutions designated by local governments to handle the collection and payment of public funds.
"Designated Financial Institution System" (Encyclopedia of Local Government Law and Related Practices, August 1, 1979, pp. 2447-2448, Dai-ichi Hoki Co.
Yabumoto:
I see. Kiyo Bank has been in business since the Meiji era, but what kind of financial needs did you have at that time?
Mr. Atagi:
The Meiji era was around the time when Eiichi Shibusawa founded the bank. There were probably not many industries yet, so the concept of lending (to businesses) had not yet gained traction in the world.
Mr. Ohashi:
Originally, banks had the role of taking deposits. They also play a role in storing taxes and delivering benefits, and I believe that they played these roles in the past, just as they do now.


3. What is the Role of Banks?
Yabumoto:
Earlier, I asked you whether banks have a role to play as facilitators, but what other roles do they have?
Mr. Atagi:
I think the role of a bank, in terms of the human body, is the "blood transfusion function". By giving blood to the community, the role is to revitalize the economy. I believe that when the community moves, the economy moves.
Yabumoto:
As you can see from the company's philosophy of "contributing to the prosperity of the local community and working together with the community" and "aiming for strong and steady development through solid management, *" you have been fulfilling your functions in a solid manner, haven't you?
*Reference: The Kiyo Bank, Ltd. Homepage
Mr. Atagi:
It goes without saying that solid management is the foundation of a bank. There is a lesson to be learned from the very difficult business environment after the collapse of the bubble economy. However, local banks cannot stop lending, because stopping lending would lead to the bankruptcy, closure, or suspension of business of local companies.
There was a time when Kiyo Bank also had a lot of bad loans. I know that this is not a good thing, but I personally think that this is a "badge of honor" for regional banks. I believe that a regional bank that does not have non-performing loans is not working for the community, in other words, it is the same as not doing its job. As long as we continue to do business rooted in the community, we need to take such risks to contribute to the community. Of course, it is not good to have only non-performing loans, but basically, people who are active in the local community in Wakayama do not run away or hide, and there are not many people who cheat the banks.
Yabumoto:
Thank you. In your company's logo, there is a phrase, "A bank that is more than a bank *", what does this mean?
*Reference: The Kiyo Bank, Ltd.Homepage
Mr. Ohashi:
Although solid is solid, there may be some people who have an image of a bank that is often used in TV dramas, such as "lending umbrellas on sunny days and taking them away when it rains". I think we need to change the image of bankers and make local residents and businesses think, "You're a bank, but you do so much!" I believe that the role of local banks is to do their best to meet the needs of the community.
Yabumoto:
In the course of my work, I often interact with bankers, but on the other hand, I have the image that bankers seem to have a hard time doing too much of everything.
Mr. Ohashi:
People in the bank often ask me, "You're doing all that? (laughs). If there is a customer who wants something, the first thing I do is go to the customer and listen to what they have to say. I think this is the most important thing. If we can't solve the problem ourselves, we will bring someone who can. At first glance, it may not seem like it will lead to profit, but I believe that the revitalization of the local community will in turn benefit the bank. In extreme cases, I have received requests for life advice or help finding a marriage partner for my daughter, but I am grateful that they ask me because they trust me (laughs).


4. The Relationship between Local Development and Exports
Yabumoto:
In this Kinan Art Week, the most important thing we are focusing on is "export".
Looking at the data from various sources, it is clear that domestic demand in the Kinan region will shrink. In that case, I believe that we will be faced with two choices: either we will be embraced by some large domestic demand, or we will be able to access external demand through exports and sustain the region. In this context, based on my experience in Cambodia, I am wondering, "Will the people living in the region be happy if they have to rely on huge domestic demand?". Is there anything that Kiyo Bank is thinking about in terms of "exports" and what role does it play?
Mr. Ohashi:
Recently, I had a chance to talk with a person in charge of the market in Wakayama City, and I learned that the producers have a desire to sell their local products overseas. When I spoke with the person in charge of the project on another matter, we ended up talking about a company that processes yellowtail filets in Shingu called "Shokuen". , and he said, "I think there is a good chance that we can export our products overseas". Since a friend of mine was working at the company at the time, I brought them together to see if there would be any chemical reaction, and they had a good conversation that could lead to business.
With the development of logistics, I feel that the hurdle to exporting products overseas has been greatly reduced, as it is now possible to easily transport locally prepared products overseas. If information and logistics work well together, I think we can meet people who want what is lying dormant in their hometowns.
*Reference: Shokuen Co., Ltd. Homepage
Yabumoto:
I have been involved in export projects from local governments and regional players for the past 10 years, and I believe that there are limits to the "market-in" *4 approach and related localization. This is my own conclusion from my involvement in the expansion and development of business in Asia so far. The key is that what is truly valuable is not localized for the target country, regardless of the target market, and has uniform pricing, marketing, and branding all over the world. In fact, it seems to me that companies with such products win hands down in their core business. My hypothesis is that it is the contemporary artists who are making this happen in an easily understood way in the community. The reason why I would like to realize the "global export" of the region itself with the help of art is because the region needs products and services that are strong enough to withstand the global world, especially those with strong product-out *5 elements, and it is necessary to realize export with these as the core. It is very important to dig deep into products, and I am wondering if it is possible to attract or create companies with such products together with local banks. I am convinced that this will lead to the maintenance and development of local banks.
*4 How to focus on consumer needs in product planning, development, and production
What is market-in (Kotobank)?
*5 How to prioritize the logic and plans of the creator in the planning, development, and production of products.
What is Product Out (Kotobank)


5. Bank Management Strategies and Art
Yabumoto:
Kiyo Bank is involved in quite a few art-related activities, isn't it? For example, "UNKNOWN ASIA 2021 *" is scheduled to be held in October this year, and Kiyo Bank is a special co-sponsor of the event. You have also established the Kiyo Cultural Foundation, which is active in cultural support activities. What do you think about the relationship between your banking business and the art field? In fact, Deutsche Bank's collection is one of the most famous in the world, and it is well known that banks become major patrons of art and culture.
*Reference UNKNOWN ASIA 2021 Home Page
Mr. Suita:
"We have been collaborating with FM802 * for a long time now, and our original idea was to raise the profile of Kiyo Bank in Osaka. Thanks to this, Kiyo Bank's name recognition in Osaka has been increasing, but it is still low compared to Wakayama. In such a situation, I wanted to show my presence in Osaka, so I came to collaborate with FM802. So, to be honest, it is probably more of a management strategy to raise our standing in Osaka rather than an art form. In Wakayama, most of our business is with the elderly, but in Osaka, our aim was to find a way to promote Kiyo Bank to the young people who will lead the next generation.
*Reference FM802 homepage
*Reference FM802 SPECIAL LIVE Kiyo Bank presents REQUESTAGE2021 (FM802website)
Yabumoto:
Raising the bank's profile and bringing in new segments of the population is very much like a war. In capturing domestic demand in the big city of Osaka, I think it is inevitable that this will be the case.
Mr. Suita:
Within the bank, I think there are many different ways to look at the collaboration with FM802. There is always a debate as to whether this is a cost or an investment, but I think it's better to continue into the future viewing it as an investment.
Yabumoto:
This is an important question for companies. I feel that this is left to the sensitivity and judgment of the top management. In a sense, capturing the people and companies that live in the city, in other words, capturing the large domestic demand of the city, may be an easy and straightforward way of doing business, but I have my doubts as to whether it is sustainable. In the world of domestic demand, it is a repetition of "if you take it, you get it back," and I am convinced that art has value and power that goes beyond public relations strategies in big cities.
Also, what do you think about the role of local banks in nurturing local companies? This may be connected to what you said earlier about exporting, but is it still difficult, given that it takes time to nurture a company and that methods are not yet firmly established?
Mr. Suita:
As a regional bank, I believe that it is a very important mission to play a role in nurturing local companies. As for current issues, one of the major challenges is how to ensure that successors can smoothly take over the business as the overall number of businesses decreases. In addition to simple succession among family members, we would like to be able to invite people who have acquired a certain amount of experience in urban areas to come to rural areas and take charge of the business as a management team. It's difficult to find such management talent in the local area.
Yabumoto:
I think that is probably true. However, I think that experiences in cities are no longer necessarily correct. In this sense, Kinan Art Week is putting more effort into workshops and seminars for junior high and high school students than anything else. We believe that it is important to create human resources, even if it is just one person, who has access to external demand from all over the world.
I also feel that the maintenance and development of the region is intimately related to how to develop "players who can do business in the whole world from the local area", which would lead to loans from your company. I would be happy to collaborate with Kiyo Bank in ongoing discussions on whether we can create or attract players who can earn foreign currency from Kinan.


6. Policies for the Future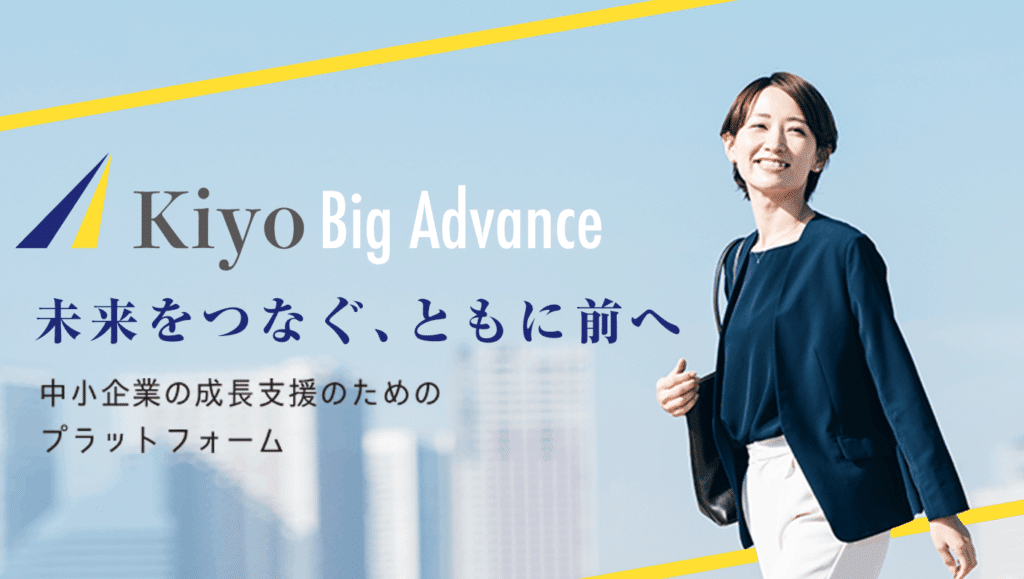 Yabumoto:
What are Kiyo Bank's policies for the future?
Mr. Suita:
I believe that Kiyo Bank, with its head office in Wakayama, is only possible because of its customers in Wakayama, and I don't think we will deviate from this basic policy. Opening a branch in Osaka has the image of working away from home, but we are always thinking about how to return what is earned in the urban areas to the local community. We are carrying out our business based on the president's idea of "What Kiyo Bank can do for the community?". However, since we have limited resources, it is difficult to know how to allocate our finite resources.
Yabumoto:
Do you think about the allocation of resources as you work?
Mr. Suita:
That's right. We believe that there is a lot of potential in Wakayama in the area of tourism. For example, we are investing in a "town planning company" to revitalize the region from the perspective of "how to attract visitors".
In addition, Japan's first private rocket launch site is scheduled to be established in Kushimoto Town this year, and products related to rockets are being developed in Kushimoto Town *. As a supporting company, we are also making efforts to revitalize the local economy.
*Reference: The Kiyo Bank, Ltd.Press Release October 5, 2015, for corporate and business customers, "Determination of the first investee of the Wakayama Regional Revitalization Fund".
*Reference: "Volunteers in Kushimoto Town to Develop 'Space Gourmet' Rocket Launch" (June 9, 2021, Kii-Minbun AGARA)
*Reference: Keiji Honda, "Celebrating the birth of the rocket site! Commemorating the birth of the rocket site, "Marugoto Kushimoto Rocket," a space-themed food tour to the whole country" (June 6, 2021, CAMPFIRE)
Yabumoto:
I see. So Kiyo Bank has become a facilitator, and sometimes a blood transfusion agent, to promote the revitalization of the community.
Mr. Suita:
I believe that it is an important role for a regional bank to polish and disseminate the good things of the region.
Right now, tourist attractions all over the country are competing with each other for "After Corona", and saying "Come here when Corona subsides". However, from an intrinsic point of view, it is a challenge whether the way things were before Corona is good enough. I believe that discovering and rediscovering things that can only be seen and felt there is something that local banks, which know their local communities well, can and must do. I would like to work together with the local government and local businesses to attract more customers.


7. Polishing the Good Things of the Region.
Yabumoto:
I feel that the phrase "polishing the good things of the community" has a connection to art. What exactly does "polish" mean?
Mr. Suita:
There are many things that you never notice when you are in your hometown, but when you see them from the outside, they shine brightly. I would like to discover them and present them to the world. I think "discovering, brushing up, and figuring out how to appeal to the public together with the local people" is what "polishing" means. I'm not really aware of it, but maybe I'm implementing artistic practices without realizing it.
Yabumoto:
We are particularly interested in "curation" in the field of art, and we would like to do something in this field together with Kiyo Bank. For example, it might be a good idea to create opportunities to refine and revitalize places in the Kinan region that are not being used.

Mr. Suita:
That sounds very interesting. Kiyo Bank is in the process of consolidating its branches, and we are thinking of ways to utilize them after they are closed. I think it's possible to utilize vacant bank branches so that local people can continue to use them in the future.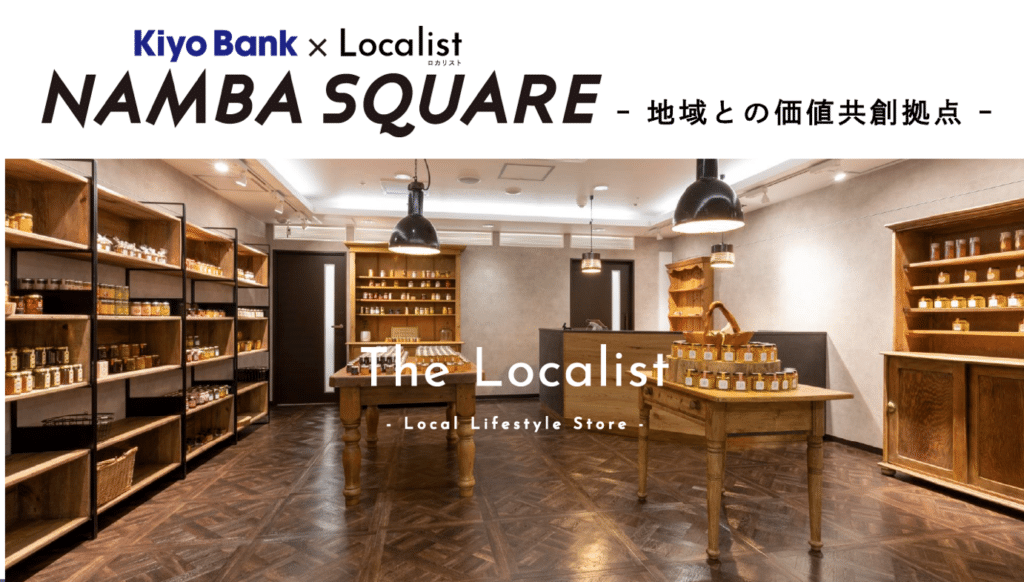 Speaking of curation, a regional trading company we invested in, The Localist Co., Ltd. is going to open a store called "The Localist *" in Namba, Osaka to sell specialty products from Wakayama . The opening of the store was postponed due to the new Corona, but when it opens, we plan to sell about 100 kinds of jams and other products made in Wakayama * .
Right now, we are trying to find out what kind of local products and products that are hidden in the area. In the future, I plan to use this store as a base to promote the good points of Wakayama.
*Reference Localist@localist_w (Instagram)
*Reference TheLocalist/Local Lifestyle Store@localist_store (Instagram)
*Reference TheLocalist/Localist Lifestyle Store@localiststore (Facebook)
*Reference: "Renewal of NAMBA SQUARE as a hub for co-creation of value with the local communityin collaboration with a regional trading company "Localist"- A hub to promote Wakayama Prefecture's specialties will open on the 2nd floor of Nankai Namba Station! April 1, 2021, Corporate and Business Customers, Kiyo Bank, Ltd.Press Release
Yabumoto:
I see. Local products selected by locals are sold from Osaka as a base. I can say that this is also a form of curation, and I feel that it is also connected to "exporting" the good things of the region.
Mr. Ohashi:
By visiting farmers who are working hard in various parts of the prefecture, we are accumulating information on the many hidden specialties that exist. Unlike fresh products, jams, which are secondary processed products, can solve the problem of distribution. Wakayama is also a fruit kingdom. I believe that I am expected to play a role in organizing local products and making them known to many people.
Mr. Suita:
Although there are many things that we cannot do due to regulations such as capital subscription restrictions in the Banking Act, we are always thinking about what we can do for the community.. "When it comes to local matters, Kiyo Bank is your bank! With this in mind, I would like to continue to do my best to serve local customers and promote the "good things" of the region.
Yabumoto:
It was precisely because Kiyo Bank continues to run for the benefit of the local community that I wanted to collaborate with them through the Kinan Art Week. Besides, Kinan has a lot of potential.
Mr. Atagi:
I'd love to hear from you!
I would be happy to work with you on projects that will lead to the revitalization of the region and the development of the economy.
Mr. Ohashi:
I'm really looking forward to seeing what kind of collaboration it will be.
Mr. Suita:
Thank you for your continued support!
Yabumoto:
It's my pleasure! Thank you very much for your time today.
Mr. Atagi:
Thank you very much.
Mr. Suita:
Thank you very much.
Mr. Ohashi:
Thank you very much.
<Related Articles>