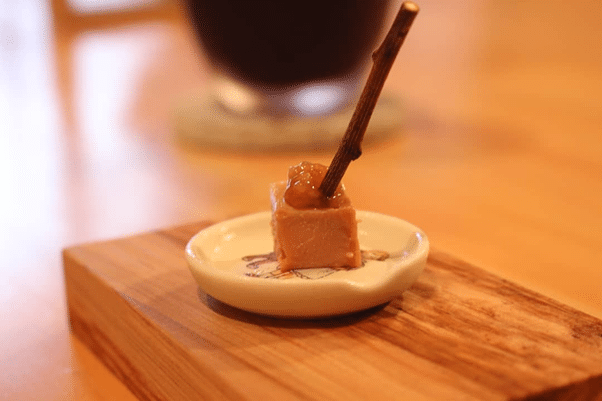 Dialogue project #13 "Food and Art in Kinan"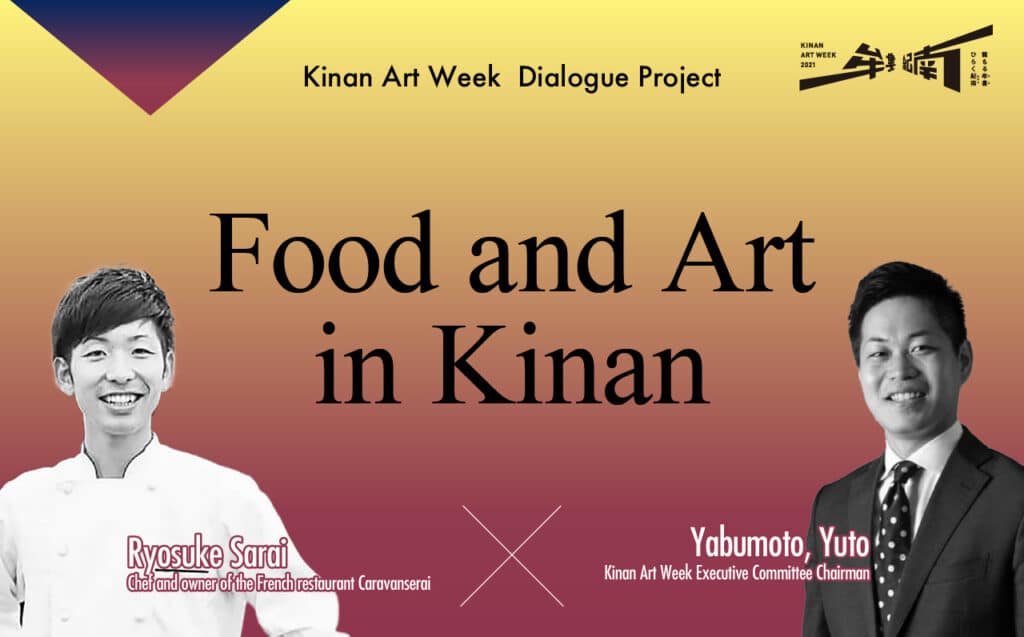 Kinan Art Week Dialogue project #13
Guest :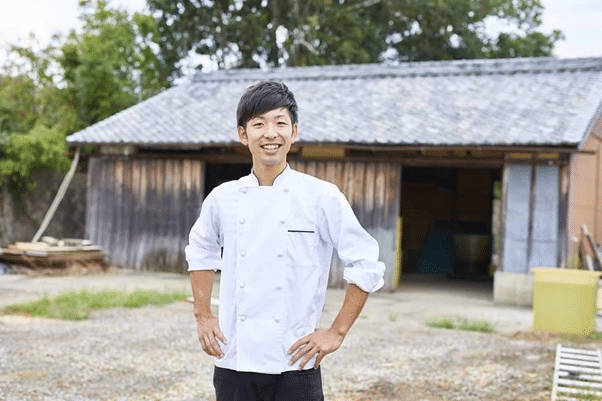 Chef and owner of the French restaurant Caravansarai
Ryosuke Sarai
Born in Tanabe City, Wakayama Prefecture. After graduating from culinary school, Ryosuke Sarai gained experience at the Imperial Hotel in Osaka and a restaurant in Nagano Prefecture before making a U-turn in the spring of 2018. He renovated his grandfather's plum storehouse and opened the French restaurant "Caravansarai" in spring 2020. He is also involved in food education activities such as giving food lessons to elementary school students.
Restaurant Caravansarai Facebook

Interviewer :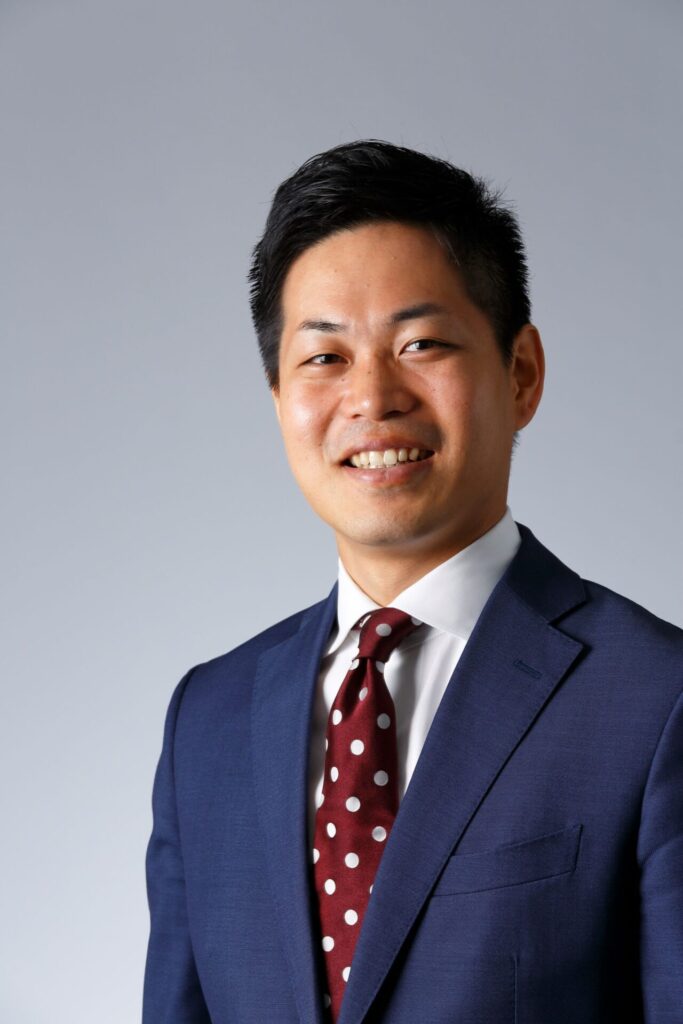 Kinan Art Week Executive Committee Chairman
Yuto Yabumoto


Editing :
Kinan Editorial Department by TETAU
https://good.tetau.jp/


Food and Art in Kinan
< Table of contents >
1. Introduction of Mr.Sarai
2. Concept of Caravansarai
3. Food Culture of Kinan
4. Story of the ingredients
5. Universality of plum and French
6. Connecting with the world through food


1. Introduction of Mr. Sarai
Yabumoto:
Thank you for your time today. Mr. Sarai, you were one of my juniors in the junior high and high school baseball teams.
Mr. Sarai:
I've been running a restaurant in the Kamihaya district of Tanabe City, Wakayama Prefecture for about a year now. I am 31 years old, and before that, I worked for about 10 years at a hotel in Osaka and a French restaurant in Nagano Prefecture.
When I was working at the Imperial Hotel, I was given the opportunity to experience classic French cuisine, and that has become the base of what I do now.
The month after we opened the restaurant, a new type of corona began to spread and we had to refrain from operating the restaurant, but we have been spending our days trying various things.
Yabumoto:
How did you come to return to Wakayama? Did you go on to work at the Imperial Hotel after graduating from a technical college?
Mr. Sarai:
Yes, I did. I quit the hotel after working there for five years. I was in the banquet kitchen, cooking for a thousand people on weekends.
Even at the Imperial Hotel, the work was as simple as cooking dozens of broccoli or thousands of cherry tomatoes. Through this accumulation of work, I began to think about whether vegetables are at their best when they are in this state.
For example, tomatoes are usually harvested when they are green and shipped, and then a week later the red tomatoes appear in the supermarket. Tomatoes that have grown on the vine until they're bright red have a very different taste. I was fascinated by the idea of cooking with such tomatoes in a private restaurant. Also, I wondered if I wanted to become the head chef of the Imperial Hotel.
Yabumoto:
Didn't you want to be a head chef?
Mr.Sarai:
That's right. There was also a seniority-based system, and there was a lot of paperwork, which took up a lot of my time at the desk, so it wasn't as if I could completely concentrate on cooking.
Yabumoto:
In a way, you were stable, but your desire to challenge yourself outweighed that.
Mr.Sarai:
That's right. After I left the hotel, I went to a French restaurant in Nagano Prefecture. It was a snowy prefecture without a sea, so the ingredients were completely different. We also ate insects and such (laughs).
Nagano Prefecture in winter has a strong culture of preserved foods because there are not many ingredients. In Wakayama, citrus fruits are at their peak in winter, and other ingredients are abundant. When I went back to Wakayama, I bought all those things at the direct market and sent them to Nagano, and I felt the difference in the ingredients.
Yabumoto:
So what kind of challenge did you decide to take on?
Mr. Sarai:
The restaurant in Nagano was a gibier restaurant that served meat from wild birds and animals all year round. The owner-chef of the restaurant had started an organization called the Japan Gibier Promotion Association, and was working to spread the word that gibier is a delicious dish.
So, I went to Nagano Prefecture to train in a place where I could accompany hunters and learn about different kinds of ingredients, the way vegetables should be, and the fundamentals of food.
Yabumoto:
After that, you came back to your hometown and opened Caravansarai.
Mr. Sarai:
When my friends from my hometown came all the way to Nagano to eat with me, I felt completely differently. I came back thinking that serving the food that I want the people close to me to eat is what I want to do.
Yabumoto:
The partner you recently married is also a local.
Sarai:
That's right (laughs).
2. Concept of Caravansarai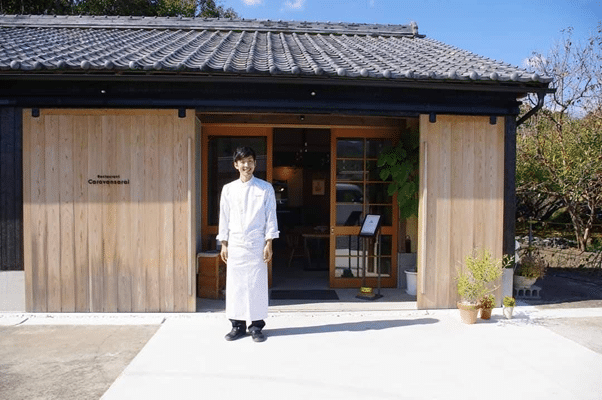 Yabumoto:
Now, please tell us about the concept of Caravansarai.
Mr. Sarai:
Caravansarai is a restaurant that was created by renovating a plum warehouse, a plum storehouse that my grandfather built 50 years ago.
Yabumoto:
It used to be a plum storehouse then.
Mr. Sarai:
Yes. The plum storehouse is a work shed where plums are pickled and parted. There are plum storehouses all over the place near the fields, but we made use of them to make a restaurant. As the name "Caravan" implies, the restaurant was made to look like an inn for traders and a place to rest.
Yabumoto:
I see. So that's how it is.
Mr. Sarai:
When renovating the building, I placed importance on the mud walls. The mud walls were hand-made by my grandfather with carpenters. In the old days, the peasants were able to make buildings using mud walls.
I wanted to use those old things as they were, and create a restaurant that incorporated traditional local ingredients and traditions.
Yabumoto:
I also believe that peasants were artists.
By the way, how is the restaurant? Are you managing to get by through Corona without any problems?
Mr. Sarai:
We are. It was my first time running a business, but I think I've been able to adapt to it while doing so, even though I'm deep in the mountains of a rural area.
Yabumoto:
Are there any other French restaurants in the area?
Mr. Sarai:
There are a few more restaurants now than there used to be. I had never eaten French food until I entered a vocational school, where my teacher, who was a professional chef, cooked beef fillet Rossini style in front of me. It was so delicious that I decided to study French cuisine in that class.
Yabumoto:
I see. What is the appeal of French cuisine?
Mr. Sarai:
In France, there are no convenience stores everywhere like in Japan, and food ingredients are
limited to the local area. The distribution is different, or rather, the focus is on local products.I think the appeal of French cuisine lies in the concept of using what is naturally available in the local area.
Yabumoto:
So you were attracted to the idea of using local products, and that's why you came back to Kinan.
You are now in your second year, how do you feel you will be doing in the future? I heard that you have opened a second store.
Mr. Sarai:
The second restaurant is run in the form of a bento shop using the restaurant. For a restaurant, the range of sales is very limited for just one store. If you don't open more restaurants, you can't grow as a company and you can't make money.
However, I'm not thinking of opening more French restaurants. The Imperial Hotel, where I used to work, is said to be the birthplace of pancakes, and their pancakes are delicious even when cold. So I would like to open a café-like restaurant in a few years.
Yabumoto:
So you are increasing the number of stores. Going in line with our theme, do you think you will take on the challenge of "exporting" your business?
Mr. Sarai:
Exporting? I tried to do it on the Internet since there are frozen delivery services, but I didn't have the know-how. I ended up only doing what I could do. I think it would be possible if I could make it in a factory and increase productivity.
Yabumoto:
I see. Even if you can't send the product to the customer by frozen delivery, I think you I can export the product to the customer by saying, "If you want it, please come and pick it up". If the product is really valuable, I think that's also something that you can do.
Mr. Sarai:
I… guess you're right!!


3. Food Culture of Kinan
Yabumoto:
What is the appeal of Kinan's food culture and ingredients?
Mr. Sarai:
It is the wide range of ingredients. I think so, especially after having spent four years in Nagano Prefecture. There is no shortage of fruit throughout the year, and there is no shortage of different kinds of vegetables.
Yabumoto:
It's a kingdom of fruit trees. As for vegetables, Wakayama is the birthplace of lettuce, isn't it?
Mr. Sarai:
Susami Town, Wakayama Prefecture has a port, so various ingredients have been coming in from the past. Wasabi also came from Wakayama and spread all over the country.
Yabumoto:
Oh, it's the same with wasabi as well. I guess I didn't read enough.
Mr. Sarai:
Mazuma Wasabi, a top quality variety of wasabi, originated from Inami town in Wakayama Prefecture. When people from Inami town went to Shizuoka Prefecture, which is now a wasabi production center for training, they wondered , "Why did it originate from here?(laughs)
When I came back here, I used to cook at a guesthouse in front of Tanabe Station, and I made hamburgers using Mazuma wasabi. I wanted to revive the local ingredients.
Yabumoto:
That's wonderful.
Mr. Sarai:
The number of wasabi farmers is decreasing. Mazuma Wasabi itself is a labor-intensive variety, so I believe that it is the role of chefs to spread knowledge about such things.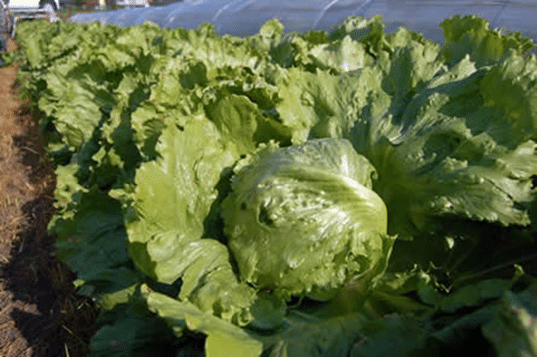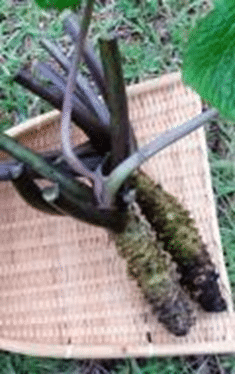 Mr. Sarai:
When it comes to ingredients, I place importance on encounters and introductions from close friends. Sometimes I meet people who say they've been doing it for a long time, and other times I meet people who say they've inherited it.
My experience in Nagano Prefecture was a big one. At the end of the season, when we ran out of the ingredients we were using, we would go to the farmers to find the next ingredients. I had that experience every season.


4. Story of the ingredients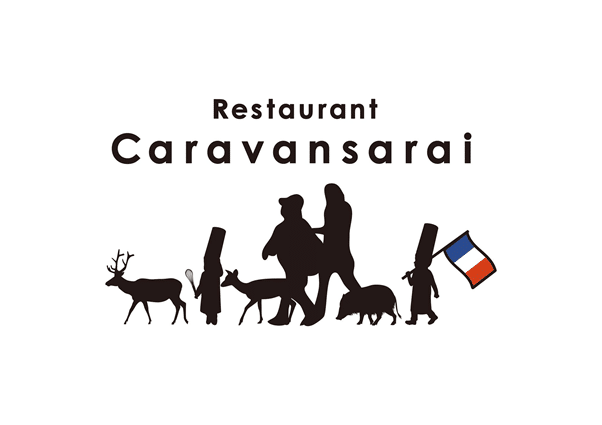 Yabumoto:
What are you currently focusing on in particular?
Mr. Sarai:
I am obsessed with the stories of the ingredients in various dishes.
Although the price is high, we try to explain to our customers the value of the sweet oranges we produce by focusing on pesticide-free production so that they will eat them.
Yabumoto:
Is there anyone who will pay the value for that?
Mr. Sarai:
There are. I cook while having a conversation about the story of the ingredients on the menu at that time. That's one of the roles I can play in Kinan.
Yabumoto:
In the context of art, do you think of yourself as a curator (*)? Have you considered it from that perspective??
*Curator: A professional staff member who is engaged in the central work of collecting artworks and planning exhibitions at museums in Europe and the United States.
Source: Daijirin
Mr. Sarai:
Perhaps. It's a matter of course to say that you've combined local ingredients with traditional French cuisine and made it with care, but that's not enough to make people happy.
They will feel the value in the fact that I have returned to my hometown and am cooking in the warehouse of the plum storehouse that my grandfather built. I feel that people are more pleased if I incorporate stories such as the fact that I serve"Koppepan" (Japanese hotdog buns) baked in my kitchen as a meal, or the banana cake my mother baked for me when I was a child as a dessert.
Yabumoto:
By the way, what would you say the word "delicious" means? For example, what does it mean for a tangerine to be delicious?
Mr. Sarai:
It's different for every person , isn't it? It's the process of growing up.
Yabumoto:
In that sense, it's like art.
Mr. Sarai:
That's right. There was a story about a friend of mine whose mother had been told that she did not have long to live. She was admitted to a center where she could bring in food, so I gave it a lot of thought and packed a variety of dishes, but the one she liked the most was boiled snap peas with salt.
No matter how much work you put into it, the timing of when it tastes good differs from person to person. After all, being a chef is a world of self-satisfaction, isn't it?
Yabumoto:
It's the same with art. The way you feel about a work of art is completely different depending on the situation and environment.
Mr. Sarai, you have established a certain standard, and you are proposing that this is the right way. By introducing your own standard of deliciousness, and trying to gain sympathy and connecting with others through it. I think you are searching for something universal in terms of what you consider delicious.
Mr. Sarai:
That's exactly it. I try to do what I can do on the spot to make people happy. I believe that such services should be changed depending on the customer.


5. Universality of plum and French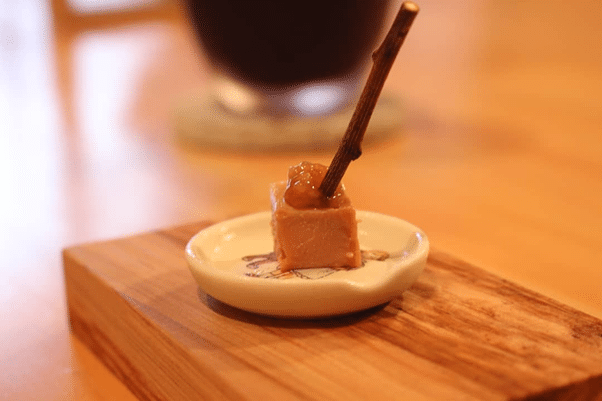 Yabumoto:
What is the connection between Kinan's food culture and French cuisine?
Mr. Sarai:
As an example, foie gras has been on the menu since the opening of the restaurant, and they usually use brandy or other Western liquors to take out the bitterness and season it, but instead we use plum wine to prepare it. My father is a farmer who makes seasoned plums, and I serve the foie gras with honey plums from my parents' farm, so that people can enjoy the refreshing combination of citric acidity.
Yabumoto:
Oh, wow, that sounds delicious.
Incidentally, how do you view plums as a seasoning?
Mr. Sarai:
It's easier to use as a seasoning. Umeboshi (pickled plum) is a salty food with 20% salt content, so it is salty and difficult to use. It's easier to use honey plums or seasoned plums chopped up and used for something else as a seasoning.
Yabumoto:
From the world's point of view, I don't think there are many people who think pickled plums are delicious. The plum system (*) is interesting because it is based on a story. The symbiosis of bees.
* The plum system: An agricultural system that has sustainably produced high-quality plum trees for 400 years by arranging plum trees on nutrient-poor, gravelly, and collapsible slopes while retaining wood and charcoal forests.
Reference: Minabe-Tanabe Region World Agricultural Heritage Promotion Council
https://www.giahs-minabetanabe.jp/
It's a delicate and symbiotic way of life, a fragility or a fate.
Cooking also lives in a delicate balance, doesn't it?
Would you say that the chef is an artist? Or is he a curator? Or both?
Mr. Sarai:
Perhaps they're neither.
Yabumoto:
This is more on the philosophical side, but what makes French food French?
Mr. Sarai:
I believe that using local ingredients, herbs, weeds, etc. is the basis of French cuisine.
When I opened my restaurant here in the countryside, people would ask me, "What is French food ?" It was difficult to explain French food to the locals.
Yabumoto:
I think so, too. When I think about it, I'm like, "What is 'French' anyways? (laughs).
Mr. Sarai:
I asked a chef I know who has been a great help to me. He was a head chef in the city for a long time, and now he runs a café like a hermit. He says, "French food is what French people eat in France."
If you were to ask me what Japanese cuisine is, I would say that the meat and potatoes that your mother makes is Japanese cuisine, and the food served at a ryotei (traditional Japanese restaurant) in Kyoto is also Japanese cuisine. In this way, I think that Japanese cuisine is quite broad and multifaceted.


6. Connecting with the world through food
Yabumoto:
There is something I wanted to ask you. Recently, there has been a lot of discussion in the food industry about internal organs and external organs *.
The inner world and the outer world are connected through food. The inner world is called the internal organs, and the outer world is called the external organs, which has a lot to do with issues such as ecology. By repeating the process of entering and exiting the body, we are actually eating the outside world itself.
* The Anthropology of Internal and External Organs: Toshiaki Ishikura, "The Anthropology of External Organs and Synapses."
Mr. Sarai:
It's hard to say. The meat of natural animals used in gibier is very nutritious, but because it is not raised by humans, it is a very undefined food. When I eat only gibier, I feel uncomfortable when I eat beef, for example, which is raised by human hands.
Yabumoto:
It's like a standardized set of ingredients.
Mr. Sarai:
It is, isn't it.
The waste from convenience store lunch boxes, which obviously causes a lot of loss, is taken by a company and fed to pigs. The pork is then sold in supermarkets, and I eat it. It's quite a self-indulgent cycle taking place.
Yabumoto:
The "selfish cycle" that you just mentioned exists in the real world, although it is not close to you. Many of us pretend not to see it.
Mr. Sarai:
The theme of "food" is quite profound, isn't it?
Is it because it originates from the origin of man?
In that sense, there is clearly a link between food and art. For example, the beauty of freshly harvested corn can be quite moving. I think that the story behind the preparation of the corn and its deliciousness, as well as the excitement of that moment, is art.
I'm a chef, and I can't explain how just a pinch of salt can suddenly make something taste better. I feel that this is actually something that is full of artistry.
Yabumoto:
It's quite artistic, isn't it!
Mr. Sarai:
That's right, since the products I deal with are also things that decay (laughs). In a sense, that's art as well, dealing with products whose time is limited.
I think what I need to do now that I am back in the country is to continue to provide good food at a price that makes people want to come back to the restaurant again.
Yabumoto:
That's a blessing, isn't it?
The theme of this year's Art Week is to find players who can be exported to the whole world. If we can discover something in Kinan that has something in common with French and Japanese cuisine and create something new, I think it will be of great value.
Even if it's not something to eat, how about making a work of art out of your current efforts? It could be a photo, a video, anything.
Lastly, do you have any expectations for Kinan Art Week?
Mr. Sarai:
I hope that having such an opportunity to see other worlds and learn about other ways of thinking that are not part of our daily lives will be a step in the right direction.
Yabumoto:
In that sense, it comes down to the question of what "food" is.
Food is really profound, like "internal organs and external organs. I think that the way we eat may change when we realize that the inside of our body is connected to the outside.
In addition, I feel that there is a similarity with the plum system, and that is where the great value comes from.
Mr. Sarai:
I think it's worth it. It's important to think that way.
Today was inspiring in many ways. Thank you very much.
Yabumoto:
Thank you very much. Good luck with the restaurant!


.
<Related article>