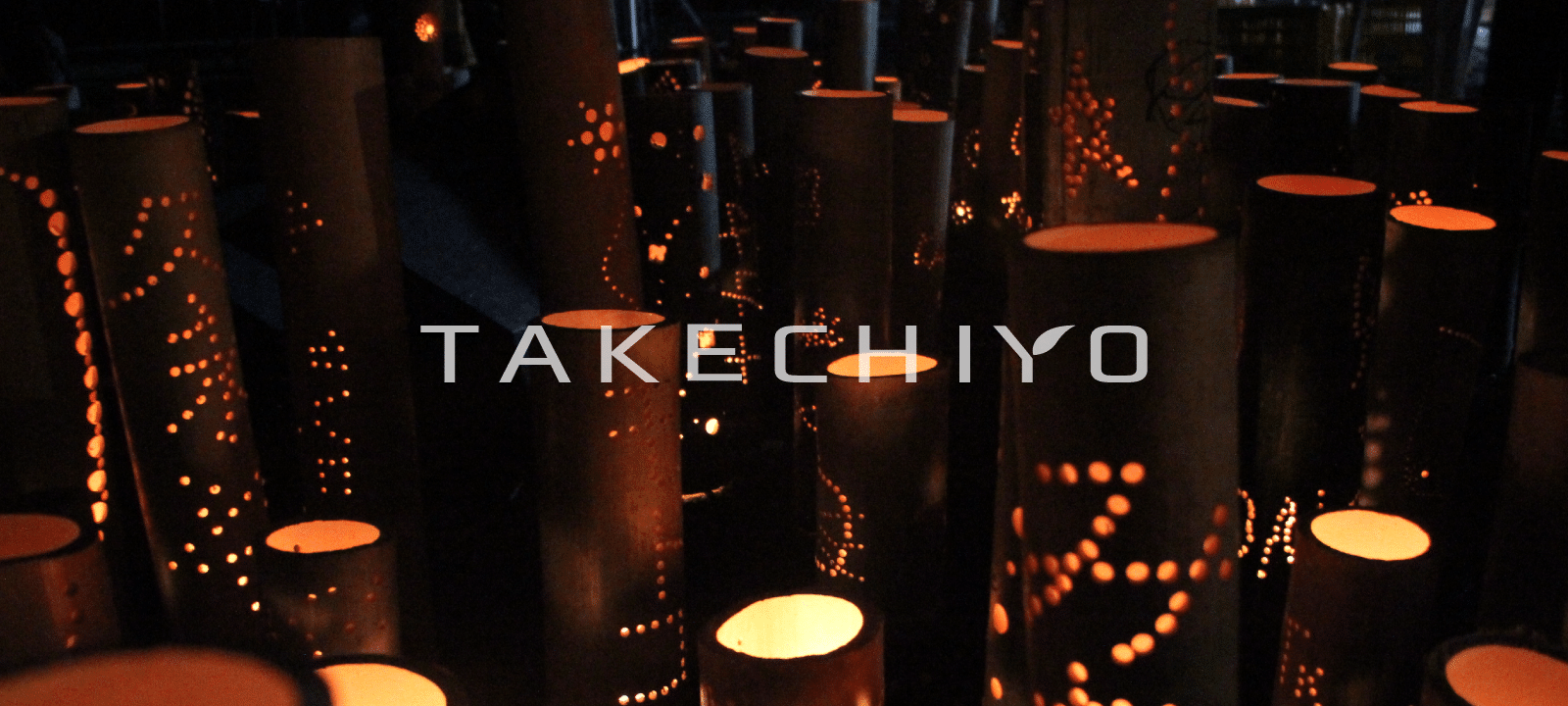 Dialogue Project#23『Social Welfare and Art "The Future of Illuminated" by Bamboo Lights』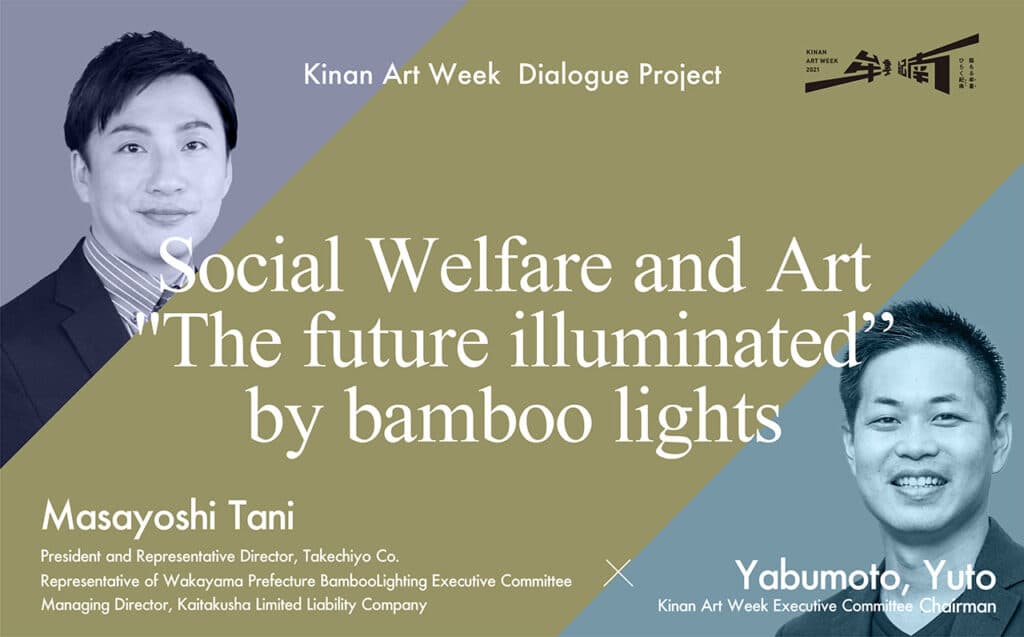 Kinan Art Week Dialogue Project #23

〈Guest〉
President and Representative Director, Takechiyo Co.
Representative of Wakayama Prefecture Bamboo Lighting Executive Committee
Managing Director, Kaitakusha Limited Liability Company
Masayoshi Tani
While working in the care and welfare business, he continues to promote the use of bamboo lights in Wakayama Prefecture. He is currently preparing the project "Kimi to Mirai" to support disabled people in their work and life. Through this project, he is also looking for ways to break down barriers between disabled people and the local community.
https://take-chiyo.jp/
<Interviewer>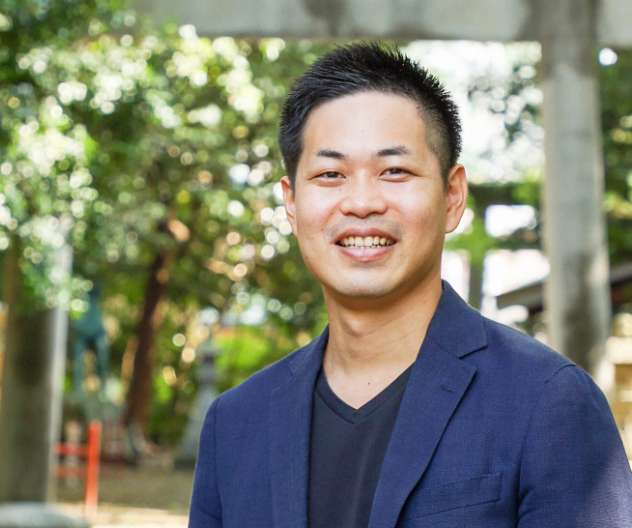 Yuto Yabumoto
Kinan Art Week Executive Committee Chair
<Editing>
Kinan Editorial Department by TETAU
https://good.tetau.jp/
Social Welfare and Art "The Future of Illuminated" by Bamboo Lights
Table of Contents
1. Introduction of Mr. Tani
2. Spirit of service
3. How did you get involved in social welfare activities?
4. The origins of the word "Miyabi"
5. Encounter and progress with bamboo lighting
6. Social welfare and politics
7. Disability and art


1. Introduction of Mr. Tani
Yabumoto:
Thank you for taking the time to visit us today.
Today we would like to ask Mr. Tani about his daily activities and his thoughts on the relationship between social welfare, disability and art. First of all, may I ask Mr. Tani to introduce himself?
Mr Tani:
My name is Masayoshi Tani. I am 36 years old now. I am the representative of "TAKECHIYO Co., Ltd." in Kainan City, Wakayama Prefecture. Our company was established on September 15th last year and we are mainly engaged in the sale of bamboo lanterns, bamboo materials and wood*, and the planning, management and staging of "Bamboo Light*".
*Reference TAKECHIYO's ONLINE STORE
*Reference Minna no Souka: A project to light bamboo lights simultaneously throughout Japan
I have been working in the care industry since I was 19 years old, and I work for a limited liability company called "Kaitakusha*", which was established on September 1, 2013 and is headed by my younger brother, and I also manage a day care center for the elderly called "Day Service Center Miyabi*". We moved our base to Kinokawa City, and while we continue our home care business and nursing home business, we also make support plans for people with disabilities and work as a link between the government and the businesses. Now, while working in the nursing care business, as a representative of Takechiyo, I am thinking about what I can do to make use of the local tourism resources.
*Reference: Kaitakusha limited liability company
*Reference Day Service Centre Miyabi
Recently, we are getting more and more work related to bamboo lighting in Shirahama town. Also, in Tanabe city, we have collaborated with "re-barrack*" to create a lighting interior called "BokuMoku AKARI*" using "Akane-wood*".
*1 Wood that has been damaged by the cedar waxfly.
About Akane lumber and Anaglyptus subfasciatus (BokuMoku)
*Reference re-barrack
*Reference "BokuMoku AKARI"1March2021,re-barrrackblog)
*Reference: "Light" in insect-eaten wood,development of interior lighting using individuality" March1,2021, Kii-Minpo AGARA)
Yabumoto:
You also have a project called "Kimi to Mirai*", right?
*Reference: Kimi to Mirai
Mr Tani:
In April next year, the "Kimi to Mirai" Type B Support Center for Continuing Employment will open in Shirahama Town's Tsuzurafuchi. The area surrounding the business is rich in nature, and there is a convenience store nearby. We are also planning to create a park near the building, decorated with bamboo lights, as a place of relaxation for the local community.
*Reference: "Welfare services for persons with disabilities related to employment in the Act on Comprehensive Support for Persons with Disabilities" Status of measures to support employment of persons with disabilities, Ministry of Health, Labour and Welfare)
I started this project because I wanted to contribute something to the Kinan region using the experience I have gained through my work in care and welfare. In the future, I would like to implement initiatives to break down barriers between disabled people and the local community.
Yabumoto:
Did you buy this land yourself?
Mr Tani:
It is about 770 tsubo(2,541 ㎡) and we bought it using our own funds and a loan system from a financial institution. Since we were going to start something new, we thought it would be better to build a solid base for our business.
In this time of the Corona pandemic , it is very difficult to start something. However, because it is a time when things are not going well, we can create an opportunity for things to go well by working together to overcome the difficulties. We hope that we ourselves can be a "beacon of hope", just like the bamboo light.


2. Spirit of service
Yabumoto:
I think that what you are doing is exactly what public infrastructure development is all about. How do you make money from your business?
Mr Tani:
The stable income that serves as the parent organization is the government's subsidy for disability welfare services. Establishments that provide welfare services for people with disabilities invoice the municipalities for "nursing care benefits*2" on a monthly basis through the "National Health Insurance Federation *". After the claim has been made, the National Health Insurance Federation of each prefecture and the municipality conduct an examination, and according to the results, the benefit is paid to the business office*.
*2 The remaining cost after subtracting the amount paid by the user from the cost of care. In principle, the user's share is 10%.
long-term care insurance financing (18 December 2018, Health and Longevity Network)
*Reference: Wakayama National Health Insurance Federation
*Reference: Handbook for Claims Processing for Disability Welfare Services and Support for Children with Disabilities: For Service Providers"May28,2021,National Health Insurance Central Association)
Our work is close to social contribution, but to be honest, I don't think we can continue our business as volunteers. I think it is important to build and manage a proper base from the beginning.
However, I have always maintained that I do not work with money in mind from the start. First and foremost, I believe that working for the good of the world and the good of others will lead to future profits.
Yabumoto:
It really is the "spirit of service" that you value, isn't it.
Mr Tani:
I always say that there is more value buried in the work that doesn't pay and that everyone hates. If we don't make a concerted effort to uncover value in the public and private sectors, I think we will face a very difficult world. First of all, it is important to take action yourself, and not to think, "How can I make a profit?" That's something we can think about later..
In order to survive in a difficult society, it is necessary to add value to things that do not sell, or to create value from things that are potentially dormant. In order to create "something special" that is unique in the world, I think it is important to actively go into areas where no one else is working and where no one else is interested.


3. How did you get involved in social welfare activities?
Yabumoto:
I'd like to ask you how you came to be involved in social welfare activities. From the stories that I've seen you write on your website, I think that is what attracts people to you.
Mr Tani:
Thank you very much. It's a long story, but I'll tell it one at a time, because it's part of my background.
The 'living hell' of childhood
Mr Tani:
I was born in Tennoji-ku, Osaka and lived with my maternal grandparents in Sakai, Osaka until I was nine years old. My father suffered from depression and my mother had severe schizophrenia. My mother stabbed me with a kitchen knife many times and almost killed me. My parents have abused me in many ways and I have always lived my life looking out for them.
When I was nine years old, my father was transferred to a new job and my family of four, including my younger brother, moved to a flat in Kibi town (now Aridagawa town) in Wakayama. This was the beginning of my "living hell".
My father's depression worsened and he became bedridden and unable to go to work. My mother was receiving a disability pension, but at the time it was all she could do to pay the rent and make ends meet for the month. I worked as a newspaper carrier and cooked meals for my family whenever I could.
When I moved to a new school I was treated as an outsider and was bullied by my classmates. I was called "smelly" because I was poor and wore the same clothes all the time. My mother was ridiculed as "crazy" and my father, who didn't have a job, was scorned. But I was still a schoolboy and there was nothing I could do about it, so I distrusted people and closed my mind.
At home I had my hands full caring for my parents and trying to understand them, especially my mother, was driving me crazy. It was difficult for me to fully understand her, even though I knew it was her illness that was causing her to make strange noises and to suddenly start hitting me. I had no fun at home or at school, I was exhausted both physically and mentally, and by the time I was in the 5th or 6th grade I had stopped going to school.
A turning point
Mr Tani:
I had been caring for my parents since I was nine years old, and I was truly a "young carer*3", and this lifestyle did not change when I reached junior high school. I attended junior high school when I first started, but after a while I stopped attending school.
*3 A child under the age of 18 who is responsible for the care and maintenance of a family member who is ill, disabled or has mental health problems.
What is a Young Carer (Kotobank)?
When I was 14 years old, I had a turning point in my life. I was so exhausted from taking care of my parents that I lashed out at them, asking why they were always sleeping and not going to work. But when I saw my mother, who was bedridden, burst into tears, I realised that it was not my brother and I who were suffering, but my parents who were ill. Then I thought, "If my siblings and I become good people, our parents will be accepted by society." So I started to do volunteer work as a contribution to society, starting with small things like picking up rubbish.
At the age of 19, I obtained the "Home Helper Level 2 (Home Care Worker Training Course 2)" (now integrated into the "Initial Training Course for Care Workers" *). For more than 10 years, I have worked in hospitals and elderly care facilities, gaining experience in medical and nursing care.
*Reference: Initial Training Course for Care Workers (Japan Home Helper Association)
*Reference: "Wakayama Prefecture Caregiver Training Implementation Guide", Longevity and Social Welfare Division, Welfare and Health Policy Bureau, Welfare and Health Department, Wakayama Prefecture April 2021, Wakayama Prefecture website)
In fact, the name "Miyabi" of the elderly care facilities run by Kaitakusha comes from "Masako", which is my mother's name. I thought that by putting up a sign with the character "雅", I could express the living testimony of my parents. I believe that it is precisely because of my family that I started my social work activities and went on to become a care worker.


4. The origins of the word "Miyabi"
Yabumoto:
You run not only day service centres but also paid homes for the elderly*, how has "Miyabi" come about?
*Reference: Paid nursing home Miyabi (Kaitakusha limited liability company)
Mr Tani:
When we set up the company in 2013, my brother and I were confident that the business would do well. The building of the facility was an old rented house, almost 40 years old, but the interior had been renovated and was beautiful. It had a Japanese-style room and a whirlpool bath, so we thought it would be popular with the elderly. However, because we started the business on the spur of the moment, without doing much marketing, and in Kinokawa, a city with which we had no connection, our family and the people around us were very much against us.
I went door to door to sell my products, but after six months of starting the company, I had no customers. My confidence was shattered and I started to fight with my brother.
There were times when I almost gave up, thinking, "Honestly, it's not supposed to be like this." But as we continued our business, we started an overnight day service for 50 yen per night, and it was a big hit. Originally, day care services were provided as a "nursing care insurance service*4", and the price of a "non-nursing care insurance service*5", a standard overnight service, was over 800 yen per night (at the time). We wanted to implement a "new non-nursing care insurance service" accommodation fee service, and this led to an unbeatable price.
*4 The services available to those insured by long-term care insurance.
There are two main types of services: in-home care services, such as home-visit care, and institutional services, such as admission to a care facility for the elderly.
What are long-term care insurance services (Cotbank)?
*5 Lifestyle support services for the elderly that are not covered by long-term care insurance.
The service includes housekeeping, mobile hairdressing, meal delivery, hospital care and transport. All costs are borne by the user.
What is non-care insurance service (Cotbank)
After that, my work gradually increased. On occasion, we received urgent requests from the government to accept abused people at our facilities. Over time, a reputation began to spread: "Miyabi will do anything for you, even if other facilities refuse to do it." There were times when we wondered if we were being used for good. But I think we have established an image as a place that local people can turn to when they need help.
Three years after its foundation, a revision of the Fire Service Act required social welfare facilities to be equipped with fire fighting equipment*. We found out that it would cost 7 million yen to renovate our facilities and decided to take the opportunity to move. It was a shame to leave the place we had grown accustomed to, but together with my brother and the staff who work with me, we hope to continue to serve the community.
*Reference: "Summary of Amendments to Fire Service Laws and Regulations Concerning Firefighting Equipment for Social Welfare Facilities: Protecting Users from Fires"ForBuilding and Tenant Owners,Japan Fire Equipment and Safety Center)


5. Encounter and progress with Bamboo Light
Yabumoto:
What was the reason why you started the bamboo lighting event in Wakayama? What kind of events have you been organising so far?
Mr Tani:
My first encounter with bamboo lighting was at a bamboo lighting event in Hiroshima on 6 August 2018, which I attended with my eldest daughter, who is in primary school*.
*Reference "Event: The First Memorial Bamboo Lighting 8.6Hiroshima"August 5,2018, Yuki Exchange Experience Center (@yuki.kouryu,NPO Eat and Talk Association (@tabekata,Facebook)
The First Memorial Bamboo Lighting:6 August 2018 (Hiroshima City Yuki Exchange Experience Center)
In July of that year, I learned that my eldest daughter, who is developmentally disabled, was being bullied by her classmates. I was disappointed that I couldn't even protect my own daughter, even though I had been involved in volunteer work and welfare projects on a regular basis. Then an acquaintance of mine connected with me on social networking sites invited me to a bamboo lighting event in Hiroshima, which was held in the hope of world peace.
During the day there was a bamboo lighting workshop which I attended with my eldest daughter. On the evening of the event, I was looking at the lit bamboo lights, remembering my own childhood and the bullying my eldest daughter had suffered. Then my eldest daughter saw the bamboo light and said "Daddy, it's beautiful!" and she smiled at me. When I saw her happy face, my heart was lit up and I wanted to do the bamboo lighting in Wakayama.
Afterwards, we set up the "Wakayama Bamboo Lighting Executive Committee*" and held a bamboo lighting event at the "Kannonyama Fruit Garden" in Kinokawa City, Wakayama Prefecture on the 18th and 19th of November of the same year*. The event was supported by CHIKAKEN*, a group in Kumamoto Prefecture that produces the world's first bamboo lighting from Japan.
*Reference: Wakayama Prefecture Bamboo Lighting Executive Committee
*Reference: Bamboo Light Festival in Wakayama:November18-19, 2018 (Kannonyama Fruit Garden)
*Reference: CHIKAKEN is a general producer of bamboo lights.
The bamboo lighting event in Kinokawa city was spread through local newspapers and social networking sites, and now we have decided to hold an event at the Wakayama Prefectural Information Exchange Center Big U* in Tanabe city. The event was covered by NHK (Japan Broadcasting Corporation), and footage of the preparations for the event and the objects installed were broadcast on TV*.
*Reference: Wakayama Prefectural Information Exchange Center Big U
*Reference: "Wakayama Bamboo Light Festival featured on NHK (October22,2019, Masayoshi Tani,YouTube)
One day I received a call from an elderly man who said he had seen the NHK broadcast and wanted to support my bamboo lighting activities, so I decided to meet him. To my surprise, he was the grandfather of the boy who bullied my eldest daughter. I was surprised by this unexpected meeting, but I was also impressed by the fact that bamboo lights can make even enemies into allies.
After this, there was a connection with bamboo light writer Kohei Kawabuchi of canaarea Co., Ltd. in Iga City, Mie Prefecture and Adventure World (hours Co., Ltd.) in Shirahama Town, and Kishiwada eating giant pandas. Opportunities to make and install bamboo lights using bamboo trunks produced in the city (Kishiwada City) have increased rapidly through CHIKAKEN's bamboo light director, Chikao Ikeda.
*Reference: みんなの想火プロジェクト
1 https://www.aws-s.com/topics/detail?id=top1796
2 https://www.aws-s.com/topics/detail?id=top2629
3 https://www.youtube.com/watch?v=Wxsgsm1iXm4
*Reference: Panda Bamboo Expo(https://panda-bamboo.jp/)
*Reference: We received the Best Partner Award from Ours Co., Ltd.( Takechiyo Co., Ltd.. HP )
I think that bamboo lights are a real wonder. There are many people who have become acquainted with each other because of the event, and I believe that bamboo lights are a kind of "light of hope" that brings people together. We hope that the Bamboo Light will be an opportunity to make the world a better place.
Yabumoto:
By the way, where does the name of the company "Takechiyo" come from?
Mr Tani:
The name "Takechiyo" is the childhood name of Ieyasu Tokugawa. Ieyasu was born on the 31st of January and my eldest daughter was born on the same day*. I chose the name "Takechiyo" partly because I wanted to use the character for 'bamboo' and partly because my eldest daughter's smile inspired me to enter the world of bamboo lighting.
*Reference: Background to the establishment of the company: Takechiyo Co., Ltd.. The Reason for choosing Takechiyo as the company name (Takechiyo Co., Ltd.)
The 15th of September, on which the company was founded, is also the day that Ieyasu Tokugawa defeated Mitsunari Ishida in the Battle of Sekigahara, which took place in 1600*. In his childhood, Ieyasu was in unfortunate circumstances, such as being taken hostage, but in the end he opened the Edo shogunate, which is really amazing. There was also the Kishu Tokugawa family in Wakayama, and just like this connection, we would like to weave various connections as we continue our business in Wakayama.
*Reference: Background to the establishment of the company: [Interested in the day September15(1)] (Takechiyo Co., Ltd.)
*Reference: Takechiyo Co., Ltd. Promotion Movie


6. Social welfare and politics
Yabumoto:
I saw your social networking site* and it is very interesting that you are also working with politicians. What are some of the policy issues in Wakayama and Kinan that you have found through your activities?
*Reference Masayoshi Tani (Facebook)
*Reference Masayoshi Tani (@tani.masayoshi0826,Instagram)
Mr Tani:
One of the issues that I feel needs to be addressed is how to improve the working environment for disabled people. At the moment, the Ministry of Agriculture, Forestry and Fisheries is promoting an initiative called "agricultural welfare cooperation*". In the agricultural sector, there are issues such as a shortage of workers and the ageing of the farming workforce. This is where the social welfare sector comes in and uses agriculture as a place of work for people with disabilities.
*Reference: Promotion of cooperation between agriculture and welfare (Ministry of Agriculture, Forestry and Fisheries)
*Reference: (1) Project for Doubling the Level of Wages for Challenged Workers (Wakayama Prefecture website)
I am also working on creating a working environment for people with disabilities, following the idea of "agriculture and welfare cooperation". Next year, as part of our "Kimi to Mirai" project, we will be collaborating with Mr Kenji Endo*, a farmer living in Shirahama. In the past, we have installed our bamboo lights in Mr Endo's farm, and he is a very good friend of ours. We hope to be able to help him with harvesting vegetables for his farm, as we are able to work outside of the facility at the Type B Support Center for Continuing Employment.
*Reference: Wakayama Shirahama Farmer Endo
*Reference: From Dolphin Trainer to Vegetable Farmer:Mr. Kenji Endo Shirahama , Wakayama (Kinki Regional Bureau of Agriculture)
Yabumoto:
We also hear from people in agriculture, forestry and fisheries about the current state of their industries and the challenges they face in the future, and it seems that the shortage of manpower is a prominent issue. In this sense, Mr Tani's initiative will help to solve this problem, and I think it is very impressive.
Mr Tani:
Thank you very much. I believe that through agricultural and welfare cooperation, farmers, people with disabilities and those of us who run social welfare facilities are truly in a relationship of mutual support. Not only will it help solve problems in the agricultural sector, but it will also give disabled people, who are often treated as "socially vulnerable", the opportunity to take a step forward through employment. It will also help us to protect the employment opportunities for disabled people, as we will be able to run our facilities in a stable manner.
Basically, if I have any issues or insights, I often tell them directly to politicians. However, with regard to the social welfare and agricultural sectors, I cannot be involved in areas such as law reform, but I am proactive in trying to "do it myself first".
When I post about our activities on social networking sites, sometimes people who see my posts come to me and ask me for advice, saying "I have this issue and I want you to tell the members of an assembly about it". In this sense, I think I am playing a role in connecting local people with the members of an assembly.


7. Disability and art
Yabumoto:
I am currently collecting myths and legends and thinking about "what is disability?". For example, there is a theory that the reason why "King Oedipus drags his right leg* is because he is not fully separated from the earth, but his body is one with it. Shuntokumaru* was blinded by the curse of his stepmother, but after praying to the Kannon Bodhisattva at Shitennoji, he was cured of his illness. There is also a legend that Oguri Hangan* was poisoned, but came back to this world in a different form and was restored to his original form by a hot spring cure.
*Reference:Who is King Oedipus? (Kotobank)
*Reference: The Legend of Shuntokumaru (Yao City Library)
*Reference:Legend of Oguri Hangan (Kumano Hongu Tourist Association)
In the light of these myths and legends, I believe that "having a disability" is a state of being that has not been successfully separated from nature, or is very close to nature. What do you understand "disability" to be?
Mr Tani:
I believe that disability is a form of individuality. The framework of "able-bodied" and "disabled" itself does not exist. I believe that people with disabilities need support in order to protect their right to live, and in the process a legal framework was created.
Yabumoto:
In that sense, of course, we need to support people with disabilities, and I think it is important to create a strong policy on social welfare.
The aim of this Kinan Art Week is to "export". We want to reorganise the value of Kumano and Kinan, and export valuable things to the world, that's our idea. We believe that disability is a valuable individuality, and that people with disabilities can play an active role in the world as "part of the export" rather than as "simple supporters". In particular, from the perspective of disability and art, how can we increase the number of people with disabilities who can be exported to the whole world? It would be great if you could give us some hints on how we can increase the number of people who can export to the whole world.
Mr Tani:
There are many people with disabilities who have special skills, and I think it is necessary to create an environment where they can do what they want to do. I hope that in the future we will be able to export art and value from Kinan, which we can proudly say is "Made in Kinan".
Yabumoto:
In the context of art, there are people called the "art collectives*" who work as artist groups, and they are self-sustaining. In the same way as this 'art collective', I think that 'Bamboo Light ' could be exactly the kind of collective that realises social inclusion. We want to explore art from the point of view of exporting it, and in this sense, I think that Bamboo Light is a good match.
*Reference: "Art from 'Individual' to 'Collective': The Power of Collectives to Move Industry, Government and Academia" September 7, 2018,amanatoh)
*Reference Artist Collective (artscape)
Mr Tani:
We'd love to do something with you! We are really happy to have been invited to Kinan Art Week by Mr Yabumoto. We, at Takechiyo, would like to help in any way we can, and we look forward to working with you.
Yabumoto:
It's my pleasure! Thank you very much for your time today.
Mr Tani:
Thank you very much.
<Related Articles>