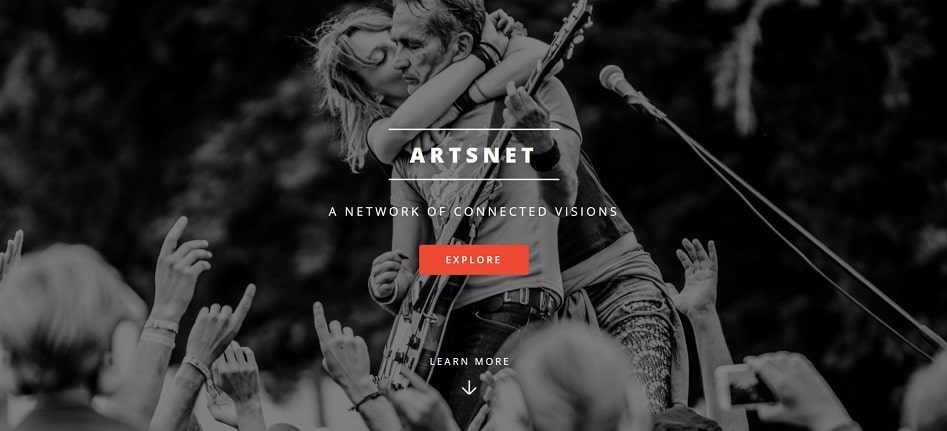 #32 The Future Created by IoT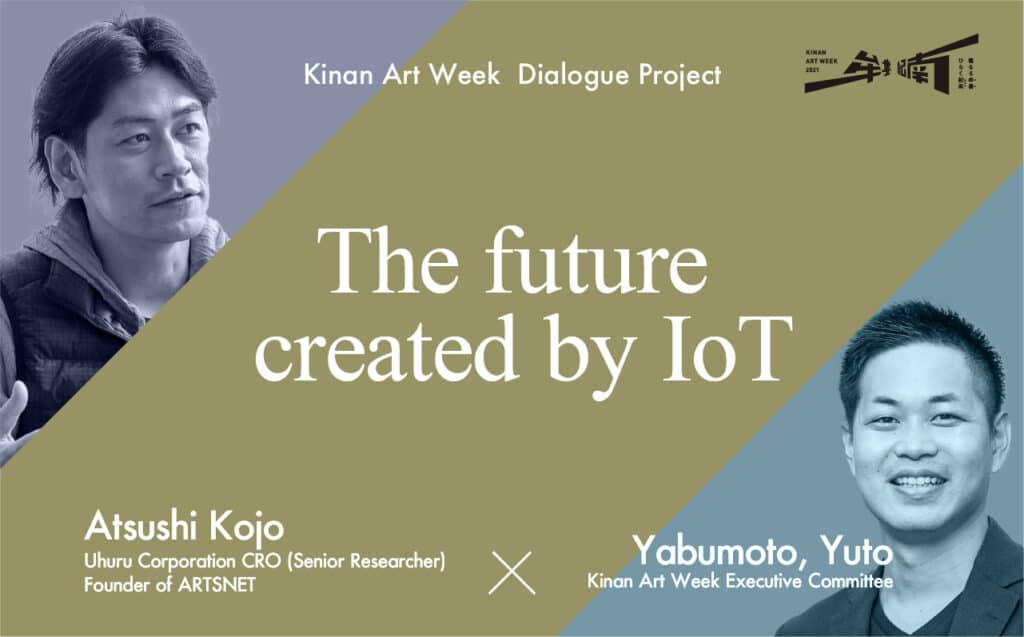 Kinan Art Week Dialogue Project#31
Guest
Uhuru Corporation CRO (Senior Researcher)
Founder of ARTSNET
Atsushi Kojo 
Born in Beppu City, Oita Prefecture, he founded ARTSNET, a CMS development company, in 2003 (currently active as an artist support group), and joined Uhuru Corporation, a company with a wide range of IoT businesses, in 2009. After serving as CTO (Chief Technology Officer) for 5 years from 2016,  he became involved in research and business development using advanced technologies in January 2021 as CRO (Chief Research Officer). He is interested in the impact of advanced technologies on the world. This is what drives him.
Uhuru Corporation
ARTSNET
Interviewer
Yuto Yabumoto
Kinan Art Week Executive Committee Chair
<Editing>
Kinan Editor by TETAU
https://good.tetau.jp/
The Future Created by IoT
Table of Contents
1. Introduction of Mr. Kojo
2. How to work as an engineer
3. The similarities between law and programming
4. The elements that add colour to people's lives
5. The meaning of 'continuity'


1. Introduction of Mr. Kojo
Yabumoto:
Today, we would like to talk to Mr. Kojo about what he does in his daily life and how he envisions the future using the IoT*1. First of all, please introduce yourself, Mr. Kojo .
Mr. Kojo:
I was born in Beppu City in Oita Prefecture and moved to Shirahama Town in Wakayama Prefecture two years ago, where I currently work at the satellite office of Uhuru Co.
*Reference "Uhuru builds on agreement with Wakayama Prefecture to launch new business and R&D in Shirahama" (April 1, 2019, Uhuru Co., Ltd.) 
When I was in high school, I studied information technology, including programming, at the Information Science High School in Oita. I think it was around the time when Windows 95 was released and the internet started to spread. After graduation, I formed a band with my high school classmates and played music in Tokyo.
After that, I got a job in accounting at a company I joined as a recent graduate, but it wasn't the right job for me.  I didn't want my work to go to waste, so I kept asking myself, "How can I get more out of my job? How can I make a difference?" In the end, I quit my job in accounting, but I think it was a great experience.
After that, I got a job in accounting at a company I joined as a recent graduate, but it wasn't the right job for me. I didn't want my work to go to waste, so I kept asking myself, "How can I get more out of my job? How can I make a difference?" In the end, I quit my job in accounting, but I think it was a great experience.
Yabumoto:
I thought you had been working as an engineer from the beginning.
Mr. Kojo:
Actually, in addition to accounting, I have also worked in real estate sales. I can say now that I'm glad I didn't start out as an engineer, but did other jobs first (laughs).
Yabumoto:
When did you start working as an engineer?
Mr. Kojo:
When I was 25 years old, in 2003, I founded ARTSNET, a CMS*2 development company. Today, this company continues to work as an artist support organisation.
*2 An abbreviation for "Contents Management System", a system that centrally stores and manages the text, images, design and layout information (templates) that make up the contents of a website.
What is CMS? Basic knowledge of CMS and its merits even for beginners, and examples of implementation (Hitachi)
Mr. Kojo:
In 2009, I joined Uhuru Corporation, where I gained experience as an engineer through research and development.I was also appointed as an internal executive officer, probably because I was able to contribute to the company in various ways. From 2016 until last year, I was CTO(Chief Technology Officer), and from January this year I have been CRO (Chief Research Officer), focusing on research and development. 
2. How to Work as an Engineer
Yabumoto:
Mr. Kojo, you are involved in a very core part of Uhuru's business. What are the specific differences between CTOs and CROs?
Mr. Kojo:
The CRO position is an original position created by the company for the future of R&D in advanced technologies. Both the CTO and CRO are in charge of organizing the R&D field, but I think the CRO position is more practical. I have always been interested in the impact of advanced technology on society, so in a way, this job is my calling.
As a CRO, I lead a team of engineers, and there are many different types of engineers. Some have learnt programming from the basics, others have developed the skills they need for what they want to do. Each of them come from a different background as an engineer, so sometimes we have different perceptions of technology and sometimes we have conflicting opinions.
But this is not only true for the people on the shop floor, but also for the managers and executives who coordinate them. Some of the managers don't really understand the work that the engineers are doing, so I think it's important to get a better understanding.
Yabumoto:
There are many managers in various industries, not only in R&D, who don't understand the situation on the ground. Some of them don't understand what you are talking about even if you explain it to them.
Mr. Kojo:.
There may be some conflicts within the company, but I want the engineers to work in a way that they will not regret. I myself have always been free to do what I wanted to do (laughs). I think it's especially important to think and make decisions for themselves, rather than just following instructions from the top. In the end, I hope they can work in a way that makes them feel that what they've done has been fun.
3. The similarities between law and programming
Yabumoto:
In my personal opinion, law is a bit like programming. In the case of law, you first interpret the articles and then make value judgements about the actual case. In this sense, I think that programming has some similarities with law.
Mr. Kojo:
The programs that engineers create follow a certain set of rules. The first step is to understand how each programming language works and choose the right language for the program you want to create. Then, if there is a problem in the program, they will examine the cause and correct it based on the rules. When you think about it in this way, indeed, law and programming may be similar.
Actually, I think it's more interesting to ask "How does the world react to a program?" than to simply make a program. For example, last year the Road Traffic Act introduced penalties for "collision driving*". It was all over the news and drivers started to drive more carefully. I think it's very interesting to see the impact that laws and programs have on the world, like this example.
*Reference: Key points of the amendments to the Road Traffic Law: 1. Establishment of penalties for obstructive driving ("collision driving"), etc. (All Japan Traffic Safety Association)
Yabumoto:
I see. You have such an "inquisitive mind" in your research and development, don't you? In that sense, I feel that you yourself are living in the ideal world that you want to live in.
Mr. Kojo:
Ultimately, I think it comes down to my own wellbeing. It's a bit off the subject of work, but in the future I'd like to DIY everything around me (laughs). For example, if I had a house and a huge garden on a hill overlooking the sea, I would definitely want to play music in it. This is how I draw up my ideal blueprint.
4. The elements that add colour to people's lives
Yabumoto:
What do you think people need to do to live a richer life?
Mr. Kojo:
In particular, I think it is necessary to visualise the value of "invisible things". More specifically, we need to clarify "social capital", such as human connections and culture. This idea comes from Economist Herman Daly's work on the relationship between economic growth and happiness*. According to his theory, people are closer to a state of well-being when they have better natural resources, a better working environment and better relationships.
*Reference Herman Daly's Pyramid (Change Agent)
Yabumoto:.
What are you doing in your company to visualise the value of "invisible things"? Since you are working in R&D, do you think that your business will be based on IoT?
Mr. Kojo:.
Currently, Uhuru is also working on business development using IoT and blockchain*. Blockchain is a technology used to manage transaction data for virtual currencies. In addition to blockchain, we hope to use a variety of digital technologies to further visualise the valuable things that lie dormant in the world.
*Reference "Proposal for a White Paper on International Standard Technologies for the IoT Society at the UN CEFACT Forum" (April 5, 2019, Uhuru Corporation.)
*Reference "Uhuru and LayerX collaborate on IoT and Blockchain" (Uhuru Corporation, August 3, 2020)
Yabumoto:
I have a feeling that you will be able to accomplish this in no time (laughs).
Mr. Kojo:
Thank you very much (laughs).
I also think that "change in values" is necessary to enrich people's lives. I like history, but in Japanese history, there have been changes in values at the time of wars and the Meiji Restoration. I think that as time went by, people encountered new cultures and values, and the world changed little by little.
In the past, values took decades or centuries to change, but today, with the development of information technology, they are changing in an instant. However, there is a downside to this: we are so busy looking at the new that we overlook the old and valuable.
Yabumoto:
In that sense, perhaps we should rethink education itself, especially the way we learn about history and culture. I believe that it is important to "look at indigenous things and dig deep", and I am currently working on an initiative to "collect and organise myths from all over Japan". I feel that this very practice will lead to turning our attention to the "valuable things" that are lying dormant in the world.
5. The Meaning of 'Continuity'
Yabumoto:
We would like to make Kinan Art Week a 10-year-old project. This dialogue project and exhibition of art works can be said to be the first step in this "10-year plan." It might be difficult to continue your activities for 10 years, but do you have any tips for doing so?
Mr. Kojo:
First of all, it might be a good idea to set yourself a goal of "continuing for at least five years". In my experience, after many years of activity, something always comes of it. With this idea in mind, ARTSNET, the company I founded, aims to create an environment where artists can continue their creative work for five years.
Yabumoto:
I see. It's good to have an intermediate goal, like "I'm going to do this for five years".
Mr. Kojo:
But even if you start with a plan that you can't sustain for five years and you quit halfway through, I don't think that's a failure or anything. It's important to set another goal and keep trying to succeed.
Yabumoto:
We are very grateful to hear that (laughs), and we hope that the project will continue for another five or ten years.
Finally, if you have any expectations for this Kinan Art Week, or any opinions on the issues facing Kinan, please let us know.
Mr. Kojo:
I believe that Kinan is a place with a great deal of history and culture. However, this may be something I feel because I am not from Kinan. From a local's point of view, it's difficult to look objectively at a place that you're familiar with. There are so many valuable things such as history and culture, but I think people in Wakayama have grown up thinking that "this is normal". That's why I want people to take a fresh look at the valuable things in their hometown, and I hope this Kinan Art Week will be a good opportunity for that.
Yabumoto:
Thank you very much for taking the time to visit us today.
Mr. Kojo:
Thank you very much.
<Related Articles>