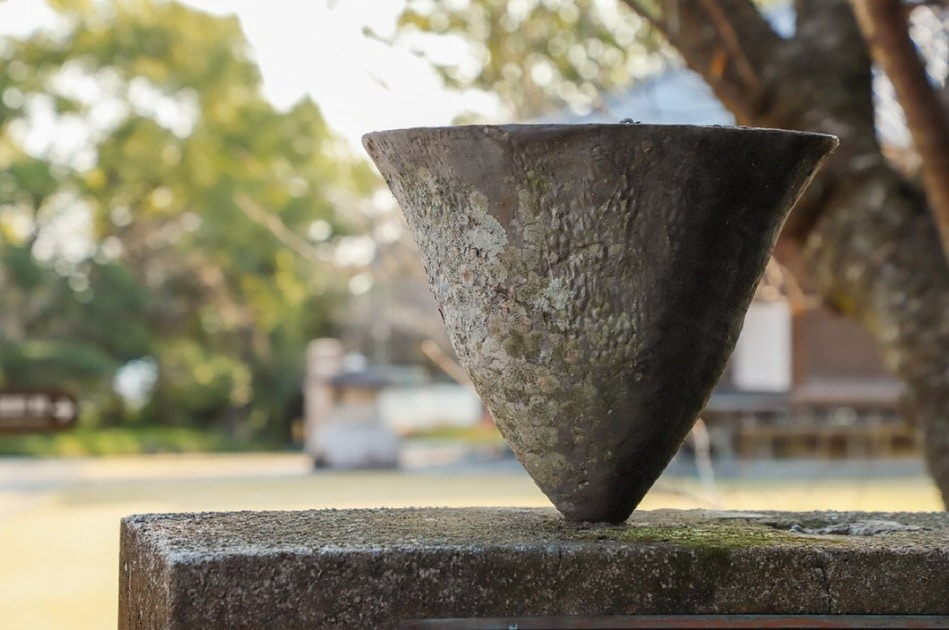 Kozanji Temple, the Place where the Spirit Resides- Animism and the philosophy of Minakata Kumagusu【Curation Story Vol.3】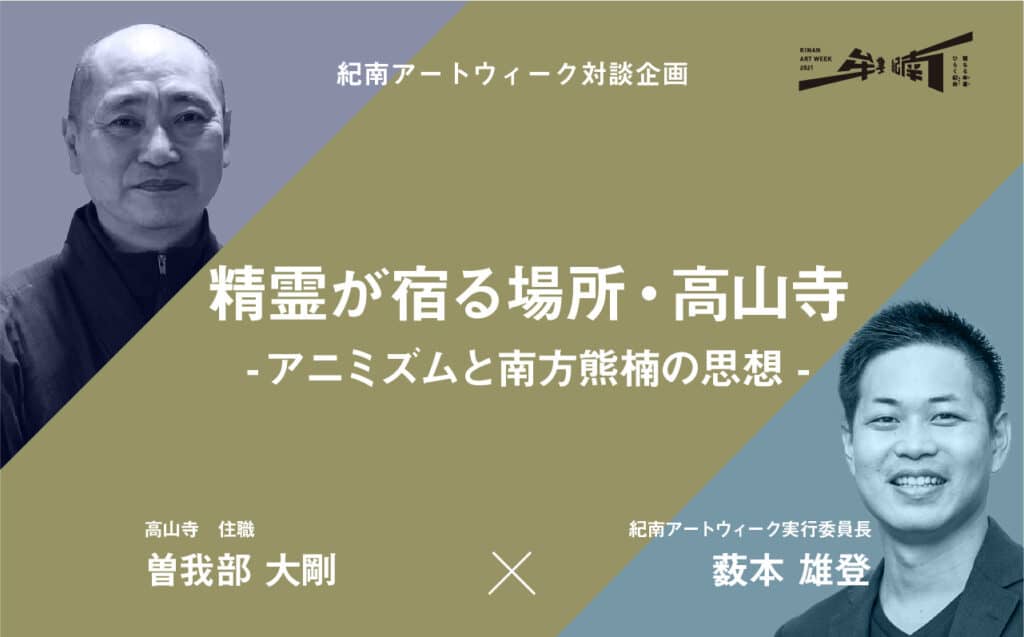 <Our guest this time>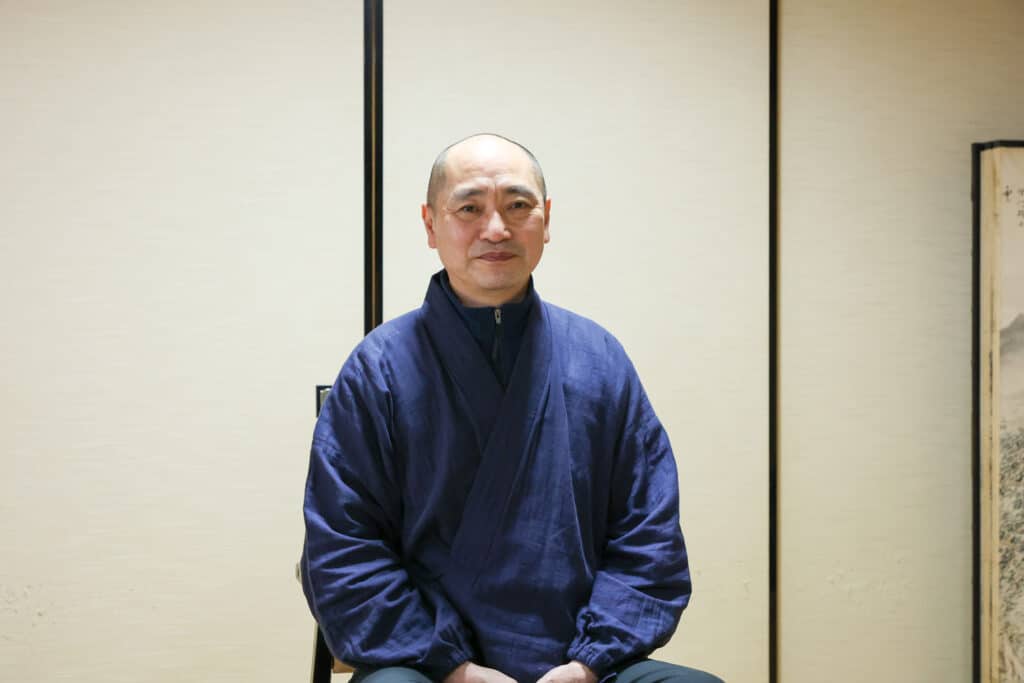 Chief priest of Kozanji Temple
Daigou Sogabe
The 20th abbot of Kozanji Temple in Inari, Tanabe. Having grown up surrounded by the lush forest on the premises of Kozanji, he is striving to preserve this natural environment for the future. Until March this year, he also served as the director of the "Minakata Kumagusu Archives", a research institute for Minakata Kumagusu. As Kozanji Temple is also the place where Kumagusu's soul rests, Sogabe himself has a deep interest in Kumagusu, saying that the temple is "inhabited by spiritual beings", and he hopes that people will visit the temple to feel its unique atmosphere.
Kozanji Temple (KINAN ART WEEK)
Kozanji Temple (Tanabe Tourist Association, Tanabe city, Wakayama Prefecture)
<Interviewer>
Yuto Yabumoto
Kinan Art Week Executive Committee Chair
<Participant>
Manabu Shimoda
Executive Director of Kinan Art Week
<Editing>
Kinan Editor by TETAU
https://good.tetau.jp/
Kozanji Temple, the Place where the Spirit Resides
– Animism and the Philosophy of Minakata Kumagusu
Table of Contents
1. Kozanji Temple and animism
2. Layered prayer and forest protection
3. Historical background of Kozanji Temple
4. The image of Minakata Kumagusu
5. Minakata Kumagusu Archives and its legacy for the future


1. Kozanji Temple and animism
Yabumoto:
Thank you for taking the time to visit us today. Kozanji Temple is one of the exhibition venues for Kinan Art Week. We would like to talk to you about the attraction of Kozanji Temple and the philosophy of the abbot, Mr. Sogabe.
First of all, we would like to ask you about your image of "animism*1". The artworks to be exhibited at Kozanji are those of Kohei Maeda from Tanabe, Wakayama and Apichatpong Weerasethakul from Thailand. In both artists' works, 'spiritual beings' such as gods and spirits appear. Kozanji Temple is surrounded by a vast forest and we would like to hear Sogabe's thoughts on the presence of spirits in the forest and other topics.
1 The word comes from the Latin word anima, meaning 'breath' or 'spirit', and refers to belief in a variety of spiritual beings. Spiritual beings include divine spirits, spirits, souls, living spirits, dead spirits, ancestral spirits, fairies and demons.
Mr Sogabe:
I think that I am a person who feels animism all the time. Buddhism is Buddhism, which is wonderful, but animism is more comfortable for me.
Yabumoto:
Why is that?
Mr Sogabe:
Perhaps it has something to do with the magical power that Kozanji temple has. I was born and brought up in a place rich in nature, where there is a forest, insects, birds and animals. I think that while I was living in this environment, the 'spiritual something' that resides in the forest gradually seeped into my body. I feel that each life in nature has a spirit in it.
Yabumoto:
I see. The remains of the shell mounds* at Kozanji temple have been found to contain 'Kozanji-style earthenware', which I think is also very much related to animism.
*Reference: Kozanji Shell Mound (Gururin Kansai)
Mr Sogabe:
It is said that the Kozanji i style earthenware was made in the Jomon period. The Jomon people probably gathered here in great numbers before Kozanji temple was built. It was not just a place to eat, but also a place to perform Shinto rituals, and perhaps the Koshinto religion of the Jomon people*2 had taken root here.
2 A general term for the unique beliefs and rituals that are believed to have existed in Japan before the arrival of Buddhism or its syncretism with Buddhism.
Yabumoto:
Are there any traces of the rituals and festivals of the Jomon people left at Kozanji temple?
Mr Sogabe:
There are no direct indications left, but there are still indications that there was something ritualistic about it. The Yayoi period saw the appearance of the Yayoi people, who, like the Jomon people, also held ideas close to animism. As a result, the rituals of Shinto worship and the customs of prayer continued to be practised, and I believe that what has accumulated over the ages has led to the present day.
Yabumoto:
I have used the word 'layering' in my guidebook and on the pages introducing Kozanji temple*. I believe that Kozanji is a place where all kinds of prayers are piled up.
*Reference Kozanji Temple (KINAN ART WEEK)
*Reference KINAN ART WEEK 2021 Official Guidebook
Mr Sogabe:
I believe that the accumulation of various prayers is the reason why there is a "spiritual something" dwelling in Kozanji temple. Something that has substance, that seems to encompass the whole of Kozanji. I feel that there is a mysterious presence that cannot be easily described in words.
2. Layered prayer and forest protection
Yabumoto:
As I said earlier, Kozanji temple is a very important place as a "place where spiritual beings dwell" and I think it is important to preserve this place and its rich natural forest for the future.
Mr Sogabe:
You are absolutely right. I believe that it is my mission to protect the forest and the spirits that dwell here. However, it is important that we continue to offer our prayers, as Kozanji is not just a place to go and see things.
Yabumoto:
Is it correct to understand that prayer is about giving something back?
Mr Sogabe:
Each person may interpret it differently. Some, like Mr Yabumoto, think it is about giving something back, while others express gratitude or make a wish. In this sense, I think Kozanji is a "free place" because the ossuary at Kozanji houses the remains of many different people, regardless of sect. So we are happy for each of you to pray as you see fit.
Yabumoto:.
Speaking of protecting forests, I once had a conversation with a charcoal burner on the theme of "the relationship between forests and people". They said that it is important to keep the primeval forests in their original state and to protect the satoyama, including the man-made forests.
Mr Sogabe:
The forest that surrounds Kozanji temple is a mixture of virgin and man-made trees, and Kozanji has long been committed to preserving this natural environment. During the Edo period (1603-1867), a storm ravaged the forest, but thanks to the temple's own planting and donations of trees from the local community, the forest was successfully restored. I think it was this sense of 'we must protect the forest' that enabled the temple to bring it back to life.
In addition, in the vicinity of Kozanji Temple, the wind blows down from the north-east in winter. Kozanji plays the role of "a place to catch the wind" and prevents the strong wind from reaching the city of Tanabe. In the event of a big fire in Tanabe, the wind from the mountain is blocked to reduce the damage from the fire. Perhaps the old people saw Kozanji as a kind of cushion.
Yabumoto:
It seems to me that Kozanji temple is indeed a guardian deity.
Mr Sogabe:
After all, a big fire in winter can be particularly frightening, so perhaps they felt they wanted to soften the north wind as much as possible. Incidentally, this north wind is known as "Isaida-oroshi". Today, the name of the area is Inari, but in the past it was called Isaida, hence the name. Today, there is still a place called 'Isaida Inari Shrine', a place rich in nature named after its former name*.
*Reference: Isaida Inari Shrine (Tanabe Tourist Association, Tanabe City, Wakayama Prefecture)
*Reference: Isaita Inari Shrine (Minakata Kumagusu Archives)
3. Historical background of Kozanji Temple
Yabumoto:
How many generations is Mr. Sogabe, the abbot of Kozanji temple?
Mr Sogabe:
This is just the 20th generation of priests. Kozanji Temple is said to have been founded by Kobo Daishi (Kukai), but the exact date of its construction is not known. The temple has also been dedicated to Prince Shotoku for a long time, which means that the foundation for the worship of Prince Shotoku was already in place.
Around 1595, during the Warring States period, Kozanji was burnt down, but a monk named Kuzo revived it*3. One day, while training at Kozanji, Kuzo saw Kobo-Daishi in a dream. The story goes that Kobo-Daishi told him to "rebuild the burned down Kozanji Temple," and when he actually went there, he found the temple in ruins.. From there, Kozanji Temple was rebuilt and Kuzo became the first abbot of the temple and was called "Chukou Kaisan Dai-isseii Houin Kuzo "*.
3 To make flourish again a thing or condition that has once declined.
*Reference: Rekishi Kaido – Gateway to Romance: Kozanji Temple (February 1, 2006, Rekishi Kaido Promotion Council)
Mr Shimoda:
So does this mean that Kozanji temple has always been prosperous?
Mr Sogabe:
Prince Shotoku is even enshrined here, so I guess there was a time when it was prosperous.
This photo gives a good idea of what Kozanji temple looked like after rebuilding. This is what Kozanji looked like in 1919 and in 1992. There used to be a big pine forest with many pine trees up to 30 meters high. It would have been nice if that pine forest had remained, but during the war, a lot of trees were cut down because of the need for pine oil called "Shokonyu"*4. After the war, the trees all died because of the introduction of alien insects. As you can see, the forest looks completely different now than it did in the past.
4 An oily substance obtained by dry distillation of the roots of pine trees. By distillation and refining, turpentine oil, pine oil, etc. are obtained. It is important as a solvent, and during the Second World War it was used to produce aircraft fuel by catalytic pyrolysis.
What is Shokonyu (Kotobank)?
Yabumoto:
The Aizu River flows around Kozanji temple, but has this river always looked the same?
Mr Sogabe:
Dykes have been built as times have changed, but other than that I don't think it has changed much. There are tidal flats along the riverside around Kozanji, and if you go downstream of the river you reach Tanabe Bay. So we can say that the Aizu River is a river that spreads all over Tanabe.
Shimoda:
In this sense, the area around Kozanji has always had a good geographical position, which naturally facilitates the gathering of both sea and mountain produce. There are vast forests, big fish in the rivers and shellfish in the mudflats. It was a place where there was no shortage of food.
It is possible that before Kozanji temple was built, perhaps from around the Jomon period, people gathered together to build some kind of structure, which in later years became the temple hall. It seems to have been a continuous process.
Yabumoto:
When I met Mr. Sogabe before, I think he told me that there is a Tengu at Ryuzensan mountain* in Tanabe. I feel that Kozanji temple is a place where spiritual beings dwell and that there is a connection with Ryuzensan mountain.
*Reference: Ryuzensan mountainn (Tanabe Tourist Association, Tanabe City, Wakayama Prefecture)
Mr Sogabe:
It is said that there were tengu in Ryuzensan mountain and gods lived in Kashima. From time to time, the Tengu visited Kashima, and it is thought that both sides deepened their relationship. There is a theory that the god became a dragon and was seated on Ryuzensan mountain as the "Dragon God".
The path leading to the top is surrounded by trees, so like Kozanji Temple, Ryuzensan mountain is a place rich in nature. Along the way, there's a Ryuzengu shrine dedicated to the god of the sea, and a sacred ubame oak tree. It may not have a direct relationship with Kozanji temple, but they may both have something in common: both are inhabited by gods and spirits.
4. the image of Minakata Kumagusu
Yabumoto:
When I hear the words "Tengu" and "mountains", I think of Minakata Kumagusu*. His tomb is in Kozanji temple, and Mr. Sogabe was the director of Minakata Kumagusu Archivesl up until this March*, so there is a deep connection between Kozanji and Kumagusu. What do you think of the man?
*Reference: The world-famous naturalist Minakata Kumagusu (Tanabe Tourist Association, Wakayama Prefecture)
*Reference: Change of Director (April 1, 2021, Minakata Kumagusu Archives)
Mr Sogabe:
In my mind, Kumagusu has the impression of being an interesting person. Kumagusu's fieldwork was carried out only in the very old places, for example, the shrines where the traces of the Koshinto religion still remain. Probably, Kumagusu had his antennae fixed on such places. Maybe he visited them because they were the places where many of his favourite plants grew (laughs).
Yabumoto:
It may have something to do with a kind of "Yaritate-*5" which Kumagusu once developed. It seems to have something to do with the philosophy of Kozanji.
*5 A term coined by Minakata Kumagusu. It refers to discoveries, inventions and targets that seem beyond the realm of chance.
Taisuke Karasawa, "Bricoleur Kumagusu – On 'Yaritai' and Bricolage" ("Toyo University 'Eco-Philosophy' Studies", March 2018, vol.12, p.25-38, Toyo University Academic Information Repository)
Mr Sogabe:
Kumagusu was a man who did not really know what he was thinking, but through his fieldwork in shrines and forests, he must have captured something.
Yabumoto:
How did you talk about Kumagusu in the Minakata Kumagusu Archives
Mr Sogabe:
I was the director of the Minakata Kumagusu Archives for about four years, but I don't think I explained anything in particular about Kumagusu, because he was unexplainable (laughs). However, there are many leading researchers of Kumagusu's thought in there, and each of them studied Kumagusu's thought from a different point of view. I think it is really amazing that we can focus on him from various directions.
Yabumoto:
Because of his deep thoughts, Kumagusu is out of order, and it is really hard for researchers (laughs). In this sense, Kumagusu is the very embodiment of 'infinity'.
Mr Sogabe:
Probably, Kumagusu was looking for order. And he calls order "dai fushigi(the great wonder)*6".
*6 A primordial place where no human law can be established and where self and others are all fused and unified. It is a place where there is neither inside nor outside, and where everything is perfect.
Kinan Chemistry Session vol.2″ Text Archive (Part 1) (KINAN ART WEEK)
Yabumoto:
Is the Great Wonder something that cannot be reached by human beings, like Dainichi Nyorai*?
*Reference: What is Dainichi Nyorai (Kotobank)?
Mr Sogabe:.
Dainichi Nyorai is a conceptual being with no discernible form, but I feel that it is a universe, a world in itself.
Yabumoto:
In a book on Kumagusu studies written by the sociologist Kazuko Tsurumi*, there is an expression like "microcosm and macrocosm are reduced to Dainichi Nyorai". In fact, this sentence is the reason why we started the project of Kinan Art Week. Actually, we don't know if Kumagusu ever uttered this phrase. However, it is said that through his microscope, Kumagusu was looking at the "microcosm" of microscopic slime molds, while he was also looking at the infinite "macrocosm".
*Reference Kazuko Tsurumi (Fujiwara Shoten)
Mr Sogabe:
I think the same thing can be said about animism. When we ask ourselves "who are we?", When we think about it, we can divide ourselves into two parts: the body and the soul. At first glance, the body seems to be a vessel for the soul, but in fact, it may be a "microscopic lump of life" created from a large number of microorganisms.
Yabumoto:
I believe that humans and microorganisms are in a relationship of "eating and being eaten".
Mr Sogabe:
Mitochondria are a good example in this sense. There are organisms in our bodies that are completely different from us. We don't know whether we've taken them in ourselves or whether they're being used by our mitochondria. But it's a good balance, and we live in harmony with our mitochondria. Such a relationship may have been the ideal of Kumagusu.
Yabumoto:
In the style of Dr. Taisuke Karasawa*, I think it is "ri fushigi(the wonder of principles)*7" that connects human beings and "dai fushigi(the great wonder)" which human beings cannot reach. Kumagusu thought that "if it is ri fushigi we can catch it…". . And Dr. Karasawa thinks that "art" is used as a tool to explore "dai fushigi" from the stage of "ri fushigi". In other words, artists are able to create works of art because they are approaching the "ri fushigi" stage. In this sense, I feel that artists are similar to Kumagusu in their thought.
*7 The realm that is the interface between self and other, or the fundamental field and the real world, connecting and mixing them. It includes things that can be known by precognition or the sixth sense.
Kinan Chemistry Session vol.2″ Text Archive (Part 1) (KINAN ART WEEK)
*Reference Taisuke Karasawa (Akita Public University of Fine Arts and Music)
5. Minakata Kumagusu Archives and its legacy for the future
Yabumoto:
What is the role of the Minakata Kumagusu Archivesl?
Mr Sogabe:
It has two functions: to honour Kumagusu*8 and to serve as a research centre. While the Minakata Kumagusu Museum* in Shirahama is more like a museum displaying Kumagusu's collections, the Minakata Kumagusu Archives is an institution where researchers working on Kumagusu gather. It is sometimes pointed out that it is not accessible to the general public, but I think it is important to have such a place. We can understand Kumagusu's thought better through the help of researchers.
*8 To publicize hidden good deeds and achievements. To widely inform the public and give awards.
What is honoring (Kotobank)?
*Reference Minakata Kumagusu Museum
Yabumoto:
In this sense, I think that the researchers who have deciphered the documents left by Kumagusu are really amazing. I think the first step is to decipher Kumagusu's writing, which is really an incredible task.
What do you want the Minakata Kumagusu Archives to look like in the future?
Mr Sogabe:
I hope that young researchers will emerge and protect the place. there is not a particularly prominent place, because it is a place where the steady work of researchers is transmitted. But that's not a bad thing, and I think it's important to leave it as it is for the future.
Also, the Minakata Kumagusu Archives is one of the best places for "information transmission" about Kumagusu research. Not only in Minakata Kumagusu Archives, but also by the researchers themselves, who disseminate various kinds of information. In a way, the cost is very good, because it is not a capital that is forcibly created by the government (laughs).
Yabumoto:
Once again, I think that Kumagusu as a person is really too vast (laughs). But I feel that this, like the land of "Kumano", is not something that can be easily explained.
Mr Sogabe:
Maybe that is what Kumagusu considers as "dai fushigi".
Yabumoto:
Perhaps there is a collection of mysterious things in Tanabe, like "dai fushigi". For example, in Kozanji Temple there is the grave of Morihei Ueshiba*, the founder of Aikido, but Aikido is a non-fighting martial art, and I think it has a really mysterious charm.
*Reference: Morihei Ueshiba, the founder of Aikido (Tanabe Tourist Association, Wakayama Prefecture)
Mr Sogabe:
It is interesting that the founder of Aikido came out of Tanabe. Some people stay in Tanabe like Kumagusu, others go out from Tanabe like Morihei Ueshiba, and I feel again that there are so many different people.
Some scholars say that there is a kind of magnetism in Kozanji temple. It is a place that attracts both people and things", and I believe that Kozanji has a mysterious charm. We have to make an effort to protect Kozanji as well as the Minakata Kumagusu Archives. We have to make sure that we pass it on to the next generation.
Yabumoto:
I don't feel like this is the right place to say too much, so I'll leave it at that (laughs). I think that the more you talk about it, the more it becomes a cliché.
Mr Sogabe:
I would be delighted if you could visit us yourself and feel the unique atmosphere of Kozanji temple.
Yabumoto:
It was good to hear a very interesting story. Thank you very much for your time today.
Mr Sogabe:
Thank you very much.
Shimoda:
Thank you very much.