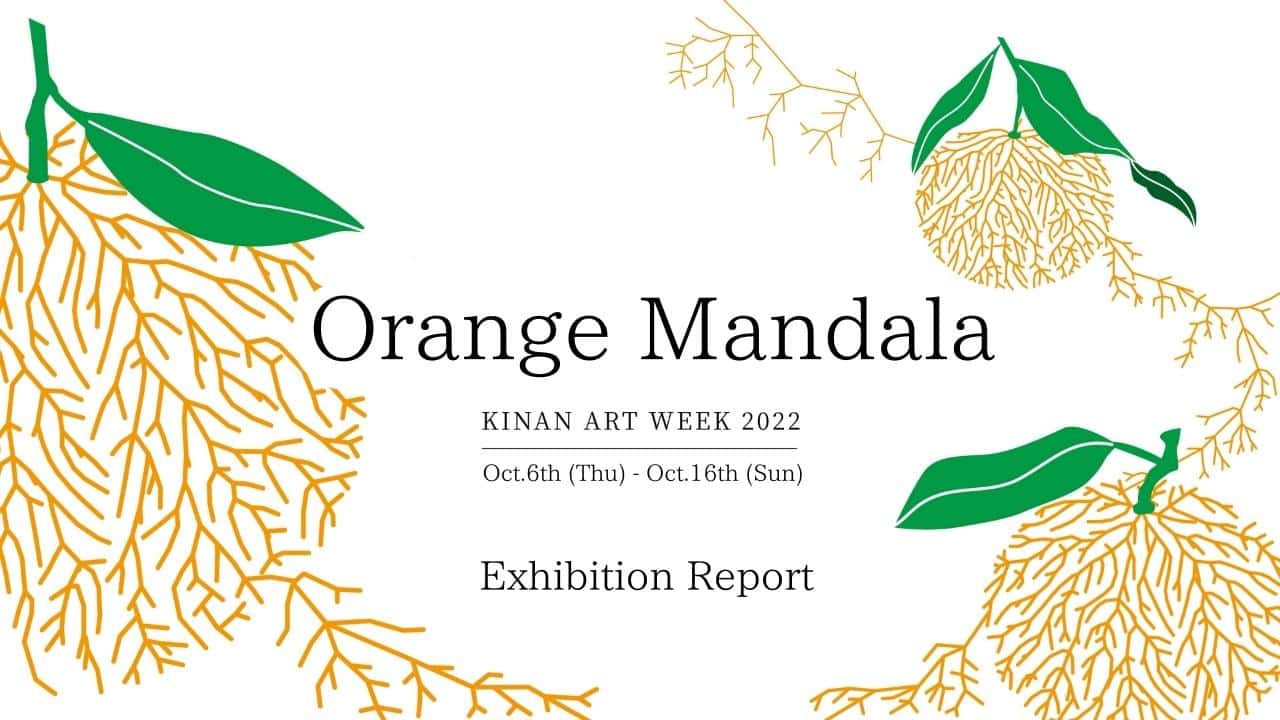 Reflections on Kinan Art Week 2022 'Orange Mandala' Exhibition
From exhibition to art project exploring the connections between plants, micro-organisms and humankind.
We are running an art project called Orange Collective, which focuses on citrus, a local resource in the Kinan region of Wakayama Prefecture. This is an activity that creates opportunities for farmers, artists, designers, curators and researchers to think about and collaborate on citrus.
This activity became the basis for the exhibition, and in 2022, the works of the "Orange Mandala" exhibition were exhibited and related events were held at several locations in Tanabe City, Wakayama Prefecture, for 11 days from 6 (Thu) to 16 (Sun) October.
Each venue and artwork became an attempt to juxtapose what the Mikan Collective's discussions and research had led them to think about citrus cultivation, and its ecology and surrounding environment, with the cosmic expanse that Minakata Kumagusu found in the Kumano creatures. The exhibition has also led us to embark on a long-term project involving the local community. Please keep an eye out for future developments.
Reference.
'Mikan Collective: Inner Mikan Open Orange': https://kinan-art.jp/info/5785/
'Orange Mandalas' exhibition: https://kinan-art.jp/info/9005/
The works exhibited in the four venues and the events that took place during the exhibition can be viewed below.
Scroll further down to read the report from the chair of the Executive Committee and the text of each review contribution.
We invite you to approach plant ecology through practice and the senses, and to experience the cosmology that artists and researchers have discovered using 'mandarin oranges' as a starting point.
---
■Exhibition theme: 'Fruits / A Journey through Fruits'
Artist: Satoshi Hirose (https://www.milleprato.com/)
Venue: Akitsuno Yui Warehouse
The exhibition was held in the warehouse of Akitsuno Yui, an agricultural corporation jointly funded by local farmers, where Satoshi Hirose proposed a long-term art project, the activities of the Orange Collective and related artworks were exhibited in a place related to the production and distribution of mandarin oranges.
Details: https://kinan-art.jp/en/info/9927/
(Photo: Manabu Shimoda)
■ 'Symbiosis with Fungi / Mycorrhizal Network'
Artists: Be Takerng Pattanopas, Piyarat Piyapongwiwat, Tuan Mami, Quynh Dong, Tetsuro Kano, Satoshi Hirose, Awaya
Venue: SOUZOU Cafe
This exhibition featured works that looked at the ecology of fungi and plants to which Kumagusu Minakata turned his attention, as well as the symbiosis between nature and people.
Details: https://kinan-art.jp/en/info/9928/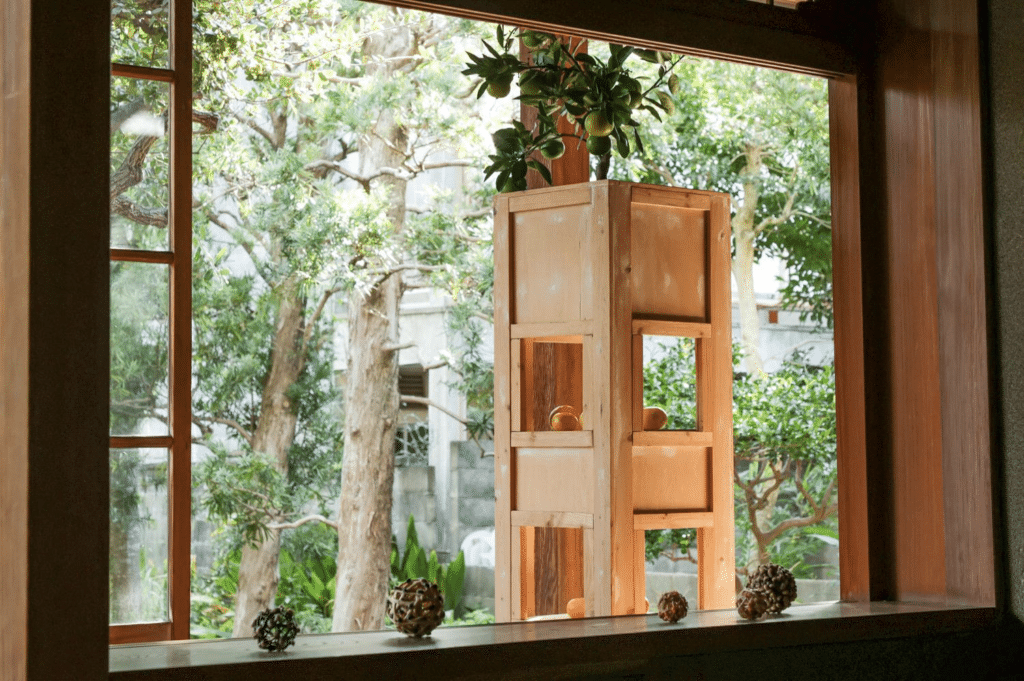 (Photo: Manabu Shimoda)
■Soil and Roots / Exploring Invisible Roots
Artists: bacilli, Satoshi Hirose, Khvay Samnang
Venue: Aiwaso
In order to induce a new cultural exchange at the ryokan, which was loved by cultural figures such as Keisuke Serizawa, Hirose's work was inspired by the nature of Kumano, and workshops were conducted and exhibited by the art unit bacilli, whose activities take a multifaceted approach to soil.
Details: https://kinan-art.jp/en/info/9929/
(Photo: Manabu Shimoda)
■ 'Mikan Myth' VR artist: VR Sobaya Tanabe
Venue: tanabe en+ & Online

A new experience of VR space, developed from the beta version shown at the exhibition held at the Kawakyu Museum in June 2022.
Details: https://kinan-art.jp/en/info/9930/
Events held
■6 Oct (Thu) 19:00 – 'Mikan Mandala Exhibition Opening Talk'
Speakers: Satoshi Hirose, Khvay Samnang, Awaya, Yuto Yabumoto (Kinan Art Week Executive Committee Chairman),
Venue: tanabe en+
Archived video: ( https://www.youtube.com/watch?v=UDi_fvbF3Uk)
■10/7 (Fri) 18:00 – Special Talk Session "Memories of Soil and Roots: From Cambodia and Kinan/Kumano"
Speakers: Khvay Samnang (contemporary artist), Toshiaki Ishikura (Associate Professor, Faculty of Fine Arts, Akita Public Art University, Art Anthropologist)
Venue: Aiwaso
Art anthropologist Toshiaki Ishikura was invited to talk with Khvay Samnang. Mr Ishikura has travelled throughout India and Japan to investigate Japanese legends, folklore and myths, and has published a number of studies. Through their dialogue, they uncovered hidden memories, similarities and differences between Cambodia and Kinan in terms of stories and myths.
Using Samnang's work as a starting point, we discussed the roots and soil of Cambodia and Kinan, touching on the differences and similarities between the myths of Cambodia and Kumano, Western dance and Eastern butoh, plant and animal and other expressions. I think an important takeaway from Samnang's words, poetry and dance was the intuition that his expression is built on a foundation of mythological thinking that does not separate plant and animal, spirit and matter, but transcends the law of contradiction. Mr Samnang's improvised poetry and dance during the talk gave me a sense of 'something' that transcended language and speech and connected me to the land of Kumano.
A transcript of the talk can be viewed here ( https://kinan-art.jp/info/11027/).
■10/8 (Sat) 10:00 – Opening Ceremony 'Seedling Journey' (Seedling donation ceremony) & talk session
Speakers: Satoshi Hirose, Takuo Hara (Local Citrus Farmer, Kishu Hara Farm)
Venue: Akizuno Yui Warehouse
■10/9 (Sun) 10:00-11:30 Painting workshop "Minakataru"
Artist: Naoko Kinemura
Venue: SOUZOU cafe
Painting workshop "Minakataru" was held by artist Naoko KINEMURA. Using the detailed specimen drawings left by Minakata Kumagusu as a model, the workshop offered local children and others the experience of painting a mixture of depictions of plants collected from the SOUZOU garden, along with (sometimes fictitious) explanations and annotations. By using paper that had been wetted and seared with citrus juice, the artist attempted to create a unique Kumagusu-like world that seemed to transcend the passage of time, and to recapture the whole picture of plants in their generative transformation.
■10/9 (Sun) 15:00-17:00 Talk Show "Mikan Mythology – Let's Get to Know the Gods of Kinan".
Speakers: Tetsuji Yamamoto (General Director, Institute for Advanced Studies of Cultural Sciences), Konomi Sakamoto (Manager, Kumano Log), Takuo Hara (Owner, Kishu Hara Farm)
Venue: tanabe en+ & online
Archived Video & Text: https://kinan-art.jp/en/info/10443/
■9 Oct (Sun) 12:00-14:00 Kinan Art Week VR Live Show
Venue:Online (VRchat)
Performing VR Artists: Ambientflow ku, Yamamie, 'Kasou' Butoh Troupe, Jibieze (Dokokano Usagi & Sagae), Okyutanbot/Hourai Sumire
An event connecting the main venue of the Mikan Mandala exhibition with the VR exhibition, with real-time live performances in VR by five VR artists and the experience of entering the VR space during the live performance using an HMD.
■Thursday 13 – Sunday 16 Oct. 13(Thu) – 16(Sun) Oct. Art Workcation to give form to your sensibility on your journey.
Venue: Tanabe City & Shirahama Town
Japanese artists active in the Kansai region stayed and toured the 'Orange Mandala' exhibition with Yabumoto, chair of the organising committee. Based on the inspiration they gained there, they carried out a residency. The participants commented that they learnt more than they had expected and that the stay must have been very meaningful.
■ 10/14 (Fri), 10/15 (Sat) Evening of hot spring cure and art – Talks by energetic people who got to know each other during Kinan Art Week 2021.
Speakers: Sachiyo Kumano (Ryokan Shirasagi), Toshiki Ozaki (Beauty Salon Shinju), Nobuhiro Ishiyama (Takagaki Construction)
Venue: Nanki Shirahama Tsubaki Onsen Inn Ryokan Shirasagi & Online
The hostess of the Tsubaki onsen ryokan Shirasagi in Shirahama, who has many fans for her healing personality, and has taken on one new challenge after another, such as the "inn with the most landladies in Japan" project, invited two guests.
Day 1 guest, beauty salon Shinju owner & hairdresser Toshiki Ozaki, opened a part of this building as a beauty salon "SHINJU" on 3 March 2022, struggling to re-create value not only as a beauty salon but also as a place in front of Shirahama Station. In June 2022, just as it was beginning to get off to a good start, the building suddenly caught fire. We heard Ozaki's powerful story of how, even in the worst of difficult circumstances, she never gave up on her dream and moved forward. For Kinan Art Week 2021, we borrowed the building in front of Shirahama Station, where her family home is located, as headquarters and exhibition venue.
The guest on the second day was Nobuhiro Ishiyama, President of Takagaki Komuten Co. Founded in 1952 in Tanabe City, Wakayama Prefecture, Takagaki is a brilliant manager who has successfully managed to balance the pursuit of making people happy and the profits of his construction company under the motto 'Life Participation Type Construction Company'. His unique and essential management strategies, such as his own "Goranger Theory" and "Johnny's Strategy", were so unique that the time passed very quickly.
Around 80 people attended throughout the whole event, with many of the participants on the first day being women, so much so that they continued to get excited in the baths after the reception. Real participants throughout the two days said, "It gave me a push to live positively. I am really glad I took part. We were able to share two memorable days with everyone, as we laughed and laughed and felt touched by the spirit of Kinan.
■ 10/14 (Fri) 18:00-21:00 Futakawa School × Kina Art Week collaboration project "Tower of the Sun" screening + Taisuke Karasawa's special talk.
Venue: tanabe en+
If you live in Japan, you have probably seen Taro Okamoto's Tower of the Sun in some form. The overwhelming sense of foreignness and presence of the Tower of the Sun is a work of art that still holds people's interest. In the film Tower of the Sun, the background and philosophy behind its creation are described by numerous experts, artists and others. The 'mandala' as a symbol of the sun is located here in Kinan, and the ideas of the Tower of the Sun/Taro Okamoto, such as the tree of life, the sun under the earth, mandalas, myths and slime molds, resonated with the current exhibition 'Orange Mandala'. After the screening of the film Tower of the Sun, we invited Taisuke Karasawa, a philosopher and Minakata Kumagusu researcher who appears in the film, and invited Fukushima, an artist living in Kinan, Kawasaki, a mandarin farmer and Kuratani, who has a deep knowledge of Minakata Kumagusu, to try to discover the connection between the mandarins in Kinan and the Tower of the Sun.
■15 Oct (Sat) 17:00-18:30 bacilli x Caravansarai ~Smelling Soil~.
Venue: Aiwaso
Nanjo from bacilli, an artist living in the Kinan region Yoshitaka Nanjo The event was organised in collaboration with Chef Ryosuke Sarai of Tanabe's French restaurant Caravansarai, and created a space for local people to rethink what it means to eat, what farming is, what soil is, and what place is, beyond the boundaries of fruit and soil. It created a space for rethinking.
■10/15 (Sat) 19:00 – Sound art unit AWAYA live performance 'Mikan Myth'
Venue: Aiwaso
■10/16 (Sun) 13:00 – 17:00 Parent-child workshop "Mikan Class" Wakayama Collaboration
Venue: Akizuno Garten & Kashiwagi Farm
A parent-child workshop 'Mikan Classroom' was held at Akizuno Garten and Kashiwagi Farm in collaboration with the Wakayama Yamasaka Lab, which aims to establish inquiry-based bilingual elementary and junior high schools in Wakayama. Wakayama SCORABO is exploring, practising and collaboratively designing Wakayama's nature, hometown and climate with keywords such as 'inquiry learning', 'food learning', 'nature and culture experience' and 'global and local perspectives'. In the 'Mikan Classroom', a workshop was held in which parents and children visited a field on a mandarin oranges farm to learn and explore together. After conducting fieldwork in a nearby mandarin orchard on the basis of the topic of enquiry to be presented on the day, the children and adults were divided into teams and each team conducted a workshop utilising mind maps. At the end of the workshop, they presented the results of their research to each other in an attempt to share deeper learning.
---
Review Article
1. Reconstructing the relationship between humans and orange
An Art Anthropology of Oranges and Humans – After the 'Orange Mandalas' Exhibition
Yuto Yabumoto, Kinan Art Week Executive Committee
https://kinan-art.jp/en/info/11706/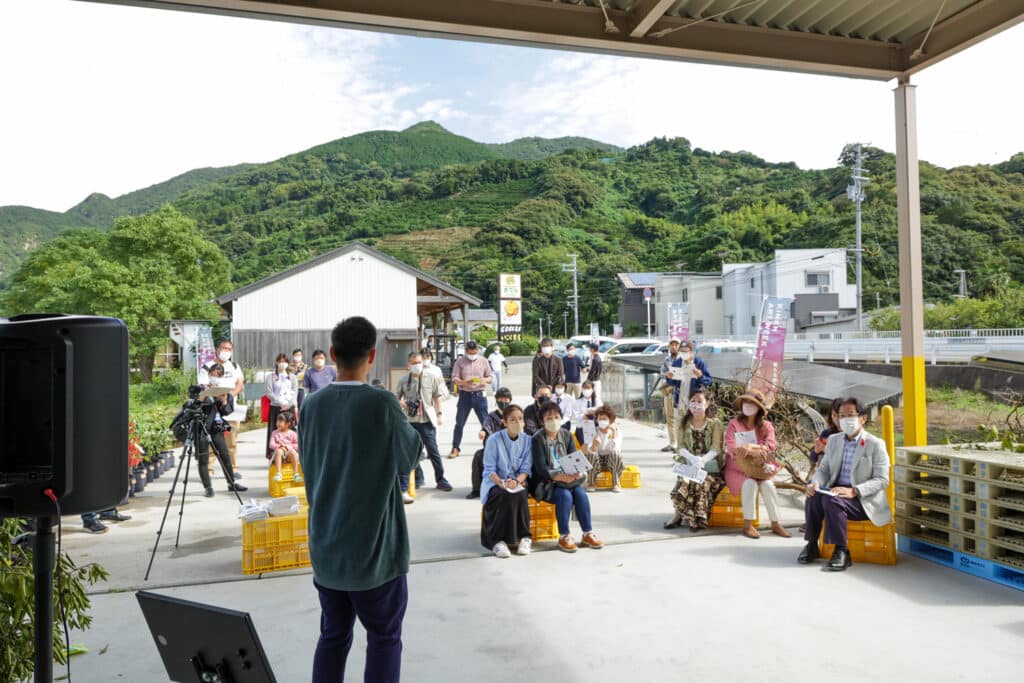 2. Re-tasting oranges with the changes in society
"Orange Mandala" Exhibition as Preparation for a Post-Growth Period
Kazuhiko Ota, Associate Professor, Nanzan University
https://kinan-art.jp/en/info/11872/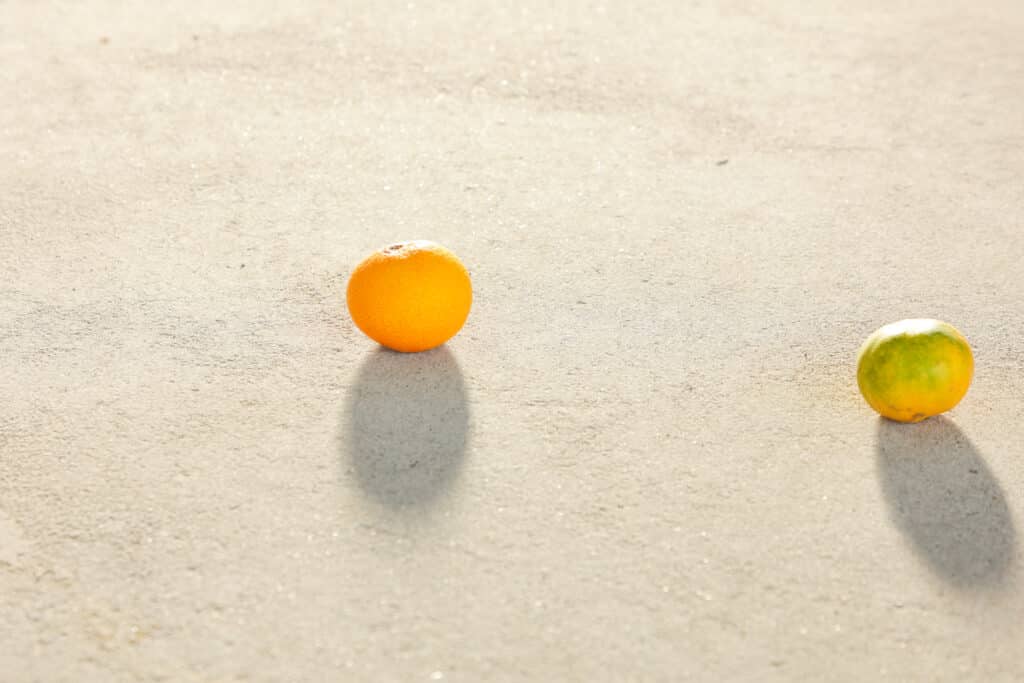 3. On the idea of mandalas beyond monolithic/monolithic time-space.
The Brilliance of the Citrus Fruit of the Alternate Dimension
Taisuke Karasawa, Associate Professor, Akita University of Art
https://kinan-art.jp/en/info/11870/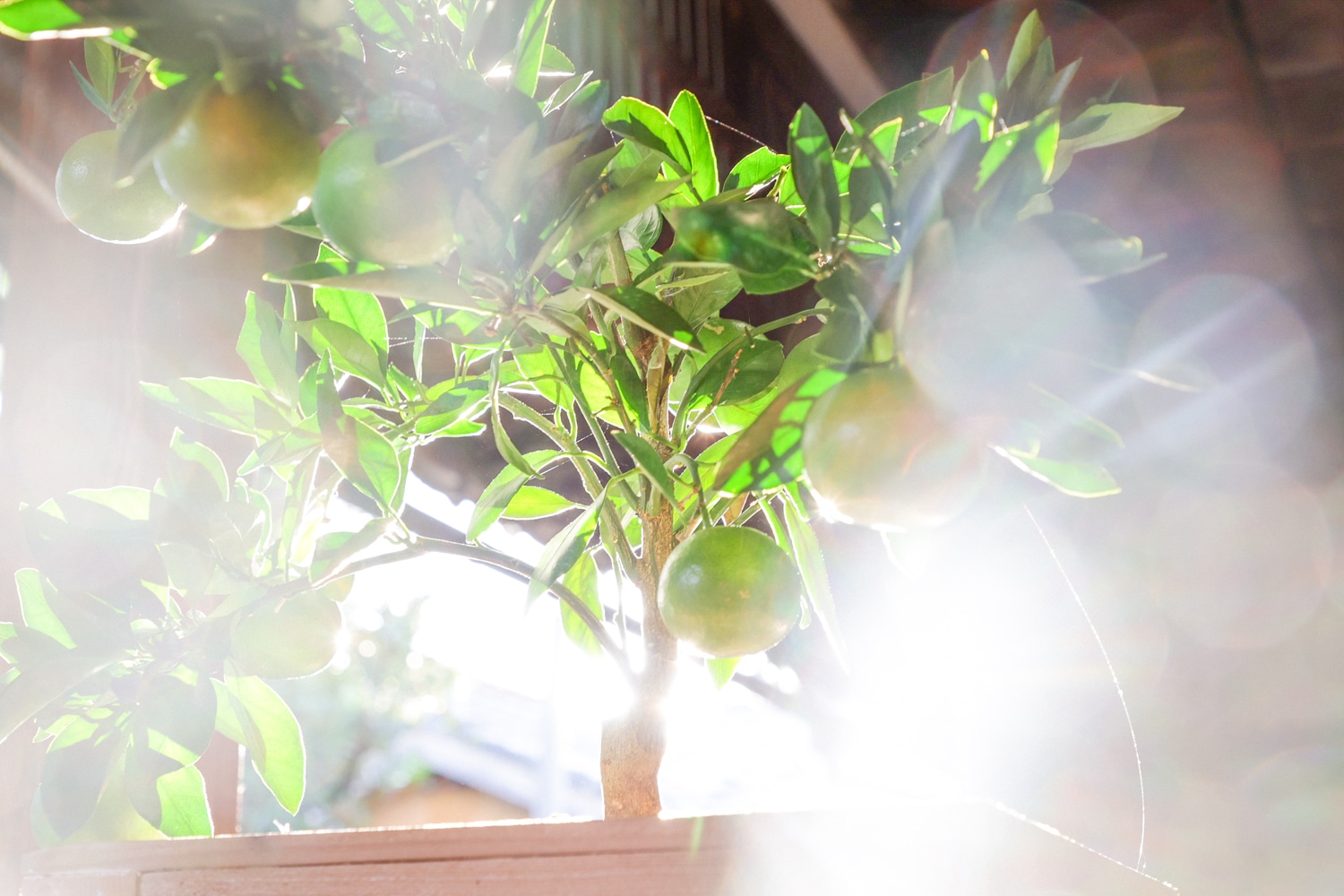 3. Extending the time and space of locally engaged art
Dialogue: On the Historical Context of HIROSE Satoshi's "Common Farms"
Kanai Tadashi, professor at Shinsu University & Sumitomo Fumihiko, curator/ professor at Graduate School of Global Arts, Tokyo University of the Arts
https://kinan-art.jp/en/info/12354/